Yes, you are experiencing déjà vu. We have been to this yard before—three times in six days. I don't know whether the furballs are resident pets or they can't resist the "Wildlife Habitat", as an official sign states. They must have a time-sharing arrangement, as cats are quite territorial. While walking to The Hub, my wife and I spotted the feline I call Grump (real name unknown) around 1:20 p.m. PDT today. I observed the other two, Slumber and Orange, in mid-morning and late-afternoon, respectively, on different days.
I captured the moment using Fujifilm X100F, with Velvia film simulation. Both pics are crops—the Featured Image 100 percent. That one is Anne's preferred composition, and the other (below the fold) is mine. In both, the framing attempts to use the stones to lead the eye to the kitty. I shot the first photos with aperture manually set to f/8; they didn't make the cut because Grump was turned away nibbling a plant. The keepers are auto-everything—and meant to see how well the camera handles contrasting light (in the yard) and shadows (where is the cat). Except for slight straightening and the aforementioned cropping, the two portraits are not tweaked for light or color, beyond what the camera does.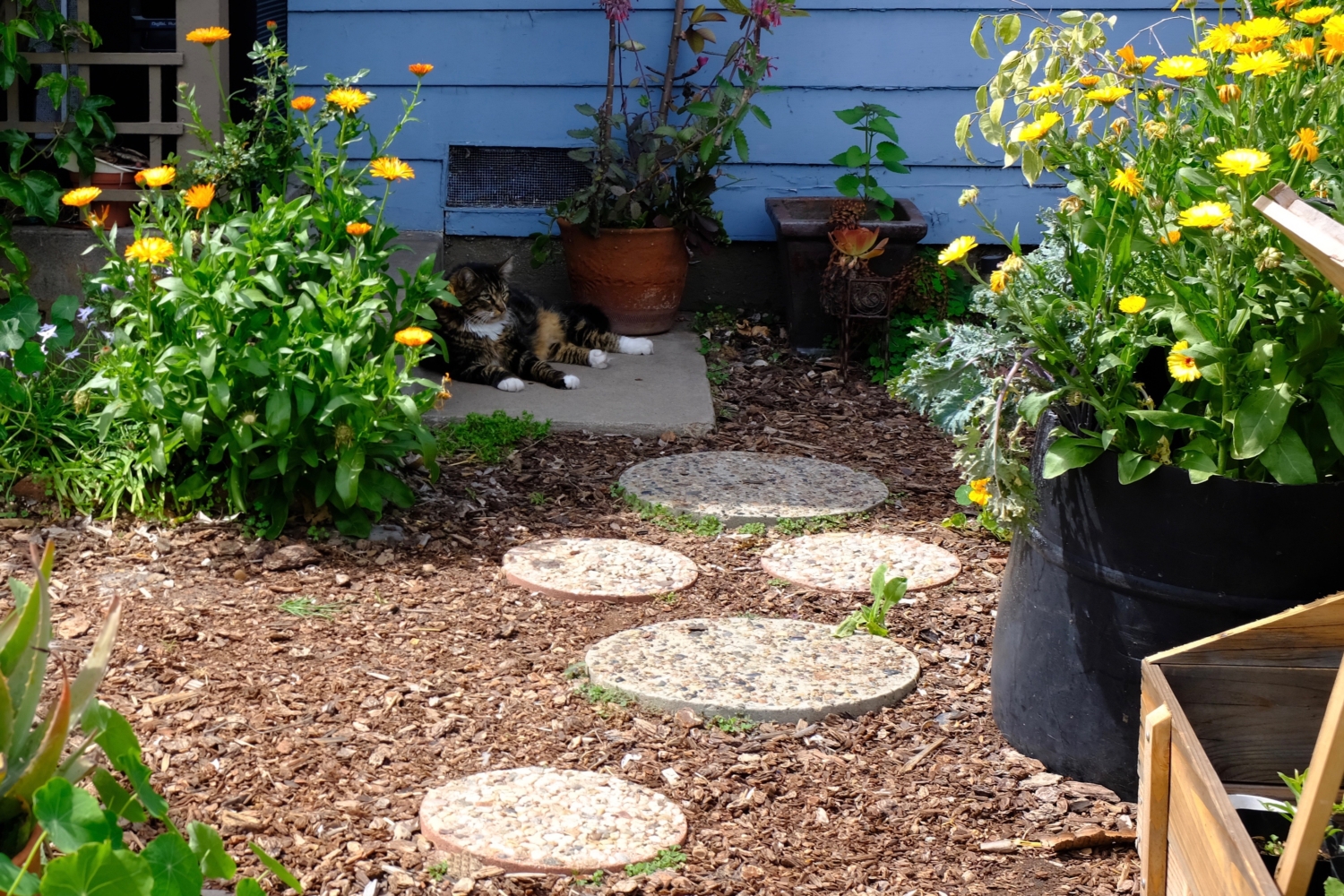 Vitals, first: f/5.6, ISO 200, 1/240 sec, 23mm. The other, an 85-percent crop, is same except for shutter speed of 1/280 sec.
Also in this series: Scruffy, Roly Poly, Woo, Skull, Biscuit, The Colonel, White, Chipper,  Frisky, Stretch, Needy, Farfisa, Mates, Hunter, Pee-Pee, Blue, Blue Too, Bonded Pair, Patience, Fess, Jumper, Frenemy, Looker, Cozy, Scout, Lurks, Skit, Bengal, Betty, Black and White, Stalker, Bell, Chill, Sammy, Scratch, Poser, Star, Grey and White, Watcher, Herman, Comet, Roman, Willow, Chub, Shy, Watson, Lilo, Kit, Pepe, Twilight, Slumber, Spot, and Orange.