Meet the third furball seen on Sept. 5, 2017, along the same Alabama block, between Adams and Madison. While Itchy Valentino hid under a car, Goldie howled at the tuxedo, who is ninth of that color-combo featured in this series, since its start 11 months ago.
The beastie had no collar, so I picked an arguably unimaginative name suited to the number of tuxedos. The others: Fraidy, Jellicle, Patience, Pepe, Poser, Sammy, Spot, and Tux. I shot the Featured Image—and its companion—using Leica Q at 8:40 a.m. PDT. Vitals are identical for each, aperture manually set: f/5.6, ISO 100, 1/125 sec, 28mm. Both are crops, but neither is retouched.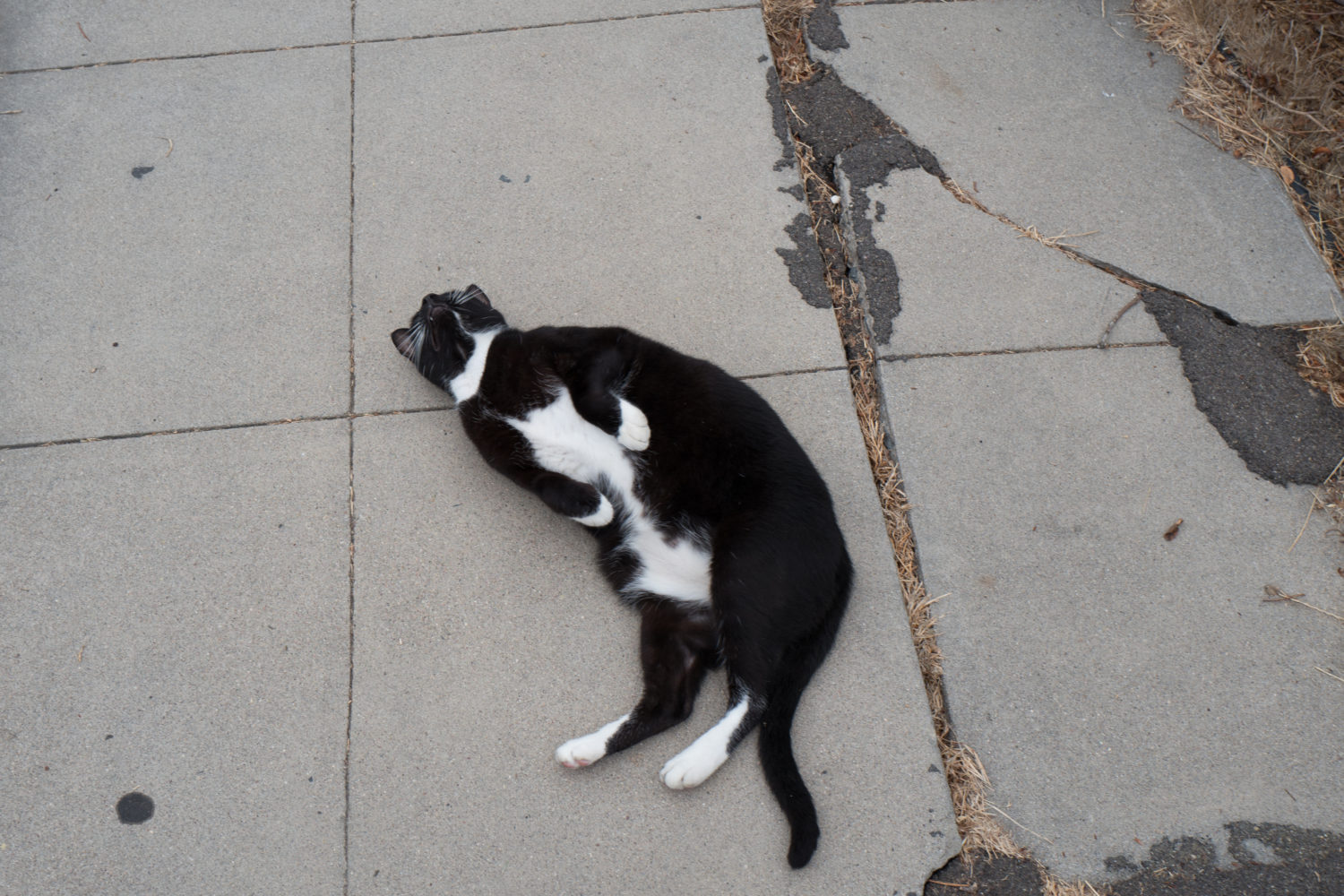 Don't miss: Scruffy, Roly Poly, Woo, Skull, Biscuit, The Colonel, White,  Chipper, Frisky, Stretch, Needy, Farfisa, Mates, Hunter, Pee-Pee, Blue, Blue Too, Bonded Pair, Patience, Fess, Jumper, Frenemy, Looker, Cozy, Scout, Lurks, Skit, Mini, Betty, Black and White, Stalker, Bell, Chill, Sammy, Scratch, Poser, Star, Grey and White, Watcher, Herman, Comet, Roman, Willow, Chub, Nimbus, Watson, Lilo, Kit, Pepe, Twilight, Sebastian, Spot, Booger, Ash, Veruca, Riley, Mellow, Bonde, Flower, Glass, Black, BeBe, Fang, Bruce, Siamese, Pounce,  Tortie, Haiku, Fraidy,  Peso, Daniel Tiger, Dusk, Stride, Dainty, Spry,  Tabby, Betty Too, Still, Levi, Shadow,  Sophie, Wink, Ferals, Momma, Charlie, Tux, Cool, Benny, Jellicle, Itchy Valentino, and Goldie.