I read somewhere—and, damn, can't recollect where—that this beautiful building, and cottage studios below, was early in the last Century a residence for nurses. But I have no source that confirms fact. Apologies for that, although my confidence is high. With so many structures stripped to the studs as part of massive renovations—or, worse, leveled and replaced by tasteless high-rises—this property's makeover preserves past character. To whomever owns the multi-rental place, huge thanks.
My first real experience with this landmark goes back to Christmas Day 2016, when I met Comet, Herman, Roman, Willow, and their owner; all four animals are profiled in my "Cats of University Heights" series. She had lived in a studio apartment for 19 years, but not for much longer. A few months later, nearly all the cottage residents moved out to make way for contractors, who spent much of 2017 renovating the courtyard buildings.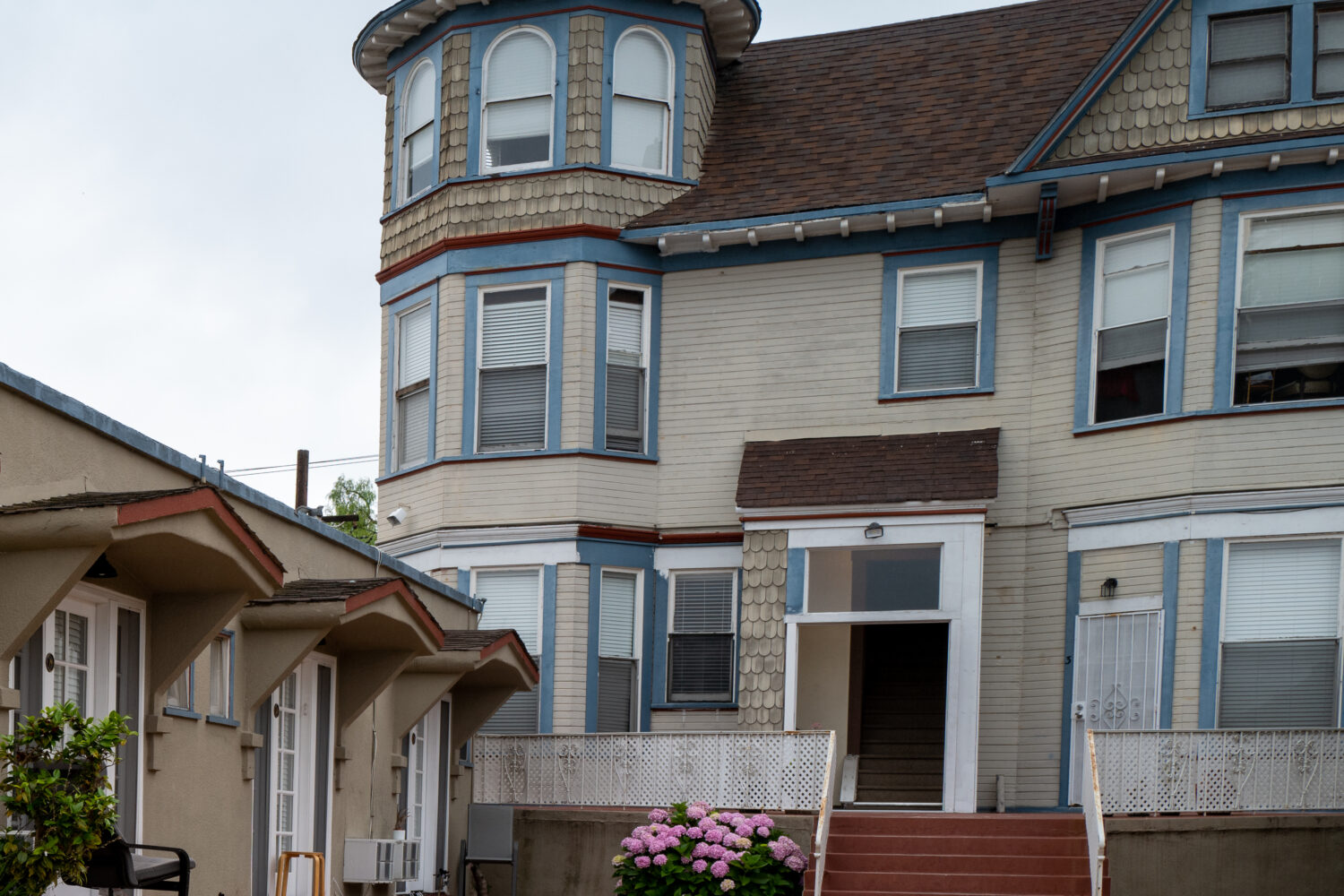 Nearly a year ago, I photographed, and later profiled, kitties Alvin and LB, towards the back of the common area. The Featured Image, captured today, shows the freshly painted property. The companion—a cropped outtake from the Alvin and LB shoot—gives glimpse of what the place looked like before. What a difference, eh?
Both photos come from Leica Q2, aperture manually set for each. Vitals for the first: f/5.6, ISO 100, 1/800 sec, 28mm; 9:21 a.m. PDT. The second: f/8, ISO 250, 1/125 sec, 28mm; 9:36 a.m. PDT, June 20, 2020.
If you're ever in the neighborhood, and want to gawk like me, go along Campus between Tyler and Van Buren. Sorry, as I write, no apartments or studios are available to rent. But, hey, with the pandemic-era eviction moratorium lifting soon…