I had a great time at this year's Consumer Electronics Show, thanks to the October move to San Diego and a little scheduling assistance from Microsoft PR agency Edeleman. From Washington, DC, CES would have been a week commitment. From San Diego, Las Vegas is an hour flight. Edelman booked five Microsoft meetings for Tuesday. I snagged another private Microsoft meeting and one regular briefing with HP. I had a jam-packed schedule consolidated so that I could fly in and out on the same day.
Highlight of the day: Using the Nokia N95 to record a video podcast with Surface Computing General Manager Pete Thompson. Surface rocks—for retailers that can afford it. Regular folks looking for multitouch computing will need an iPhone.
Best part of the day: The flight home from Vegas. In line I stood next to this sweet, tough fiftysomething cancer patient. She flys twice a week from Utah to San Diego for cancer treatment; six months so far. She showed no anger or resentment about her crisis. She was confident and optimistic.
My seat mate works in product licensing. His job: To connect big-name brands with manufacturers for licensing deals. Let's say a small Chinese digital camera manufacturer wants to break into the US market. The company has a good product but no US distribution and no clout to get on store shelves. Meanwhile, General Electric wants to extend its brand into digital cameras. My seat mate's company would work out a licensing deal between GE and the Chinese manufacturer. GE gets into the camera business and the OEM (original equipment manufacturer) sells its goods in the United States.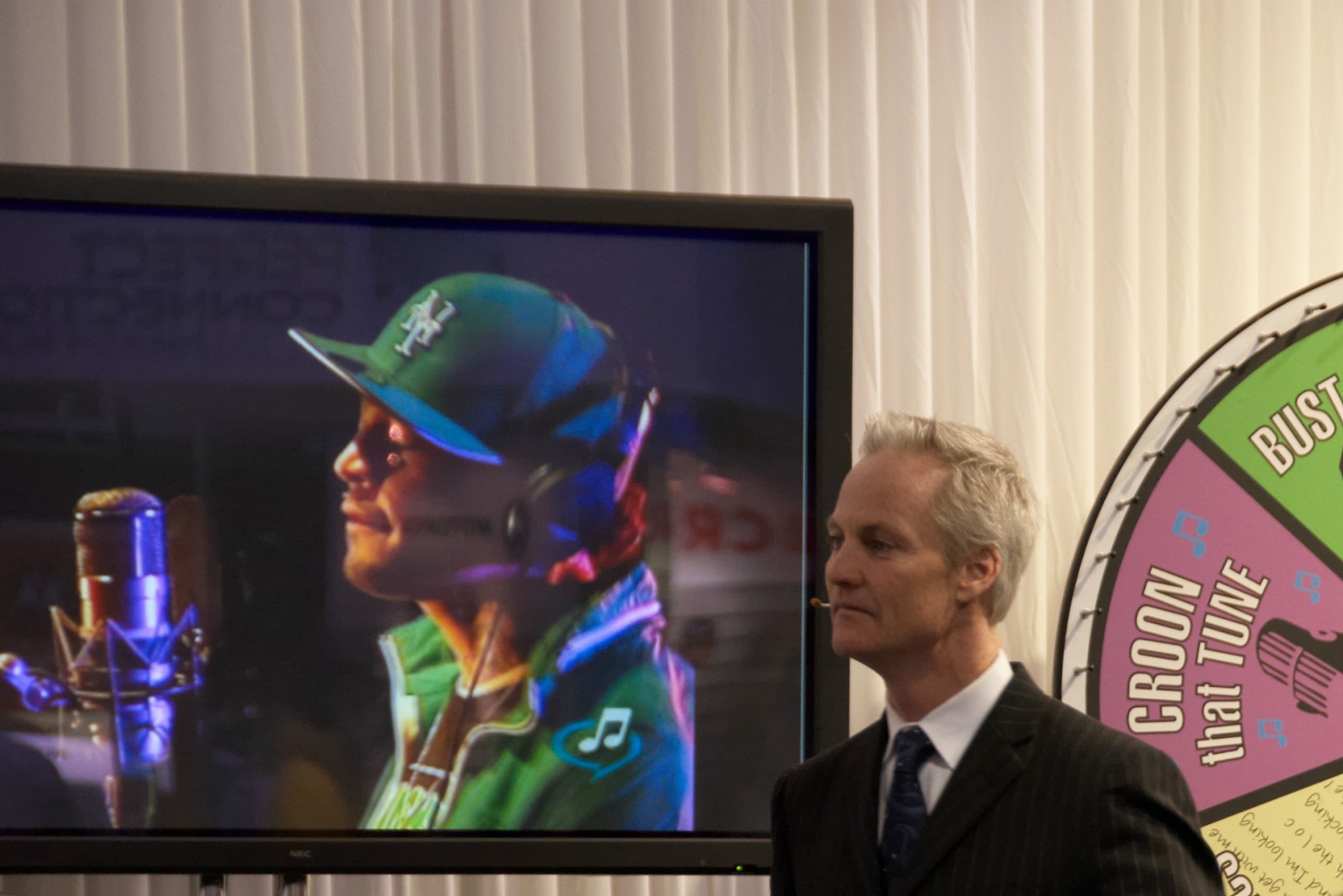 Last night, I put up a gallery of photos from CES 2008. I used my Nikon D200 and Nikon 18-200mm lens; no flash. I processed the images using Phase One's Capture One 4. Capture One has some limitations, but overall I like the user interface, processing approach and workflow features. I've asked Phase One for a Capture One Pro license, so that I can  test the software. I plan to write a first-hand review about one or both products.
The photo above demonstrates the importance of timing. I couldn't have planned this picture had I tried. Were the guys separated at birth, or what?