Today, Microsoft announced changes to Office for Macintosh. There is much less here than might appear. A new version will come for holiday 2010, replacing Entourage with a new version of Outlook. Next month, Microsoft will begin selling a new Mac Office edition, branded for businesses.
I see four objectives behind today's announcements:
Office 2008 for Mac Business Edition buys time. Microsoft brings a new version to market without launching a truly new version.
Microsoft's broader, new product strategy is suddenly overly enterprise focused. The Mac Business Edition—with Entourage 2008, Web Services Edition—fits.
Microsoft gets new Exchange and SharePoint features in market a month before Apple releases Snow Leopard, which improves already good Exchange support.
Bringing back Outlook for the Mac improves business branding. Entourage has long supported Exchange. IT admins know Outlook. Entourage is "What?" to them?
There is no "Wow" here in terms of features coming on September 19 with Mac Business Edition, nor as revealed today for next Office version. That said, the business branding and little Exchange and SharePoint touches have their place, and the latter is available today with Entourage 2008 for Mac, Web Services Edition. They reveal something, too. Microsoft really isn't concerned with Apple as a desktop operating system competitor.  Both things are related.
Microsoft controls today's dominant applications stack: Office-Windows-Windows Server. Exchange and increasingly SharePoint also belong on that stack. Businesses don't buy operating systems, they buy applications—and it is Office at the top of the stack that matters more to most enterprises. Linux has failed largely because there is no Office to complete the applications stack. But there is Office for Mac.
Microsoft really hasn't tapped Mac Office's business potential, for obvious reasons. If enterprises deploy Office on top of a Mac stack, they're not buying Windows. Besides, the Macintosh Business Unit has been profitable enough, riding the coattails of recent Mac laptop sales, selling Office 2008 Home and Student Edition. Hey, its $149.95 with three licenses. [Office for Mac is $399.95 and the Media Edition $100 more.]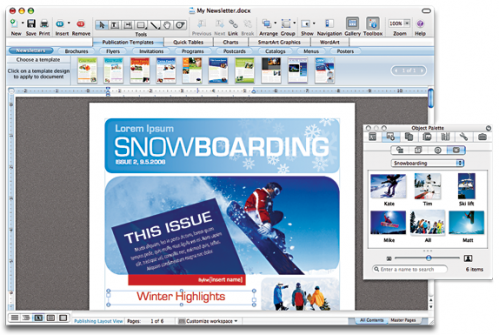 But Microsoft has renewed enterprise emphasis—to a fault—with the back-end of the stack rising in importance. Windows no longer needs to be part of the stack, if it ever did. Businesses could run Office on a Mac connected to on-premise or hosted backend systems running Communications, Exchange, SharePoint and Windows servers. Microsoft is giving IT admins more reasons to look at this scenario, through the new features and more importantly the Mac Business Edition and Outlook for Mac branding.
I predict that Microsoft's harder business push will increase enterprise Mac sales. What irony, should Microsoft do for Macs in the enterprise what Apple has failed to.
"What about Windows?" you ask. Two weeks ago, Microsoft CEO Steve Ballmer dismissed Apple as a Windows PC competitor. He told financial analysts on July 30:
Share versus Apple, you know, we think we may have ticked up a little tick, but when you get right down to it, it's a rounding error. Apple's share change, plus or minus from ours, they took a little share a couple quarters, we took share back a couple quarters. But Apple's share globally cost us nothing. Now, hopefully, we will take share back from Apple, but you know, Apple still only sells about 10 million PCs, so it is a limited opportunity.
Steve isn't worried about Apple competition, but surely profits across all Microsoft. He asserted that Apple share gains "cost us nothing" but failed to say that they "made us a bundle on Mac Office." There's more money to be made in the enterprise. Office across Macs and Windows PCs:
Provides customers with a more unified desktop environment.
Leverages Macs as a deterrent to enterprises running Linux on desktops.
Makes easier the selling of expensive server software, like Exchange and SharePoint.
Deters businesses from adopting either a Mac or Web applications stack, from Mac Office.
Office 2008 for Mac Business Edition will replace the standard and media versions. The consolidation makes sense and should be lesson to the Office for Windows team. There are too many SKUs!
Still, the rebranding isn't just about gaining traction with businesses. It's an admission of failure—that Office 2008 for Mac Special Media Edition hasn't done all that well. Apple controls an applications stack, too, with digital content creation tools like Aperture, Final Cut Studio, Logic Studio and QuickTime topping an applications stack from Mac OS X to Apple software running on Mac OS X Server. Media Edition was meant to compliment that stack and insert Microsoft's Expression media manager in it.
MacBU is one of Microsoft's consistent revenue performers. Recent sales did decline, but that was more because of strong year-over-year comparisons than the recession. Today's announcements may not be "Wow," but they are strategic. Business, like American football, is more about strategic plays than the occasional long run to the field goal.
Photo Credit: Microsoft