That's the question I asked over Black Friday weekend 2014. But searching online for comparisons brought little meaningful results. So I answer here, for others posing the same question, based on my experience.
We all make mistakes, but whoever really admits them? I do today. Simply stated: On December 1, I migrated my two sites—Five Minutes with Joe and Bunny Bows Press—from shared self-hosted WP to WordPress.com. I now regret the decision, returning to hosted WordPress 14 days later. 
Quick Primer
For the uninitiated, WordPress comes in two flavors: The open-source software you or a trusted webhost can install and maintain; service that WP creator Automattic provides for free or fee. Software from WordPress.org gives you total control. Hosting at WordPress.com is convenient but more limited.
The best analogy is home ownership vs. renting. You can add DirecTV to your house, but not the apartment where the landlord insists you use the cable service already wired into the building. The homeowner can paint or knock down walls, while the renter is prohibited. Similarly, self-hosted WP puts you in control, but makes you responsible, while WordPress.com manages a compelling package of blogging/online-publishing tools but prohibits you from expanding them—e.g., building an extension onto the house.
The restriction's reason is simple: WordPress uses plugins to extend capabilities, particularly those that transform a blogging platform into an online content management system. Like an apartment building, WordPress.com shares resources among the tenants; the only plugins are those Automattic chooses to provide. Standard subscribers cannot install their own. Similarly, FTP access is prohibited.
WordPress.com also limits how much users can personalize their space, like a rental landlord might do. The only themes are those that Automattic provides, and CSS customization costs more (it's not free).
However, benefits are aplenty, such as an assorted selection of additional fonts, DNS mapping and email forwarding (for a fee),  https access, integrated polls, social sharing tools, and much more. Backups are automatic, bandwidth is unlimited, and (for additional cost) audio and video content hosting and playback are available. There is very much to like about Automattic's service, as long as you don't mind what the landlord chooses to provide.
Flash-sale Temptations
My primary domain, joewilcox.com, has seen many webhosts and blogging platforms since the Millennium. I last parked it at Media Temple, on GRID server hosting, for $20 a month, four years ago. The service is very much hands-on. There is a one-click install option for WordPress, but for pretty much everything else you're on your own. The GRID provides plenty of features, like 1,000 email addresses and 100 sites/subdomains. The majority of features, I don't need.
For some time I had considered moving back to Automattic's service, where once joewilcox.wordpress.com belonged to me. But I deleted the site about a decade ago, irrevocably removing that handle. Oh, stupid is me! My interest in WordPress.com: Community, improved visibility, painless operation, and features more in line with my needs.
[yellow_box]TIP: WordPress.com is for renters, self-hosted WP is for homeowners, and managed self-hosted WordPress is for condominium owners.[/yellow_box]
Over the Black Friday weekend, Automattic and Media Temple offered compelling deals. Respectively: Upgrade from free to the $99/year Premium service and get Unlimited Themes, too—$129 value; add Premium WordPress Hosting for $145 a year, rather than $299. The themes really tempted. WordPress.com offers them for free or fee, but the subscription promo would make the whole lot available for no additional cost. The significance cannot be understated. On a self-hosted site, you don't have the option of trying without first buying—and requesting refund if the theme doesn't work for you.
From Black Friday to Cyber Monday, I debated options, while conducting lots of online research—much of that providing little enough information. I paid Media Temple way too much, because both my domains were on separate GRIDs; that's $40 per month, and, yes, you can scold me for not managing options better. I should have set up bunnybows.com as a subdomain on the other. By moving both domains to WordPress.com, and taking the short-term deal, I could reduce the next year's hosting to $198 from $480, and get access to 321 themes, of which 142 are Premium that otherwise cost additionally when not covered under the Unlimited plan. Moving to Media Temple's Premium WordPress would save even more—$338 versus $282.
The MT WP service is fairly new. As I will explain in the next subhead, the hosting plan provides the best of WordPress.com without most of the restrictions. For now, simply: Subscribers get three WP installations that are easily managed from a single console. Like WordPress.com, bandwidth is unlimited but with 20GB storage versus 13GB (3GB for free). Subscribers get mostly full control, including customization and expansion via plugins and themes, among other features.
Media Temple's instructions for migrating from the GRID to Premium WordPress Hosting set off my alarm bells, and for good reasons I will discuss later. Had I really understood the full process, however, migrations might have been easy. But sometimes you only learn by doing—eh, doing wrong.
I backed up my sites using FTP, and exported the XML files containing all posts, tags, categories, and comments. Because of my concerns about MT migration, I tried WordPress.com first, because the content could be moved without disrupting the hosting I had. I started by setting up a new blog for joewilcox.com, which zinged a surprise. WordPress.com asks if you want to use your own domain, which costs$13 extra per year. I chose joewilcox.com, which automatically designated joewilcoxdotcom.wordpress.com. What the frak? I hadn't expected that.
The process also changes the DNS servers for you, not that I couldn't have done so quickly at my registrar. Automattic also supports your MX record, by forwarding, rather than hosting, email. You choose one address, which sends messages to another; e.g., twinkie@itstheendoftheworldasweknowitandifeelfine.com to letspartyuntiltheasteroidhits@boomgoesthearth.com.
The blog import was super smooth. Uploading the XML file pulled all media from the MT-hosted site, with 95-percent success. I use WordPress' Featured Image option to set art, but not all posts populated. Overall, though, the process was so successful, I set up bunnybows.com, making the same URL mistake, then imported the site.
I was rushed because Media Temple would bill $40 for another month's hosting on December 2. With eight hours to Midnight, I completed the migration, which largely was painless and Joe-intervention-free. In the process, I spent $198; MT asked just $145, but I wanted those Unlimited Themes, which in my view was a great try-before-you-buy benefit.
[red_box]TIP: Like a landlord, WordPress.com limits how much you can customize your blog. Theme choices are limited, and plugins aren't installable. But as a renter you are provided with comfortable domicile with lots of extras and no-hassle management.[/red_box]
Normally that $99 year per blog gives you just: Custom design options (such as free fonts), domain mapping, email support, no unwanted advertising, upgraded storage, and VideoPress service.
I spent the next two days gorging themes, trying them live in a way not otherwise available. But in the end, none satisfied more than those I already owned. I applied Moka, from Elmastudio, to joewilcox.com. My previous theme, Namba, isn't available from WordPress.com. For bunnybows.com, I ended up with free theme Twenty Fourteen but really wanted to use one of Elmastudio's newest themes that released after my move to WordPress.com, but unavailable there.
Those two, unexpected decisions negated one of the main reasons for switching: Access to all those themes. Perhaps my ability to visualize is better than I expect, because in previously previewing themes from seller sites little proved different than imagined. Sigh.
The Social Compact
Other little things bugged me about WordPress.com. From the Dashboard and elsewhere, the URL is that annoying joewilcoxdotcom.wordpress.com not joewilcox.com. Similarly, the URL path to media is something like "https://joewilcoxdotcom.files.wordpress.com/2010/05/cash-register.jpg" rather than from joewilcox.com. The files all correctly map to the domain, but it feels lots less mine. I also worried about locking myself into a service not easily removed in 12 months, if, say, the media files wouldn't properly populate should I later chose self-hosting again.
Having for so long had the freedom to do what I wanted with my blog, little limitations mounted. None were big, but combined claustrophobia followed. I felt increasingly confined. Eleven days after switching, I started reading book The Art of Social by Guy Kawasaki and Peg Fitzpatrick and saw clearly my mistake.
As stated in my book, Responsible Reporting: Field Guide for Bloggers, Journalists, and Other Online News Gatherers, every content producer must identify an audience, write for it, and go to where it is. After 20 years of tech reporting, I search for new audience and understand the necessity of engaging an online social compact to reach it. My social persona needs a major makeover, and renewed engagement is essential. There is community around WordPress.com, which greatly influenced my hosting change.
But as I butted up against limitations, like inability to install plugins, and read recommendations by Guy and Peg for tying together a blog and presence on social networks, my commitment to WordPress.com collapsed. Two months earlier, I started pulling back from social networks, temporarily, to make my blog the hub. Time had come to add the social spokes. Looking forward, Guy's and Peg's book is a compass, and I will explain more about my social persona and personal website makeovers in a future post.
Admitting a mistake is one thing. Being certain and overcoming emotional and logistical inertia is something more challenging. I spent all my waking hours December 13 and part of the next morning writing post "Defending Rolling Stone", to clear my mind while contemplating whether or not to move my blog for the second time in two weeks. I will explain the decision-process in the next subhead.
[blue_box]TIP: When evaluating your bloghost options, put social sharing considerations before search-engine optimization. There is too much content online and too many sites struggling to be exposed by search. Social sharing tools will help you build sustainable audience, which matters more.[/blue_box]
For now: WordPress.com is a great service, which I highly recommend. Just because it isn't right for me doesn't mean that it wouldn't be right for you. Blogging is free, if you don't need to use your own domain—or imposed, and non-beneficial, advertising isn't irksome. The $99/year Premium upgrade offers lots of value for broadening blogging presence without being a homeowner. Sharing settings let subscribers automatically publicize posts on major social networks, such as Facebook, Tumblr, and Twitter.
But many of the best benefits also are available for free from fantastic WordPress plugin JetPack, which Automattic produces. If you self-host and install nothing else, JetPack must be it. Then there is desire—no, need—to take my blog higher than WordPress.com could lift it. The time to move, if at all, had to be before writing a litany of posts.
My Little Mishap
On the morning of December 15, I looked back at Media Temple but moving to Premium WordPress rather than returning to the GRID. The migration meant paying a much higher yearly fee than I could have gotten from the Black Friday-to-Cyber Monday deal. A 40-percent discount off GRID hosting remained, knocking down the annual fee to $120, and I was tempted to cut costs. But hosted-WP wooed me to spend more.
I never seriously considered another webhost but most certainly looked at others. In your choosing consider cost, reliability, security, and support as among the most important attributes. Bandwidth is another consideration, should your site be high-traffic. Some webhosts also better optimize for search than others, although WordPress plugins such as Google XML Sitemaps are must-installs you can add. If choosing to self-host, understand the security risks, particularly with plugins. My journalist, and former work, colleague Larry Seltzer offers a great primer/warning posted yesterday.
Media Temple's WordPress service is what I would want from Automattic: Attractive, clean console; partially-managed WP; and flexibility to customize and expand. Partially managed means that MT keeps the software current, provides additional security protection, and backs up the site. The user can choose from a number of backups, if there is need to restore or reverse the blog. Think of Premium WordPress like a condominium, where you're the homeowner but some services and upkeep are provided for you.
Other benefits include staging that makes it fairly easy for the user to build a site before taking it live. But there is no default https access or two-factor authentication, both of which WordPress.com provides. That said, one Media Temple security setting will "Limit Login Attempts", which somewhat compensates for not having two-factor protection.
Google Apps is easily set up, for $5 monthly, although MT webmail is accessible right from the WordPress Dashboard. Twenty-four hour support is provided, which I used a half-dozen times via chat over the first 48 hours. The technicians are knowledgable and helpful. Also, by comparison, my site is snapper at Media Temple than WordPress.com.
In hindsight, I now see that MT's migration assistant probably would have gotten my sites from the GRID to Premium WordPress with little to no hassle. The fault is my own for not understanding something. The originating blog's domain must be active, which I assumed wouldn't be if setting up hosting for, say, joewilcox.com. I made this misjudgment based on past experience with MT's GRID, where the domain needed to point to the host before WordPress properly functioned. By contrast, WP Premium assigns a temporary domain, which the user can later replace, during the setup process. Something else: WordPress.org offers clear instructions on how to import a blog, and they might have gotten joewilcox.com from the GRID to Premium WordPress. But on December 1, I was reluctant to try because MT's WP hosting restricts access to some server files that should be changed during migration.
[green_box]TIP: Like a landlord, WordPress.com and other blogging services can evict tenants—e.g., shut down sites—that violate Terms of Service or for which a DCMA takedown notice is received. Risk is little to none for self-hosters.[/green_box]
As such, I see another even more colossal mistake. Choosing Automattic over Media Temple, or visa versa, was wrong. I should have paid for and tried both services, then canceled the other during the refund period. Based on how migrations work before changing DNS settings at the registrar, I should have been able to experience both hosting options. Unquestionably, comparing cloud to cloud, MT would be the choice, whether on Cyber Monday or two weeks later. But made with much less pain.
Setting up new hosting on December 15 meant much manual labor. Media Temple's migration tool doesn't support WordPress.com. I signed for a WP Premium account, initiated blog setup, FTPed essential files from my December 1 backup, and imported the XML file from the same date. I hoped for a clean process that way, losing just 7 posts put up at WordPress.com.
But something disastrous occurred. Photos failed to show up on the posts. Media was in the correct folder on the server, but the import process failed to map them. So I repeated the process, which populated about 20 percent of the files in the Media Library and as much art as each post's Featured Image. The day evaporated, during troubleshooting and chatting with support staff. I deleted all posts and reimported. Three times. I exported the WordPress.com site and imported the XML file. No change. I went so far as delete the blog and start fresh. But the end was always the same.
In my online searches, I discovered the Featured Image malady is fairly common. Twice in frustration, I canceled my new Media Temple account, then rescinded. My blog functioned at WordPress.com, but the ease of going in versus the hardship coming out compounded feelings of regret. There's a reason, I guess, why Automattic offers a "guided transfer" service to hosted-WordPress for a $129 fee.
Finally, one MT technician suggested WordPress plugin "Add From Server", which promises to populate the Media Library from the blog's server. The plugin works but only partially solved my problem. Most of the Featured Image art was missing across the site. I decided to suck it up and restore the images manually. As I post, the site is visually functionally from the most current post through February 2006.
Measuring Benefits
WordPress is a blogging platform that has evolved into an online content management system. But can be a cranky CMS, which rough edges are smoothed and capabilities extended via plugins. Make no mistake, blogging is the core functionality. There are plenty of alternatives, and some offer greater ease with better blogging benefits.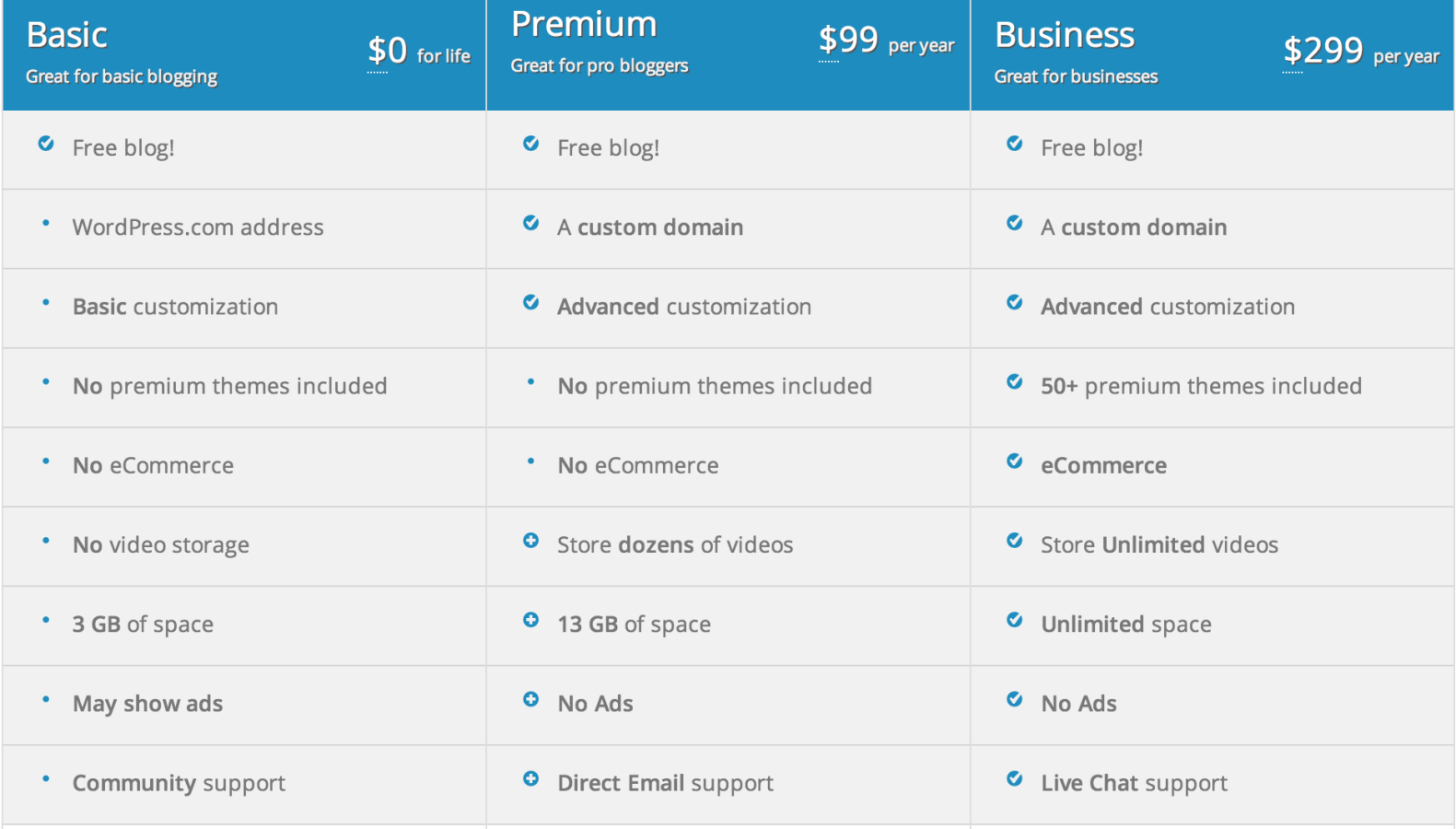 If I was starting fresh, with no legacy content, Ghost or Tumblr would be first choices for straight, simple blogging. Ghost offer severals nifty tricks, such as Markdown for writing posts presented alongside a live preview. Tumblr organizes posts by type, for composition and sharing, and the site is as much social network as blogging platform. Attractive third-party themes are available for both services, which limitations are similar to WordPress.com. You're a renter who is subject to the Terms of Service. Meaning: Bad tenants are evicted (e.g. blogs shut down).
Another option is to consolidate posting to a large social network like Facebook or Google+. Community and interaction are woven right into the social fabric. Also to consider: Medium, which is an editorially curated publishing platform that does away with plugins and the such and provides a simple, clean, but flexible, user interface focused on the written word. Medium also can import blog content for refreshing or repurposing. It's a service I plan to use alongside my site, and Medium is a platform for gaining exposure and increasing brand visibility.
Circling back to the two hosting flavors of WP, WordPress.com is right for many people.
If you want a basic blog that's easier to manage, even easier to share, but doesn't have to be the prettiest, free WordPress.com is a great choice.
If you want to use your own domain, avoid unwanted ads, host videos somewhere other than Vimeo or YourTube, and customize your site, $99 WP Premium is a better choice.
If you also want free access to Premium themes, ecommerce capabilities, and chat tech support, $299 WordPress Business is an even better choice.
Self-hosted WordPress will fit many other people, but like homeowners they assume more of the management and day-to-day responsibilities—and the risks associated with them.
If you desire the flexibility to grow your blog, want more freedom to customize or create a CMS, and you don't mind the hassles and risks of managing the site, self-hosted WordPress is the best choice.
I choose both. Right now, with joewilcox.com pointed at Media Temple, joewilcoxdotcom.wordpress.com is not publicly available. Bunnybows.com is still at WordPress.com; final destination is uncertain. I will ask for a $99 refund on one but keep the free Premium themes for a year, to stage some designs, on the other. Meanwhile, I listen to NPR and podcasts while restoring my personal site to its previous state.