For weeks, I wanted to capture this sign along Adams Ave., but each passby was in the car. Until today, when I walked to Pet Me Please for cat food. The Featured Image is from Leica Q. For comparison, the other is an iPhone X shot, using the second lens to 2X zoom.
Vitals for the first, aperture manually set for street shooting: f/8, ISO 100, 1/400 sec; 1:42 p.m. PST, today. The other: f/2.4, ISO 16, 1/1171 sec, 6mm; 1:43 p.m. Metadata indicates that the Q shot was 1:45, but that is incorrect as I used the X afterwards. Turns out the clock was running three minutes fast; it is now reset-corrected. 
The camera-produced photo is close-cropped. Clarity impresses; text on the sign is clearer than the smartphone shot—and it's more color-accurate. Which do you prefer?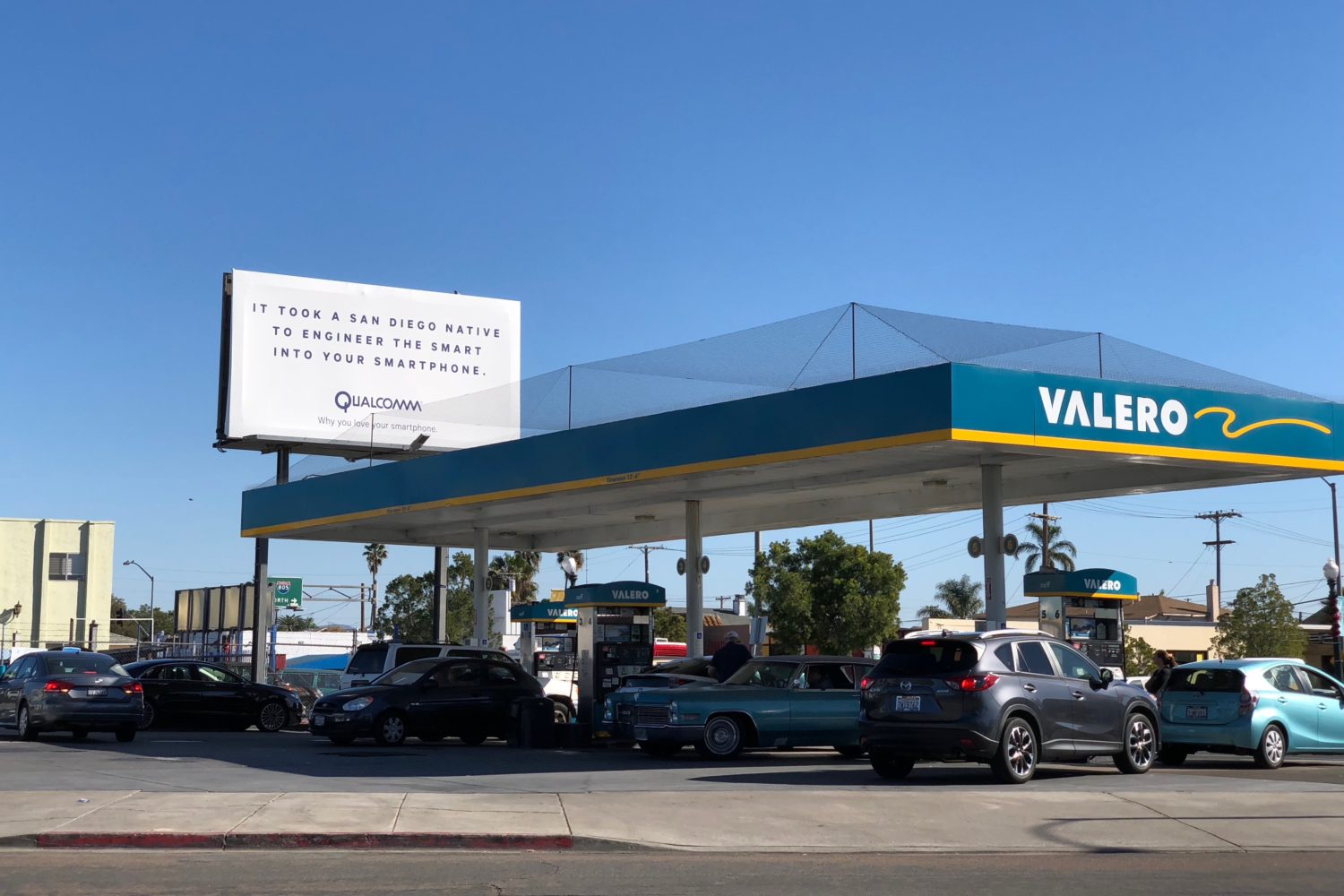 What's my interest in the sign? I'm a fan of guerrilla marketing, and that's what this thing is. Besides, Qualcomm is on my mind, because: 1) It's a San Diego company, which presence is pervasive. 2) The chip maker and Apple are engaged in a wicked squabble over patent rights (and fees paid for them). I am not familiar enough with the case(s) to comment, although it feels like the fruit-logo company plays competitive hardball—against a direct competitor (as Apple develops more of its own device internals) and major supplier of key components to Android smartphones, which have overwhelming global market share, as measured by usage (75.9 percent, according to Newzoo).
I am predominantly an Apple user, BTW, but one who would like to see some fair play for consumers' benefits. For example, having used iPhones with modems produced by Intel and Qualcomm, I hugely prefer the latter, which in my testing—and that of professional testers—proves to be faster and more reliable. So gimme Qualcomm, Apple.
Circling back to the billboard as guerrilla marketing, in context of the Apple legal squabble—and the potential long-term negative impact if patent fees are reduced—Qualcomm jabs at its rival, without mention, and cajoles the home crowd, like the Simple Minds song: "Don't You (Forget About Me)".