In the interests of transparency and fair disclosure, I must make two of three confessions. Several people have asked, via comment, e-mail or tweet, whether or not my wife and daughter stuck with Windows 7. There's appropriateness to responding the day Microsoft released the operating system to MSDN and TechNet subscribers.
On June 8, I asked: "Can my Mac-loving wife say, 'I'm a PC?'" I swapped out her MacBook for a Sony VGN-AR825E, running Windows 7 Release Candidate. The Mac laptop went to her brother so that he could video call with my father-in-law. I chose the Sony laptop for financial reasons. I was unemployed—still am, if you're hiring smart-ass journalists—and the Windows laptop cost less and offered more than the cheapest Mac laptop I could afford: The $999 white MacBook.
In June, I wrote about the switch: "If not for my confidence in Windows 7, I wouldn't have even suggested that my wife give up her Mac." Generally, I like Windows 7, which is Microsoft's zippiest and most productivity-boosting operating system released in years. I haven't had this much fun using Windows since 1995.
But my confidence was misplaced. My wife simply couldn't adjust to Windows 7. So the answer to the question is no. She couldn't say "I'm a PC." She wanted her Mac back, and fortunately she wasn't too fussy about it. I got a used, circa 2007 15-inch MacBook Pro in remarkably good condition for $600: 2.4GHz Intel Core 2 Duo processor, 4GB of memory, 160GB hard drive and 256MB graphics memory—more than what my really needs. Let's just say a friend cut me an unbelievable deal.
She returned to the Mac about a week ago, and I've already sold the AR825E laptop to another friend. He wants the large laptop for his dad, who is ailing and headed to a rehabilitation facility. I restored the laptop to Windows Vista Home Premium last night, updating applications and firmware, too. The notebook ships east tomorrow.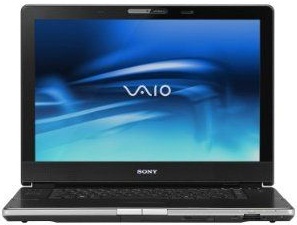 But the story doesn't end there. How could it? There is "two" in the title of this post. In May, just days after my layoff as editor of Apple Watch and Microsoft Watch, I switched my daughter from the aluminum MacBook to Sony VAIO VGN-SR290JTJ. She had used a loaner MacBook that Apple asked for back. With money a consideration, the Sony was comparable to the MacBook—and in some ways offered better hardware—for about $500 less. My daughter quickly adapted to Windows 7, and she cooed over the VAIO's pink color.
My 15 year-old daughter is a YouTube vlogger, who goes by "Morripopp." In the month following her Windows 7 switch, the quality of her videos dramatically dropped. The VAIO camera captured video in Windows Media Video or MPEG (not MPEG2 or 4), and there were conversion problems, among others. My daughter also stopped editing the videos. Like me, she couldn't find a good Windows alternative to Apple's iMovie. There's a reason why on June 18 I asked: "Why is there no iLife-equivalent for Windows."
Unlike my wife, Morripopp had no gripes about using Windows 7. My Mrs. balked at the user interface, and pined for Mac OS, which she described as "easier." My daughter happily used Windows 7, with the video application being the only problem. But it proved to be problem too much. The VAIO had to go.
A friend of mine had taken my old aluminum MacBook, when I switched to the Sony VAIO VGN-Z590 a few months earlier. To my surprise, he really hadn't used the Mac laptop and gladly swapped for the pink VAIO and some other gear. The MacBook is the same configuration as the one Morripopp had used earlier.
She made the switch on July 14. Two weeks later, I asked my daughter if she missed her Windows laptop. "Not at all," she said. So much for my confidence in Windows 7.
I believe in what Windows 7 promises, despite my women's abandon and even though I remain convinced this is the last major release of the operating system. The computing market is going mobile. The transition is inevitable.
I wish Microsoft well with Windows 7, which I'm downloading now from MSDN. Slo-o-o-o-ly. I started the download nearly six hours ago. Progress: 35 percent. My testing starts whenever the download finishes. By morning, perhaps?