Cough. Choke. Collapse. That's me nearly needing the Heimlich maneuver during breakfast while looking over Samsung Black Friday deals. You can preorder them. Seriously. What the frak is that?
The routine started all so innocently. Samsung sent a promo email, and I curiously clicked the picture of a Chromebook and "Reserve Computing Deals". You can, today—as in right this very minute—preorder either Samsung Chromebook 2 for assured savings ($20 or $50) between November 27 and December 1 for one and until the 27th for the other. I understand that Black Friday is late-month this year, but, c`mon, beat me with a sack of cash, sales preorders?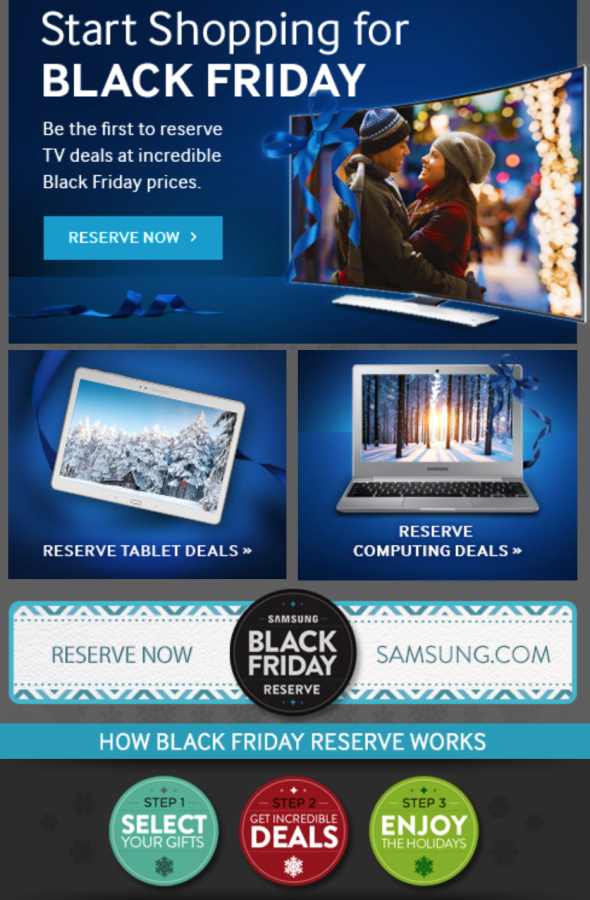 Gadget geeks, think! Take back your brains. I know that the we've all been conditioned for Pavlovian response by preorder parades. The likes of Apple and Google have us conditioned to salivate, hyperventilate, and obsessively flagellate the computer keyboard trying to get that gadget preorder before stock sells out. Should that really extend to Black Friday deals?
I'm afraid to ask: Who else? Surely Samsung isn't alone promoting such consumer madness. Now you can avoid the Walmart stampede and the risk that normally sweet Aunt May, who weighs 270 pounds on non-pasta and potato chips days, clubs you senseless to get $1 Ginsu steak knives (her next weapon of choice) and $199 40-inch TV (steer clear of her cart).  You can click now, lock in your discount, and sit back fat and sassy guzzling beer and pretzels Thursday evening, while the crazies storm store doors, which most major retailers, including Walmart, open at 6 p.m.
I thought the Thanksgiving openings were insane, and scary, enough. Now we've got Black Friday discount preorders. Oh my, Samsung, November 27 is Thursday, not even the Big Day. Please, someone shake me awake from this nightmare of consumer sales gluttony.
But wait! You can get that deal sooner. Samsung advertises big, big-screen TV sales starting November 23 that you can lock in now. The 55-inch 4K television will be discounted $1,300 to $1,299.99, which isn't as good a deal as appears. Amazon sells the same set for $1,497.99. The big savings, and even bigger spend, is the 65-inch model that Samsung will discount by $2,000 to $1,999.99 and Amazon sells $2,497.99. Lock it in now, bright boys, and avoid the mall crazies.
Or you can be sensible and do neither.
Editor's Note: A version of this story appears on BetaNews.