One word: Fantastic! That should be enough said, but one of my colleagues asked me how much OnHub costs. He bristled at $199.99, calling it too much. So, okay, let's do a real review that explains the magic that Google and partner TP-LINK accomplish with this remarkable router. But I warn you now: Buying one, even for two C notes, isn't easy. This thing is out of stock most everywhere, as it has been for weeks.
Simply stated: OnHub is the best router ever to anchor my home network. Beauty, simplicity, availability, and extensibility are OnHub's defining characteristics. Sold in blue or black enclosures, the thing is gorgeous, and it feels as solid as it looks. Setup and maintenance are frightening for their ease. The usable wireless range far exceeds the Apple AirPort Extreme router that OnHub replaces in my home. The network device packs protocols and other features you won't need now but will want later on. 
Google unexpectedly unveiled the WiFi router about a month ago. I purchased OnHub from Amazon on Sept. 15, 2015, during a brief period of availability, The device is sold out again, although hucksters will let you have one for $272 or more. Highest price to widen my eyes so far: Twice MSRP. Ouch.
From here the review focuses on the four major benefits.
Beauty
I have never wanted to put a router in the living room more than OnHub. Sigh, but my Cox cable connection is in a back room, so this gorgeous tech doesn't get the attention deserved. I bought the blue model, simply because Amazon had that one in stock. But I must say the color compliments my Nexus 6 nicely (not that it matters—okay, I lie). Confession: My photos do nothing to capture OnHub's beauty. You need to see the device close up and handle it to appreciate the design.
Reminiscent of Google's failed-to-launch Nexus Q, a luminescent ring around the top accents the device. The feature is functional by using color to denote network status—blue for setup, teal for active and online, and amber for trouble. While bright, the colors are also muted so that they don't overly illuminate a darkened room (that's in the default setting; the light's brightness can be increased).
During setup the enclosure twists off, allowing easier access to the four ports on the back: Power, LAN, WAN, and USB 3.0. There is but one LAN port, supporting Gigabit Ethernet, which might put off some people. OnHub is built for a wireless world, where cloud connectivity means everything. If you need more than one network port, buy something else.
The device is compact, measuring 115.4 x 190.4 x 104.5 mm (4.5 x 7.5 x 4.11 inches) and weighing 0.86 kilos (1.9 lbs). Funny thing: OnHub is a little larger, but lighter, than AirPort Extreme, but it looks smaller. I presume that's an illusion from color—dark blue vs white.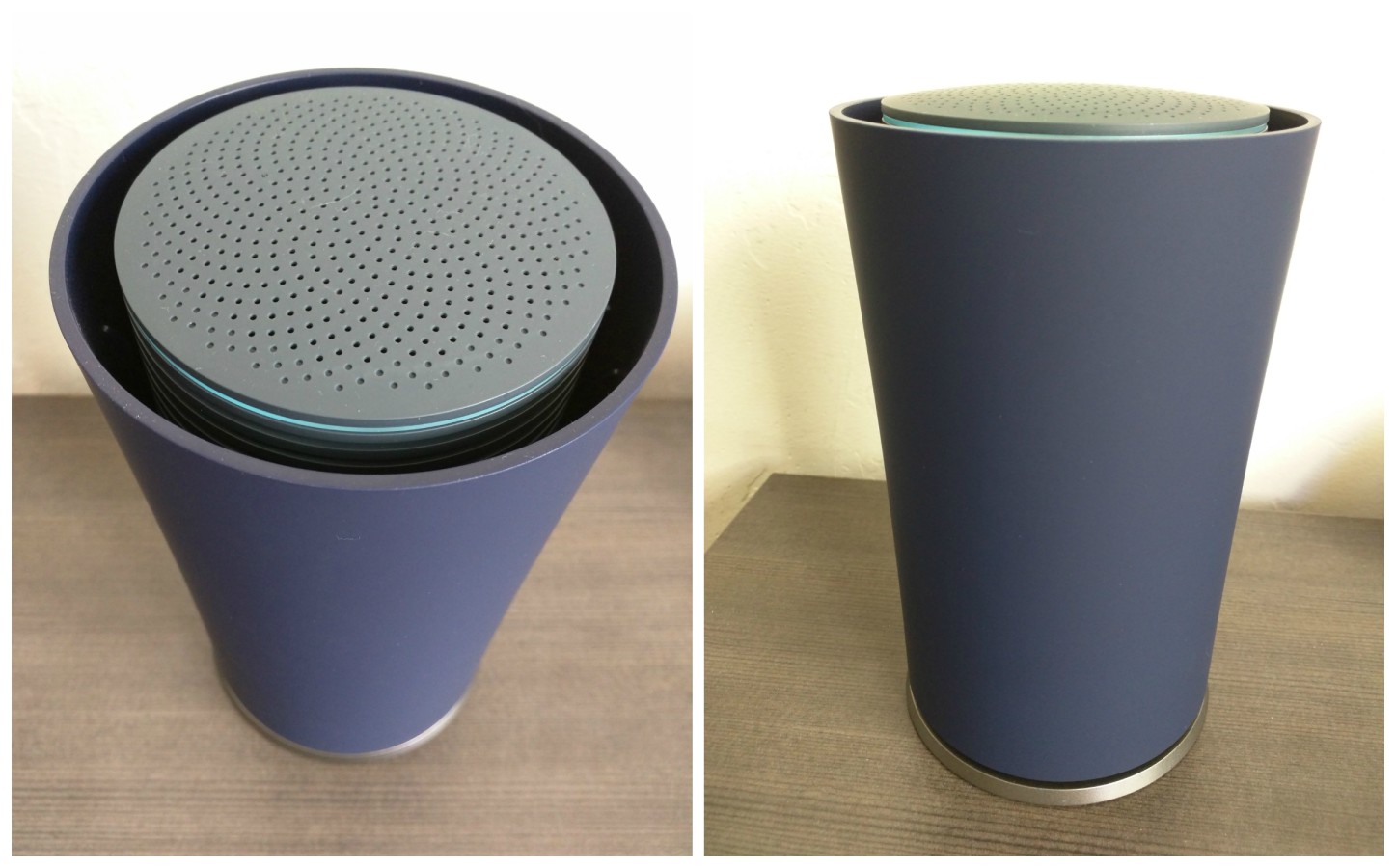 Simplicity
Setting up, and more importantly maintaining, WiFi routers can be a chore. AirPort Extreme is among the best for the former, but the required management apps (for iOS, OS X, or Windows) don't provide enough easily accessed information about the network. Many other routers require a web browser to access clunky, clumsy, complicated, on-device user interfaces.
To set up OnHub you download either the Google On Android or iOS app to your smartphone and connect the router cables to power and ISP modem (via the WAN port). This is where the other-world experience begins. The app prompts to place your phone over the top of OnHub, which emits a tone that establishes a secure connection. A Google account is required for extensible cloud and security features; to be discussed later. The last step is to name your network and assign a password.
However, during my setup, OnHub couldn't connect to the Internet, which isn't unusual. As I have experienced with some other routers, briefly powering off the cable modem reset DNS and IP, after which the light changed from amber to teal.
Simplicity extends to manageability and the ways which the Google On app lets you see what's going on across your network. Like OnHub, the app is pretty, and it is intuitively functional. You can even manage more than one Google router. That's handy for the small business owner with several OnHubs in different locations or someone who owns one at home and sets up another for, say, aged parents.
Manageability simplicity goes further, like the ease of conducting a "network check" for connectivity from modem to ISP, from OnHub to modem, and from device to router. Overall bandwidth usage or that by device is a touch-tap away, as well.
Availability
I have used numerous routers over the years, and generally Apple's offer the greatest effective range. In my apartment complex, OnHub does better. Cox promises 100Mbps service but typically delivers 120MBps or more, which is the consistent downstream SpeedTest.net measures over WiFi to Chromebook Pixel LS or to Nexus 6. I keep the Google router where was Apple's: In a back room, which over distance and through walls greatly diminishes bandwidth to my apartment's courtyard below. Typical best speed for AirPort: 3-5Mbps. OnHub: 15-20Mbps, and I can still connect all the way to street; my place is at the back of the building.
To achieve such wireless feats, Google gives the router 13 antennas—six each for 2.4GHz and 5GHz—and another to keep the dozen humming. Should OnHub detect interference or congestion, it switches channels. Baby monitors, cordless phones, and microwave ovens are among the devices that can choke channels and cause interference.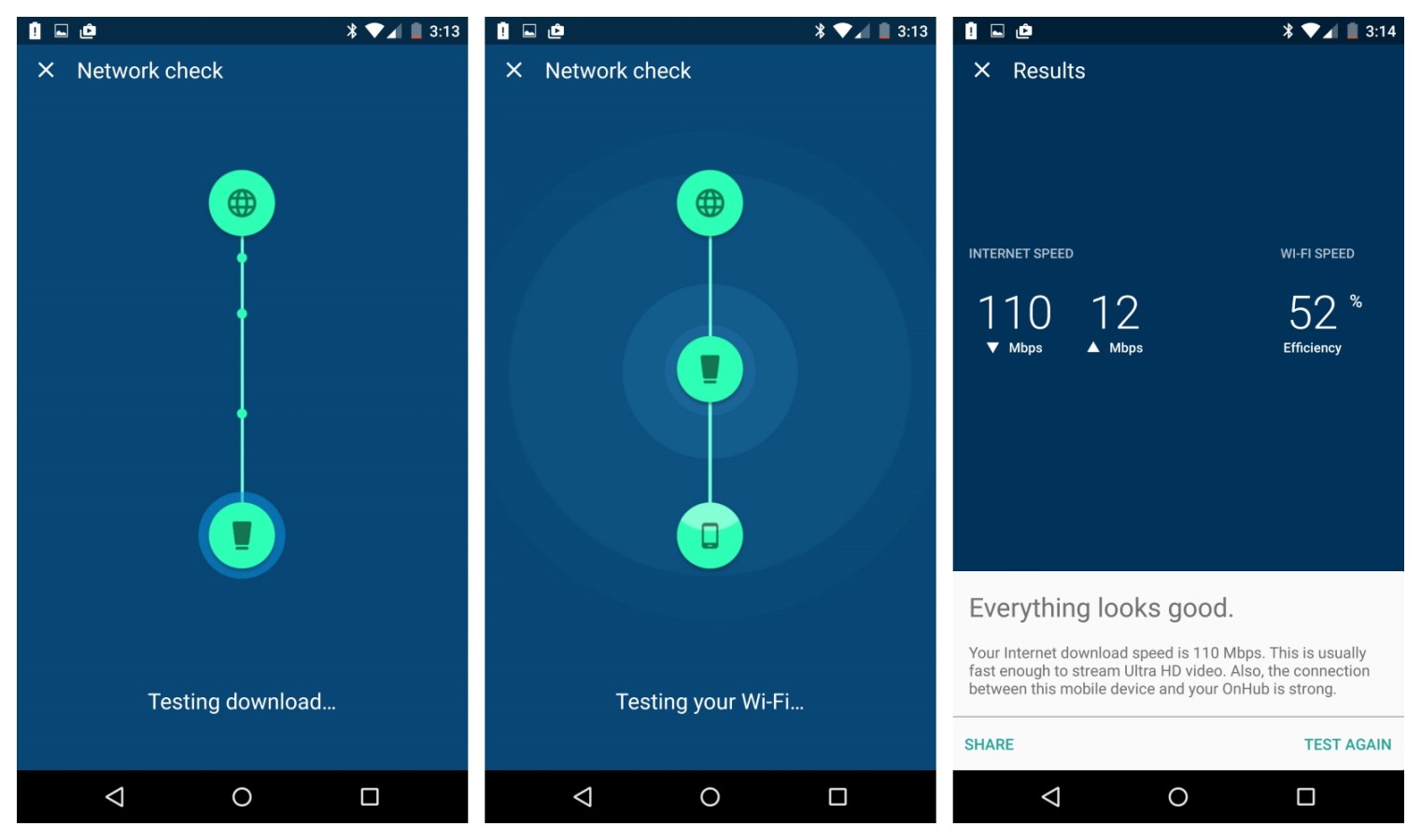 The antenna placement within the cylindrical shape presumes OnHub will be centrally placed within the domicile, providing good bandwidth in every room. While I get good range, it would likely be better if the router was in the living room. For clarification, even in the past when AirPort Extreme was in the main room, WiFi wouldn't reach the street. OnHub does better.
The aforementioned manageability features are not local network dependent. That's another availability bonus. You can check your network status and manage it from anywhere your smartphone has Internet access.
Availability can easily extend to other people. From the WiFi network screen, Google On lets you share your password by several methods, including via Beam or text message, with those whom you want to grant wireless access.
Like AirPort Extreme, OnHub runs simultaneous 2.4GHz and 5GHz networking, supporting all the major 802.11 protocols—a, b, g, n, and ac. Many other routers require setting up two networks with separate SSIDs. The 2.4GHz has greater range but slower speeds and other devices crowd the band causing interference. The 5GHz is faster and freer from interference but doesn't reach as far. OnHub's approach is more dynamic, making the wireless network more easily available with less fuss.
Google masters another availability feat: The On app allows selective bandwidth allocation—and for a fixed time period. Hehe, there's a real art to writing Help docs that make sense of what tech does and why, which Google quite hilariously accomplishes explaining selective allocation: "The devices connected to your WiFi network are like a pack of thirsty animals gathered around a small watering hole. Some get their fill, while others wait and drink only a few mouthfuls".
Streaming a 4K video, for example, is the thirsty animal needing more. You can choose 1, 2, or 4 hours of priority access—if you can figure out the device. On my network, I see those thirsty animals designated by manufacturer of the microprocessor, which complicates telling Intel from Intel, referring to two Chromebooks, or Motorola for two different model smartphones. Refinement is necessary, Google.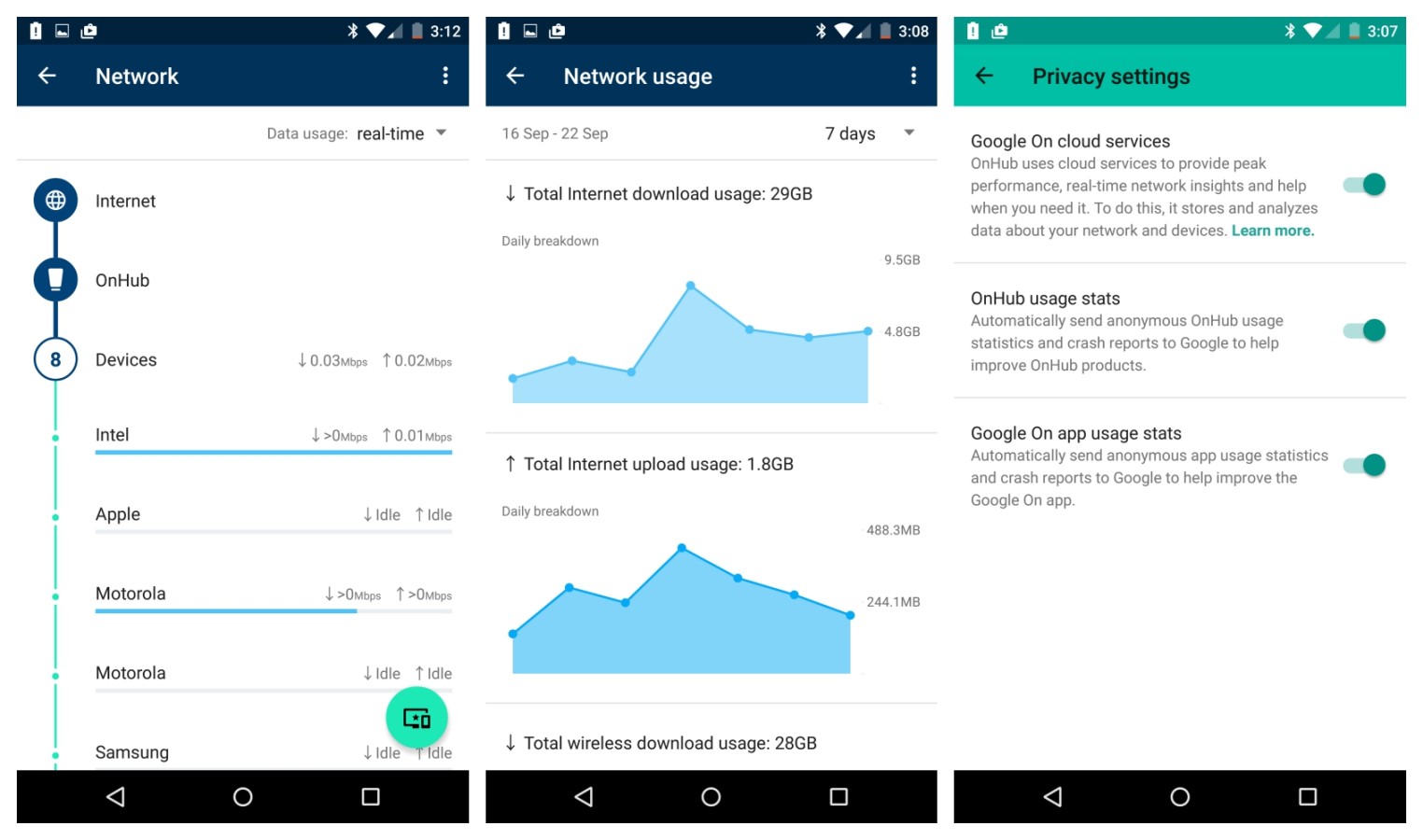 Extensibility
OnHub is rigged for the future. Consider the speaker that uses tonal password to connect device and smartphone via the app. Surely Google has bigger plans for the hardware feature than that.
Then there are the things present on the device that are not turned on in the firmware: Bluetooth Smart, Google Weave, and 802.15.4 Wi-Fi. Future-proofing is the term that applies. The hardware is ready to mature with protocols that enhance your network using the router you have rather than compelling you to buy another.
Extensibility comes full circle to this review's start: My colleague balking at the $200 price. In the here and now, I view OnHub as a superb value for a router. But Google clearly has bigger plans around home automation and entertainment that will make this thing better and increase its value proposition.
Like so much that Google does, OnHub is a work in progress. The device performs its core functions magnanimously, but there is more to come as the device becomes something greater.