As Christmas comes closer, it's time to think about rewarding your ears, or someone else's, with exceptional audio experience—headphones that I would ask Santa to bring for myself or deliver to another. If big, booming bass is your thing, read no further. Buy Beats, Sony, or another brand boasting barreling lows that shake your skull as well as eardrums.
My picks deliver broader audio range, each with warmer mids and highs and amazing detail, depending somewhat on the source of your content. Highly compressed AAC or MP3 tracks lack lots, but these cans will get a little more fidelity from them. CD or lossless source might change how you listen to music forever. 
Our headphone lineup, in order of presentation based on price: Grado Labs Prestige Series SR80e; Audio-Technica ATH-M50x Professional Studio Monitor; Sennheiser Momentum 2.0 Wireless; Bang & Olufsen BeoPlay H7; Master & Dynamic MW60; and Grado Labs RS1e. I pick these six for there ability to deliver a more natural, authentic, sound appropriate for all genres. They range in retail price from $99 to $695.
Three are wired, the RS80e, ATH-50x, and RS1e; the others are wireless. Both Grados are open-back, the Senheiser is on-ear, and the rest are over-ear. Only one, the Momentum 2.0 Wireless, provides active noise-cancellation.
Useful Jargon
Some important technical tips:
Soundstage is how instruments are spatially placed in audio recordings. The headphones in this lineup all present superior soundstage, such that you often can visually place the instruments and singers, and even feel like you are in the room with them.
Open-back headphones let in the most background noise or leak sound to those people nearby. Open-backs also typically present the best soundtage of headphone styles.
On-ear headphones are as named. They sit on the lobes rather than enclose them. Whether or not as comfortable as, or more than, over-ear is a matter of taste. Without active noise-cancellation, like open-back, the wearer will hear sounds in the room.
Over-ear headphones typically cover the ear, making a soft seal that improves the aural experience while blocking out most background noise. Many people find this style to be the most comfortable to wear, particularly for long periods of time.
Impedance is a value you need to worry about. We'll skip the science and get to practical matters: If you're buying cans to listen to portable devices, like smartphones or PCs, you want lower impedance; I find 32 ohm to be just right. If impedance is too high, you won't jack enough volume to your headphones without aid of an amplifier. For stereo systems you want higher impedance, upwards of 600 ohm.
Frequency response typically ranges from 20 to 20,000 Hz, with bass and treble at both ends, respectively. The extremes exceed normal human hearing range, but not necessarily perception: Below 20 Hz, the listener may more feel the bass than hear it.
Transducer creates the sound, and there are typically three types: Dynamic (most common); Orthodynamic; and Electrostatic. Think little speakers. See Headfonics' explanation for more.
Active noise-cancellation, as implemented by the the single pair of headphones featured in this roundup, uses microphones to capture and largely eliminate ambient, background noise.
Aptx codec allows for wireless delivery of high-fidelity music via Bluetooth without imposing heavy compression. HTC, LG, Samsung, and Sony are among the major brands broadly supporting Aptx across their smartphone lineups. Among the missing: Apple. Full list of supported devices.
How I Listen
No headphone primer can satisfy everyone, and maybe not most people. The listening experience is subjective, and in this era of consumption across devices and locales also contextual. The portable Bluetooth speaker is good for the beach, but you want booming sub-woofers at home in the living room.
What you are accustomed to listening will affect your response to different headphones, too. If you mostly listen to compressed AAC or MP3 files with graphic equalizer punching the lows, most of the cans in this roundup likely will sound flat and too finely detailed. Emotionally they will feel wrong.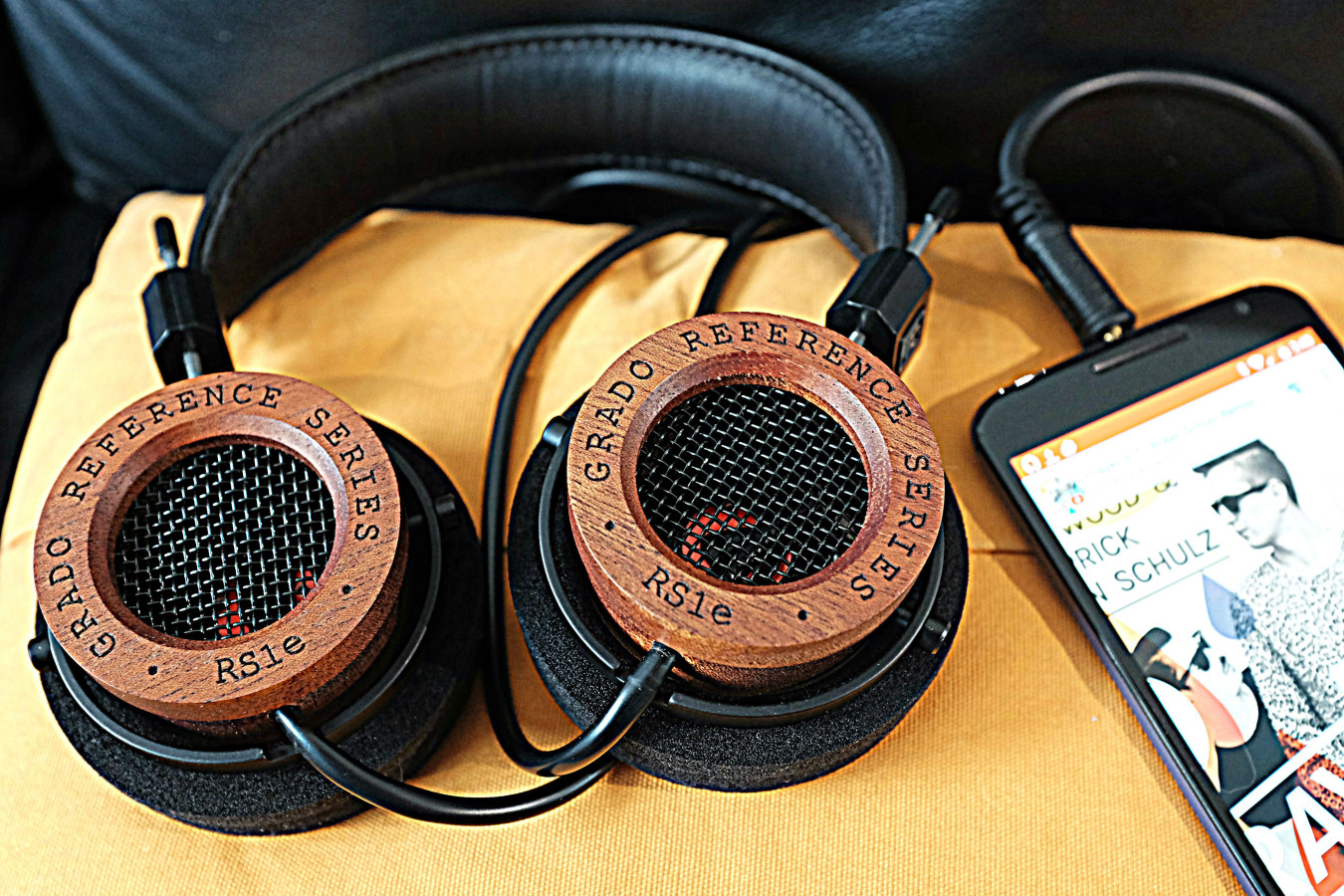 I do not typically use app/software graphic equalizer, which while adapting music to personal tastes is as much about, if nor more, making up for what compressed music lacks. If you feel need to use EQ with any of these headphones, return them and buy something dirt cheap. These aren't the cans for you.
For the wireless models in this roundup, I conducted modest Aptx testing, because my primary devices—Chromebook Pixel LS, Nexus 6P smartphone, and Nexus 9 tablet—do not support the codec.
I primarily tested by streaming music in the 1411kbps Free Lossless Audio Codec from Tidal. Many people cannot hear the difference between higher and lower bitrate tracks. I can. You probably could, too, with a little effort. In blind tests, people often choose wrongly because they're accustomed to hearing compressed files, which as such sounds more natural. One sure-fire measure: Vocals tend to be crisper from CDs or digital lossless tracks compared to highly compressed AAC or MP3 files.
Even if you can discern the difference, it may not be difference enough. Not everyone wants to hear the fine detail of the symbol or have sense of being in the room during the recording. Perhaps you prefer to feel that boom boom of heavy bass. Good for you. Do enjoy but also understand this roundup probably isn't for you.
Cans for Your Consideration
There are other fine headphones to choose from. My apologies if your fav isn't included. These six would make my Christmas wish or gift list.
Grado Prestige Series SR80e. Brooklyn, New York-based Grado Labs specializes in phonographic needle cartridges and headphones with unique but classic sound signature. Cans are handcrafted and hand-assembled on site and individually tested to ensure they produce the so-called Grado sound.
Surveying user and professional reviews, warm is often used to describe fidelity that favors treble over bass. The SR80e are fairly balanced such that some listeners will regard music as being rather flat. It's my experience that the "e" series Grados are punchier, with respect to lows, than the previous "i" series. Bass is more refined rather than defined, however.
Some specs:
Style: Open-back
Impedance: 32 ohm
Transducer: Dynamic, open
Frequency response: 20-20,000 Hz
The open-ear design gives airier, more realistic soundstage. But the cans leak sound, and you will hear ambient background noise, too. These aren't best for your metro commute or air-flight.
The actual speaker enclosure is made out of a polycarbonate material with S-cushion pads that some people may find uncomfortable for long-wear. Typical selling price is $99.
Audio-Technica ATH-M50x Professional Studio Monitor. Classic and affordable describe these iconic cans, which produce more natural and realistic sound than most any alternatives available anywhere. Monitor headphones, or more traditionally speakers, are designed to deliver sound signature that is truest to the original recording. As such, monitors are popular among professional engineers and musicians.
Some people describe the M50x as flat, or authentic, depending on ear and preferences. I wouldn't call them as warm as the SR80e, but they nevertheless satisfy. There is excellent detail and fairly full, natural soundstage.
Some specs:
Style: Over-ear
Impedance: 38 ohm
Driver diameter: 45 mm
Transducer: Dynamic, open
Frequency response: 15-28,000 Hz
Construction materials don't feel or look high-end, which might deceive some potential buyers. The M50x may not delight the eyes, but the ears will wow. The circumaural, over-ear design diminishes sound leakage and blocks most ambient noise. The cups are cozy comfortable for long-wear.
For authentic sound and fine detail, these cans are the best bargain at almost any price, and they already are remarkably affordable, typically selling for less than $170 and during the holidays even for as little as $120.
Sennheiser Momentum 2.0 Wireless. These cans come in on-ear and over-ear variants, with the latter selling for $100 more. I tested the on-ear model, which fits comfortably even for long periods of time. The active noise-cancellation nearly blocks all ambient background noise, and there is little to no sound leakage. Note: The feature cannot be disabled when the cans are used wirelessly. For the record, I prefer headphones without active noise-cancellation.
Bluetooth connects easily, and controls for adjusting volume and pausing or changing tracks are accessible and easily-used. Listeners can take phone calls, using the built-in microphone, and then resume audio playback.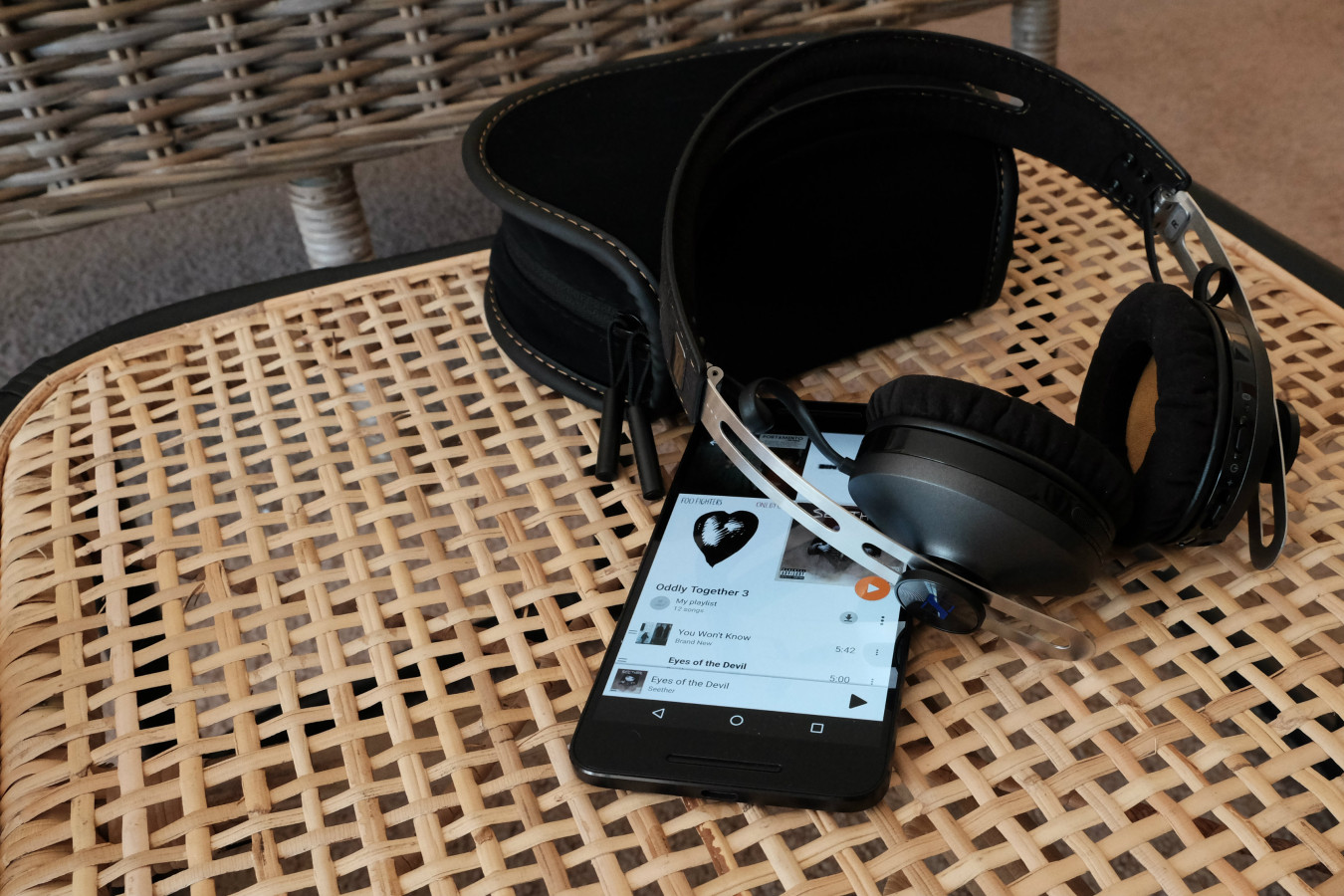 I describe the audio signature as full. There is excellent definition for lows, mids, and highs. But the soundstage, while vast and surely satisfying, has an artificial quality. Among the six headphones, the M2's deliver the punchiest lows—sub-bass that is more felt than heard. The rumble causes my left ear to ache, even when the volume is fairly low or when listening for shorter intervals. That's a deal-breaker for me.
Some specs:
Style: On-ear
Battery Life: 20 hours+
Transducer: Dynamic, closed
Wireless: Bluetooth 4.0 + Aptx
Frequency response: 16-22,000 Hz
Styling is exceptional—retro cool—and photos do not capture the can's character or charm. From stitched leather to metal sliders, the M2 evoke an earlier audio era, when radio was the dominant means of communication and content consumption. Sennheiser provides a handsome hardback case and soft carrying bag that add value to the typical selling price: $399.
Of course you can use them with a 3.5-mm connector cable, which is supplied. But if you plan to use the M2 wired even 40 percent of the time, better choice could be the non-wireless open-ear model, which costs considerably less. Typically: $229, but during the holidays $149.
Bang & Olufsen BeoPlay H7. Based on audio profile, these modern-styled cans essentially are the Bluetooth version of the H6 wired and should not be confused with the H8 wireless, which sound signature digresses. Flat best describes the H7, like Audio-Technica ATH-M50x but with different audio character. Bass is subdued, but present, while mids and highs are warm and lively. Treble trumpets. The overall range is well-balanced, unlike the H8, which booms more bass, but provides active noise-cancellation.
Authentic and natural also describe the H7's sound signature, which presents dramatic, full soundstage. For Apple users distraught about missing Aptx joys, the BeoPlay model natively supports the AAC codec. But rip and listen lossless for the best bang from your iPad, iPhone, or iPod.
Unlike the other two wireless models in this roundup, the H7 present touch controls, which make me feel like a ditz-for-brains for my constant mistakes using them—like activating the phone when trying to up the volume.
Bluetooth connects easily, and answering a phone call is a snap. Wired is an option using the supplied 3.5-mm connector cord. Nice-to-have: The rechargeable battery is removable, if you'd like to carry a spare.
Some specs:
Style: Over-ear
Impedance: 20 ohm
Battery Life: 20 hours
Driver diameter: 40 mm
Transducer: Electro-dynamic
Wireless: Bluetooth 4.1; Aptx, AAC
Frequency response: 20-22,000 Hz
Plush modern styling defines the BeoPlay lineup. From the aluminum enclosures to the lambskin ear-cups, these cans boast luxury, and they feel luxurious, too. They're cozy-comfy, and you won't easily tire from wearing, nor because of the sound signature suffer ear fatigue easily. The circumaural, over-ear design diminishes sound leakage and blocks most ambient noise.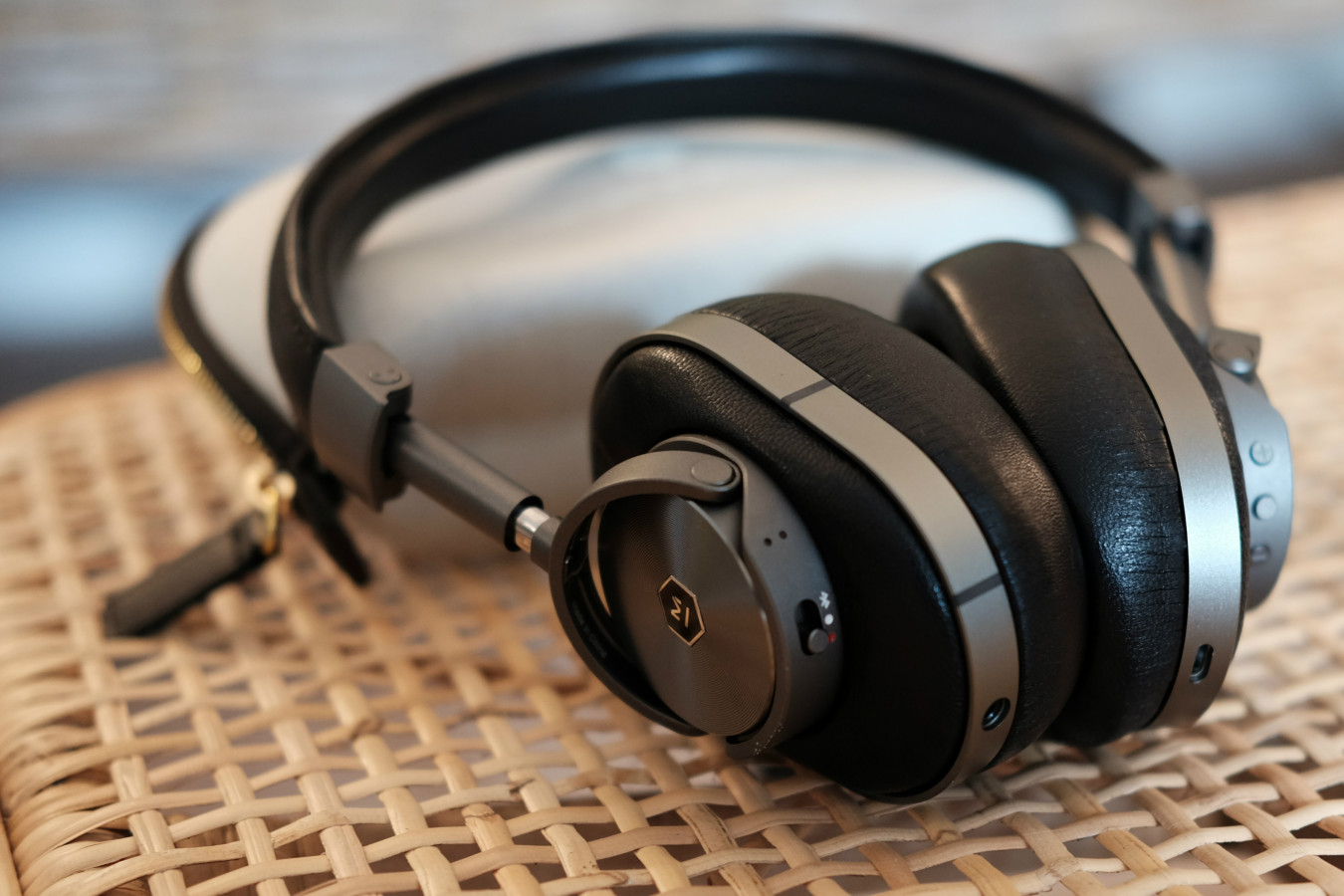 Typical price is $449. However, during the holidays the BeoPlay H8 can be found for the same price (that's $50 off), boosting bass and providing noise cancellation. Choice is yours which suits your tastes for the same price.
Master & Dynamic MW60.  Immersive best describes the audio signature of these striking, retro-styled headphones. Soundstage is present—like you're there in the room with the musicians. Tonal range is balanced, presenting fine details. The lows ride the mids and highs, without overbearing the ears. Where the Momentum 2 cause my ears to ache and fatigue, the MW60 delight them with the faintest creak of the guitar's wood, full timbre of the drums, and crackle in the singer's voice.
Compressed AAC and MP3 tracks are reborn, echoes of their former muddied selves, fresh and vital with renewed dimension. Whatever processing magic Master & Dynamic sprinkles into these cans, seemingly any sound source benefits.
In the strangest of ways, the MW60 are closest in tenor to the Grado RS1e. Both rely on design of the acoustic enclosure, rather than digital curmudgeonry, to produce authentic sound signature—however, using vastly different materials to achieve the feat. But the Grados are bound by wires, whereas the M&Ds free listeners from them.
Bluetooth connects easily, and the range is remarkable; even 15 meters (or more). The controls for adjusting volume and pausing or changing tracks are accessible and easily-used; they feel solid, too. Listeners can take phone calls, using the built-in microphone, and then resume audio playback; easily.
Some specs:
Style: Over-ear
Impedance: 32 ohm
Battery Life: 16 hours
Driver diameter: 45 mm
Transducer: Neodymium
Wireless: Bluetooth 4.1 + Aptx
Frequency response: 5-25,000 Hz
The MW60 are bit of a masculine affair. Aluminum, lambskin, leather, and stainless steel combine in rugged style that evokes aviators of a bygone era. Wearing the headphones makes me feel, even for scant seconds, like the radio operator on an Air Force bomber. The design is both nostalgic and modern.
The lambskin-covered memory foam cushions are immensely comfortable and they minimize sound leakage while blocking all but the loudest ambient background noise. Price is premium: $549. The MW60 are worth every penny and more.
Grado Labs RS1e. Reference Series is etched into the rich mahogany that gives the RS1e their distinctive look and sound signature. The Grado family means the cans to be the standard by which quality audio reproduction is measured. Reference means something. The wood is as much metaphor as it is functional. The material is more than just natural, providing the timbre for producing more natural sound.
That is after undergoing a burn-in period. I used the RS1e for about 40 hours, similar to their "i" predecessor, before forever flat sound burst like a nova into spreading spatial fidelity. Spectacular soundstage, bright highs, and warm mids are defining acoustic characteristics.
The lows are present, vital, without being punchy. As such, I can wear the RS1e for hours upon hours with little to no ear fatigue. But I rarely do, because the cable is like a ball and chain. I don't want to sit on my ass, but move around, which is why the MW60 recently replaced the Grados as my headphones of choice.
Some specs:
Style: Open-back
Impedance: 32 ohm
Transducer: Dynamic, open air
Frequency response: 12-30,000 Hz
The open-ear design contributes to the airier, more realistic soundstage. But the cans leak sound, and you will hear ambient background noise, too. These aren't best for your metro commute or air-flight. But listening quietly, you will hear detail silent to other headphones.
Soundstage and definition are most pronounced on music engineered before the turn of the century.  Pop and rock classics from the 1960s, 70s, and 80s or classical music from any era get the biggest bang from the RS1e.
You will pay premium price to receive these aural delights. The cans typically sell for $695.
That's a wrap. Note: After finishing principal writing last night, I saw that TechCrunch posted an excellent headphone buying guide that recommends cans based on who the gift is for (e.g. college student, mom, etc.) The approach is excellent; do have a look if shopping for headphones.
Editor's Note: A version of this post appears on BetaNews.