Nokia World convenes for two days in Stuttgart, Germany (local time there, 9 a.m.). It's an event that many US analysts, bloggers or journalists will look at with disdain. If hype were the only measure of success, Apple would be the world's largest handset manufacturer. But for all the iPhone bark—much of it coming from the United States—Nokia has got way more bite. Not that most Americans will hear about it.
Hey, call on me first to offer praise for Apple's  mobile platform, because I will. I've used three generations of iPhones and various Nokia handsets, including the E71, N85, N95, N96 and N97, and Apple and Nokia software and services. Where Apple advanced on Nokia is platform approach. Nokia makes great hardware, but its software and services platform falls behind Apple's App Store, which bursts forth applications. Seemingly thousands more are submitted by developers every day. At last count, App Store had over 50,000 applications, which is a helluva accomplishment in just a year.
In the United States, banks and insurance companies and major newspapers like the New York Times are among the many companies developing iPhone apps. These companies aren't traditional software developers but services companies. By comparison, Nokia's Ovi Store lists only 2,916 applications for flagship handset N97 and nothing like the A-List of companies developing for iPhone.
Declared Winner iPhone Isn't
Given Apple's mobile platform success, many US analysts, bloggers or journalists already have declared iPhone/App Store the winner. They are wrong to do so. Nokia's strength is huge reach. In second quarter, according to Gartner, Nokia sold 105.4 million handsets, nearly double No. 2 Samsung. Nokia's handset marketshare was 36.8 percent. Symbian OS ships on 51 percent of smartphones, and Nokia's smartphone marketshare is 45 percent.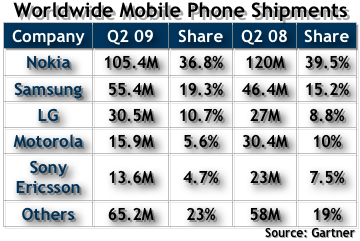 As good as Apple's software and services platform may be, it still needs hardware. Even when adding iPod touch to the platform, Apple handset sales trail Nokia. A week from today, at an event in San Francisco, I expect that Apple will launch more iPods supporting App Store. One goal: Extend the software-and-services platform's reach.
But Apple has a long ways to go. In second quarter, according to Gartner, Nokia sold more than three times as many smartphones as Apple and, overall, 20 times more handsets. Put differently: Nokia sold more smartphones than the next four marketshare leaders combined.
But iPhone's largely US-based cheerleaders often dismiss these numbers as insignificant. They're in love with iPhone's user interface and applications, cooing in weekly posts about all the newest apps and occasionally penning yet another Nokia obituary. But their enthusiasm doesn't make Apple the mobile champion. With respect to software-and-services platform, Apple knocked Nokia to the floor in the ring. But it wasn't even close to a knock-out punch.
I would love some non-US readers to say anything in comments about Nokia, because they are more likely to be familiar with the brand. Outside the United States (and also Japan and South Korea), Nokia brand awareness is strong, and carrier subsidized devices are available in major and emerging markets.
Apple Drops the BRIC
Apple has done well expanding iPhone's international distribution, but along the way the company made some bad strategic decisions that hobble handset adoption in two of the major emerging BRIC—Brazil, Russia, India and China—markets; the company has only just inked a deal for another. In India and Russia, Apple embarked on carrier distribution agreement conditions, including locked phones, that go against how handsets are distributed or purchased there. Gartner is on record identifying the problem.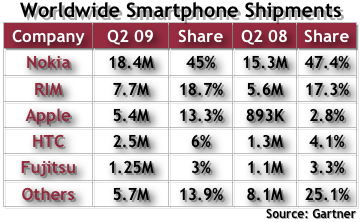 Last week, Apple signed an iPhone distribution deal with China Unicom, China's second-largest telecom. But the device will ship without WiFi, possibly keeping alive the allure of black/grey market handsets.
Nokia's first challenge in keeping its heavyweight title: Overcoming fragmentation. Nokia ships two major Symbian OS variants, S40 and S60—and the latter largely splits among different point iterations of 3rd and 5th editions. S60v3 is a fairly mature platform. But the newer, 5th Edition hasn't really caught on with developers, particularly Widgets that add usability punch to the touch homescreen.
Then there is the services challenge. On paper, or spreadsheet, Nokia's Ovi offers apps, calendar, contacts, content sharing, file sharing, mail, maps, messaging and music. Ovi is a powerful suite of services, but in my testing hampered by usability and integration foibles.
Maemo Me
I'm excited about Nokia's imminent future, as in October, and you should be, too. Last week, Nokia showcased the Linux-based Maemo operating system powering the N900, which release is scheduled for October. Maemo surely demos well, and the device is packed with lots of juicy hardware. I look and say, "Wow!" The Maemo user interface has the kind of magical appeal that drew customers and developers to iPhone. More importantly, and quite surprisingly, Nokia has taken a very connected approach to Maemo and N900. What I see in the Maemo user interface, and not in iPhone OS, is support for social sharing content (I won't explain more. The YouTube video is there for a reason).
Social content sharing is the right approach. Nokia is catching the connected wave that Apple rode only briefly. But the connected wave is growing. The most popular or growing popular tools for community and self expression launched within the last three years: Disqus, FriendFeed, tumblr,  Twine, Twitter,  Qik, USTREAM and YouTube among many others. A social media revolution started in 2006, and it's reaching crescendo today.
Nokia also has chosen a good gravity well for pulling developers and their existing or forthcoming applications: Support for the Mozilla engine. Maemo magic has the potential to smack down some of that iPhone overhype. So far, I like what I see in Maemo, but tomorrow and Thursday—Nokia World days—will reveal how much.
But for 2009, Maemo is a one-device story, the aforementioned N900. Nokia must make its S40 and S60 platforms better today. The pieces are there, just not enough usable integration among them. Nokia Labs cranks out innovative new software and services seemingly every week. If Nokia loses its heavyweight crown to Apple or another competitor, it won't be for lack of effort.
N97 Second Chances
As for me, I spent the weekend debating my Nokia commitment. On Friday, I confessed about giving up my beloved N97 for iPhone 3GS. I contacted Nokia about obtaining a N97 review unit, noting that Robert Scoble and I had largely different opinions about the device (he said it "sucks"). The response from Nokia PR: "Not everyone agrees with Robert Scoble and because of this, we continuously have requests about N97 and have quite a long wait list for units." I believe it.
I have two iPhone 3GS smartphones: One purchased with funds from the sale of the N97 to a friend; the other a loaner from Apple. The friend who took the N97 agreed to a swap: iPhone 3GS for the N97, at least for a few weeks. I want to give Nokia and the N97 another chance.
To my surprise, my daughter already has. Three weeks ago, I swapped out her Nokia E71 for the iPhone 3GS loaner sent by Apple. She complained from Day One until I returned the E71 on August 30. She does Facebook, IM and texting and doesn't care about the apps or the iPhone 3GS fancy touchscreen. For her, the E71 keyboard is the user interface of choice. I've taken possession of the abandoned iPhone 3GS loaner for testing applications. She wants me to buy her an E72, as soon as it's available.
For all the iPhone hype, perhaps there is Nokia hope. This afternoon, I discovered a new mobile kiosk at the local mall. The owner said he opened last week. The kiosk specializes in unlocked Nokia and Samsung handsets. It was shocking to hold a black N82 or see a display full of  N97 brochures. Best Buy sells Nokia handsets, too. But the kiosk has better prices. Who knows? Maybe I'll soon buy an E72 there.