Last week, at the suggestion of Betanews founder Nate Mook, I asked question: "Is MacBook Air a netbook killer?" I first posed it to Betanews readers who responded by email to an earlier post and then to some analysts. The majority of folks emphatically said, "No". I was surprised because my answer would be  something like: As a pair iPad and 11.6-inch MacBook Air are netbook killers. I put aside my own opinions and let the reporting lead the story. As I explained later, in "MacBook Air will redefine personal computing", Apple's little laptop—and its itty-bitty tablet, too—are category redefining products because they share so much in common with consumer electronics devices.
On November 1, 2010, I received a custom-configured 11.6-inch MacBook Air, which I ordered from Apple (upgraded to 1.6GHz processor and 4GB of DDR 3 memory). A day later, the tiny computer—0.3-1.7 cm high, 29.95 cm wide, 19.2 cm deep and 1.06 kg weight—replaced a 13.3-inch MacBook Pro. I can't imagine being much more satisfied. MacBook Air is netbook enough me, despite the price gulf separating it from category-defining devices from manufacturers like ASUS and Acer. I would never buy a traditional netbook. There are too many sacrifices for the size and price. Also my priority is probably different from many other buyers. Based on analyst surveys, most netbook purchasers use their tiny weeny computer as adjunct to a more powerful PC. I want a thin-and-light laptop that's enough to be my full-time machines.
Every sub-$400 netbook I've handled feels cheap and the screens lack something, starting with lower resolution. In a compact portable with small display, screen resolution, contrast and viewability from sharp angles are important usability benefits often missing, presumably to meet lower price points. I see traditional netbooks as lacking:
Adequate screens
Acceptable performance
Robust graphics capability
Apple resolves all three problems—granted for higher price points—by providing:
High-resolution display
Speedy , solid-sate storage
256MB nVidia graphics chip
I would recommend the 11.6-inch to anyone looking for the benefits of a traditional netbook without the baggage, assuming they can justify the higher price. I wouldn't pay what Apple charges ($999-$1,399, depending on 11.6-inch model configuration) for a small companion computer. It's either good enough for full-time use or it's not good enough at all.
I am thoroughly delighted by MacBook Air, starting with the crisp , clear screen and zippy performance. In my forthcoming Betanews review I'll more specifically assert why Apple's little laptop offers similar benefits as netbooks—small size, light weight and long battery life, among them—without sacrificing performance or usability. I wouldn't have believed that a tiny computer running a 1.4GHz or 1.6GHz Intel Core 2 Duo processor could be sufficient for daily, demanding tasks. For nearly everything I do, including photo editing using Adobe Lightroom 3.2, the 11.6-inch MacBook Air responds better than the 2.53GHz MacBook Pro, which my wife inherited.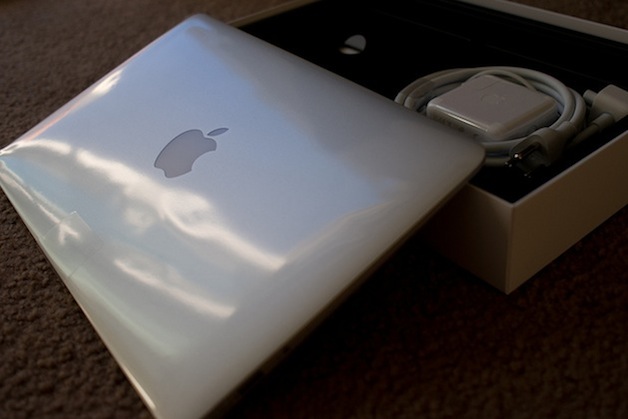 Giving Up Old Habits
My site redesign came to a screeching halt this week, because of the thinner Air I breathe. There is still much work to do here at joewilcox.com, following my official November 1st relaunch. Adopting Air means changing habits, in part to accommodate smaller hard drive (128GB vs 256GB) and slower Intel Core 2 Duo processor (1.6GHz vs 2.53GHz) compared to MacBook Pro. I'm running fewer apps and doing more in the browser. The change, which probably is unnecessary for nominal tasks, has disrupted my workflow; I am, like most people, a creature of habits. For creative work, habitual disruption is burdensome.
Change is good. New habits are good. I typically find disruptive environmental or computing changes bring unexpected long-term benefits. Rather than subsist by well trodden habits, I make changes that should eventually enliven the creative process and open up other areas of thought and inventiveness. Short-list of changes:
Working more in the browser. I've abandoned apps like NetNewsWire and Tweetie for Google News and Twitter Websites, among others. I had wanted to use Web-based mail but found Apple's service too unacceptably sluggish. Although I've had no performance issues, they may come as I do more video editing. I can easily kill and relaunch browser apps in two clicks. I'm enjoying the different way of working, although it's fresh, not new. I've merely increased the amount of productivity done in browser.
Kissing off Adobe Flash. Not that anyone reading Betanews would know, I agree with Apple CEO Steve Jobs that Flash is a resource hog. My Air's Safari browser came Flash-free, and I'm going to keep it that way. I may use a Flash-to-HTML5 video extension or plugin, but there's no rush. Two reasons: I'm rather enjoying not being assaulted by Flash ads on many Website, and I've observed that this Air and other 11.6-inch models tested at Apple Store won't play YouTube embedded HTML5 videos. I want to know why. If Apple is touting HTML5 standards, but not conforming to them, there's a story there.
Using lighter applications. This is future task. Sometime in early 2011, Apple will launch an application store for Snow Leopard. I'm assuming many of them will be lighter apps like those available for the iOS App Store.
Pushing up external storage. Even with a beefier hard drive, I always use an external disk for my music library, which is closing in on 100GB in size. I had been using a 500MB LaCie Little Lisk. I moved up to the Rikiki Superspeed 1 TB USB 3.0 external hard drive, which backward compatible with USB 2.0.
Getting out more. I want to do more storytelling about people, and that means getting out easily and processing and posting content quickly. MacBook Air is perfect compliment to my Leica X1 and Olympus LS-10 digital audio recorder.
As I will later explain in my review, MacBook Air isn't for everyone, and many people will buy the little laptop as companion to a bigger machine. The littler Air is exactly what I've searched for in, light, lithe and lively laptop.
Do you have a MacBook Air story that you'd like told? Please email Joe Wilcox: joewilcox at gmail dot com.