The question everyone should ask about Google-branded, LG-manufactured Nexus 5X: Who is it for? My first-impressions review primarily focuses on the answer. My wife is one person, and I am surprised. Because conceptually she steps down from the Motorola Droid Turbo, which by raw specs is the superior mobile. Budget buyers also should consider the 5X or anyone living the Google lifestyle or wanting stock Android.
The new handset course corrects last year's release blunder, when Google sized up to 6-inch screen with the Nexus 6, leaving many satisfied N5 owners in stunned silence followed by loud complaint. While a N6 fan, I agree: It is a huge phone that is overly large for the majority of prospective buyers. This year's solution is smart. Google released two smartphones: Nexus 6P, which while phablet-class is markedly more manageable in the hands than its predecessor; Nexus 5X, for people wanting something smaller and for N5 owners looking to upgrade. 
Measuring Value
Size wasn't N6's only drawback. Google ventured from the Nexus line's core value of providing good value. The big phone sold for $649 or $699, in 32GB and 64GB capacities, respectively, By contrast, Nexus 5 cost $349 (16GB) or $399 (32GB) when released in late October 2013. The Alphabet search subsidiary presented N5 uprgraders and others with a $300 price increase that put Nexus in the iPhone cost stratosphere. The air was too thin up there for many potential buyers. Neither Google nor Motorola ever released real sales numbers, but they unquestionably never exceeded measurable fraction of Apple's iPhone.
Nexus 5X brings back value pricing and good features for the price. The 16GB model sells for $379, while $429 gets you 32GB capacity. I am no fan of 16GB, particularly on phones without microSD-expandable storage. The operating system and installed apps can consume a lot of space. On my 32GB loaner, only 24.89GB is available for the user. My wife primarily uses the 5X, and she isn't a power user. Of that remaining 24.89GB, she has consumed 3.75 gigs—3.31GB for apps.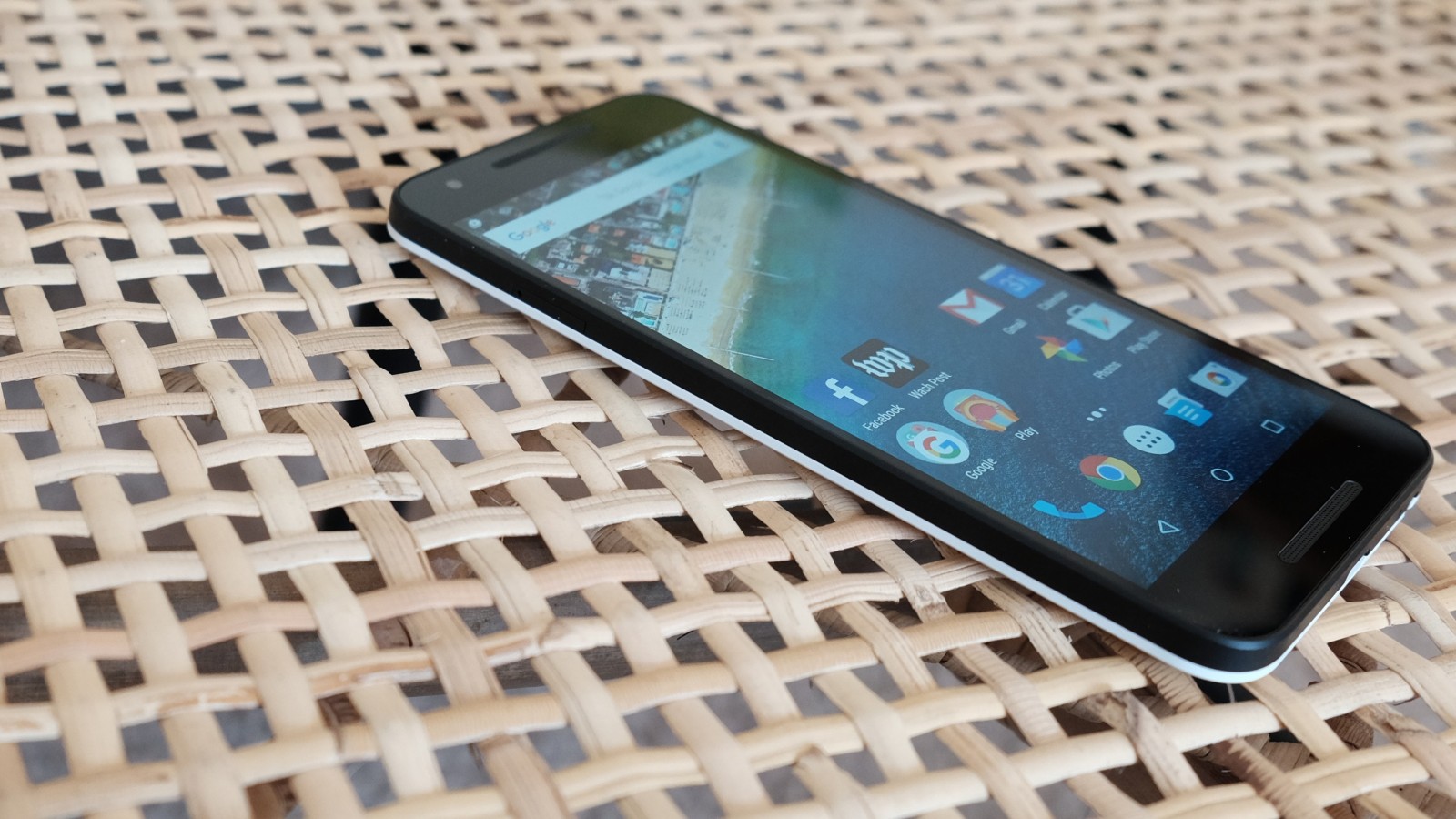 So let's do the math: Presuming preinstallations would consume as much (7.11 gigs) on a 16GB Nexus 5X, only 8.89GB would be available to the user after setup. Using my wife as example, following backup sync of apps and data: 5.14 gigs. Granted, Google generously gives cloud storage for photos and documents, but 5GB nevertheless isn't much to work with on any connected device. Nor is nearly 9 gigs out of the box. Shoot a couple of 4K videos and what's left? The ;point: No manufacturer should sell a 16GB smartphone—beyond barebones pricing, and I arbitrarily put $249 as upper limit for any device in the feature, price, and size class.
I call out storage because value, as in actual cost and what you get for it, is Nexus 5X's big benefit—assuming Google returns to the design ethic adopted for the N4 and N5, both of which LG also manufactured. Budget 16GB smartphone made some sense when Google lowered the price bar with Nexus 4 in 2012. Three years later, it's marginal at best.
Consider the high-value, similarly lower-cost competition: Moto X Pure Edition, for $399, also with 16GB storage, but expandable with microSD card. Apple demands (choke, choke) $450 for the unlocked iPhone 5s, which is more budget buster, although that distinction belongs more to the $549 iPhone 6, with same capacity as the other two. Considering that the 5s is the same vintage as Nexus 5, you could argue that Google gives good value at $379 on new tech while Apple sells what was current two years ago. Personally, if buying Nexus 5X, I would spend the extra $50 for 32GB.
In the price range, the Moto X is Nexus 5X's clearest competitor based on features but not screen size. N5's display is 5.2 inches, while its rival packs a 5.7-inch screen—same as Nexus 6P, which also is a value-oriented phablet, particularly compared to iPhone 6s Plus. For example, Apple charges $300 more, $949, than the 6P for 128GB storage. The 64GB N6P is $549, which compares to $499.99 and $649, respectively, for Pure Edition or the 6s Plus.
Value Comparisons
But this review is about Nexus 5X, so let's get back to it by looking at several other smartphones with comparable-size screens, 5.2 inches: Microsoft Lumia 950 and Sony Xperia Z3+. The 950 is coming soon and rumored to sell for $549.99 with 32GB storage, and like the 5X uses the Qualcomm Snapdragon 808 processor. But the Lumia packs higher resolution display (2560 x 1440 vs 1920 x 1080), more memory (3GB vs 2GB), and greater-capacity battery (3000 mAh vs 2700 mAh), as select examples. But the price also is expected to be $120 to $170 more the the 32GB Nexus 5X.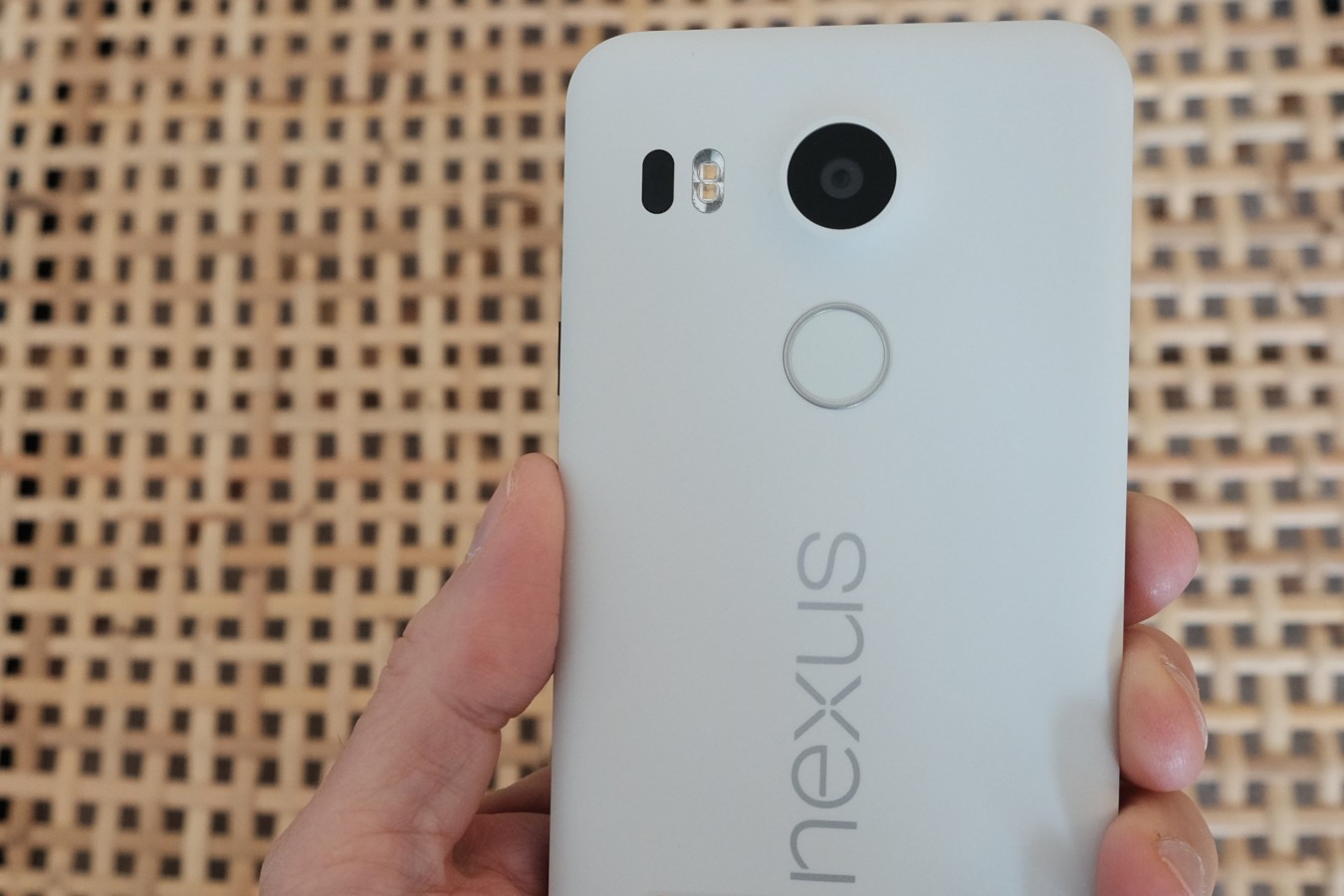 The Xperia Z3+ arrives this month in the United States. Amazon sells the international model with 32GB storage for $498 and some change. Sony refers Z3 sales to B&H, which stocks the 16 gigger for $549.99. On the Plus model, buyers get the 810 processor, comparable 1080p screen, 3GB RAM, and 2930 mAh battery. Cameras are 20 megapixels from the two competitors, and 12.3MP on the Nexus. All three phones shoot 4K video.
How much is the value if comparing 32GB models, with the 5X at $429, and all three are unlocked and contract-free? Budget doesn't mean what it did when N5 shipped two years ago. Higher pricing generally follows smarphones with larger displays, and low-priced models tend to be more capable. To be fair, the comparisons I make at 5.2-inch screens ignore many other considerations, but I am trying to make a point—or, stated differently, helping you to find one.
Who is Nexus 5X for at $379 or $429? Is this a value phone in the tradition of the N4 or N5? The answer surprises me.
Some Surprises
So let's talk about what you really get from Google and LG. For brevity's sake, and because I have possessed the phone for four days, focus will be limited to a handful of benefits—all of which are shared with Nexus 6P. For N4 pr N5 upgraders that's the value. Google gives as good as the costlier handset in smaller size, for lower price. Inside the shared goody bag: Like 12.3MP camera, fingerprint sensor, and Android 6 Marshmallow; the OS delivers contextual usage benefits that are killer apps.
Before getting to shared features and benefits, I would like to discuss some general first impressions related to my using Nexus 5X and moving my wife to it.
Maybe I am too accustomed to larger phones, because Nexus 5X seems small to me. I mean tiny. This has a 5.2-inch screen? Somebody convince this disbeliever. The fit in the hand is excellent, with terrific balance. What surprises me most is the display, which I find to be crisp and pleasing. Considering I'm coming from a phablet with larger screen (6 inches) and higher resolution (2560 x 1440), my delight is unexpected.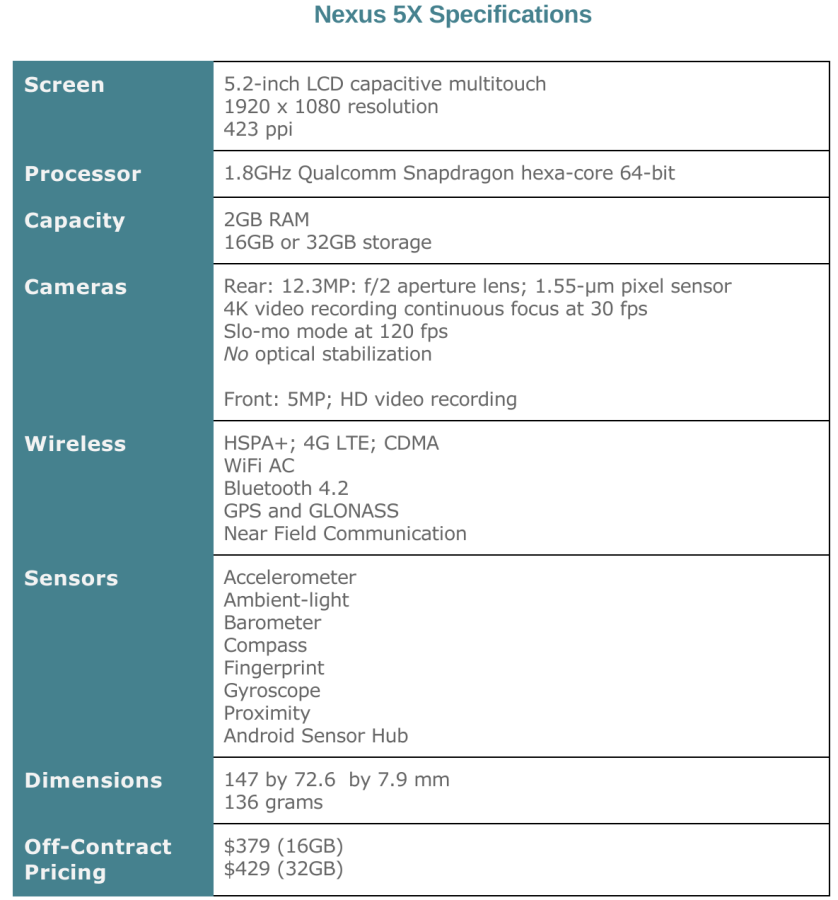 Let me state it differently: Based on the screen viewing experience, audio from the front-facing speakers, overall handling, and the big benefits shared with Nexus 6P, I would gladly use the 5X as my smartphone. I do see value for itself, regardless of what competitors offer in the class. This phone has fantastic physical balance and overall balance of features and benefits.
But my wife claims Nexus 5X for now. I moved her to the handset as an experiment to which I forecasted failure. She used the Droid Turbo, which has small size screen but with 2560 x 1440 resolution, 3GB RAM, enormous battery (3900 mAh), and 21MP camera. Like me, she finds Nexus 5X's lower-res screen to seem more natural and easier to read. Overall performance and responsiveness is zipper than the Droid, although I don't find the 5X to be nearly as smooth as Nexus 6P. She prefers the size and shape to the Turbo. The 5X is narrower and longer in portrait mode and is much lighter (136 grams to 169 grams), She won't give up the 5X, and I can see why.
But as a value comparison, other buyers might evaluate differently. Verizon Wireless sells the 32GB Turbo for $480 unlocked; the pricing anticipates imminent release of the Droid's successor. By the specs, the Motorola-made smartphone should still be current a year from now.
Nexus 6P Disguised
So let's discuss those shared benefits with the 6P.
Nexus Imprint. About three-quarters up the back of the Nexus 5X is a circular sensor sized just right for my forefinger. Google calls the thing Nexus Imprint. Picking up the device and placing my forefinger on the round indentation wakes and unlocks the 5X. The sensor is finely sensitive and perfectly placed. My finger finds it easily and quickly.
Life-changing is how I describe the fingerprint sensor. I am more likely to grab the smartphone because waking and using is so much easier. My wife shares similar sentiment. The location, on the back, is inspired compared to Apple's placing the mechanism on the front of newer iPhones.
Now On Tap. The virtual Home button gets new capability, which also will be available to other Nexuses running Android 6. Google calls the feature Now on Tap, which is a misnomer. The feature activates with a short press, not a tap. The action brings up Google Now info cards that offer contextually-meaningful information that is relevant to what's on the screen. Maybe it's an app, email message, or webpage.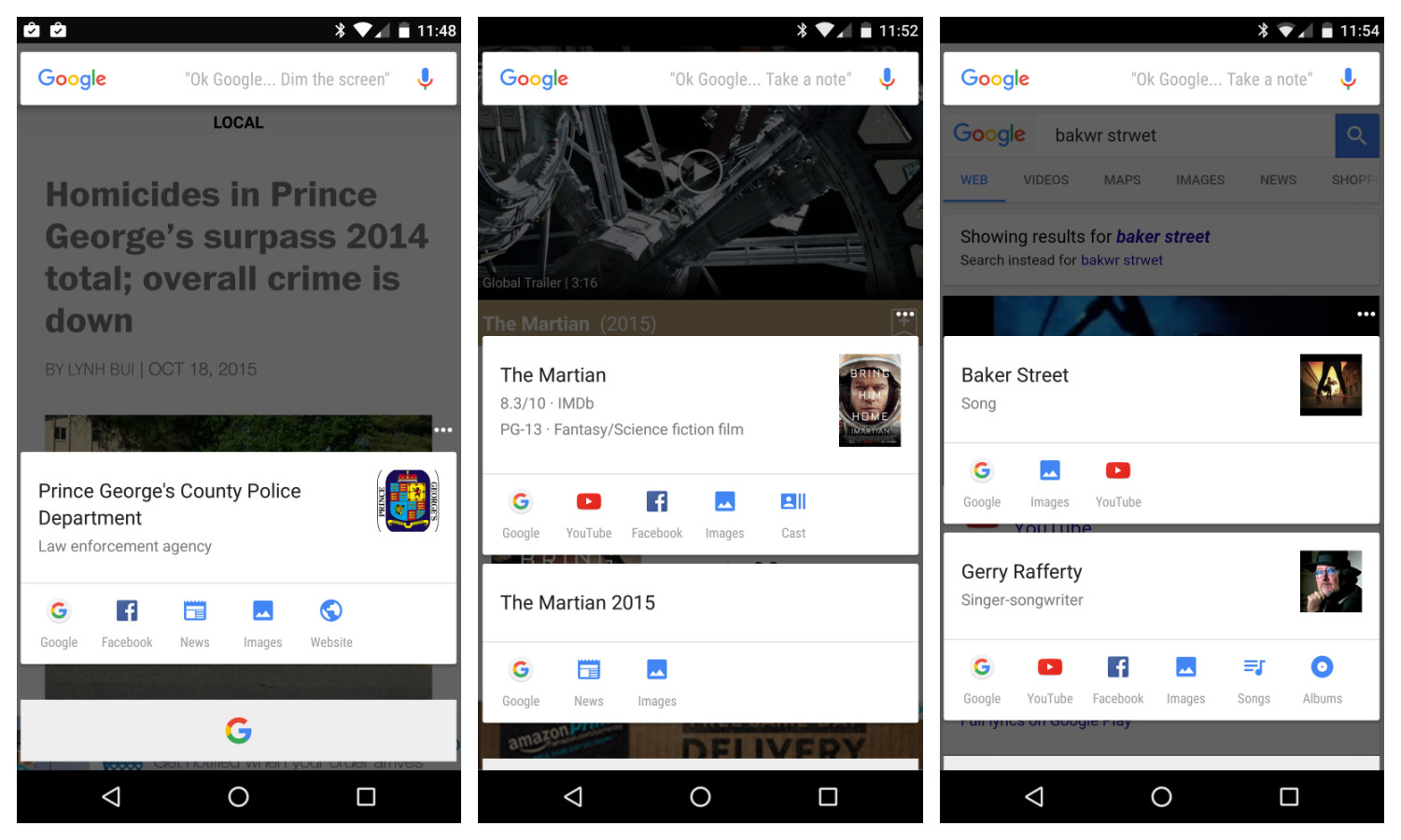 To demonstrate, hehe, NoT, I used the phone like my wife would. She reads the Washington Post, so I started there with a crime story about Prince George's County, where we once lived. Short press brought up an info card about the local police (left screenshot). She also uses IMDB, so I opened the app and clicked on "The Martian". From the movie page, I long tapped again (middle). Google Now presents links to YouTube (for the trailer), the official Facebook page, and cast information, for example. Lastly, I searched Google for "Baker Street" then pressed the virtual Home button. I wasn't sure what to expect, perhaps a Google Map. Instead, Now on Tap presented info about the 1970s pop song, which I loathe.
Now on Tap is another life-changer. In just four days, I frequently use the feature. Google search and informational services take on usefulness unlike any previous experience with them. The utility is fantastic, although limited. Too often, I am greeted with "Nothing on Tap". It's a work in progress. I see my wife using it less often than me, but more every day.
Voice assistance. Apple is all wrong obsessing about touch—it's an anachronism. Touchless interaction is the future of computing. Just think "Star Trek" the Original Series. Google illuminates the more sensible user interface, and expands its capabilities with Marshmallow's improved voice response. Used to be you could ask questions, starting with "OK, Google". Now the capability is available to other apps. My problem, and perhaps yours will be: Figuring out which apps support the feature.
Pssst, I hear my wife talking to Nexus 5X, which she rarely did to the Droid. Subtle changes make the voice utility more useful for her to ask the phone questions and get contextually relevant responses.
Photo and video. I expected Google to give budget buyers less camera capabilities, but no! Nexus 5X and 6P share a 12.3MP rear camera. There are some subtle differences, such as slo-mo at 120 frames per second on the smaller smartphone, and additional 240 fps on the other. Aperture is f/2 on both, but the big thing is the sensor, with its 1.55 micron pixels. Larger pixels mean fewer visual artifacts and better low-light performance, particularly matched to the wide-aperture lens.
Front facing cameras are different: 8MP at f/2.4 and 1.42 micron pixels on the 6P and 5MP at f/2 and 1.4 micron pixels on the 5X. I haven't tested yet, but I wouldn't be surprised if the smaller Nexus proved to be the superior self-shooter. I will investigate.
Both rear cameras shoot 4K video at 30 fps. OK, would-be YouTube stars, go for it.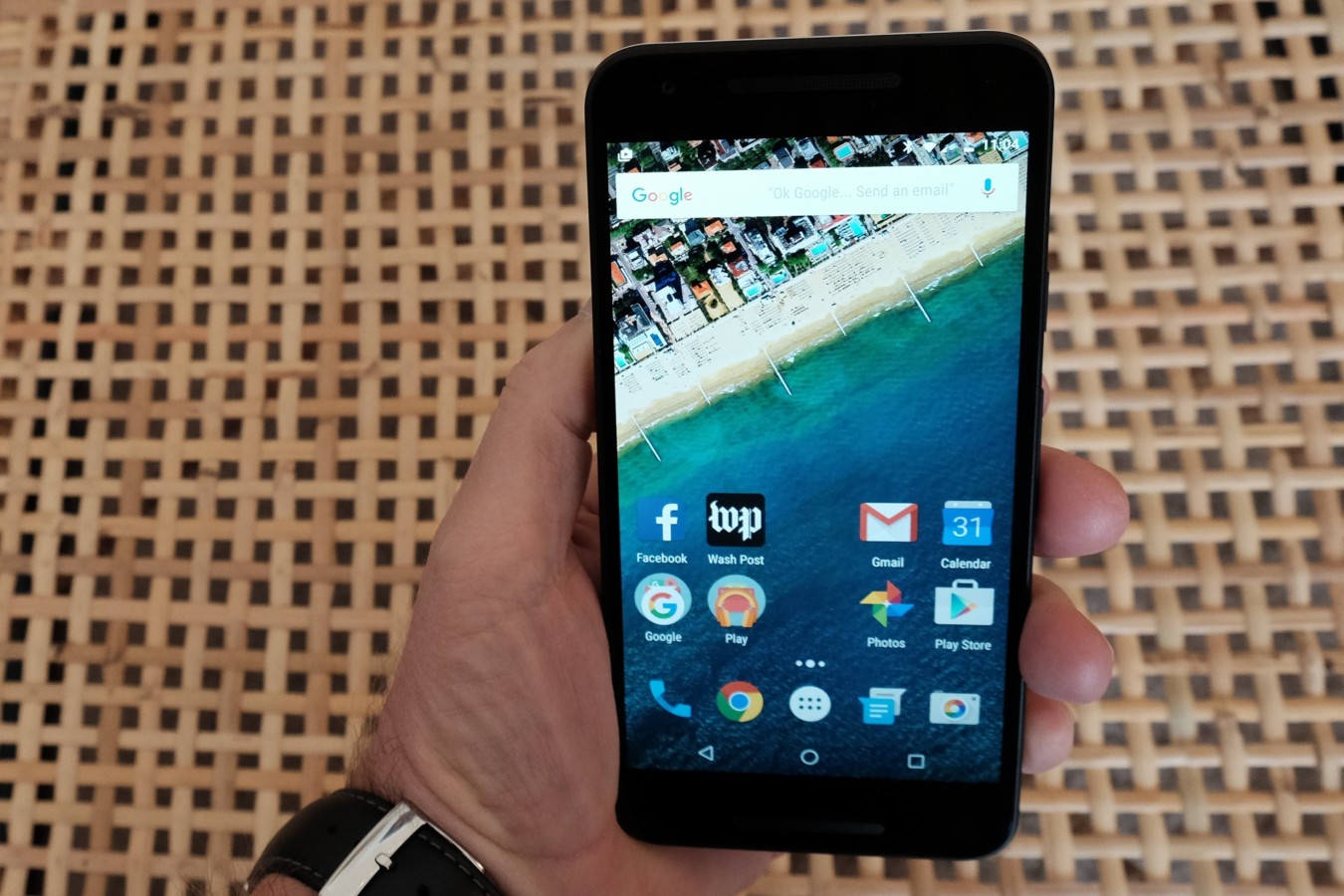 And Finally…
That's a wrap. I generally like Nexus 5X, and my wife loves it.
The question again: Who is the smartphone for? This is a value-oriented handset, but by a different comparison than many buyers may expect. Google's measure of value isn't competing devices but the 6P. The core benefits that should matter to most people will be the same for both devices.
By contrast, while Apple takes similar approach with newer iPhones—major benefits are similar for the 6s and 6s Plus, for example—the company relegates value pricing to older models that overall offer less comparative capabilities and benefits. Google could just reintroduce Nexus 5 and charge more for less, as Apple does with iPhone 5s.
Instead, the search and information giant gives the best benefits to both new Nexuses starting with Marshmallow and extended to hardware like the fingerprint scanner or rear camera. Price, screen, and physical size are more major considerations for people choosing between the smartphones. The approach is super smart and comes at value from price perspective and benefits.
Surely someone at Google recognizes that many existing N4 and N5 owners skipped Nexus 6 because of size and cost. The 5X is a little larger than its predecessor but not ginormously. They get more without, from another perspective, taking lots less.
Editor's Note: A version of this story appears pm BetaNews.