If Christmas Eve 2015 is remembered for nothing else, it will be the gift given to anyone wanting to listen to The Beatles anytime, anywhere, and on anything. As I write, the group's last recorded album, "Abbey Road", streams from Tidal in the glorious 1411kbps Free Lossless Audio Codec. Listening with Master & Dynamic MW60 headphones, detail is super fine, such I can appreciate Ringo Starr's drumming and hear just how tight is the Fab Four's playing. I haven't heard The Beatles like this in years, if ever. You go on and listen to 256Kbps AAC from Apple.
My introduction to the group came from the soloists, following the breakup. I was too young when Beatlemania stormed England, the United States, and most everywhere else. My first record album was Paul McCartney & Wings' "Band on the Run", which title song is metaphorically appropriate for The Beatles' escape from Apple prison. 
Band on the Run
In November 2010, the band's music debuted on iTunes in an exclusive distribution deal. For anyone wanting to purchase legal digital downloads, Apple held the keys to the kingdom where The Beatles' download catalog was locked away and accessible only to iTunes users.
From "Band on the Run":
Stuck inside these four walls
Sent inside forever
Never seeing no one
Nice again like you
Mama you, mama you
If I ever get out of her,
Thought of giving it all away
To a registered charity.
All I need is a pint a day
If I ever get outta here
If we ever get outta of here
Well, the rain exploded with a mighty crash
As we fell into the sun
And the first one said to the second one there
I hope you're having fun
Band on the run, band on the run
And the jailer man and sailor Sam
Were searching every one
For the band on the run
Band on the run
Band on the run
Band on the run…
"If I ever get out of here/Thought of giving it all away/To a registered charity". That charity would be anyone paying a nominal monthly free for streaming services Amazon Prime Music, Deezer, Google Play, Microsoft Grroove, Rhapsody, Slacker, Spotify, and Tidal; oh, yeah, Apple Music. Hell, an entire five-member family can listen to The Beatles back catalog for $14.99 monthly; one fee for all.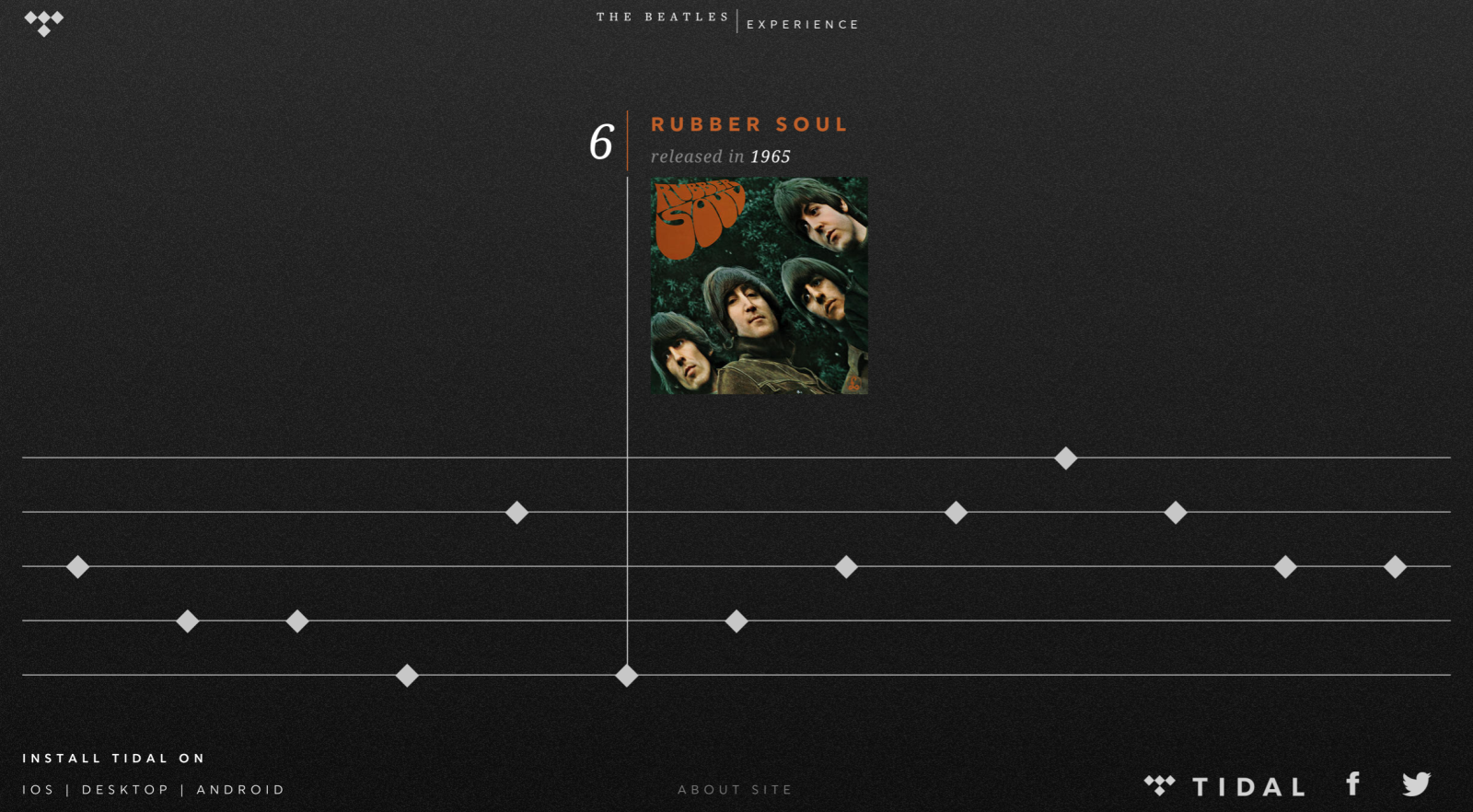 The official announcement spotlights streaming, but this band runs farther, making its music available for purchase from digital online stores other than iTunes. Want Sgt. Pepper? Amazon sells the MP3 album for $7.99, for example.
Helter Skelter
Tidal's The Beatles Experience is immersive and informative and only surpassed by the stunning soundstage streaming lossless delivers. At this point writing, I've moved on to the White Album, which has never delighted like this. Of course, CD gives great fidelity (and arguably better). Listening lossless, I finally appreciate Paul McCartney's bass playing.
Whoa, I hardly recognize "Helter Skelter" as streamed from Tidal. Vocal is crisp and isolated from the instruments, which scatter in soundstage that clearly defines each. I f you had played the song blindly for me, I would have called the players a cover band. Ha! This had been one of my least favorite songs from the album until now. I like. I like. Now.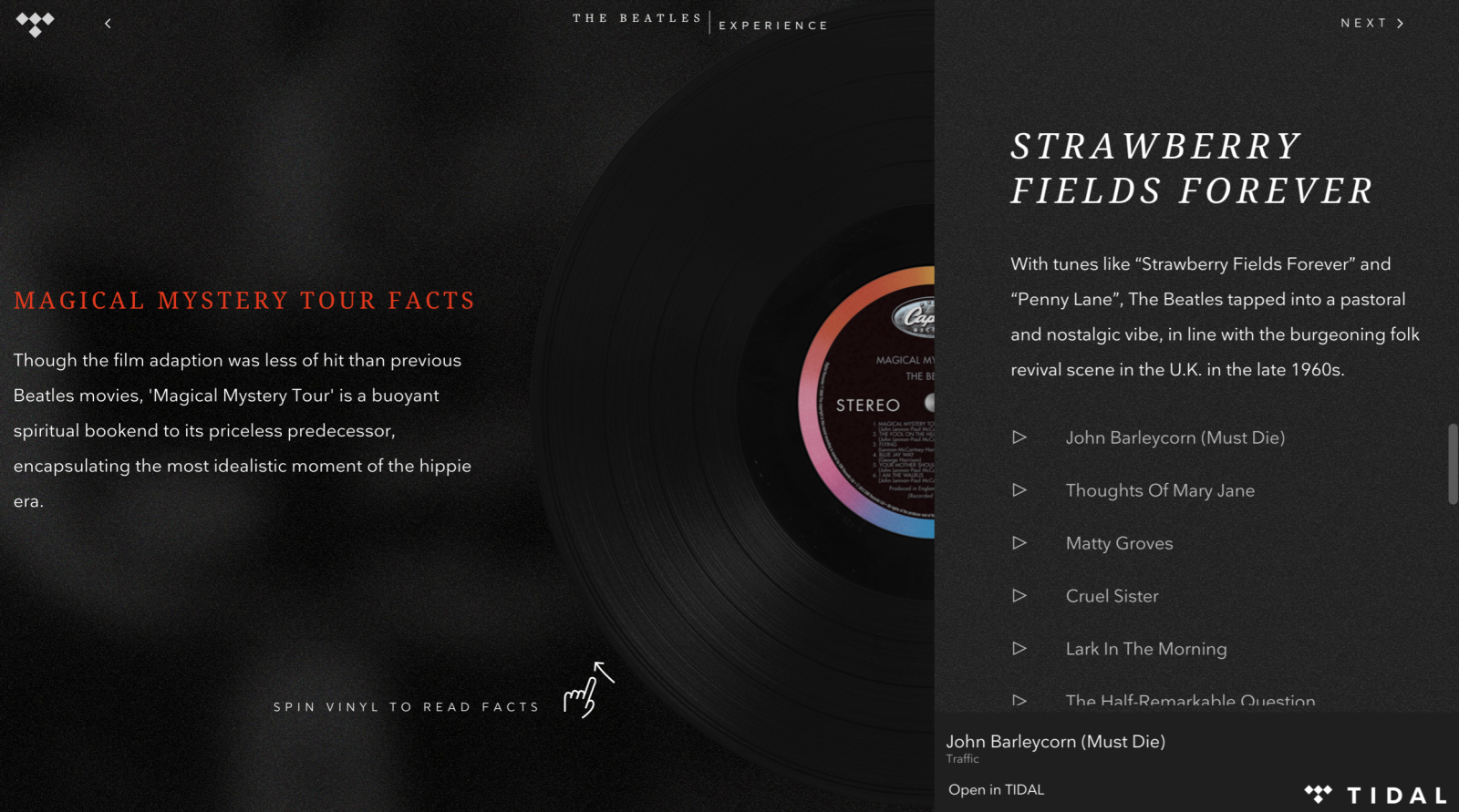 Love Me Do
For all my seeming enthusiasm, I am no Beatles freak. But this is an exciting event that brings one of the most influential rock bands of the past half-century to a broader (and younger audience). My musical tastes heavily lean towards lyrics or lyrics and melodies. My early influences were Bob Dylan, Tim Rice (when working with Andrew Lloyd Webber), and Bernie Taupin (when partnered with Elton John), for example. The storytellers.
But I got to say that one-and-a-half Beatles albums into lossless listening, I might yet become a fan. Goddamn, playing is tight and satisfying listening. I will spend some of my Christmas with George, John, Paul, and Ringo. You should, too.