From the day I received the Oct. 14, 2016 letter about billing changes, AT&T U-verse and Internet cancellation was inevitable. I had auto-pay set up to a credit card, but the service provider wanted access to my bank account, which I didn't want to give. "Beginning in December, your credit card will be charged eight days after your Bill Cycle date", the correspondence reads. The change meant AT&T would take payment on the 8th of the month rather than the 21st. Since the company bills a month in advance, the new date would work out to about six-weeks in fees paid ahead for future service. On principle, being an independent-minded "don't tell me what to do" Mainer, I considered other options.
Ironically, the launch of another AT&T service, DirecTV Now, on October 30th, made the decision to cancel super easy. After several starts and stops, the Wilcox household has finally cut the cord for good. DirecTV Now is the nudge, but other streaming services make a big difference, too. Much has changed since the last cord-cutting effort, in November 2015, which we abandoned after about 7 weeks. The quality and quantity of original programming from Amazon, Hulu, and Netflix is greater and hugely enticing 12 months later. 
AT&T Trade-off
Looking back at our now cancelled service, U-verse certainly is convenient. The program guide is excellent, and the channel selection is massive (to a fault). But there is a hamster-spinning-the-wheel-like quality to pointing the remote and scrolling through live or recorded programs for something to watch. We have Amazon Prime and Netflix, but hardly used either service; the guide was ever-present and convenient. Few months back, we resubscribed to Hulu, during a $5.99 per month promotion (that's two bucks savings). The service set idle, too.
Then there is Internet, which in my neighborhood stalled at 45Mbps ages ago. AT&T offers 75Mbps and 1 gig, but elsewhere in San Diego. Competing Cox can pump 300Mbps into our residence.
With the billing change coming this month, along with contract expiration, I was long past ready to cut the cord once again. Then DirecTV Now arrived with selection of channels the family wanted for an irresistible promotional price: $35 per month, rather than regular $60, for the Go Big tier of about 100 channels. Number matters less than which ones—like AXS TV; BBC America; BBC World News; FX; and Syfy, among them. Nearly all are available from Sling TV today but not a year ago when we last reattached the cord. Absent from that subscription streamer but available with DirecTV Now: Bloomberg; C-Span; and MTV and VH-1 (two channels each), among others. What sealed it for me: HBO and Cinemax, each for additional $5 per month, which includes authenticated access to HBO GO and Max GO apps. That's a huge gimme I will rave about later.
The math makes sense for lots of reasons. After tax, AT&T billed the household $162 and some change for monthly television and Net services. I considered keeping Internet, for which the ISP wanted $60 plus tax for 45Mbps bandwidth. Cox charges $64.95 for 150Mbps, and we're wired for twice the bandwidth, which would cost another $20 per month. No contract is required. So we switched to Cox, reducing the effective monthly bill to $109.95, (including $10 for HBO and Cinemax).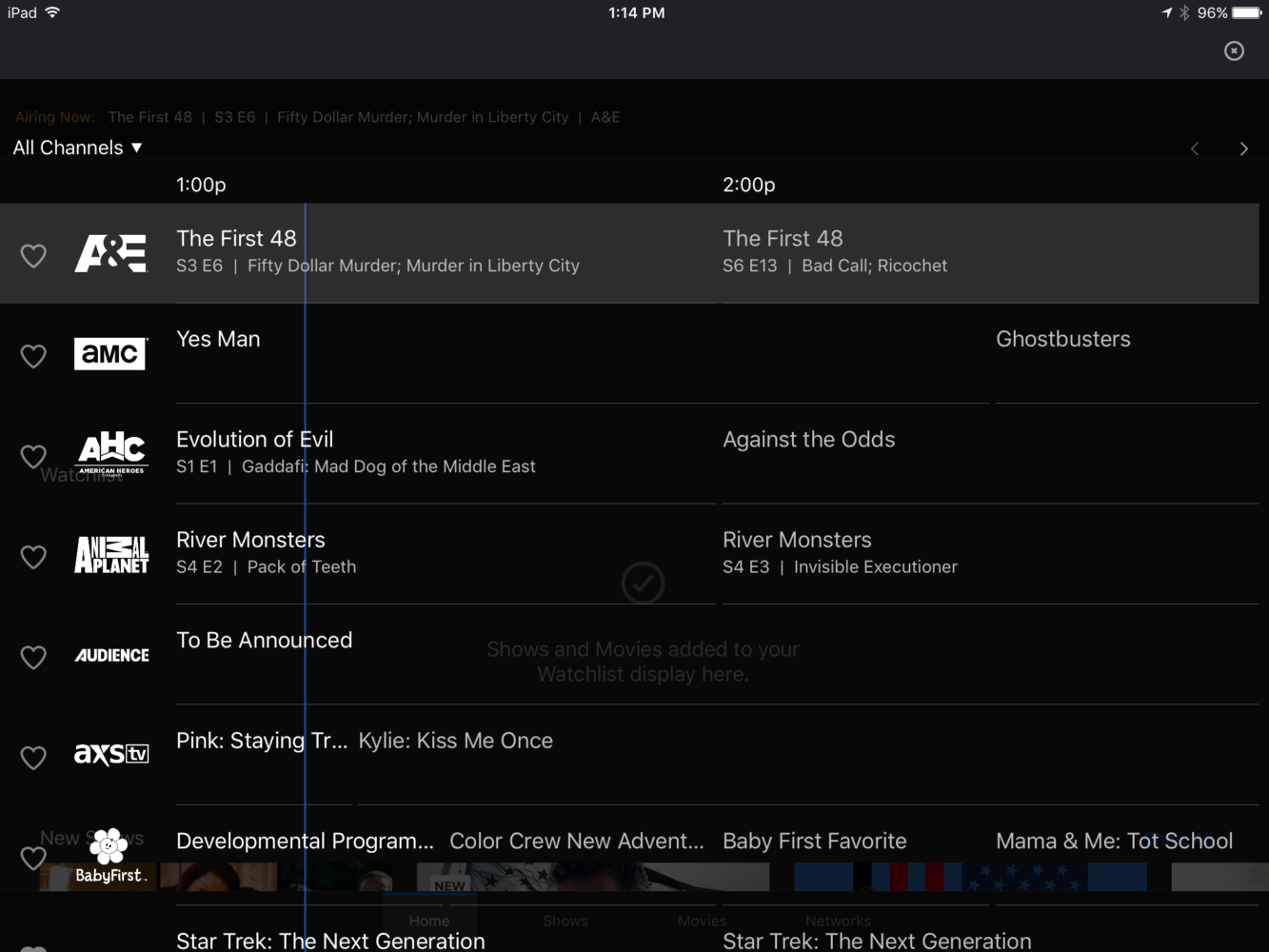 Granted, we gave up channels but the majority are ones we rarely, or never, watched—sports among them; we already paid for Amazon, Hulu, and Netflix, regardless. I do miss MTV Live and Smithsonian channels, but their content is easily replaced. C`mon, how many episodes of "Air Disasters" can you watch before becoming afraid to fly?
The whole package wouldn't appeal nearly as much if not for the limited-time, promotional DirecTV Now $35/month offer, which includes a 32GB AppleTV when prepaying for three months service. The device typically sells for $149. By comparison, when you prepay for three months elsewhere, SlingTV will discount the streaming box to $89. Free is more appealing, and DirecTV Now shipped quickly. My Apple TV arrived on December 9th. Stated differently, assuming you want the device: On top of the discounted promotional price, the service is essentially free for the first three months. BTW, that $35 is locked in for early subscribers even when prices hike later on. It's yours to keep.
Now More Than Ever
DirecTV Now wouldn't satisfy our boob-tube viewing lifestyle by itself. There is no DVR, which means assault by commercials, although one is promised for sometime in 2017. SlingTV looks to deliver the capability sooner; trials are underway now. That's one of several rough edges suggesting the AT&T service is still in development. Early adopters paying less are in some ways beta testers for what's to follow.
Consider the program guide, which alphabetical listing of networks makes so much more sense than the chaotic numerical option that Cox or U-verse present. The guide is super fast and fluid, too, whether from Apple TV, mobile app, or web browser. Nitpick complaint about the latter: Safari prompts to install Microsoft Silverlight, which I won't do, but Chrome works well. On Apple TV particularly, the guide's spartan appearance improves fluidity but is informationally deficient. DirecTV Now doesn't present enough information about programs, which will matter to some cord-cutting switchers.
Another nitpick, somewhat related: Programming is generally, maybe totally, on Eastern time. So here on the West Coast, shows air three hours earlier, which caught me unprepared—particularly with no DVR as backup. DirecTV Now is supposed to offer, for  now, three networks—ABC, Fox, and NBC—in select cities; San Diego is supposed to be one of them, not that I see the channels available. When, and perhaps if, they are, will programming be Pacific Time? While Syfy and other networks are ET? Still, that difference can be a bonus if you watch lots of live TV, because Prime Time shows airing earlier diminish big-five broadcast network conflicts; remember, there's no DVR.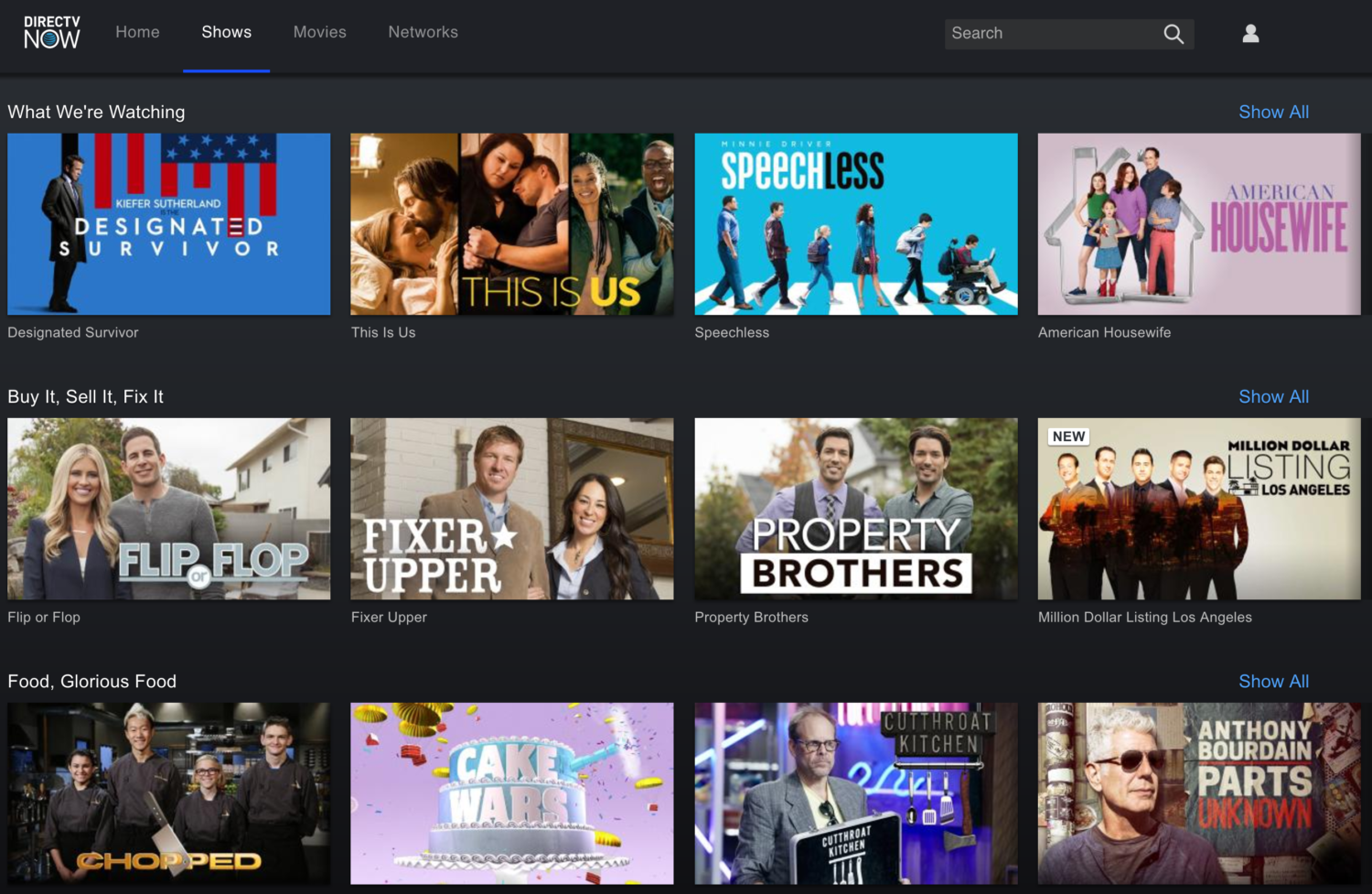 But some of the cable networks permit viewing previously-aired shows; you can scroll back up to 72 hours form the guide. On-demand programming is available, too, but only truly conveniently from mobile app or web browser. Absence on the tellie is perplexing. Whether live, on-demand, or scrolled back, commercials are unavoidable, which may be too much for users habitually-attached to the DVR.
Companion Service
My family is adjusting to the inability to record shows by watching more of the streaming services I thought that we should be, mainly Amazon, Hulu, Netflix and now FilmStruck, which I subscribed to for a year, discounted to $99. HBO GO and Max GO are also are available because of authentication availability for DirecTV Now subscribers. HBO and Cinemax apps require direct subscription or verification from another service, typically cable or IPTV. Inclusion with AT&T's streamer is a huge value-add. As I write, ABC also authenticates and hopefully DirecTV Now will support more networks as the service polishes up and feels more finished than late-beta.
What Cinemax and HBO share in common with Amazon, Hulu, or Netflix: Original and exclusive content that far exceeds the production value and storytelling quality of many, if not most, broadcast or cable networks. During the last three weeks, my overall viewing habits shifted to the direct streaming services, where I binge-watched "3%" and "OA" from Netflix and "Shut Eye" from Hulu. Next up: Amazon's "The Man in the High Castle", season two.
That said, some standard cable shows rapt my attention, and, again, the ones I want are available on DirecTV Now. For example: "Dirk Gently's Holistic Detective Agency" (BBC America); "Good Behavior" (TNT); and "Incorporated" (Syfy).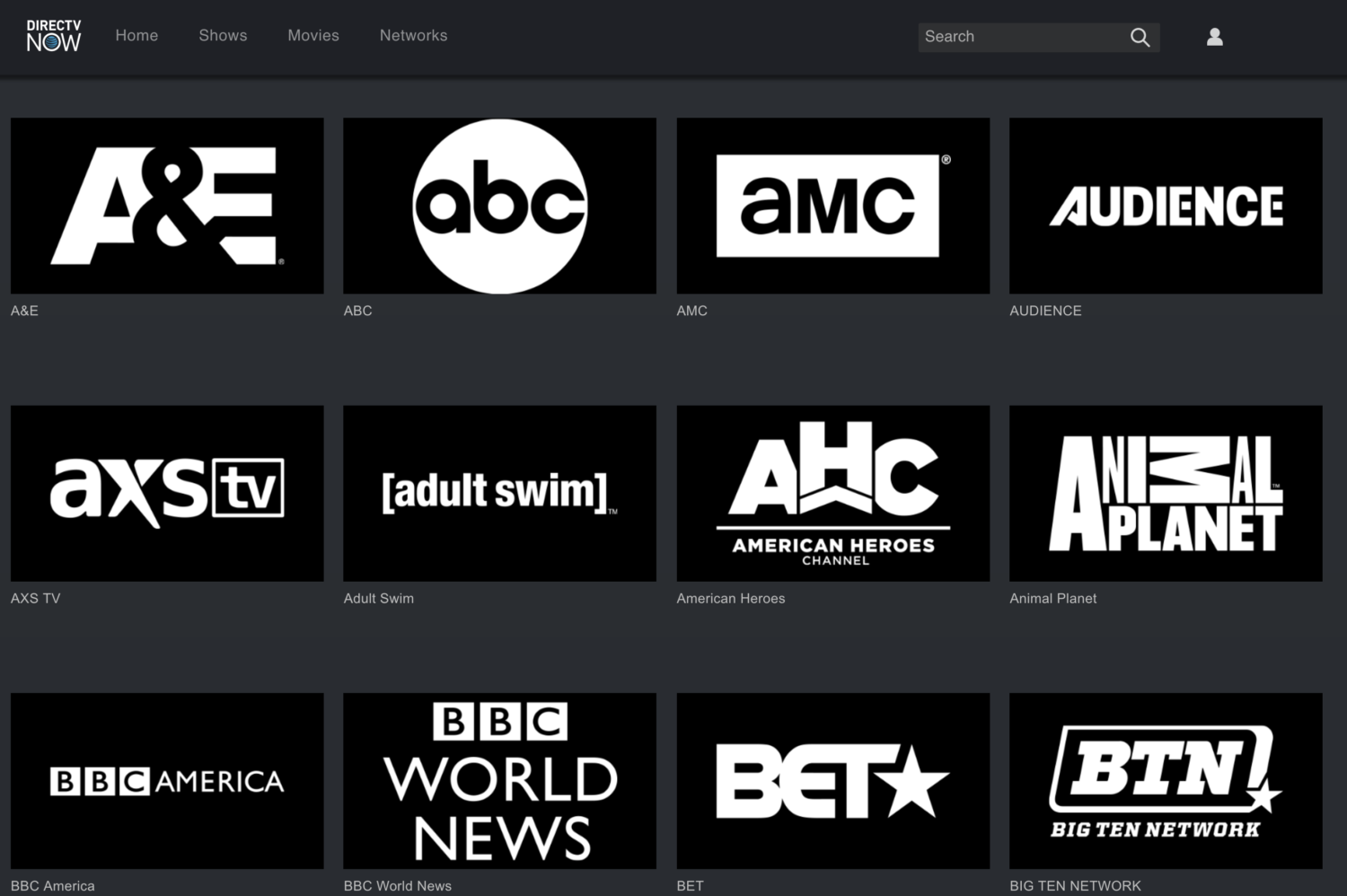 Then there is the enormous catalog of movies from FilmStruck. I am a big fan of foreign movies and TV shows, and all the streamers serve a cornucopia. If anything, there is too much good content to choose from. We're better off spending a little time looking rather than scrolling U-verse's massive channel guide only to find nothing and repeat. Hence, the aforementioned hamster metaphor.
For now, rough edges and all, DirecTV Now makes cord-cutting finally doable for the Wilcox household. The service is an important companion to others that works because of the available cable networks and bargain pricing. But the latter won't last. My interest would be less at $60 per month ($70, wirh HBO and Cinemax). Spending that much, I would more likely pick SlingTV Blue ($25) with Hollywood, Lifestyle Plus, and News packages ($5 each). That works out to $40 monthly, for most of the networks we would want, and adds some extras, like several EPIX and HDNet Movies that appeal.
Photo Credit: Nacho Rascón
Editor's Note: A version of this story appears on BetaNews.