If you asked why the Moto Z Force Droid Edition appeals to me, I couldn't identify one thing, which arguably is odd considering this is a review. Benefits and features feel finely balanced, which is a hallmark of good product design. Oh, and that satisfaction is for the pure smartphone experience, which is premium by nearly every measure that matters; I didn't test Moto Mods that expand capabilities.
Lenovo/Motorola and Verizon released the smartphone in July 2016, so this exploration is belated—and then some. Apologies, the delay was necessary. In mid-December 2016, Verizon sent a holiday review package unexpectedly. At the time, my father-in-law's health rapidly declined—and he passed away about 30 days later. In the months following, as we settled his estate and finalized other matters, I occasionally recharged the battery and picked up the Droid but had no real time to test it. Still, something about how well the Moto Z Force feels and fits in the hand compelled me to handle it. Often. To caress the ridged bezel. To read blog posts and news stories on the beautiful display. 
As the months passed, something surprised: Updates. I am accustomed to Verizon being a laggard when it comes to refreshing Android. But that hasn't proved true with this smartphone, which over a series of security and other updates during the past six months is already at version 7 Nougat—and is that 7.1.2 on the Verizon horizon? Whoa, may the Force be with you! (I know, that's contender for worst pun of the year).
Then something surprising came about maybe six weeks ago: Google Assistant arrived. My interest in the smartphone increased, and finally in May my testing began earnestly. Not long later, Google I/O  announced a heap full of meaningful, contextual enhancements coming to Android and supporting cloud services. Great got better.
Design Delights
Since I own iPhone 7 Plus, which directly competes with the Droid, many comparisons will follow. Let's begin with several key physical benefits.
The smartphone is exclusively available from Verizon.
Specs. Beneath the shell: 2.2GHz Qualcomm Snapdragon 820 quad-core processor; Adreno 530 graphics; 32GB storage, expandable to 2TB with microSD card; 4GB RAM; fingerprint reader; 3500 mAh (non-removable) battery; and USB Type-C port. The device supports Bluetooth 4.1 LE, GPS + GLONASS, near-field communication (NFC), and WiFi AC. iPhone 7 Plus: Apple proprietary A10 processor; 32, 128 or 256GB storage; 3GB RAM, fingerprint reader; and 2900 mAh (non-removable) battery. Both phones also pack highly-capable front and rear cameras (read ahead for more details).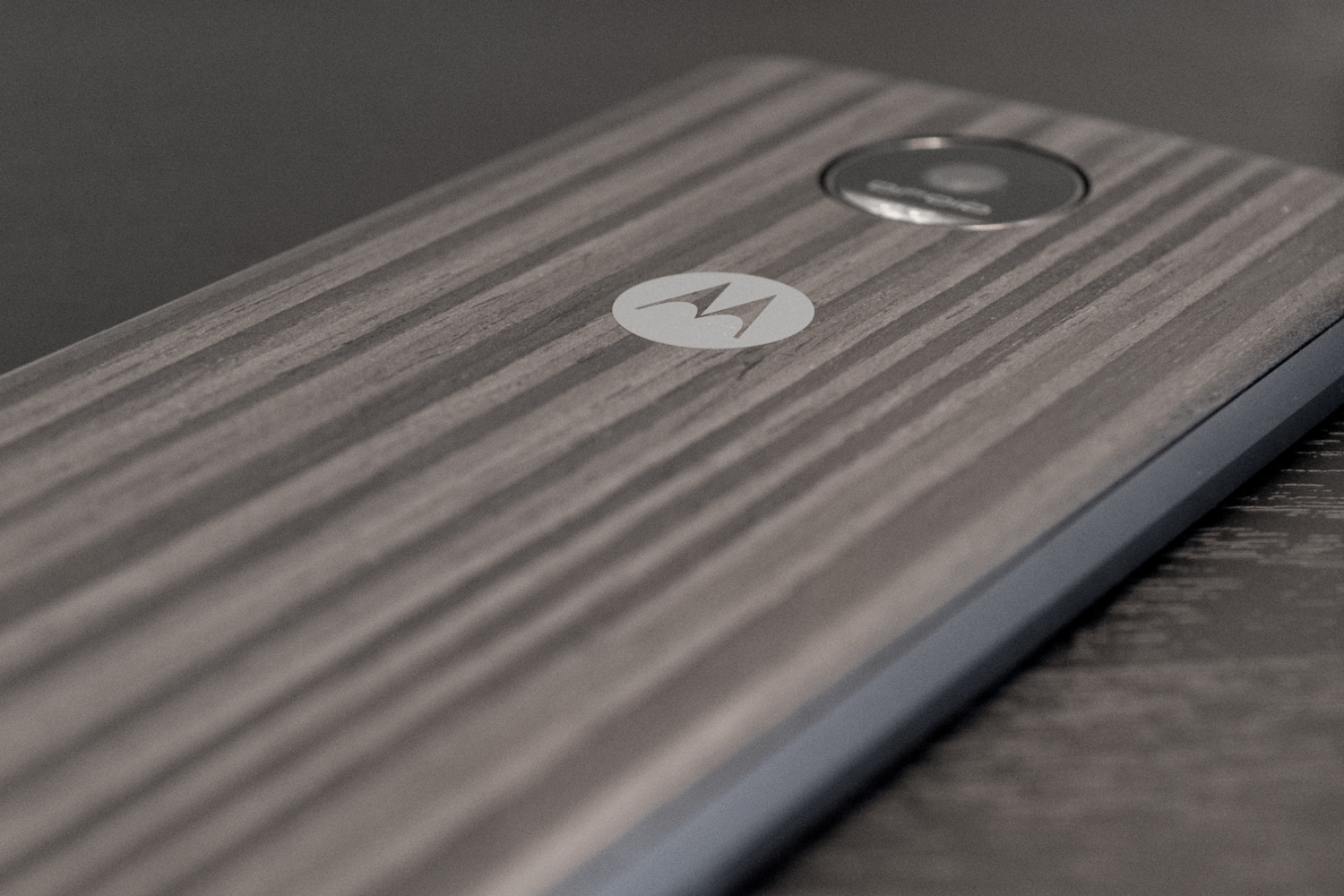 USB-C is the future, something even Apple concedes by making it the only port option on the newest MacBook Pros. But the company has a huge ecosystem built up around the iOS device Lightning connector, and seems reluctant to abandon it. Motorola chooses wisely by banking on the extensibility of USB-C.
The fingerprint reader is quickly responsive on both phones—zippier on the Verizon exclusive. Tap to unlock. But Apple offers farther-reaching capabilities, such as the ability to authenticate purchases.
Verizon sells the Moto Z Force Droid for $720. By comparison, Apple's 32 gigger is $769. Neither is inexpensive. I own the 256GB iPhone, which costs $969. For less than the difference from either 32GB phone, I could buy a fast, 256GB microSD card to increase the Android's storage capacity. Think about that.
Speed. Nothing surprised me more in testing than the Moto Z Force Droid's subjective speed. This thing feels fast. Fluid. Ferocious. But shouldn't I expect this from Verizon's flagship brand? Some history: The carrier launched the Droid brand in October 2009—backed by hefty marketing budget—almost a year to the day after the first Android phone, the G1, released on T-Mobile. I have long argued that Verizon is largely, if not mostly, responsible for Android's massive sales surge during the following 12 months; growth has continued since. Samsung later brought the platform to the world, but Red was the ever-nuturing nursemaid within the most important cellular market of the day— ye `ol USA.
Because Droid represents Verizon, regardless of Motorola manufacturing, features—and their subsequent benefits—typically exceed those of their Moto cousins. The Force really is with you, when using this snappy smartphone. Any limitations, some of which are subjective, mainly belong to Android; Apple's iOS is prettier and presents better. That said, the Z Force and 7 Plus are, in my testing, about equally responsive and fast overall, with one exception: Camera (read ahead for more).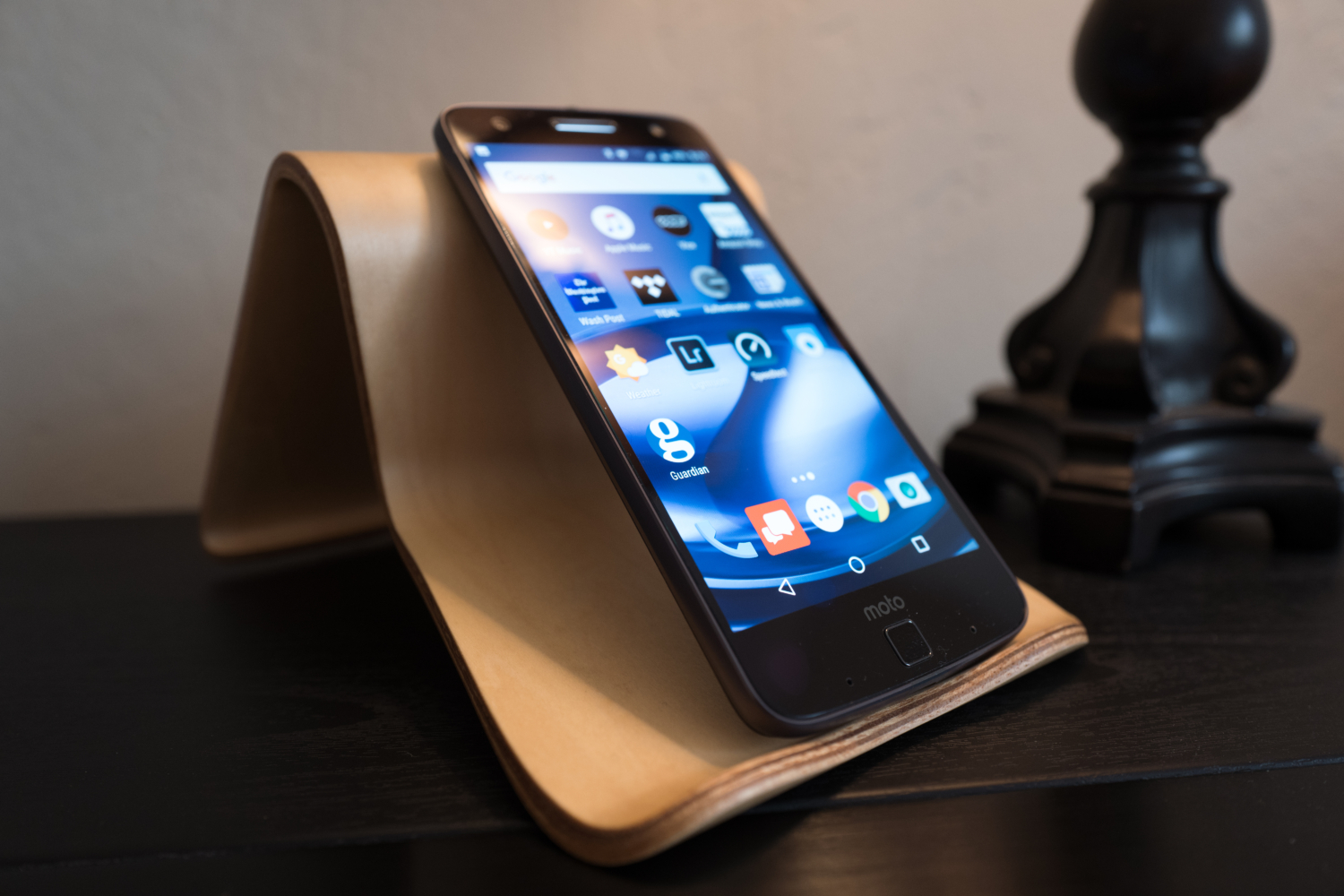 Preference isn't just subjective but subconscious. Because of how comfortably the Moto Z Force Droid holds in the hand and how quickly it responds to touch (or voice), when sitting side by side with iPhone 7 Plus, the Android smartphone is what I often will reflexively grab, even though my service and phone number are attached to the iOS device. Utility is another consideration (topic to be expanded when discussing software): Google gives better than Apple, with respect to the underlying platforms.
Screen. Motorola and Verizon claim that the screen is shatterproof, and keeping with that benefit the Droid feels solid. Scratch that. Rugged. But in a slim kind of way. Perhaps the best analogy is that chiseled-chin guy with rippling muscles, flat tummy, but slender build. By contrast, the typical ruggedized phone feels bulky, encased in rubber. Think sumo wrestler. Ugh. iPhone 7 Plus isn't either Mr. Muscles or Sumo-san. May I suggest Elijah Price from film "Unbreakable".
The screen is absolutely breathtaking for brightness and crispness, without colors being oversaturated. Photos and videos pop because of rich color and deep contrast. Text is razor-sharp readable. The AMOLED display is 2560 by 1440 resolution and 536 pixels per inch. By comparison, my Apple smartphone's IPS LCD screen is 1920 by 1080 and 401 ppi. Both panels measure 5.5 inches, diagonally.
While both screens respond quickly to the finger(s), and Apple adds utility with 3D Touch, the Motorola is peppier.
Size. Because of the Droid's welcome solidness, I assumed it weighs more than iPhone 7 Plus (feels that way to me). But the Verizon-exclusive device is a tad shorter and lighter at 75.8 by 155.9 mm (2.98 by 6.14 inches) and 163 grams (5.8 ounces) compared to 77.9 by 158.2 mm (3.07 by 6.23 inches) and 188 grams (6.63 ounces) for the fruit-logo-bearing competitor. Without Mods attached, the Android phone is thinner, too—6.99 mm to 7.3 mm.
Something else: the Moto Z Force is the first Droid that I would call handsome. The bezel is chiseled (so it's more than analogy), which makes the grip far firmer than my iPhone 7 Plus.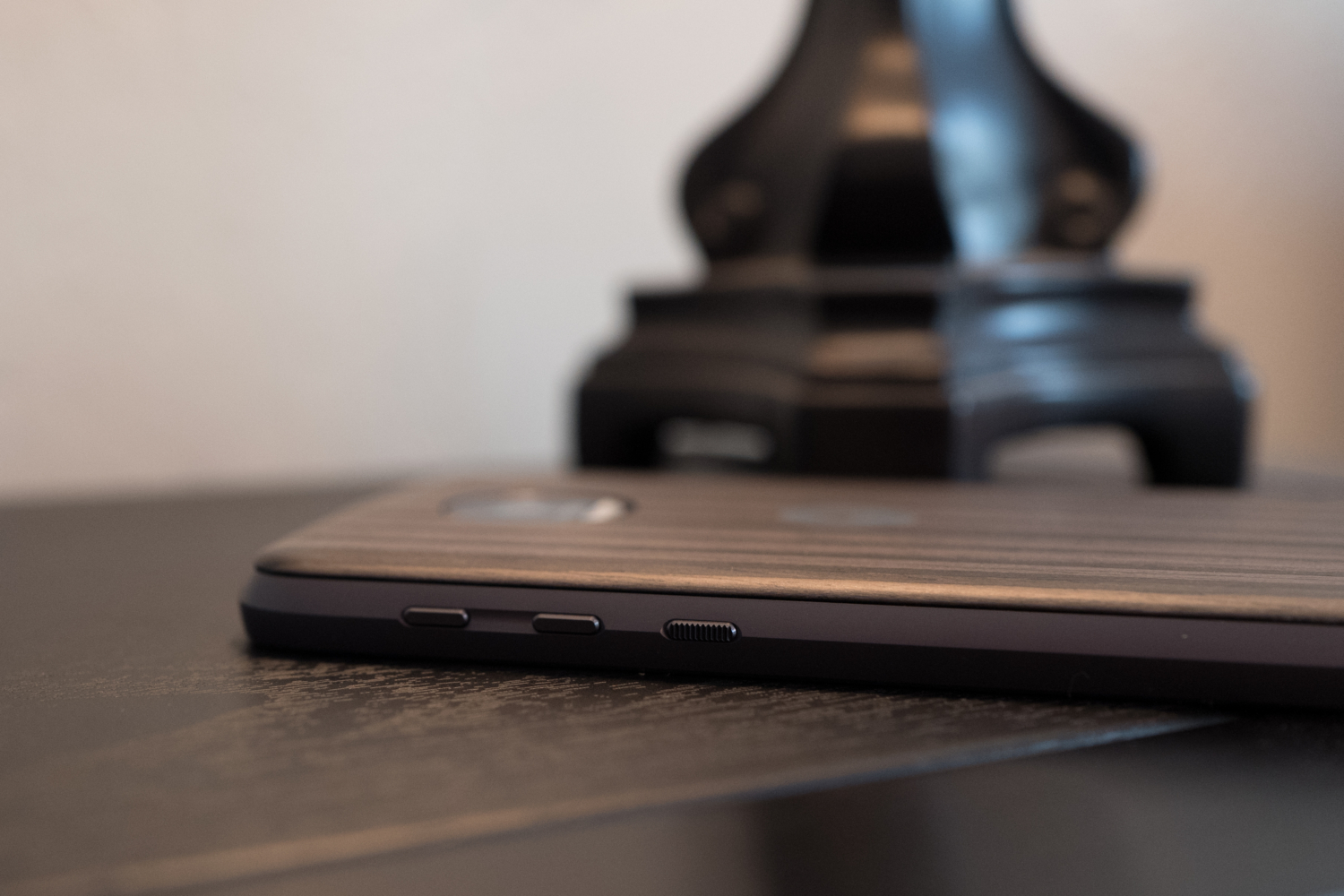 Sound. Neither smartphone comes with an audio jack, and both manufacturers supply 3.5 mm adapters. Apple's dongle is so cheap-feeling and thin, the thick cable of my Grado GS1000e headphones looks wrong. Not my imagination: Music fidelity is kind of tinny jacked in this way. Moto's USB-C to 3.5 mm adapter looks and feels better.
That said, the Droid's built-in audio doesn't match the rocking screen. Sound plays from a single speaker on the front. Fidelity is tinny, lacking depth and dimension. The quality wouldn't be so obvious if not for spectacular video. Nevertheless, the Z Force cranks lots of volume; vocals are crisp and various instruments are clearly-enough defined. Motorola chose wisely to put clarity before the thumping lows that the bass-hungry look for; debilitating distortion would result. With respect to iPhone 7 Plus, twin speakers are placed on the right bezel when held in landscape fashion. Fidelity is more dynamic, delivering better soundstage, and is good enough; that's not to say great. As such, connected wear makes the most of either phone's audio capabilities.
Headphones sound dreamy, wired or wireless, on the Droid. The Bluetooth connection seemed to occasionally drop using my Master & Dynamic MW60 cans, but the problem turned out to be WiFi hiccups. Streaming from music service Tidal was smooth and constant when switching to Verizon's 4G LTE network. iPhone 7 Plus is similarly afflicted.
Something else: Moto Z Force Droid supports the aptX codec, which delivers superior sound over Bluetooth. I could really hear the difference listening to the 50th anniversary, remixed "Sgt. Pepper's Lonely Hearts Club Band" album, compared to the Apple smartphone. That would be streaming from Tidal in 1411kbps FLAC (Free Lossless Audio Codec).
Mods. Motorola and Verizon provide another audio option, and this is as good a place as any to discuss the smartphone's modularity, which, again, I did not test firsthand. Moto Z Force Droid users can purchase add-ons that clip onto the back of the phone. Among them: JBL SoundBoost Speaker, which sells for $79.99. Other enhancements turn the phone into a zoom camera or portable projector, while alternatives add style or extra battery capacity. The concept is intriguing, but the value is only as good as the Droid's successor being compatible with existing Mods.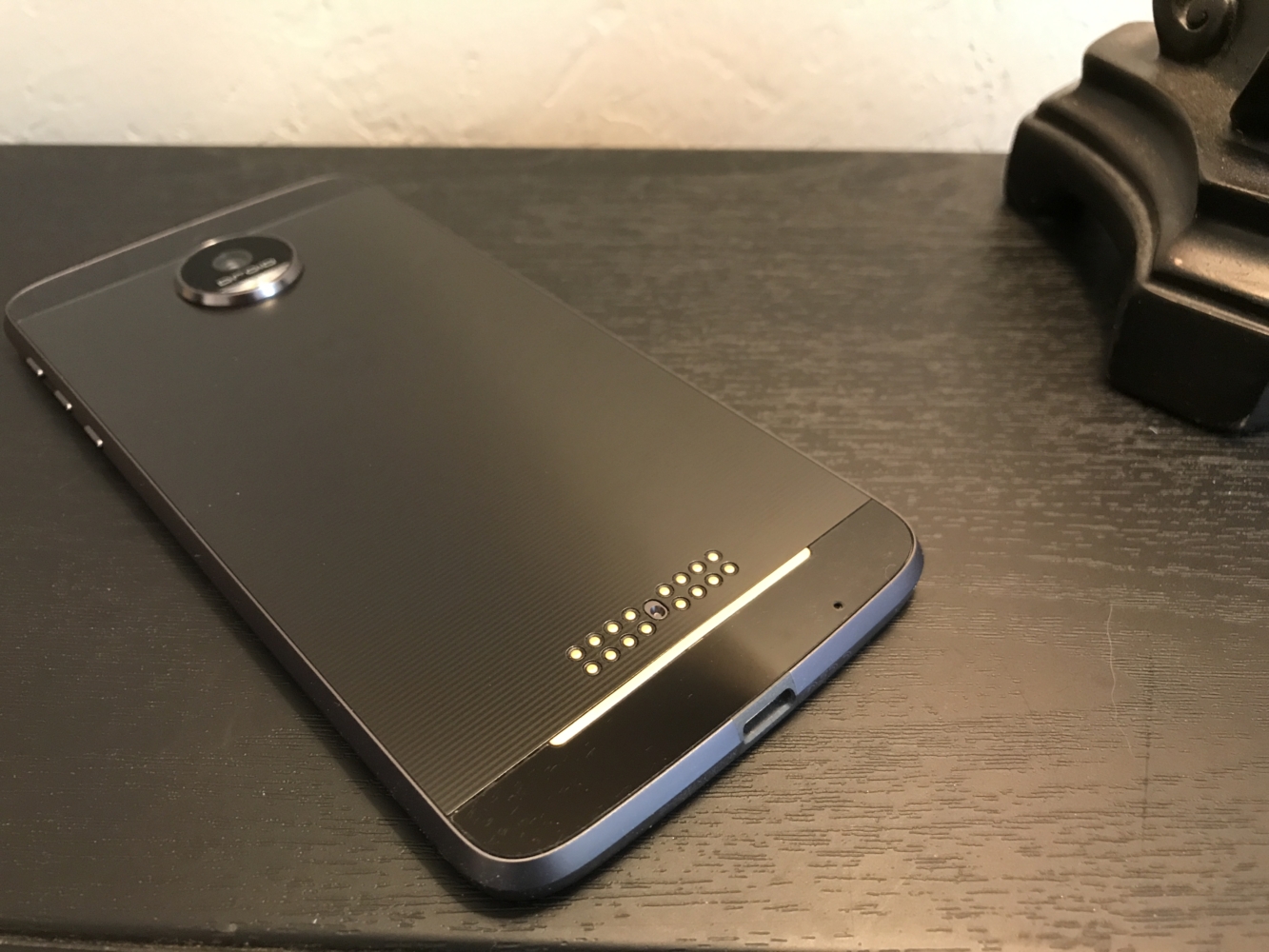 Camera. The smartphone market has reached a plateau with respect to new feature-benefits, who needs what, and who will pay for a new device to get it. Photography and videography are two functions that consumers demand more from, and around which manufacturers still extend capabilities—within limits. More megapixels isn't necessarily better, for example. The more pixels crammed onto tiny sensors, the more visual aberrations appear on the photographs. Less sometimes is greater, particularly when software compensates for hardware limitations.
The Moto Z Force Droid comes with a capable 21-megapixel rear-facing camera that is among the best I've seen from Motorola. That's saying much. While the shooters have long captured what the eye sees, without over-saturating colors, IQ (eg. image quality) and overall handling have been little more than acceptable, particularly compared to Apple and Samsung smartphones. The flagship Droid leaps forward, with a few exceptions (to be noted in a few paragraphs). By contrast, iPhone 7 Plus packs not one, but two, 12MP cameras on the back. The second acts as an optical zoom (2X). It's clever tech. Both devices' main cameras are aperture f/1.8, which conceptually improves low-light shooting. The Apple's so-called telephoto is f/2.8, which is still respectable.
Both phone cameras are image stabilized, provide high-dynamic range (HDR) capture, and shoot 4K video at 30 frames per second. The Moto Z Force Droid's front camera is 5MP and like iPhone 7 Plus is f/2.2.
Two primary camera apps are available for the Z Force—the main one from Motorola and the other from Google. The former features a Professional mode that lets the photographer adjust major shooting settings like aperture, exposure compensation, ISO, and white balance. This is a huge potential benefit over the iPhone.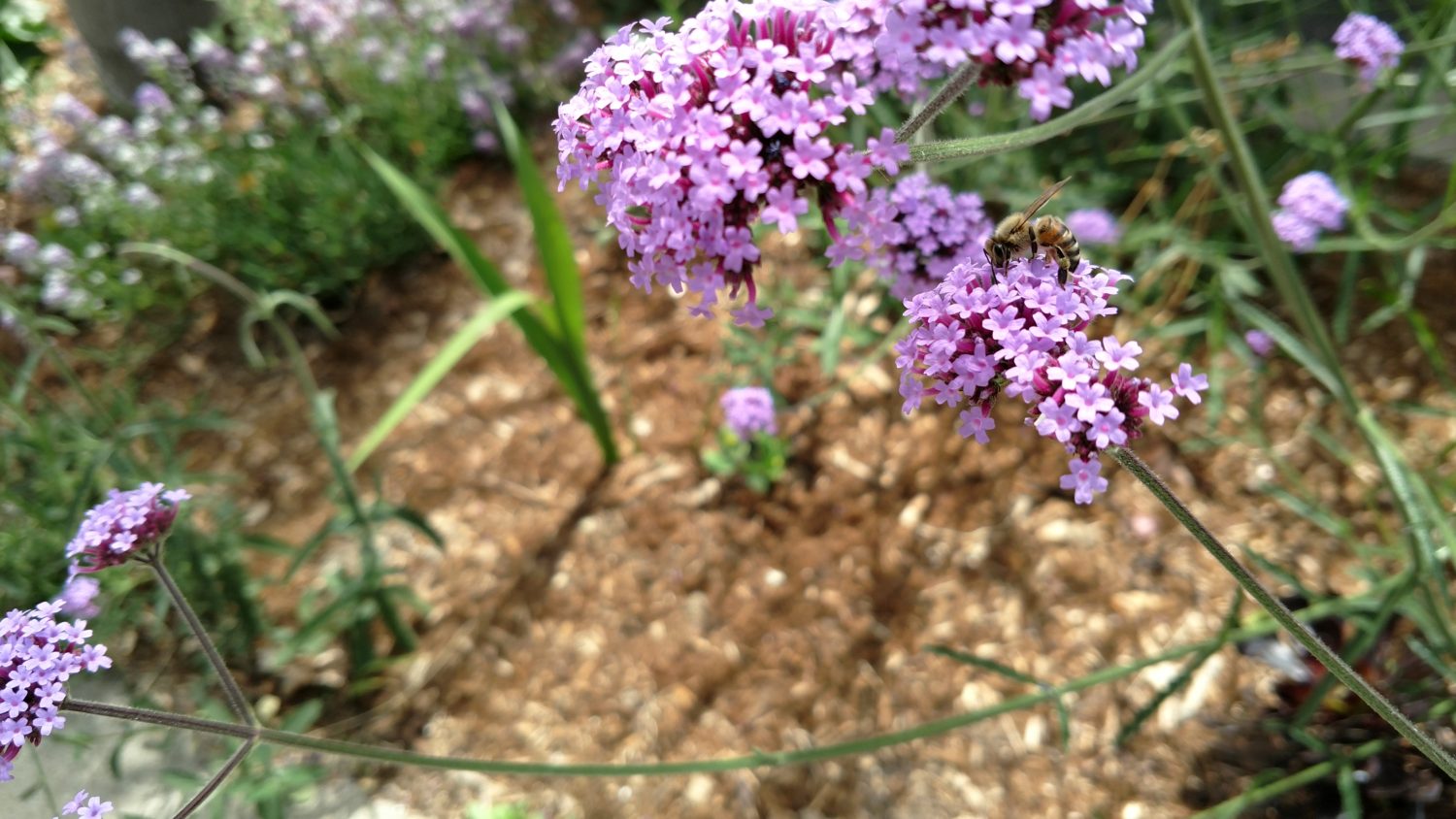 I will only briefly discuss the shooting experience, which really demands a separate story. Keeping to Moto tradition, users can launch the camera app with a flick of the wrist. The app itself is straightforward, but I experienced occasional, but annoying, lag in testing. iPhone 7 Plus has the same problem but clicks the shutter ever-so faster. More significantly, I see some lag on the rear LCD screen when displaying what will be captured, particularly when trying to shoot inside at night. Both annoyances are magnified—feel much larger than they are—because the Droid is otherwise so snappy.
As for the output, again, colors and contrast tend to be closer to what my eye sees and expects. The two bee shots demonstrate the difference. The Z Force (above) is more color accurate (but a tad light), while the 7 Plus amps the color. It's all about the photography you want, and for many people that's the Apple device. Shoot and share. I have long liked Motorola phone cameras for capturing more what the eye sees, even if that means an image with comparatively duller colors. The fruit-logo company goes for the vivid, which is also expressed in the Instagram-like photo filters.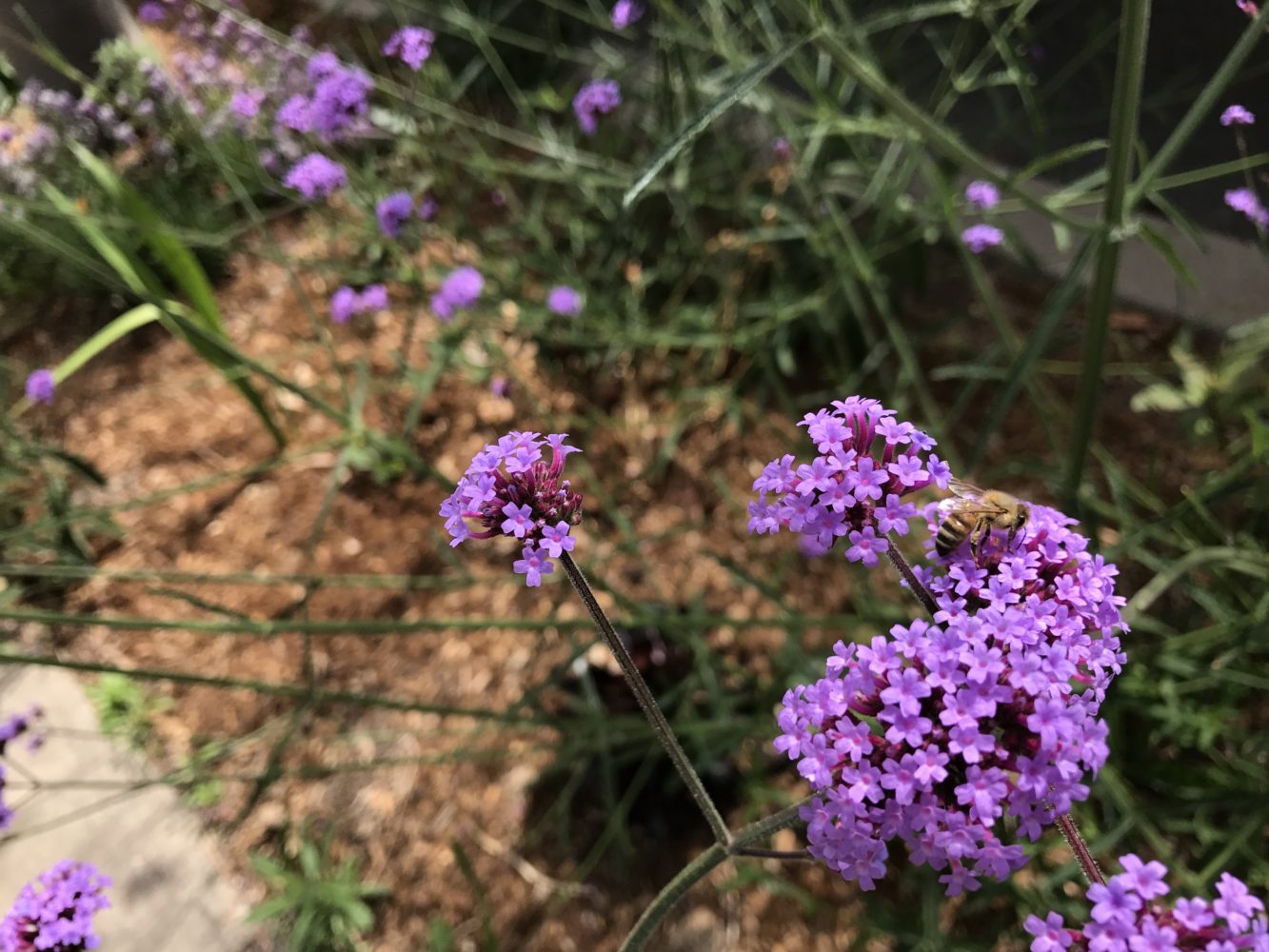 In a related matter, Motorola and Verizon have a big problem that shouldn't be ignored. Apple is running a series of commercials and promos for iPhonography—why the 7 and 7 Plus are great shooters and how consumers can get more from them. The marketing is aspirational and empowering—how you can take photos and videos that look professional. With summer upon us, the next iPhone upgrade a good quarter-year away, and Apple's determination to keep sales flowing, the camera is an excellent capability to encourage new buyers—particularly Android users. Competitors only have themselves to blame if Apple enlarges perceptions that iPhone is the only shooter that matters.
Perhaps, along with more aggressive marketing, Verizon could respond with a short-time summer discount on the Hasselblad True Zoom Camera Mod, which normally retails for $249.99. The attach-to-the-entire-back-of-the-phone accessory adds 10x optical zoom, and Hasselblad is a renown brand for high-end photography.
Battery. How long will the Moto Z Force Droid go on a single charge? I can't answer. The battery lasts so long I keep forgetting to measure. I can say this: The iPhone 7 Plus battery life is excellent, but I recharge nearly twice as often as the Verizon exclusive device. Motorola claims up to 40 hours mixed use, including 4G LTE. I surely don't see less, typically, Like previous models, there is a fast-charge feature that supposedly gives 15 more hours battery life from a 15-minute charge.
Software Matters
As I write this review, iPhone's 10-anniversary release approaches (June 29th). Meanwhile, Apple convenes its annual developer conference next week, where surely iOS 11 will be a hot topic before expected autumn release concurrent with iPhone 8 (if there is one then). Google concluded its similar event about two weeks ago, so we already know what to expect from the next version of Android, which is available now in public beta for some Nexus and Pixel devices. The table is set for the next meal, and we know the menu. But, hey, we gotta eat today, too.
There Google, Motorola, and Verizon take a drastically divergent departure from Apple with respect to the user interface. The fruit-logo company is finger-obsessed and has been since before the first Mac shipped, as I explained in March 2010 BetaNews analysis: "What 1984 Macintosh marketing reveals about iPad" (Also see from this site, in April 2010: "The Most Natural User Interface is You"). The company lags behind Google getting to the next user interface, which is more contextual and immediately responsive: Voice, meaning touchless interaction, rather than touch, supported by artificial intelligence. By contrast, Apple isn't ready to abandon the finger-first motif, as features like 3D Touch make so obviously apparent.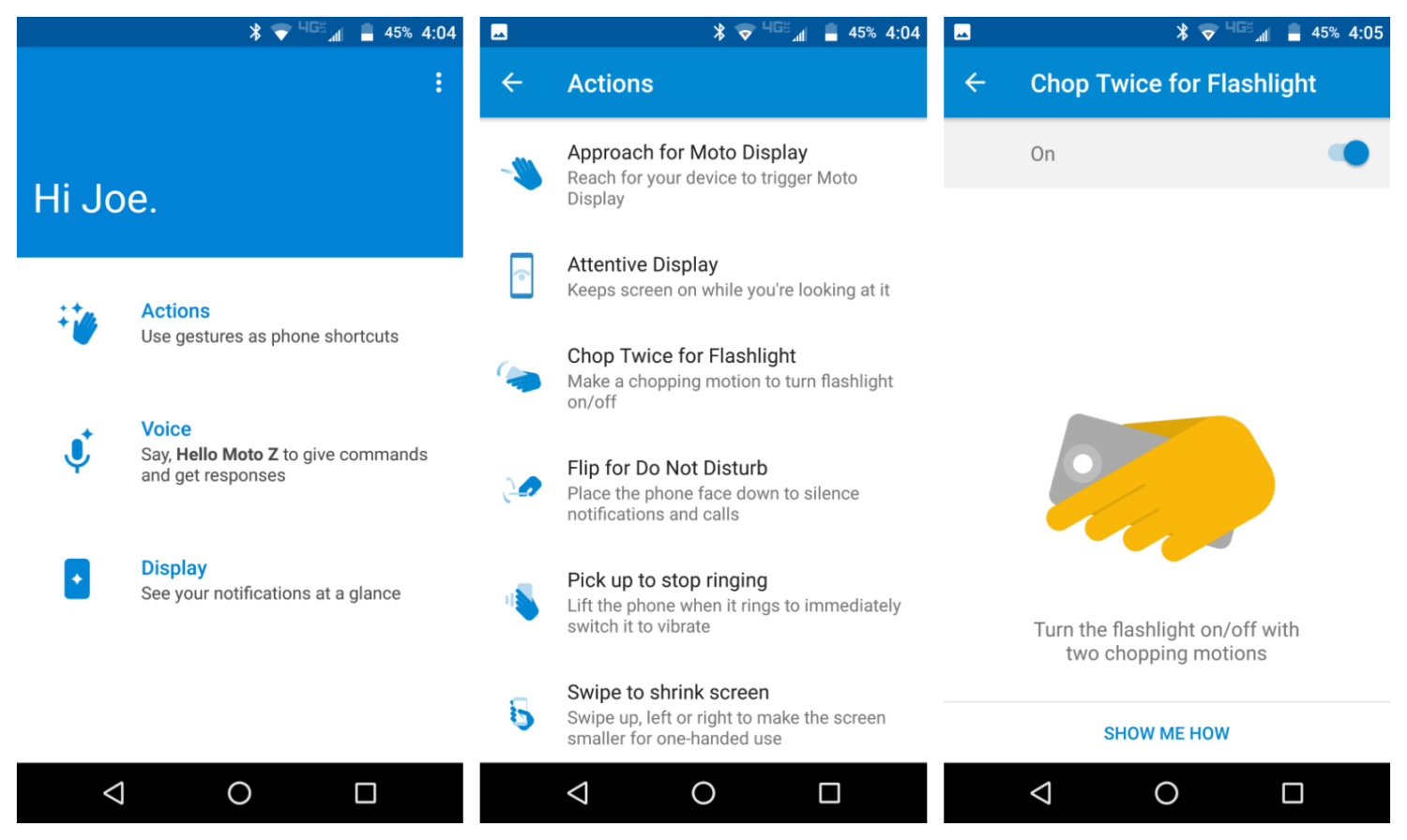 Granted, the Jesus phone company was early to market with Siri, but she still sucks—sorry to say. Other personal assistants are smarter and more responsive. There, Google brings machine intelligence to Android that anticipates what users want—anytime, anywhere, on anything. The Alphabet subsidiary's search-and-advertising business is all about context and understanding its nuances. So it shouldn't shock anyone that Google gets contextual cloud computing and the value of voice over touch. As tool users, humans rely on their fingers and hands. But communication differentiates us from other species. Language. Voice.
The future is Star Trek computing, where devices respond to your voice. You command. You ask. But also the underlying artificial intelligence anticipates what you want, or need, before you can inquire. That's the future unfolding before personal portable devices like Google Pixel and Pixel XL or Moto Z Force Droid.
Besides capabilities you can get from the amazing—and frighteningly prescient (grab the tinfoil hats, someone)—Google Assistant, there are some fine feature-benefits already available to Motorola smartphone owners. As such, handsfree operation and limited hand interaction are among the defining benefits. There's the aforementioned twist-to-shoot motion for the camera. Pass your hand over the screen to see time and notifications. Flip the phone face down to activate do-not-disturb function. Chop, chop motion holding the handset activates the flashlight (hey, it's dark out here). Pick up the phone to stop ringing (and switch to vibrate). Then there is the always-listening, voice response capability that debuted with Moto X four years ago.
Google's dynamic suite of apps and services are also available, and they rightly feel tighter and more in place on Android than iOS. Microsoft apps are largely available, too, and that will matter to some business users relying on the Office-Windows-Server plus cloud stack. But the fruit-logo company's software is largely absent. Apple Music and an Android-to-iOS migration app are it.
Elsewhere, most anything available for iOS that matters also can be downloaded from the Google Play store.
Switcher's Remorse
Now for a section that could have been a separate story.
Verizon provided cellular service for the review unit, and that was sensible, too. I wouldn't have discovered the blazing network speed, otherwise. In autumn 2015, my family switched from Verizon to T-Mobile, which cut our annual bill by about one-third. We relied on WiFi to make up for humble 4G LTE througput. On a good day, from my apartment, the Magenta network would hit 5Mbps vs 20-25Mbps for Red. Fast-forward to spring 2017 and, consistently over weeks of periodic speed tests, T-Mobile is much worse and Verizon is fantastically better. Consider the screenshot, which results are typical. I started both tests simultaneously, but Magenta took so long to complete, the clock ticked over into the next minute.
Something else: During the 18 months since switching, Verizon introduced an unlimited plan that is comparable enough to T-Mobile's. My 5 lines would cost $20 more per month with Red. Mmmm. Decisions, decisions—80Mbps vs less than one for the price difference of a couple Starbucks visits? Hells bells. The Wilcox's are going back! Sigh. If only it was that easy.
Turns out that Apple doesn't distribute a universal iPhone through all cellular companies. When buying in the United States, all-carrier is standard for Sprint or Verizon but not for AT&T and T-Mobile. Models A1660 (iPhone 7) and A1661 (7 Plus) work reliably on most CDMA and GSM networks. Models A1778 and A1784 aren't supported on the Red or Yellow networks. I have the latter device, which I now grumbly refer to as iPhone 7 Minus.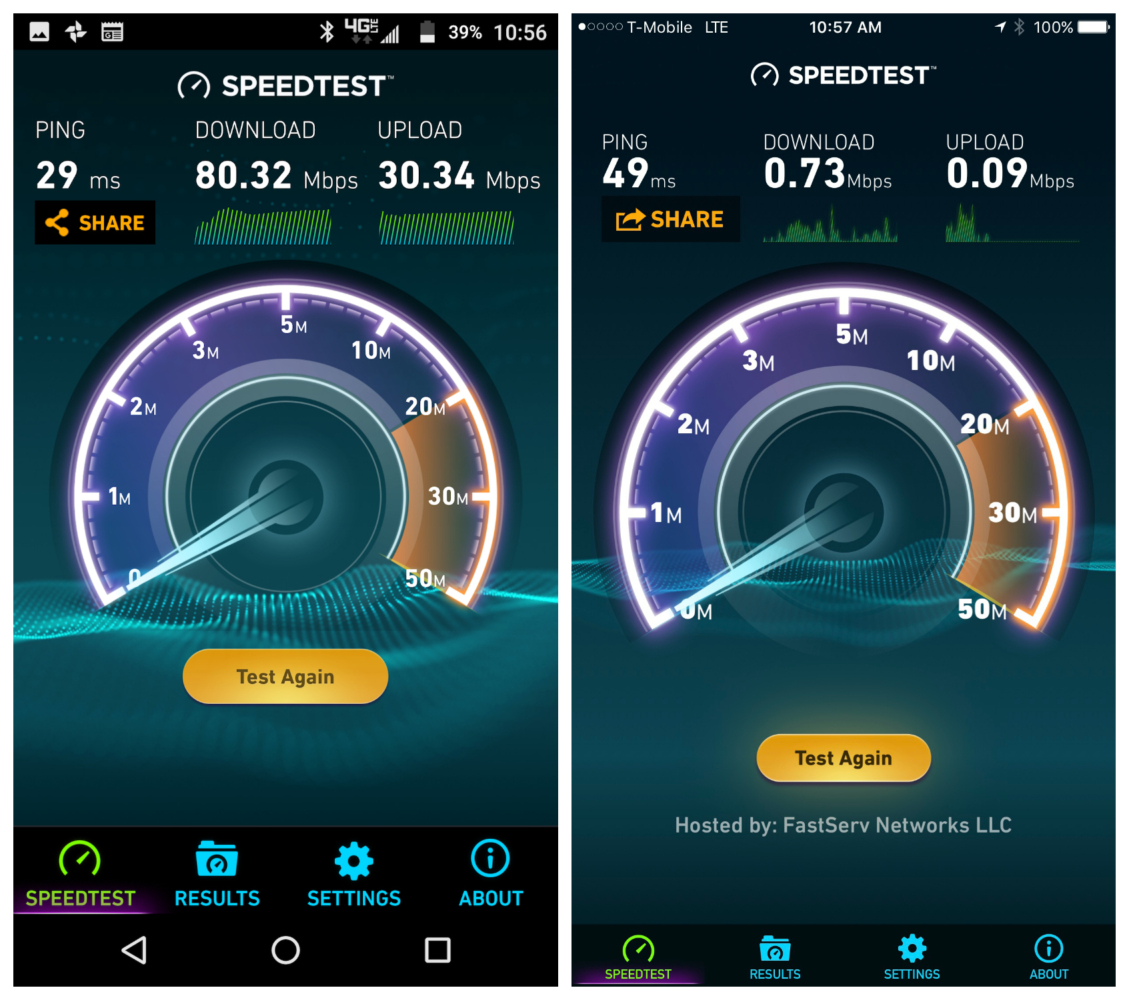 I had assumed we could pay off our Apple smartphones, unlock them, and use the devices on Verizon's network. Nope. Funny how some other manufacturers do provide all-carrier support—like Google. Something else: the GSM iPhones use an Intel modem that reportedly is slower than the Qualcomm hardware inside the CDMA-supporting models. Ah, yeah.
I got a glimpse of the difference when considering as another alternative AT&T, where our phones would work unencumbered, unlocked. At the company's local store, I conducted speed tests on an iPhone 7 Plus, which topped out at about 17Mbps. I got slower downstream but ridiculously faster upstream (24Mbps) on my 7 Minus, connected to T-Mobile. But one table over, Galaxy S8 screamed at 52Mbps to 65Mbps over repeated tests. The clerk asked if perhaps the smartphone was on WiFi. Nope. So I've got to wonder—and perhaps you should, too—about sour Apples. Later, after speed testing a friend's AT&T iPhone in my apartment and seeing but marginally better throughput than Magenta, I decided better Red.
Someone was ready to buy my wife's iPhone 7 and my 7 Minus for what we owed T-Mobile. I had already been to the local Verizon store, where the manager agreed to wave the $30 activation fees on the condition of bringing in 5 lines. I planned to go with the 0-percent financing option but preferred to purchase from Apple, because of the annual trade-in offer and inclusion of AppleCare+ in the monthly payments. Cost would be cheaper than paying for the warranty contract separately.
I showed up at Apple Store, where disappointment greeted in the guise of an employee specialist. The fruit-logo company wouldn't sell me two phones for Verizon without either existing service or opening an account. But because of the promised activation-fee waver, I couldn't risk becoming a new subscriber then and there. "No problem", I thought: "The unlocked, carrier-free iPhones are the same models for Verizon but without SIMs". Ugh. Brick wall appeared. Apple doesn't offer the financed Upgrade Program for unlocked, no-carrier iPhones, the specialist said. Huh? But the only difference is the SIM, right?
As I post, the Wilcoxes haven't switched back to Verizon. But when we do, only my daughter will keep iPhone. We will go Android all the way, unless Apple woos with something truly spectacular at WWDC next week.
Wrapping Up
These days, anyone who has owned a smartphone for two years or more already has made a platform decision: Android or iOS. The more he or she invests real money and time into either, particularly for apps and digital content, the less likely a switch to the other. Hardware and design become less considerations as meaningful features and benefits stagnate. Stated differently: The device you already own is good enough and new innovations aren't great enough to drive upgrades more frequently than every 24 months (which not coincidentally is the typical device finance period, like contracts before it). During 2017, Apple stands before a great groundswell of potential iPhone 8 upgraders—and some switchers from rival platforms, mainly Android. There are enough older devices to drive what some analysts predict will be a "super-cycle" of upgrades.
But Apple's next thang is at least months away—and, if past practice is any indication, most buyers will wait weeks, or even months, to get one; supplies are notoriously short-stocked for new launches. If you need a new smartphone now, and you're a Verizon customer, clinging to iPhone 8 dreams is insanity. So it's an Android or iOS device available now. At the high end, I would recommend either iPhone 7, 7 Plus; Google Pixel, Pixel XL; Moto Z Force Droid Edition; or Samsung Galaxy S8, S8+. The Google smartphone is stock Android, while the Verizon exclusive is nearly so—that despite some of Red's preloaded gunk (Motorola's, too).
Another consideration is cross-compatibility. If your best buds or family use iPhones, you may feel like an outsider using Android. They will more easily communicate via FaceTime or Messages, and that includes sending and reading across multiple devices—like iPad, iPhone, and Mac. But compatibility is as much a burden to Apple and its customers as a benefit. Recent innovation stagnation in part results from the company trying to maintain cohesiveness across the install base.
A decade ago, Apple shattered smartphone design concepts by creating a device that is more personal, by using sensors to make it more responsive and human. But voice and touchless interaction is the human-like user interface of the future. Google gets it, as do Motorola and Verizon.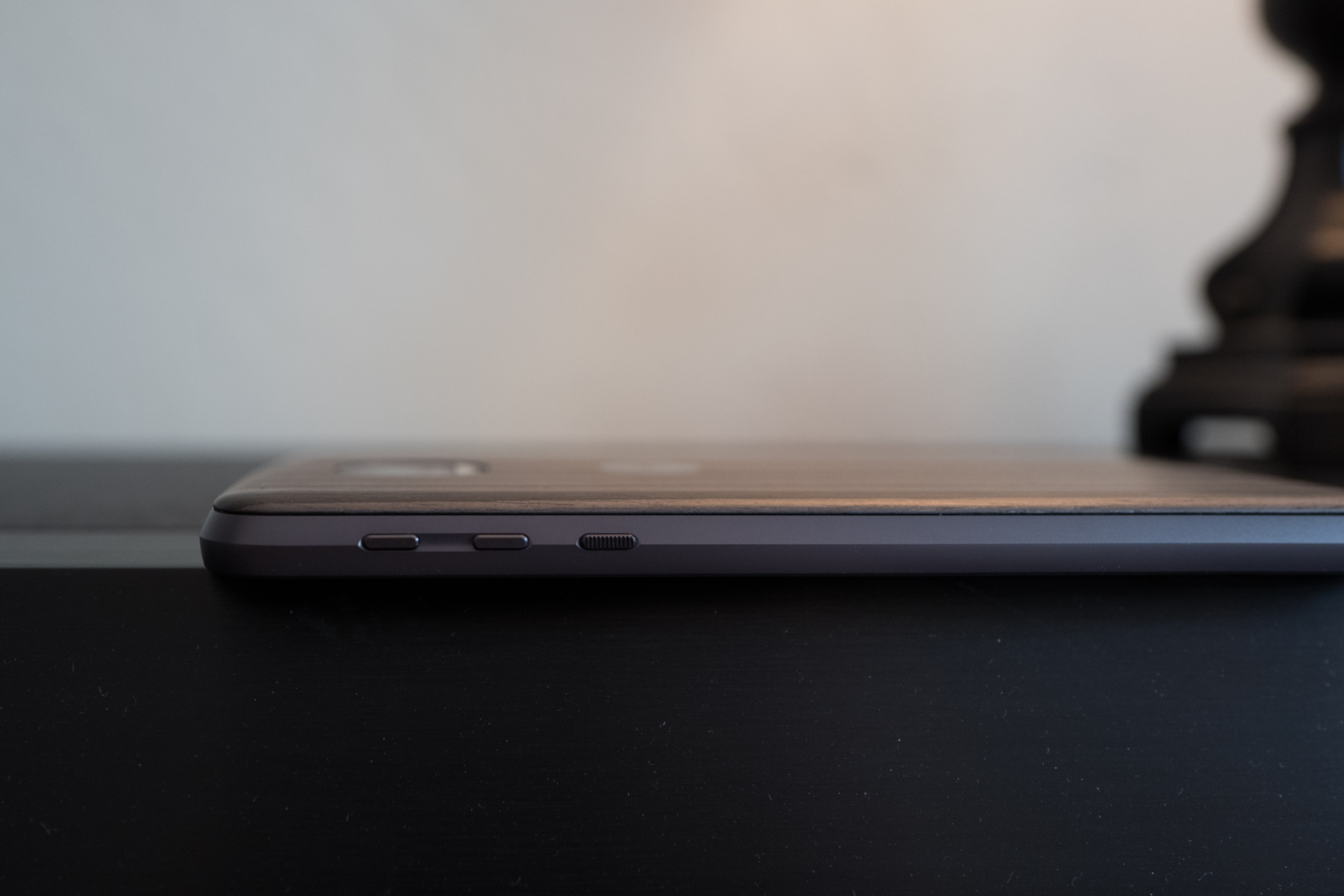 Honestly, I've never been a super big fan of Verizon Droids, mainly because of industrial design. But the Moto Z Force Droid is different. The device is responsive, with finely balanced features and feel. The smarter smartphone is exceptional by not being exceptional.
The human concept about exceptionality is one thing done well. You're an Olympic runner, stock broker maven, or gifted surgeon. But in product design exceptionality is something both more and less—this is particularly true for personal tech devices; things we use every day. The exceptional thing stands out not for the one attribute but the many combined. That is: How they balance.
Consider the automobile you drive to work. Balance is hallmark of design, starting with aerodynamics and how the vehicle turns. An aerodynamically unbalanced auto will vibrate or burn fuel faster. Likewise, an unbalanced SLR camera will be clumsy in the hand when telephoto lenses are attached, if design isn't balanced. That's physical balance. Another type is just as important, and that's the balance of features against benefits.
Moto Z Force Droid has great physical balance; packs a shatter-resistant screen, if dropped; responds nearly instantly to touch or voice; and feels over prolonged use like a companion (there Google Assistant helps). What's not to like about that?