Someone please explain this to me—seeing as I am an older white guy who is supposedly clueless about social justice matters. Today, I moseyed over to the Billboard Hot 100 to see where ranked controversial Cardi B song "WAP", which is shorthand for "Wet-Ass Pussy". The tune is Number One its only week on the chart. That's an impressive debut.
Unexpectedly, I am perplexed by the other nine, in context of racial riots raging across the country; protesters demanding "no justice, no peace"; and U.S. representative Ayanna Pressley (D-MA) calling for "unrest in the streets". Among the Top 10 songs, seven are from artists of color (the majority men); one is from a mixed-race troupe;  and two are from white male solo singers. If anyone is looking for someplace where there is black representation, look no further.
At No. 2, DaBaby, who you might know as Baby Jesus, is from Charlotte, N.C., and he is joined by Compton, Calif.-born Roddy Ricch; third-ranked The Weekend (aka Abel Makkonen Tesfaye) is from Toronto, Ontario, Canada. Coming in at Numbers four and five are two white dudes: Louisville, Kentuckian Jack Harlow, who is joined by DaBaby, Tory Lanez, and Lil Wayne; Brit Harry Styles, of One Direction fame. Sixth spot goes to Brooklyn, New York-native SAINt JHN and seventh belongs to Aukland, New Zealander Jawsh 685 and Miramar, Fla.-born Jason Derulo. At No. 8, The Weekend joins Juice WRLD (aka Jarad Anthony Higgins), who sadly passed away of an accidental drug overdose six days after his 21st birthday in December 2019. Tappahannock, Virginia-born Chris Brown and Atlanta, Georgia's Young Thug take the ninth spot. Rounding out the Top 10 is Scotsman Lewis Capaldi—yep, another white artist.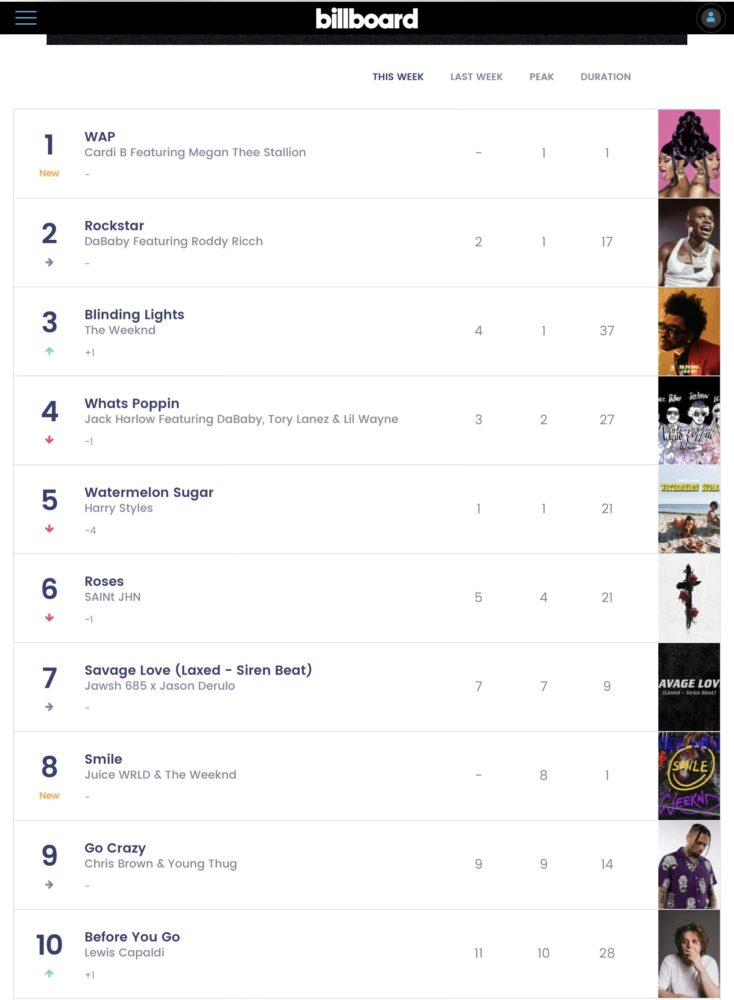 Returning to No.1, New Yorker Cardi B is accompanied by Texan Megan Thee Stallion. Lyrics like "Yeah, you fuckin' with some wet-ass pussy", "put this pussy right in your face", "make it cream, make me scream" or "If he fuck me and ask 'Whose is it?' were sure to tear off somebody's panties in raging or roaring response. Pick your controversial narrative, because there are plenty to choose—ranging from black woman empowerment to sexual self-exploitation to biological bliss.
Whatever you might think about WAP, is there any denying—for this week, at least—that there is prominent minority musician artist representation among the Billboard Top 10? What does that say about race in America? You tell me.
---
The Featured Image is a 120-percent crop, converted to Monochrome from an original captured on July 2, 2018, using Google Pixel 2 XL. Vitals: f/1.8, ISO 153, 1/60 sec, 4.46mm; 12:33 p.m. PDT.