Last week, my wife and I drove out to La Mesa, Calif. to reminiscently walk around Grossmont Center, hoping to beat planned changes that could close many of the stores. Eleven months ago, Federal Realty Investment Trust announced acquiring controlling interest in the outdoor shopping mall from San Diego's Cushman family. But the new owner won't become sole proprietor for another three years, which will present a "unique opportunity providing an unencumbered 'blank canvas' for redevelopment".
To my relief, most of the long-time tenants remain, even Barnes and Noble—a marvel of retail survival in the era of Amazon electronic and print book online sales dominance. But missing is what I photographically looked for: Flower beds down the center way separating stores. I clearly remember them, if nowhere else, near the Walmart.
The Featured Image and companion are proof, taken with Sigma DP1 (fixed lens camera) and Nokia N85 (cell phone), respectively. Vitals for the first: f/4, ISO 200, 1/40 sec, 28mm (film equivalent); 6:40 p.m. PDT, April 5, 2008. The other: f/2.8, ISO 100, 1/1000 sec, 5.4mm; 2:37 p.m. PDT, April 5, 2009.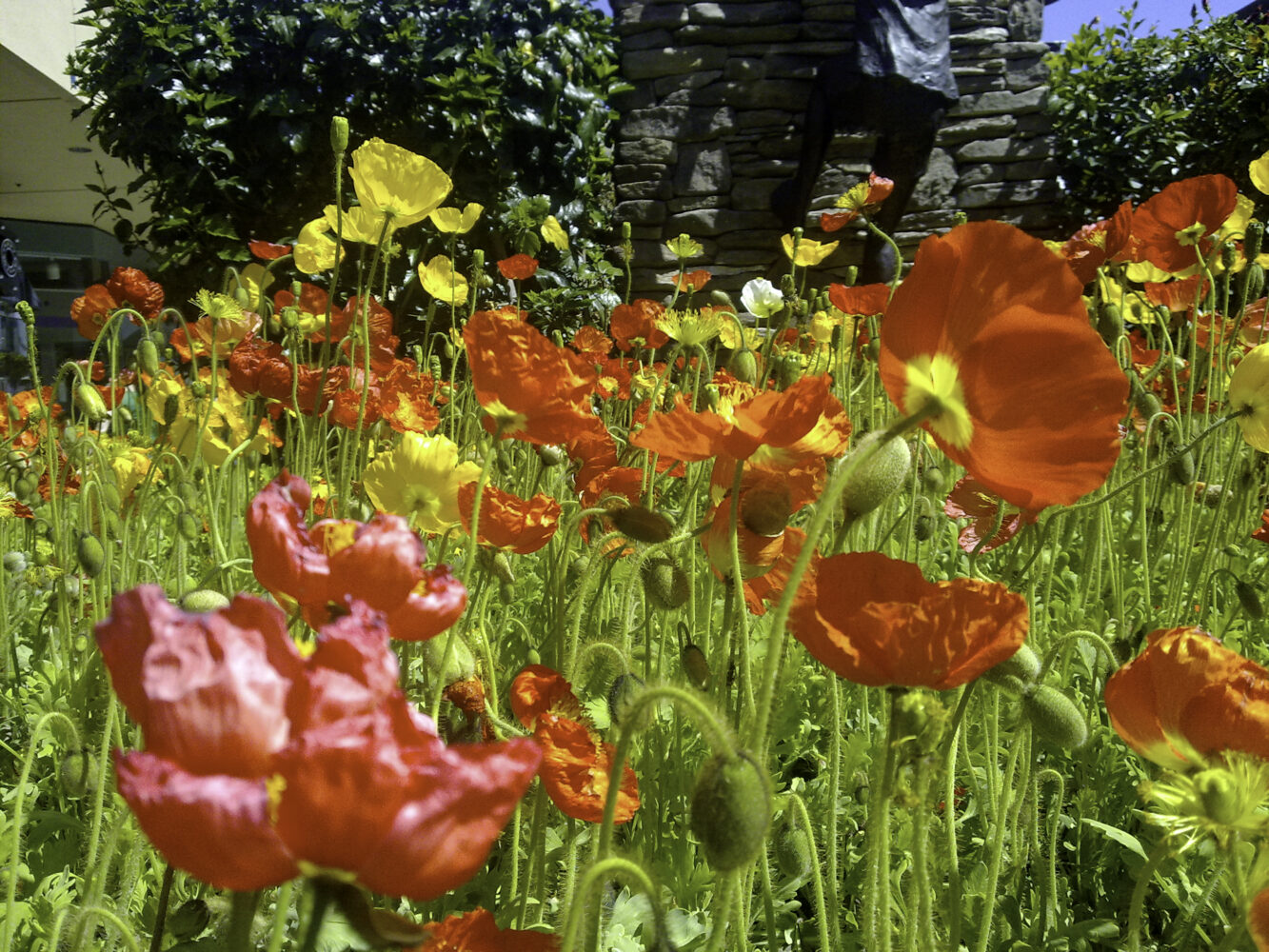 Why are they the same date one year apart? I can only guess. My daughter was in a choir and practiced on Saturday evenings; I would sit outside Starbucks watching the setting sun while writing about Apple and Microsoft for separate news/analysis blogs for my employer Ziff Davis Enterprise. The family attended Sunday church services in La Mesa during those years, which explains the second shot. We often stopped by the bookstore before driving home.
Alas, the poppies are gone—and I consider their absence a symbol of changes ahead. What else will disappear as the new owners redevelop the property? "Long time passing"; that's nipped from the folk song to which this post's title refers.