Microsoft's Windows 7 House Party—like it's oh-so new, or silly. Microsoft isn't running the events or broader marketing but outsourcing them through service House Party, which launched in 2005. House Party's oldest, archived event is Nickelodeon's AVATAR launch, more than three-and-a-half years ago. What bugs me about the blogs and news stories is lack of context.
I grabbed five of them, randomly:
Todd Bishop's report is best and thorough enough, because he provides details that should matter most to his local Seattle readership. But otherwise, most blogs or news stories might as well have been advertisements for Microsoft. Is that really what constitutes technology news reporting now?
The broader context is hugely important. The house parties—launches, if you prefer—put a more consumer face on Windows marketing. Microsoft tried the consumer thing with the Windows Vista launch, but without great success. The strategy here—working with a consumer-focused, marketing company—makes loads of sense. House Party's clients are a Who's Who list of consumer companies. Pick just about any consumer brand available in the United States: Betty Croker, Clairol, Fisher Price, Ford, Kraft or TNT, among many, many others (By the way, not all the brands are the direct sponsors of their house parties.)

What sets the Windows 7 House Party apart from the majority of others is scope: As of this writing, Microsoft planned for events in 12 countries: Australia, Canada, France, Germany, Hong Kong, Italy, India, Japan, Mexico, Spain, United Kingdom and United States. Most of consumer House Party evebts took place, or will so, in the United States.
Something else widely missed in the blogs or news stories: The Windows 7 House Party isn't Microsoft's first. The company used the House Party service to promote last year's big Xbox 360 software update. The "Xbox New Experience House Party" took place on Nov. 22, 2008. It wasn't rocket science reporting to find out any of this information; I spent about 10 minutes at the House Party site doing some very basic sleuthing.
Todd reports that Microsoft "isn't yet talking publicly about the house party plan, but the basics are laid out" at House Party. He's right about that. This isn't big enough story for me to bother anyone at Microsoft or its main PR agency on a holiday weekend. So I will rely on Todd. But it's not a habit I want to follow. Last month at my Oddly Together blog, I warned of the news veracity problems created by persistent cross-linking and quoting, where another journalist or blogger is main source for the story. It's shameful practice.
House Party's handling of other consumer launches, including Xbox, foreshadows much about what to expect from the Windows 7 event. First, the public information I have omitted to this point (and what it means):
People can apply to host a Windows 7 event at House Party to be held between October 22-29. Microsoft will officially launch Windows 7 in New York City on October 22nd. Meaning: The house party time frame tips off a week of marketing festivities. House Party is but one.
Selected party hosters will receive a Signature Edition of Windows 7 Ultimate (your swag) and Windows 7 Party Kit (guest's party gear and swag). Party themes: Family Friendly Fun, Media Mania, PhotoPalooza and Setting Up with Ease. Meaning: These themes will be part of Microsoft's initial Windows 7 consumer launch marketing (three of them already are). By the way, current Windows 7 Website markets only to businesses or developers.
For people interested in holding a Windows 7 event, the House Party site warns that "Host spaces are very limited so apply now." Without contacting House Party or Microsoft—and, again, this topic isn't worth bugging PR spokespeople on a holiday weekend—I can't if discern whether that's for real or marketing mumbo jumbo. For Xbox, there were 992 parties, according to the House Party Website. That's a fairly typical number. But some are much larger: 2,417 for the Kraft Philadelphia Cheese Pre-Holiday House Party. (Who attends these things, anyway?)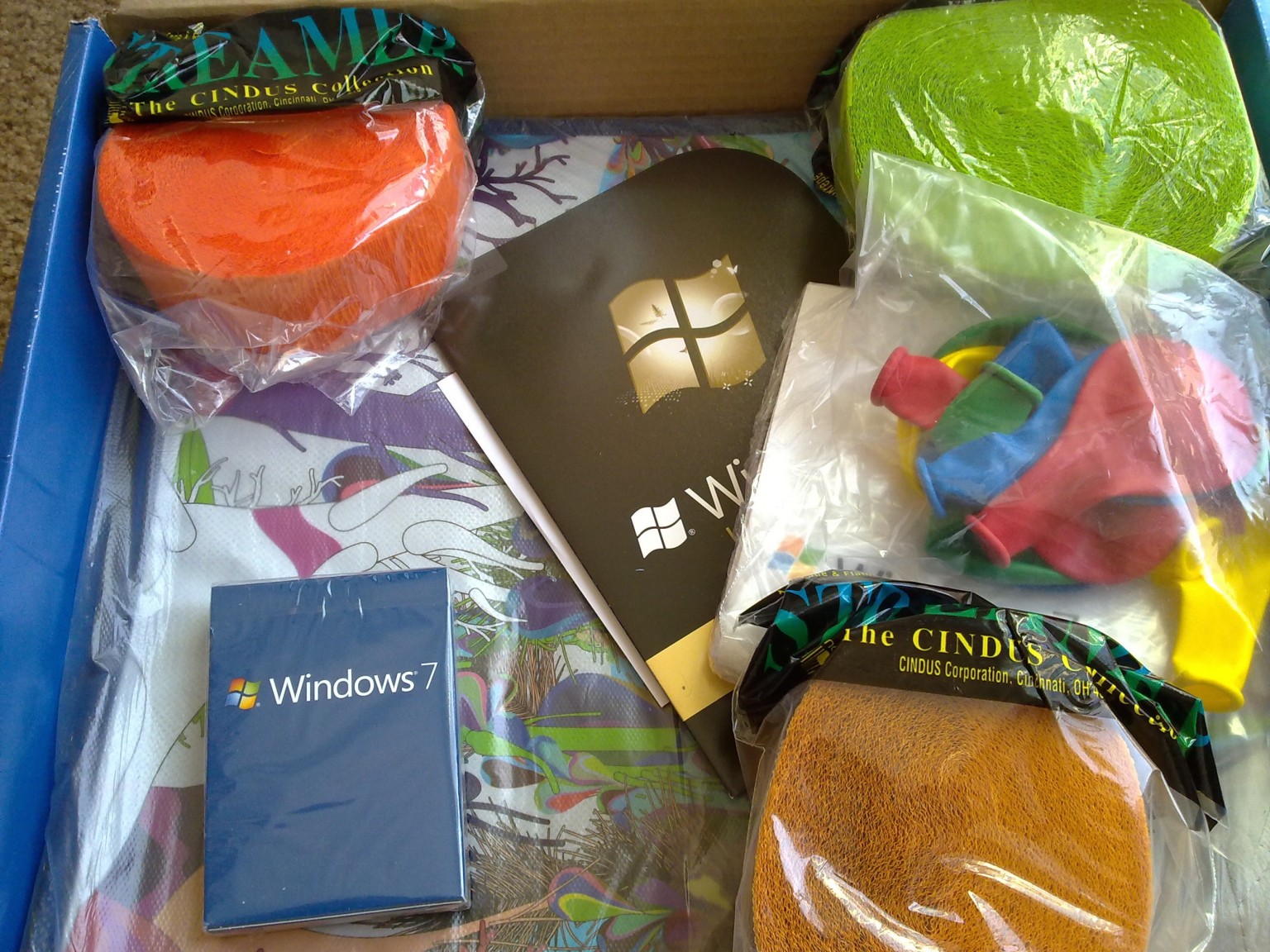 From a quick look at past house parties, 900-950 is a fairly typical number.  Dividing by 12 countries, there could be as few as 80 parties in each locale. If I were managing the marketing, I'd go with 500-600 parties minimum per country. I'm sure some advertising bean counter has done some analysis of benefits-versus-cost of holding X number of events over 7 days.
For the Xbox event, House Party engaged participants through a marketing blog. The Xbox event focused themes such as gaming and movies, as did the party favors. What House Party shipped hosters:
Netflix setup checklist
One Xbox 360 universal remote control
1,600 Xbox Live points
Microwavable popcorn
Tips for Hosting the Perfect Party
Appetizer and cocktail recipes
It's not rocket science to figure out that party hosters will receive stuff supporting their party themes. Microsoft wants people to have fun and in doing so promote Windows 7. For years, I've asserted that enthusiasts are the best marketers. What? You think an open-source fanatic would sponsor a Windows 7 House Party—for real?
There's something attractive, particularly in this economy, about holding a party where someone else provides (and pays for) the basic necessities and also tips and other assistance. According to its Website, House Party works off the premise that friends are the best brand influencers—and there is plenty of supporting marketing research to support this. (Must I provide it on a holiday weekend? If some asks in comments, I will respond with data in comments.)
Still, I have to wonder about this consumer party concept. I follow marketing fairly closely and hadn't heard of House Party before this announcement. But Microsoft has been here before with Xbox 360, and on Friday tech bloggers and journalists blasted the news across the InterWeb. By measure of buzz, maybe the Windows 7 House Party already is successful.
Say, if House Party chooses me as a hoster, be warned. I'll have a bouncer outside the door. Crashers and Windows go badly together.