Three questions buzzed among investors and around the Interwebs ahead of today's Apple fiscal first quarter 2016 earnings report: Would iPhone momentum remain; how big could be revenues; and what would be guidance for the quarter in progress? Wall Street consensus was 76.54 million handsets sold and $76.582 billion in sales. Actual: 74.78 million iPhones and $75.872 billion revenue. More unsettling: Apple forecasts its first sales decline in 13 years; guidance is lower than analyst estimates.
After the closing Bell, Apple answered these questions. Revenue rose 2 percent year over, while net income climbed the same to $18.4 billion from $18 billion. Earnings per share of 3,28 nudged ahead of $3.23 consensus estimate. Gross margin reached 40.1 percent, up from 39.9 percent a year earlier. 
Guidance shivered Wall Street, which consensus was $55.64 billion revenue and $2.23 EPS for fiscal Q2. Apple expects $50 billion to $53 billion. The stock dipped more than 2.6 percent in after-hours trading in response to actual results and those expected through the end of March. Shareholder reaction could have been more punishing.
A Billion Reasons
While Apple's overall fundamentals remain strong, buoyed by its cash horde of nearly $216 billion, the quarter shows signs that the iPhone empire has peaked. Shipments were flat, while revenue grew 1 percent to $51.635 billion —arguably against a tough year-over-year comparison of $51.182 billion. Cracks in the cement are a long way from holes, meaning: iPhone remains, for now, a formidable foe for the Android Army.
Apple's long-term problem is dependence: Nearly all the colossal revenue growth since calendar 2010 can be attributed to iPhone, which during fiscal Q1 2016 accounted for 67.4 percent revenue. That's down from 68.6 a year earlier. But smartphone sales are slowing in major markets, including respective leaders China and the United States, and shifting to geographies with lower incomes and as such appetite for cheaper-costing handsets.
Today's report deflects some of the concerns about iPhone's longevity to the viability of customers: During the quarter, the company had an "active install base" of 1 billion users across all platforms—Apple Watch, Apple TV, iOS devices, and the Mac. The number dwarfs anything comparable from any competitor, including Alphabet (formerly Google, which is now a subsidiary). Apple's 1 billion is in a whole other league. People paid price premium for Apple devices, rather than just subscribe to a cloud service. The challenge, of course: Keeping these customers buying companion devices and generating profits from ancillary services.
Apple called out the $5.5 billion in services revenue from Apple Music, Apple Pay, App Store, iCloud, iTunes Services, hardware parts, and licensing. Meanwhile, from the install base, the company reports $8.9 billion in "related purchases", up 24 percent year over year. CEO Tim Cook is wise to push out the revenue value of those 1 billion users, which during fiscal 2015 generated $31.2 billion in related purchases and $19.9 billion in services revenue.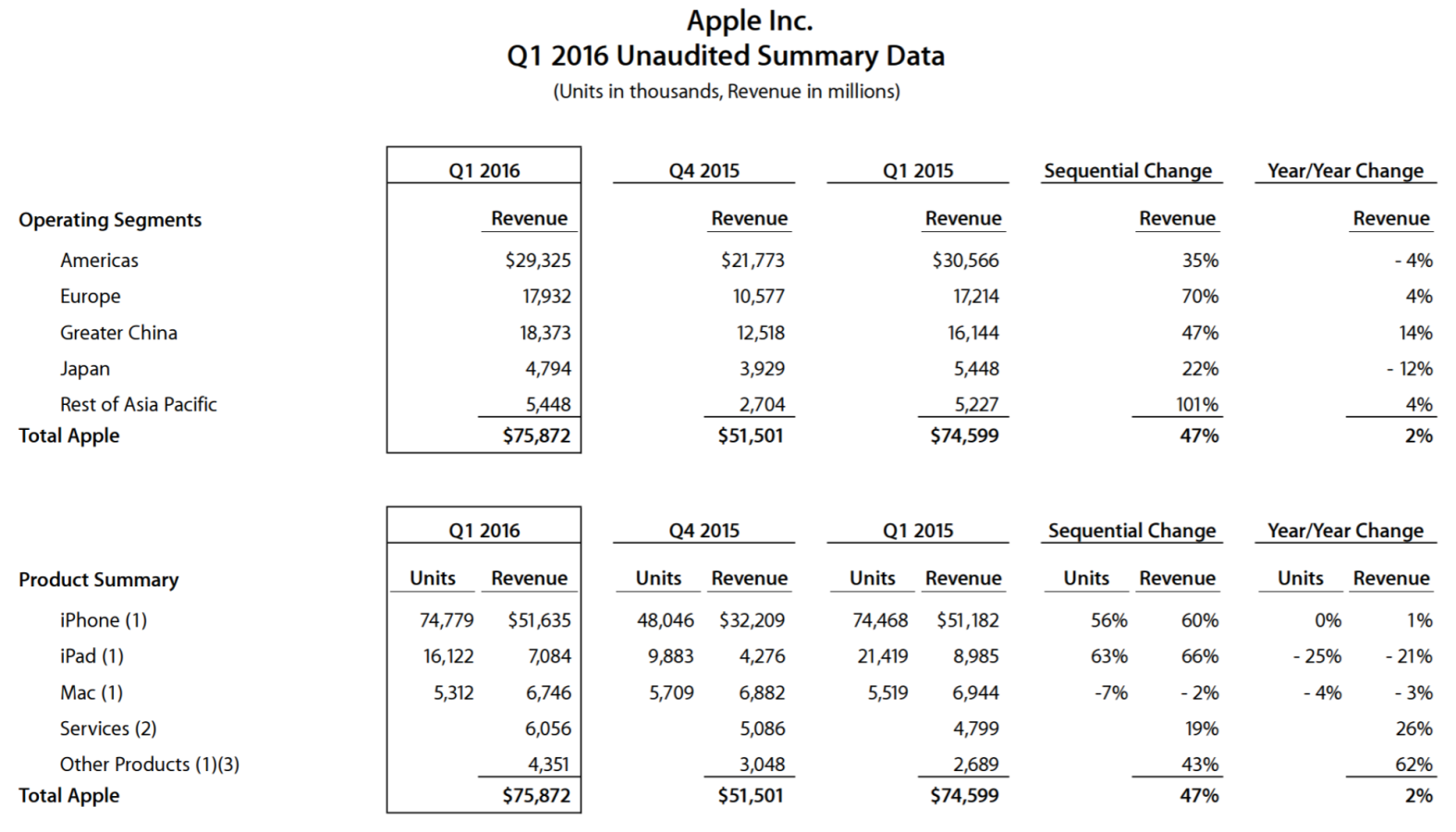 Platform Wars
These numbers are more significant than they seem and foreshadow future Apple platform strategy against Android.
Nearly always overlooked in analyses that pit Android against iOS: At the core, comparisons are meaningless. While Apple's platform is mobile (and desktop) operating system, Alphabet's is search. Android is but a means of delivering the primary platform, and the profit center; during calendar Q3 2015, advertising revenues related to search accounted for 90 percent of revenues (the company announces Q4 results on February 1st).
This difference in primary platforms partly explains why Alphabet reportedly paid Apple $1 billion for Google to be the default search provider on iPhone—and why the company's apps and supporting services offerings for iOS are only surpassed on Android, and even then not by much. Alphabet arguably is the largest developer of iOS apps. Stated differently: iPhone and other iOS devices are much less competitors to Android, from Alphabet's vantage point, than is the public sentiment. The information giant supports whatever advances its primary platform, search, and subsequent advertising revenues that are generated.
That said, for Alphabet's OEM partners, Android competition with iOS, matters much—as does the quest to gain and to keep app developer support. App availability matters to buyers, too. Apple's platform is considerably more stable and undermines Alphabet's as services ambitions expand. Consider the ad-blocking features added to iOS 9. Apple takes Alphabet's billion bucks from one hand, while trying to hack off the other. The search giant needs those mobile ad dollars, which Apple doesn't,
That's the other thing often overlooked in the platform competition analysis: Apple sells hardware, for which services enhance. Alphabet sells little to nothing, directly, from its install base. The platform foundations fundamentally differ—like dirt to bedrock. As I said long ago, iPhone will lose the smartphone wars but more likely will win the mobile platform wars. Caveat: As long as someone buys the hardware that generates the bulk of revenues.
Segment Snapshot
Apple divides products into five segments for reporting purposes: iPhone, iPad, Mac, Services, and Other. iPod now falls into the latter category, where also are Apple Watch and Apple TV.
iPhone. We've discussed the core numbers, but a few more: Average selling price rose year over year to $691 from $687, reflecting benefits from Plus iPhones.
Many analysts expected unit shipments to decline for the first quarter ever. Apple got a reprieve, but during today's analyst conference call Cook grudgingly conceded that the fiscal Q2 forecast model anticipates year-over-year retraction.
Cook says that about 60 percent of iPhone owners have not upgraded to the 6 or 6s series handsets. He sees lots of sales growth potential coming from the install base.
iPad. Keeping with the trend of global declining tablet sales, iPad units and revenue fell 25 percent and 21 percent, respectively, to 16.122 million and $7.084 billion.
Mac. Computers don't jive with analysts' preliminary data. For example, IDC has global Apple computer shipments growing 2.8 percent year over year in a broader market that declined 10.8 percent. However, today Cook and Company reported unit and revenue declines of 4 percent and 3 percent, respectively, to 5.312 million and $6.746 billion.
Editor's Note: A version of this story appears on BetaNews.