My wife and I walk around our neighborhood and go to the grocery store but not much elsewhere. That's the state of our lives, and that of many other Californians, since Governor Gavin Newsom essentially closed down the state on March 19, 2020. Subsequently, "shelter-in-place" and social distancing orders worked, or seemed to, and spread of SARS-CoV-2 (severe acute respiratory syndrome Coronavirus 2)—also known as COVID-19—subsided. In June, California started to earnestly reopen, with restrictions placed to prevent resurgence.
But the pandemic savagely surged, shifting from older citizens to younger ones: People under the age of 40 account for about half of all new confirmed cases. One week ago, Newsom ordered partial reclosing, while Los Angeles and San Diego school districts jointly announced that kids would not return to classes as planned; for the foreseeable future, they will be instructed over the Internet.
Recoiling from our partial home-incarceration, this afternoon Annie told me that she wanted to act, even briefly, like we were on vacation—to get away from the lockdown mindset; to feel free again. But with so much around us shuttered and recreation areas (e.g. beaches and parks) crowded with people not wearing masks and getting too close together, where would we go? Our last Zoo trip was Valentine's Day—too bad the governor's newest order included animal parks, I said. But was San Diego Zoo really closed, Annie wondered. So she investigated, and, whoa, the venue is outdoor enough to be exempt from the shutdown order.
Off we drove for a brief, 40-minute adventure. My, oh my, who's paying for all the minutia mechanisms that herd humans like, ah, the zoo animals? The Featured Image is where it all starts. I captured this and the two companions using iPhone XS. Vitals: f/2.4, ISO 16, 1/940 sec, 52mm (film equivalent); 2:02 p.m. PDT; cropped 3:2, lightly edited.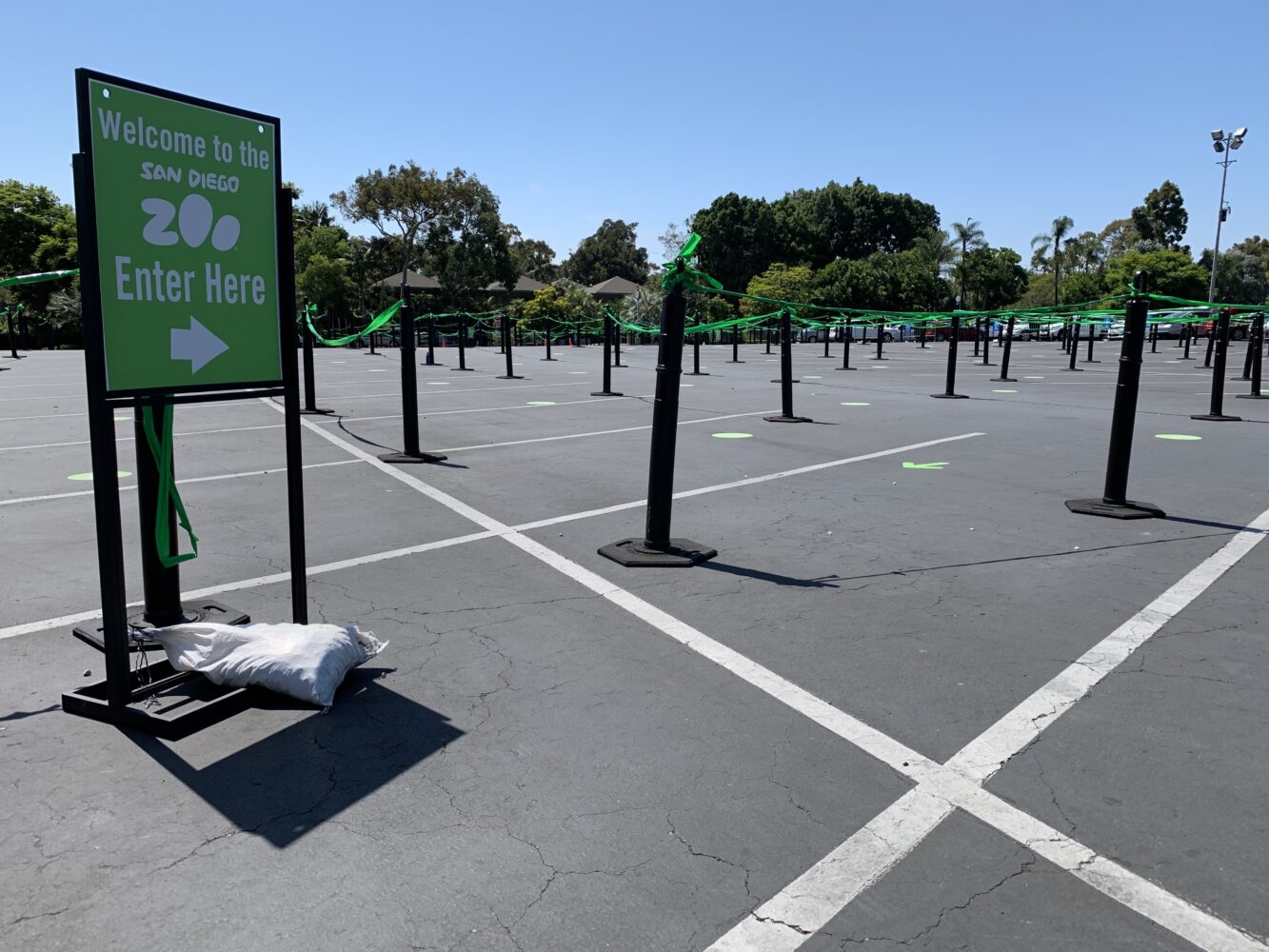 The main parking lot is cordoned off to accommodate long lines of people waiting to go through a new outdoor, health-screening entrance. On a Tuesday afternoon, few folks waited. The second photo gives some sense of the amount of parking lot given over to the waiting and walking area. Moo! Herding. Vitals: f/1.8, ISO 25, 1/2256 sec, 26mm (film equivalent); 2:54 p.m.; HDR render, composed as shot.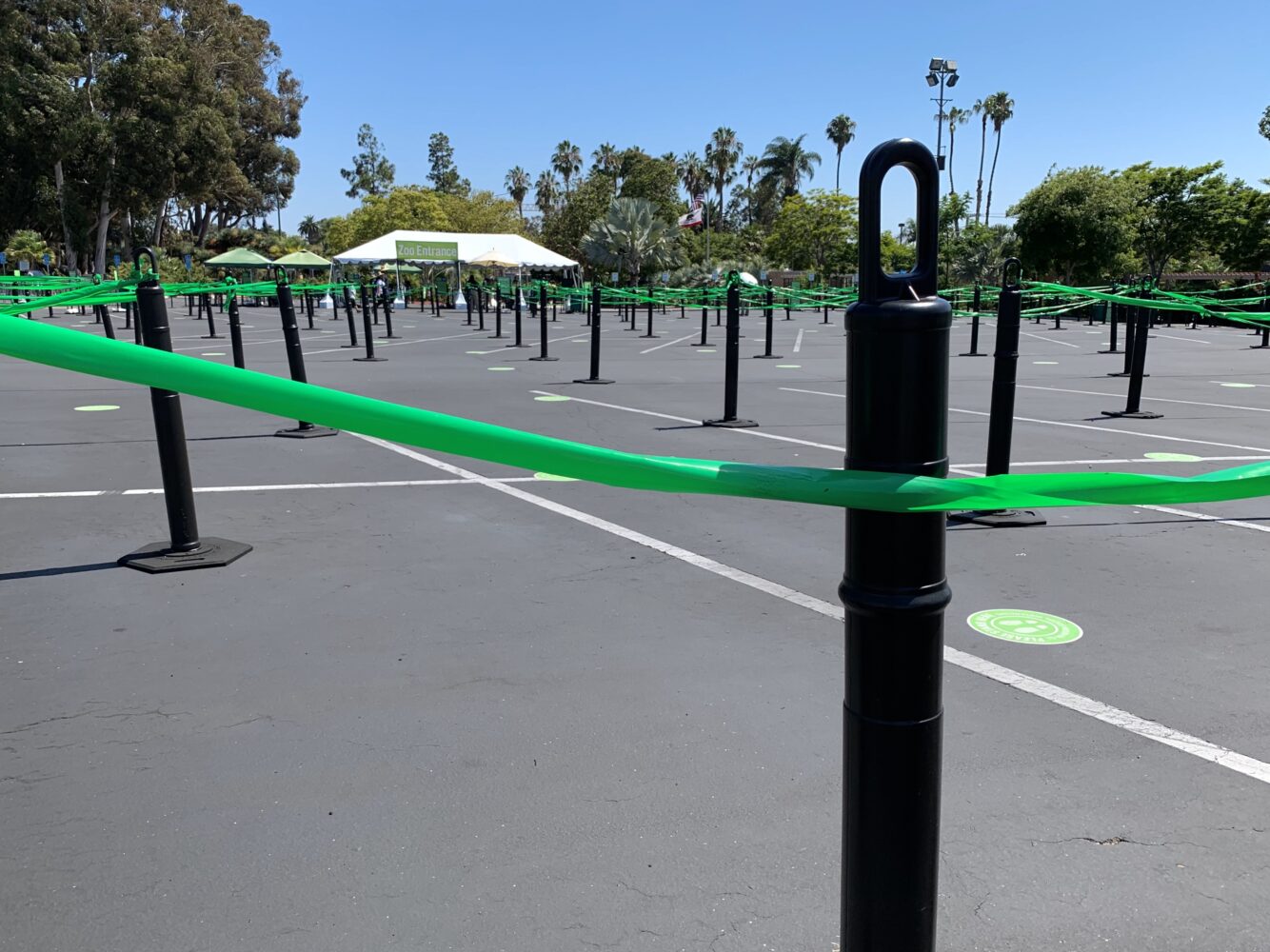 The last looks across the parking lot to the health-check entrance. I deliberated for some time before choosing this composition over others. I decided that rather than being distracting, the post anchors the shot and brings the eye to look straight down the parking lot to the screening station. Vitals: f/1.8, ISO 25, 1/1880 sec, 26mm (film equivalent); 2:56 p.m.
To gain admittance, you must answer three questions that affirm you don't likely have Novel Coronavirus, then you are given one of several colored wristbands (ours was green).
I took no photo inside the zoo because we didn't see anything but birds and a reindeer. Most distressing, plexiglass separates many animal enclosures from visitors. That's a new thing meant to protect some species that might be vulnerable to the virus. Sigh. Red Panda is among them.
We were glad to have gone, but the trip little resembled our happier, past visits.