Among Americans, few institutions, and the services provided, are as meaningful as the United States Post Office. The Second Continental Congress created the U.S. postal system on July 26, 1775—nearly a year before the Colonies formally declared national independence from Britain—and chose Benjamin Franklin as the first postmaster general. Living generations, even the youngest among them, share some emotional experience from receiving, or sending, mail. The card from grandma is a tangible expression of her love for you. Delivery of an online-ordered package—and every other one before it—is a moment of anticipation and joy. Feelings about the mail are entrenched, and within our society they are universally shared.
We put faith in the Post Office and its capacity to deliver our mail. But now, Democrat politicians and their supporters assert that our faith is misplaced—that we cannot trust the USPS, because the Trump Administration conspired to  disrupt postal operations to tamper with this year's Presidential election. The allegations exploded like a supernova—seemingly from invisibility—not long after the President raised concerns that universal mail-in ballot initiatives, like the one here in California, would lead to voter fraud. Trump's Democrat rivals assert that cost-cutting streamlining of postal operations and recent slowdown of mail processing are evidence of his interference to steal your vote.
It's non sequitur. One thing has little to do with the other. Donald Trump is a longstanding critic of the USPS as it exists today—way before the brouhaha about mail-in ballots—and there are legitimate concerns that existing postal logistical capabilities and various states' voting rules will lead to electoral chaos. But as a political maneuver, Democrats have whacked a hornet's nest of emotional attachment to mail that already stings the President.
Bail Out or Bust
In April, then-Postmaster General Megan Brennan told Congress that the organization desperately needed an $89 billion bailout. Among the problems: Declining mail volumes precipitated by the SARS-CoV-2 (severe acute respiratory syndrome Coronavirus 2)—aka COVID-19—pandemic national and states shutdown. Former businessman Trump opposed shoring up the Postal Service without first raising rates for shippers like Amazon and making operations more efficient and less wasteful.
I recall reading, in April, crazed headlines like this one from CBS News: "U.S. Postal Service could shut down by June without more funding, Democratic lawmakers warn". In the days following Brennan's request of Congress, several astute analytical commentators spotlighted structural changes needed to turnaround USPS—Jacob Bogage (for Washington Post), Jessie Bur (for Federal Times), and Kevin Kosar (for Politico).
In mid-May, Pew Research Center summed up "The State of the Postal Service in 8 Charts". Among the highlights: The agency has operated in the red for 14 consecutive years; since 2008, revenue is down some years, stagnant others; mail volume has declined 31.4 percent.
Lost in the Mail
Eight days earlier in May, businessman and Trump supporter Louis DeJoy was given the job of postmaster general. On June 15, the day he reported for duty, ProPublica published a scathing investigative report, which dek sums up the point: "Postal delays and mistakes have marred primary voting, and after years of budget cuts and plant closures, mail delivery has slowed so much that ballot deadlines in many states are no longer realistic".
The ProPublica story is must-read, for its national implications and meaningful context: The identified problems precede any actions taken by DeJoy, such as streamlining postal operations, which included removing some sorting machines (because mail volumes are, as aforementioned, falling) and prohibiting carriers' return trips to their local facility for additional mail (to cut overtime costs). (Unsurprisingly, postal unions raised Holy Hell.)
Trump may be blowing steam regarding rampant mail-in vote fraud, but that doesn't make him a total blowhard regarding the Postal Service's capability, and that of the states, to functionally process ballots. What if the election is close? Do we really want a contested outcome, like George Bush and Al Gore 20 years ago? Millions of contested mail-in ballots could lead to a catastrophic Constitutional crisis.
Only a handful of states are operationally equipped for massive mail-in balloting and the laws for accepting them vary from one locality to another. So, unsurprisingly, in May and July, USPS proactively and responsibly notified 46, along with District of Columbia, to give citizens at least 15 days to request ballots. Call the second set of letters the shot heard `round the country, so to speak. In context of Trump's mail-in ballot criticisms, the new postmaster general being a financial supporter, DeJoy cutting costs (for an agency supposedly running out of cash), and the Postal Union whining, the narrative changed: Obstruction of Democracy. Democrats accused Trump of trying to steal the election, by suppressing the vote.
'Partisan Sabotage'
During an August 7 meeting with the USPS Board of Governors, DeJoy affirmed: "While I certainly have a good relationship with the President of the United States, the notion that I would ever make decisions concerning the Postal Service at the direction of the President, or anyone else in the Administration, is wholly off-base. I serve at the pleasure of the Governors of the Postal Service, a group that is bipartisan by statute and that will evaluate my performance in a nonpartisan fashion".
Yesterday, DeJoy testified before the Senate, giving assurances that the USPS could meet demand for processing election mail. I wonder if he makes promises that the Postal Service cannot meet, but being wrong is far from the accusations of "partisan sabotage" made by some Democrats. Senators Bernie Sanders (D-VT) and Elizabeth Warren (D-MA) are demanding DeJoy's resignation or firing.
DeJoy's testimony is, at the least, political showboating. The Democratic National Convention concluded a day earlier, with Joe Biden's acceptance speech. From a politicking perspective, the Senate hearing effectively extended the Convention by one day—and more!
Are you old enough to know the phrase "going postal?" The term derives from a series of unrelated mass shootings at post offices, starting in 1970. According to Wikipedia, the phrase is "an American English slang phrase referring to becoming extremely and uncontrollably angry, often to the point of violence". Democrats are going postal about the President and the Post Office.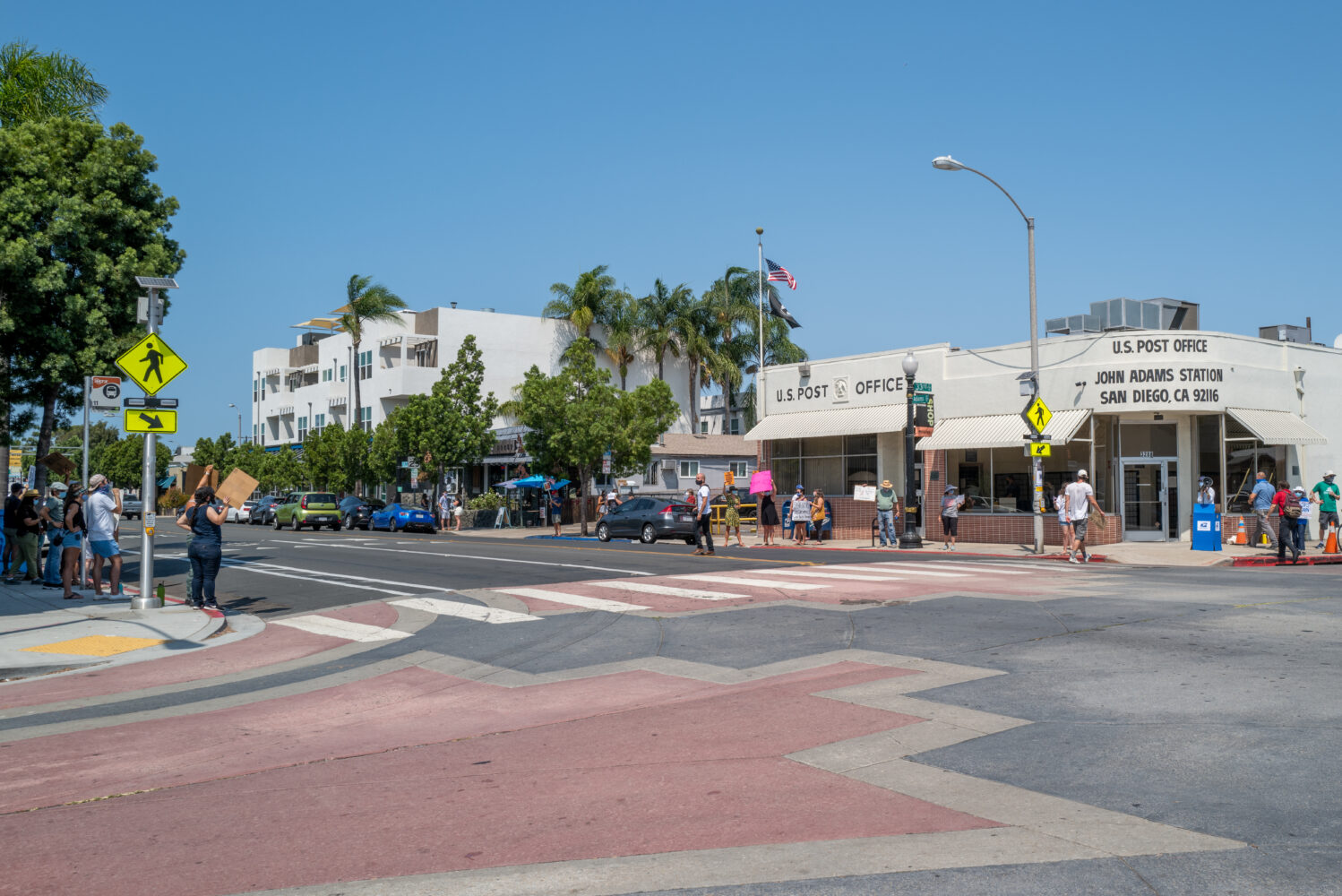 Pejoratives Fly
Circumstances intersect and overlap but they don't connect to fit the story spouted by the President's political rivals and adversaries. The Wall Street Journal's Editorial Board makes the point with story: "The Post Office's Problem Isn't Trump". Dek: "Democrats cry sabotage. But mail volume is way down, and the USPS is losing billions of dollars". Read it!
But during an election year, when the White House is the prize, pejoratives fly fast and far. A week ago, on MSNBC's AM Joy, in an interview about Trump and the Postal Service, Rep. Ayanna Pressley (D-MA) proclaimed: "There needs to be unrest in the streets for as long as there's unrest in our lives". She called for more protests, and for some people that surely means more looting and rioting.
While watching Pressley, the dots connected in my brain. I told my wife: "There is going to be a new wave of protests around the Post Office and Trump [allegedly] stealing the election". Americans still care about their mail and right to vote. They're sacrosanct. Thinking like a liberal strategist: From a grass-roots, political activism perspective, not every city will welcome social justice warriors protesting racism. But mail reaches everywhere and matters to everyone. Postal protests could be an effective tool against Trump, particularly when waving accusations about interfering with the electoral process.
Save the Post Office
So I wasn't entirely surprised when Anne, who is an earlier riser, greeted me with coffee and news this morning: Protests were planned at post offices across San Diego County today, according to local TV stations. The movement was national, actually. Events started at 11 a.m. local time. Slogan: "Save the Post Office from Trump".
Two of the locations are within walking distance of our apartment. I chose the Post Office in Normal Heights, for its accessible photographic location, building architecture, and name. I wondered: Who would protest? Would there be the more typically younger crowd dressed in black, carrying professional pre-made signs, and led by obviously trained activists?
Nope. As I expected, a modestly-sized, socially-distanced, diverse group lined Adams Avenue comprised of everyday folks living in the community wanting to save their Post Office. The question: Will there be more of these protests—and as an ongoing fixture against the campaign landscape?
Trump Trumped?
Democrats' political capital for blaming Trump and DeJoy for the Post Office's systemic operational problems is priceless. In the poker game of national politics, Trump played the wrong card. He griped that mail-in voting would enable Democrats to commit massive voter fraud, which is questionable accusation at best. The more complicated a conspiracy the less likely to enact, or to convince reasonable people to accept. The Dems trumped Trump by shifting the blame of election tampering to him. Clever. Dirty. Likely False.
But there are legitimate concerns that the States and Postal Service are not equipped to process the ballots within logistical and legal constraints. Additionally, the President's accusations aren't warrantless, if seemingly well-meaning door-to-door activists or family members help aged grandma or ailing auntie who doesn't speak English to fill out the ballot the, ah, right way.
Something else, and it legitimizes Trump's concerns about universal mail-in ballots. The American Postal Workers Union and National Association of Letter Carriers have endorsed Biden. I must agree with David Catron, writing "Why We Can't Trust Postal Workers With Our Ballots" for The American Spectator: "Postal workers are by no means nonpartisan. They are represented by unions that have endorsed former Vice President Joe Biden and clearly hope to assist him in defeating President Trump in November. Ultimately, a vastly expanded role in our electoral process for the U.S. Postal Service will result in chaos and chicanery. Never has it been more important to go to the polls and vote in person".
Fraud has many faces, and the only sure way that your vote counts—without being pressured by others, invalidated by ineptitude, or, whoops, conveniently lost in the mail—is to cast it yourself at the polls. That's where I will be on November 3.
---
I used Leica Q2 to capture the Featured Image and companion from the corner across from the Normal Heights Post Office. Vitals, aperture manually set: f/11, ISO 100, 1/200 sec, 28mm; 11:37 a.m. The other is the same, but 1/160 sec and one-minute later.