End of year is a good time to take out the trash, so to speak, to clear out the past and prepare for the future—opportunity to start Jan. 1, 2022 fresh and tidy. That's where I am on this wet Wednesday evening. But what if you literally can't take out the garbage, as is the case for many San Diego County residents? Teamsters Local 542 is on strike with Republic Services, which my landlord unfortunately uses.
The Featured Image, taken today with iPhone 13 Pro, is outside the apartment building where we live. (Vitals: f/1.5, ISO 50, 1/2994 sec, 26mm; 11:22 a.m. PST.) I would like to thank my immediate neighbors for not massively overflowing the dumpster. You might think, looking at the pile, that I am being facetious. Not so. The sentiment is sincerely expressed. Stacks of bags and refuse elsewhere exponentially exceed this modest mess. My fellow residents show remarkable restraint.
I believe the strike started two weeks ago and negotiations ended today without an agreement. Again. Mediation resumes tomorrow, if I rightly understand the process. My envy will abound during Thursday's regularly scheduled trash pickup for everyone served by the city. Meanwhile, a series of rain showers surely creates hazardous waste of overflowing Republic receptacles .
At least, for today, all our garbage is in the dumpster—and I would like to suggest it as the appropriate metaphor, if you have the right attitude, for leaving behind the worst of 2021. The other metaphor is where you don't want to be: The refuse and stink of this year overflowing and polluting 2022.
Put on a fresh mind, maybe even foreswear social media and broadcast and online news for all of January. Who knows, you might get a whiff of common sense, and it smells a whole lot sweeter than the crap commentary spewing sludge out of the sycophant sewer of know-it-alls. Damn, I mixed metaphors.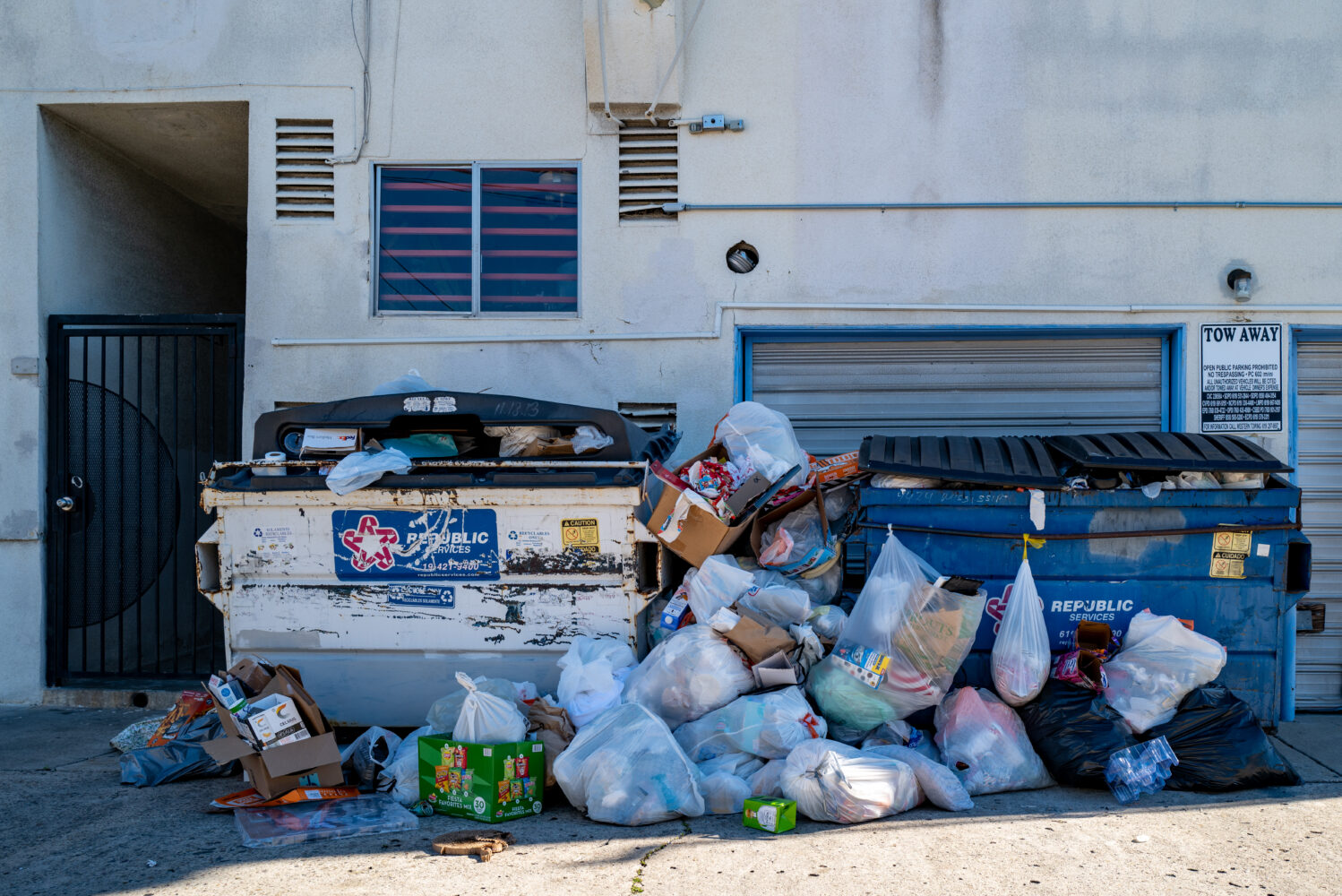 Update Jan. 2, 2022: Few days ago, a crew came by and emptied our dumpsters. I would like to thank rental management for making such an arrangement. Some of my neighbors aren't so fortunate, as you can see by the additional photo, taken today using Leica Q2. Vitals, aperture manually set: f/5.6, ISO 100, 1/200 sec, 28mm; 10:49 a.m. PST.