Quite literally, as I hit the button to post about cats Firecracker and Dynamite, lights flickered and went out. That was 6:41 a.m. PDT today. Power would remain out for us and others in portions of San Diego neighborhoods Hillcrest, Normal Heights, and (here) in University Heights until 5 p.m. sharp.
The SDGE outage alert in my customer portal at first estimated utility restoration at 8 a.m., then 9 a.m., then 2 p.m., then 3 p.m., and finally 6 p.m. We prepared for an evening in darkness and possible food spoilage in the refrigerator and freezer.
Throughout the day, we topped off our devices with the BLUETTI AC50S 500Wh/300W Portable Power Station that I purchased on March 14, 2020. Three days earlier, the World Health Organization declared  SARS-CoV-2 (severe acute respiratory syndrome Coronavirus 2)/COVID-19 to be a pandemic. On the 19th, California's governor issued an order that effectively shut down the state. We couldn't guess what would happen and so we stocked supplies that would allow us to stay indoors for as long as 14 days and not worry about electricity, food, or water.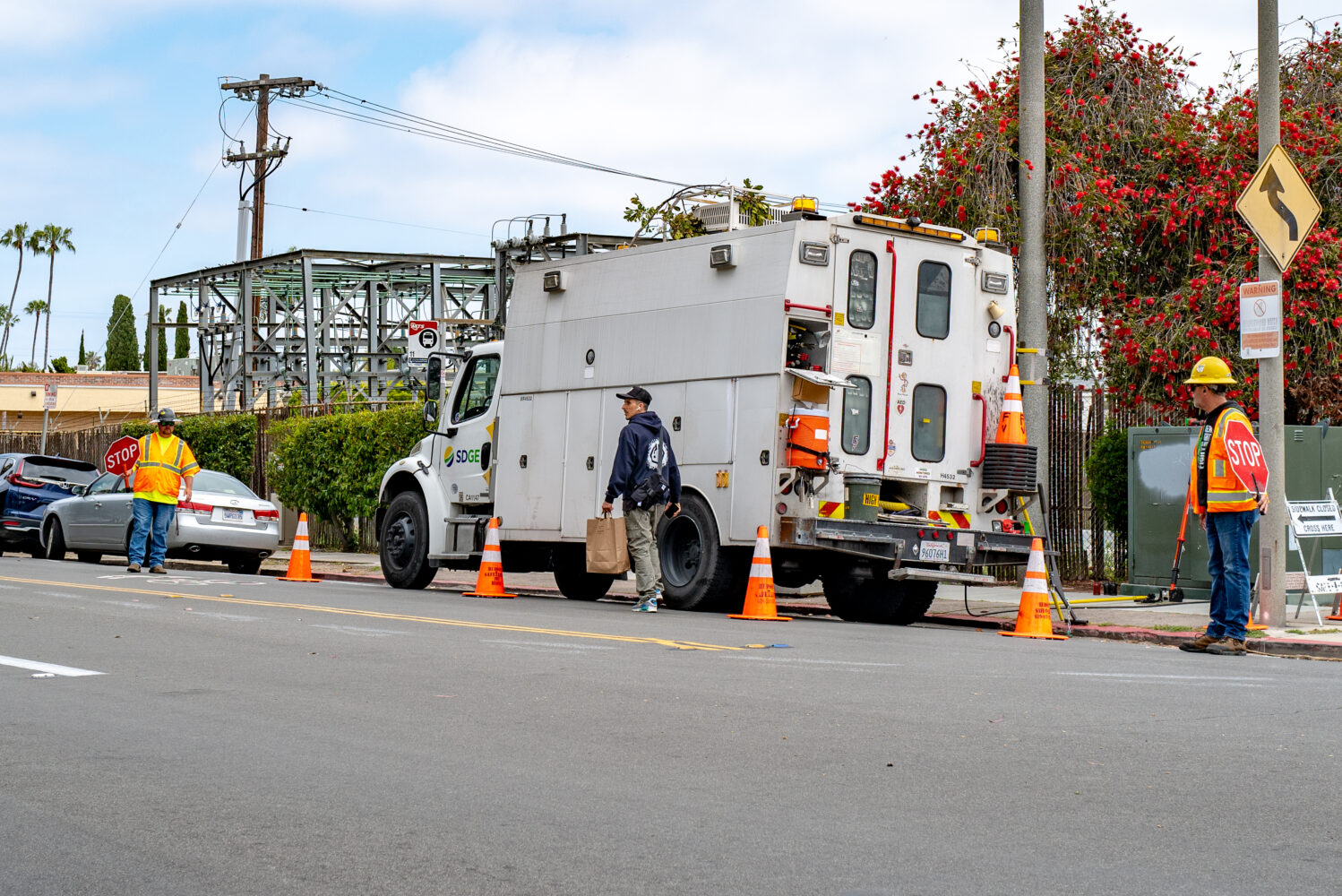 Before today, I hadn't checked the power station (e.g., big battery with beaucoup connection options) for perhaps eight months. To my surprise, capacity was 100 percent; no leakage. Had the day been sunny and warm rather than overcast and cool, we would have connected to the refrigerator for what little on-time that might provide. By keeping the door closed, the fridge stayed cold enough, despite length of time non-operational.
My wife and I wondered if perhaps some problem had occurred at the local substation, so we walked over to Adams Avenue to see. The Featured Image and companion, both taken with Leica Q2, are closer to cross-street Florida. Sure enough, we came upon some SDGE activity but no one could tell us what was the cause of the "unplanned outage".
Cropped composition of the first photo captures three relevant elements: Edge of the substation, utility worker, and truck with prominent SDGE logo. Vitals, aperture manually set for both: f/5.6, ISO 100, 1/400 sec, 28mm; 2:20 p.m. The second shot speaks for itself. Vitals are identical but one minute later.