If there be ghosts, Tim Cook should expect sleepless nights ahead. Surely Steve Jobs can't stand to be so overshadowed by his successor, who takes Apple where the cofounder couldn't: Massive earnings and margins. Today, after the closing bell, the company reported yet another ridiculously blow-out quarter, largely lifted by iPhone. If the smartphone market ever collapses, Apple Armageddon will follow. In the present, momentum is unstoppable.
Some perspective: Apple's net income was more than two-and-half times Microsoft's during the same time period (calendar Q1 2015)—and 3.8 times that of Google. To reiterate, those comparisons are put-in-the-bank profits, not revenues. By the numbers: $58 billion in sales, $13.6 net income, and $2.33 earnings per share. Wall Street consensus was $56 billion revenue and $2.16 EPS. Year over year, revenue rose 26.6 percent and net sales by 33 percent. 
Apple's quarter is fiscal second, which largely is congruent with calendar Q1. Gross margin reached 40.8 percent compared to 39.3 percent annually and 39.9 percent sequentually. Once again, international sales accounted for most of the quarter's sales: 69 percent, which is up from 66 percent the previous year and 65 percent three months earlier.
Official guidance for fiscal Q3: Between $46 billion and $48 billion revenue and 38.5 percent to 39.5 percent gross margin.
Quick Category Breakdown
iPhone. Apple would be no juggernaut without iPhone, which accounted for stunning 69. 4 percent of revenues—that's up 57 percent from 12 months earlier. The company shipped 61.2 million iPhones, beating Wall Street consensus by about 3 million units. The smartphone generated $40.2 billion in sales. Year over year, revenue rose by 55 percent and unit shipments by 40 percent. iPhone 6 and more 6 Plus lifted the device category's average selling price by 10 percent—to $659.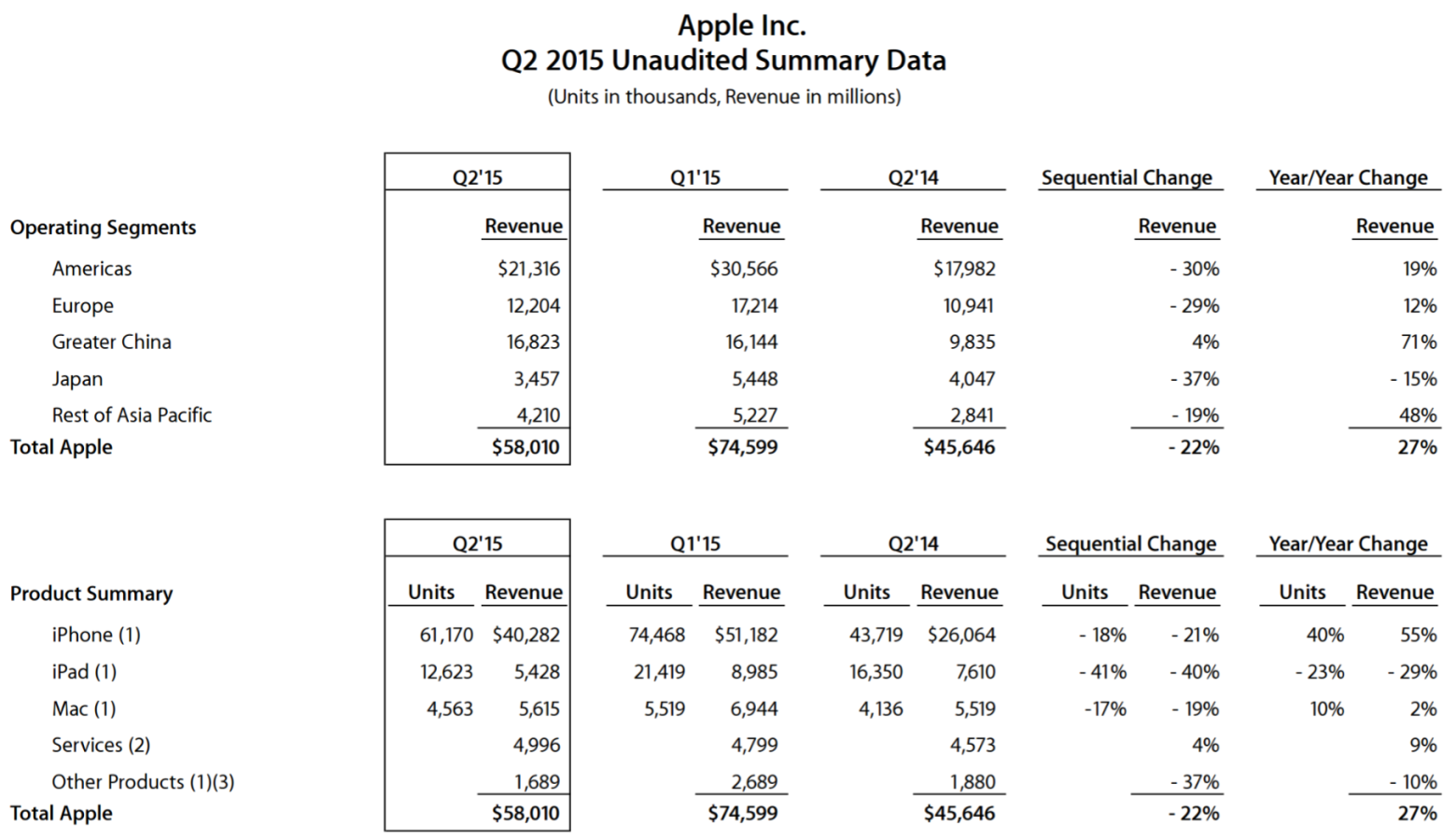 iPad. By contrast, Apple's tablet business stumbled again—and by quick examination follows the pattern of iPod following iPhone's release. Ironically, the mobile handset undermines the slate, too. Apple shipped 12.6 million iPads, down 23 percent year over year and 41 percent quarter on quarter. Revenue reached $5.43 billion, down 29 annually and 40 percent sequentially. Unit shipments fell below Wall Street consensus of 14 million.
Mac. The PC business, while declining, remains remarkably robust. Apple shipped for 4.56 million Macs, generating $5.62 billion revenue. Both rose—10 percent and 2 percent, respectively. While shipments rose, Wall Street analysts expected more: 4.65 million.
Editor's Note: A version of this story appears on BetaNews.