The world is full of narcissists, who gain popularity by self-broadcasting themselves, boasting their own accomplishments, and in process taking praise or gaining glory. They are false. Ingenuine. There is another type of character—someone who naturally gives, asks for nothing in return, and (often too rarely) is well-regarded for their generosity. They are true charmers in the sense self-proclaimers pretend to be.
My mom, who passed away today, Aug. 5, 2017, was social through grace and a kind of innate likability. She was short in stature—adult height of four feet, ten-and-a-half inches—but tall in presence. In any room, she easily became the sun around which all present orbited. I often marveled at how people just gravitated to the small woman without any seeming effort on her part, other than flowing friendliness and generosity. Her buoyant, positive spirit, supported by unstoppable, advocating determination, made mom the person others wanted to be with—and to be like. She was authentic. Genuine. 
Mom was not one to give up but definitely she was the one who gave out something that empowered others—hence the sun is more than metaphor. Like the star warming the Earth, she was easily taken for granted. Only now, after being taken away from us, do I see. She was always present. Always reliable. Always shining. Now her incredible brilliance is extinguished.
Scientists raise alarm bells about climate change, but mom brought the kind of global warming we all need—and of which there is too little: Undaunted optimism and an extended hand.
Whom She Leaves Behind
Linda Lee was born on July 14, 1941, in Caribou, Maine, the eldest of three siblings. She leaves behind the youngest, Leigh Arnold, with whom she spoke on the phone nearly every day. The distance of different states separated them, but they nevertheless were immensely close.
Family folklore has it that she once knocked him out, with a cast-iron skillet cracked against his head. Two brothers teased their sister once too many times, on an evening while the then 15 year-old babysat them. But her love for "Arnie" was more hardened than the pan ever could be.
Linda bore four living children and leaves behind three. Her great burden was the unexpected loss of her eldest daughter, Annette, in May 2016. Mom's great comfort was the remaining fraternal twin, Nanette, who was like the moon—reflecting back light from the sun. For decades, Nan was the ever-faithful, loving, dutiful daughter, who would quietly unburden our mother. They were kindred, generous spirits. On the last day of mom's life, Nanette lay in the hospital bed with her; skin to skin, heart to heart, soul to soul—until she passed.
I am the oldest child and Laurette the youngest. She lost husband and sister last year—and now her mother. If there is a monument to grieving…
Linda's lasting legacy are nine grandchildren (Ben, Brian, David, Elisa, Lisa, Lynnae, Mark, Molly, and Nicole) and 10 great-grandchildren (Aiden, Akhayla, Ayden, Brice, Brielle, Cerrie, Charlotte, Jacob, Reiley, and Tucker). Her constant companions were two cats—Precious, the angry one, and Angel. She leaves them behind, too, and I can't imagine the animals being adopted into homes giving greater love.
Four Words
Mom had a magnificent singing voice, and my grandparents wanted to send her to conservatory in Boston. But the high school junior surprised everyone by eloping to Canada and hiding the marriage for six weeks. I was born about a year-and-a-half later, three days before her 18th birthday. She once told her grandmother that she would have all her children by age 22, and she was with Laurette.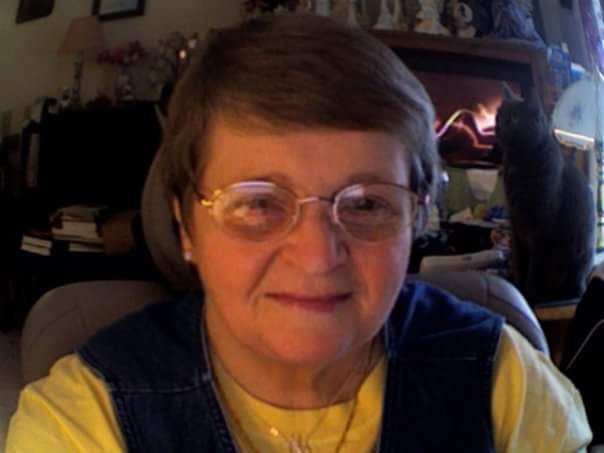 I often joke that I grew up with my parents, and I can't rightly express the embarrassment of a young man when his mother shows up for school functions and is mistaken for an older sister. Mom always looked younger than her real age. But joking aside, she commanded maturity beyond her years.
If four words could describe Linda Lee, they would be determination, generosity, intuition, and resourcefulness. Growing up, I remember how much time she spent volunteering. She was a little (as in stature) advocate, particularly for the needy.
The day her dad died in 1974, she had traveled more than three hours south to Augusta, Maine, participating in some recently-formed state commission. There were no cell phones for telling her that he had passed. Yet she felt urgent pull to get home, driving through a January blizzard. I vividly recall my father's worry and then surprise when she spilled through the living room door along with gusts of snow. The incident demonstrates her generosity (through volunteering) and determination, as intuition drove her to drive when no one should have.
I am living testament to her intuition, determination, and also advocacy. Annette and I both exhibited flu symptoms on my 14th birthday—or so it seemed to me. Mom thought differently. I remember her calling the doctor late in the evening. Three times! She defied the family physician's initial prognosis. Who doesn't bow before the medical authority? She later convinced him that something was gravely wrong with me, and I was rushed to the hospital with asymptomatic appendicitis; not a shred of pain. Mom almost certainly saved my life. "No" wasn't a word in her vocabulary.
I didn't learn until today, from Nanette, that mom continued to volunteer, even though at 76 she was burdened by physical infirmities that bound her to a wheel chair. Why didn't I know? Because she didn't boast. She didn't seek acknowledgment from others. For example, Mom was a patient advocate at the University Of Vermont Medical Center, where she died. There she also often rocked babies in the maternity ward or would sit beside and give warm touch to others in intensive care. Yeah, that was mom.
Last Call
She called me three times on the evening (for her) of Aug. 2, 2017—the last time we would ever speak. She wanted to reach my daughter to wish her a happy 23rd birthday. I gave mom the phone number and sent her along. The two didn't connect, so she rang back and we chatted for 28 minutes. Mom worried for Laurette's planned visit later in the month—that local colleges commencing, and parents arriving with their kids, would make hotel rooms costly, if available at all.
Mom also expressed enthusiasm about seeing Nanette the next morning—never guessing it would be their last meaningful interaction. We also discussed her Nexus 6 smartphone, which I had planned to soon swap out because Google is ending support for the device. She wanted to know what would be the replacement. When I suggested iPhone, she interjected: "You know how much I like Android". End of discussion. 🙂
Not one minute after the call ended, she rang back. Had I received my birthday card? True enough, I hadn't thanked her before. Reads: "My Wonderful Son, on your Birthday. Remember that the World is yours, if you dare to Dream Big enough, Seize the moment, And follow those dreams. May your Birthday be the start of an Amazing year. Happy Birthday with lots of love".
There's an empty place in my "amazing year", Momma, where you belong.
Ah, damn, there's a fifth word that describes mom. Irreplaceable.