While walking this morning—for fresh air and exercise on a promised 20-degree celsius day—I passed a couple and dog sitting on a patio, along Mission Cliffs. The woman's blue, highlighted hair rapped my attention. She is one among several matronly, grey-haired ladies I have seen colored this way. Is that a style now?
I passed, paused, and after a minute mustering courage turned around, approached, and asked to take their portrait. Because of a fence, and distance to the two, I couldn't capture closeup as would be my preference. Her hair and accompanying scarf and his eyeglasses—pretty much everything about them—stylishly appealed to me. I pulled up Leica Q, and they posed.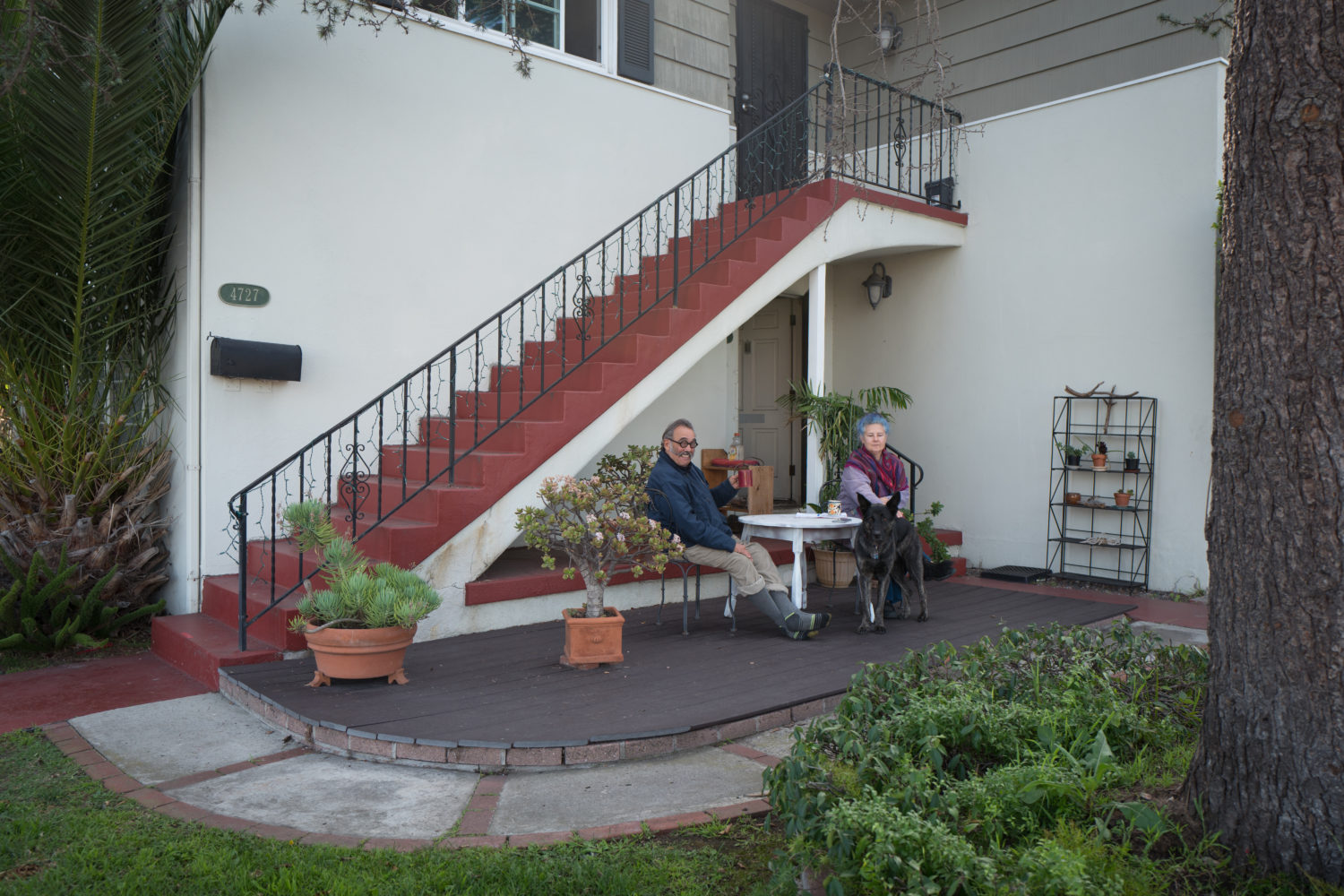 The Featured Image is an edited close-crop, which composition might strike some people as odd. You tell me. I had hoped the tree framing right would lead the eyes in to the dog, more centered. The woman constantly watched the animal, in the four captures made. The companion shot, to which I applied light vignette, is composed as shot and sets the scene. Vitals for both: f/3.5, ISO 100, 1/160 sec, 28mm; 9:26 a.m. PST. I manually set aperture, changing to f/8 for the two other (unpublished) captures; unfortunately, the dog moved and the woman's attention with it.
After I finished, the lady politely interrogated, asking if I lived nearby. Yes, I answered, assuring her of my 10 years residence in University Heights West and recent move to the east side of Park Blvd. I wanted to ask about her blue-hued hair but decided she might take that as being rude. Surely it is a style now. Yes?