For weeks, I have walked by this hat hanging from a tree along Alabama Street in San Diego's University Heights neighborhood. Finally, today, while out and about with Leica Q, I stopped for a shot. The Featured Image is a near 100-percent crop of the companion photo, which is composed as captured. I drew out highlights, but made no other edits. Vitals, aperture manually set: f/2.8, ISO 100, 1/1600 sec, 28mm; 2:27 p.m. PST.
The hat, whether original or cropped, shows the fantastic detail that the Q's f/1.7 Summilux lens and full-frame sensor combo captures. Beautiful Bokeh, too. The Leica continues to satisfy, more than 30 months later. 
Much as I love the amazing image quality and dynamic range that the Fujifilm GFX 50R delivers, the camera is just too large. The thing often intimidates animals and people; meanwhile it's a beast to lug around. Ergonomics satisfy, and I can compose and capture quickly enough, even on the street (the autofocus is plenty fast enough for me, contrary to the misgivings some pro users/reviewers express). So I started to reconsider the Q as primary—and even only—camera.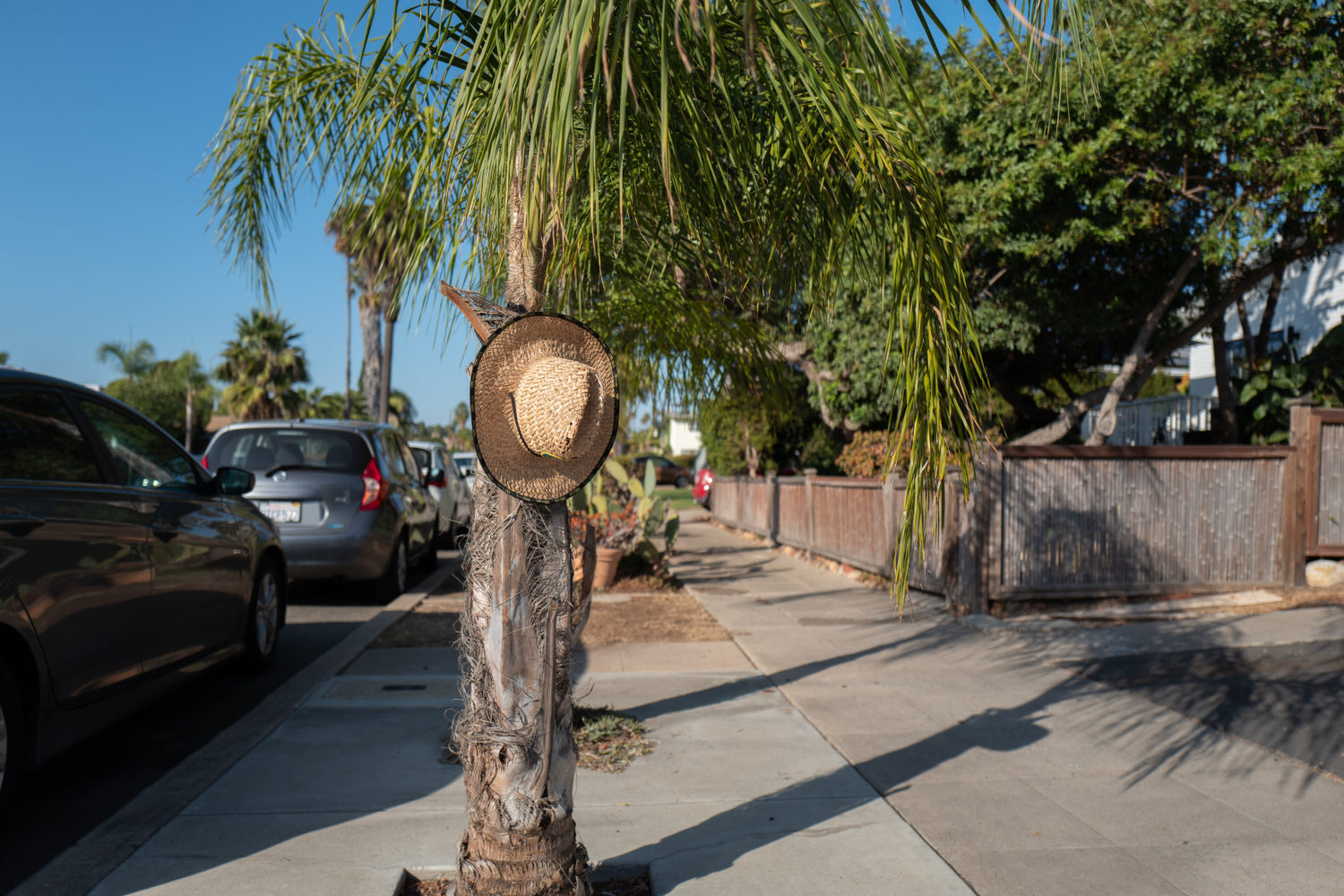 From a close pixel-peeping review of my small body of work using both shooters, the major difference that matters to me is resolution. I can close-crop, or recompose to taste, more satisfyingly with the 50R, which benefits from sensor size (43.8mm x 32.9mm), number of pixels (51.4 million), and attached, removable Fujinon GF63mmF2.8 R WR lens (50mm equivalent). Leica Q's sensor is smaller (36mm x 24mm), pixels are fewer (24 million), and the lens fixed and wider (28mm). By these and several other measures, the Leica shouldn't be in the same IQ-league as the Fuji. But, hey, to my aging eyes the Q's major shortcoming is limitations cropping-in posed by the 28mm lens and 24MP sensor. The newer Leica Q2 is 47.3MP, which should be good enough.
I am considering selling the 50R, then either keep the Q or trade up to the Q2. Fuji Film Simulations, fantastic high-ISO detail and dynamic range, and detachable lens capability would be the top reasons for keeping the medium-format camera. If there aren't any interested buyers, I'll do just that. That said, I still enjoy the Q and presumably would the weather-sealed Q2.
Here's the difference: I delight looking at the images that the Fuji 50R produces; they tickle my eyes. But I love shooting Leica Q and will grab it first every time. What does that tell you?