Trash and recycle collection is underway throughout San Diego's University Heights neighborhood—and, whoa, is it needed. The cans overflow like I've not ever seen in the nearly 13 years living here. Shouldn't surprise with most stores closed and Californians ordered to stay at home (e.g., "shelter-in-place"). Damn the SARS-CoV-2 (severe acute respiratory syndrome Coronavirus 2)—aka COVID-19—pandemic for the catastrophe unleashed on communities, counties, and countries across the globe. As asked three weeks ago: "I Wonder Which Will Flatten First: Us or the Curve?"
The Featured Image (warning: 25MB file), taken on March 31, 2020 using Leica Q2, shows what happens with some of the refuse. The pizza box is one of three stuffed in a hedge. Seriously? Vitals, aperture manually set: f/5.6, ISO 125, 1/125 sec, 28mm; 11:16 a.m. PDT.  The companion shot, from the same camera yesterday, gives glimpse of overflowing cans that typically wouldn't be. Vitals, aperture manually set: f/8, ISO 100, 1/125 sec, 28mm; 4:25 p.m.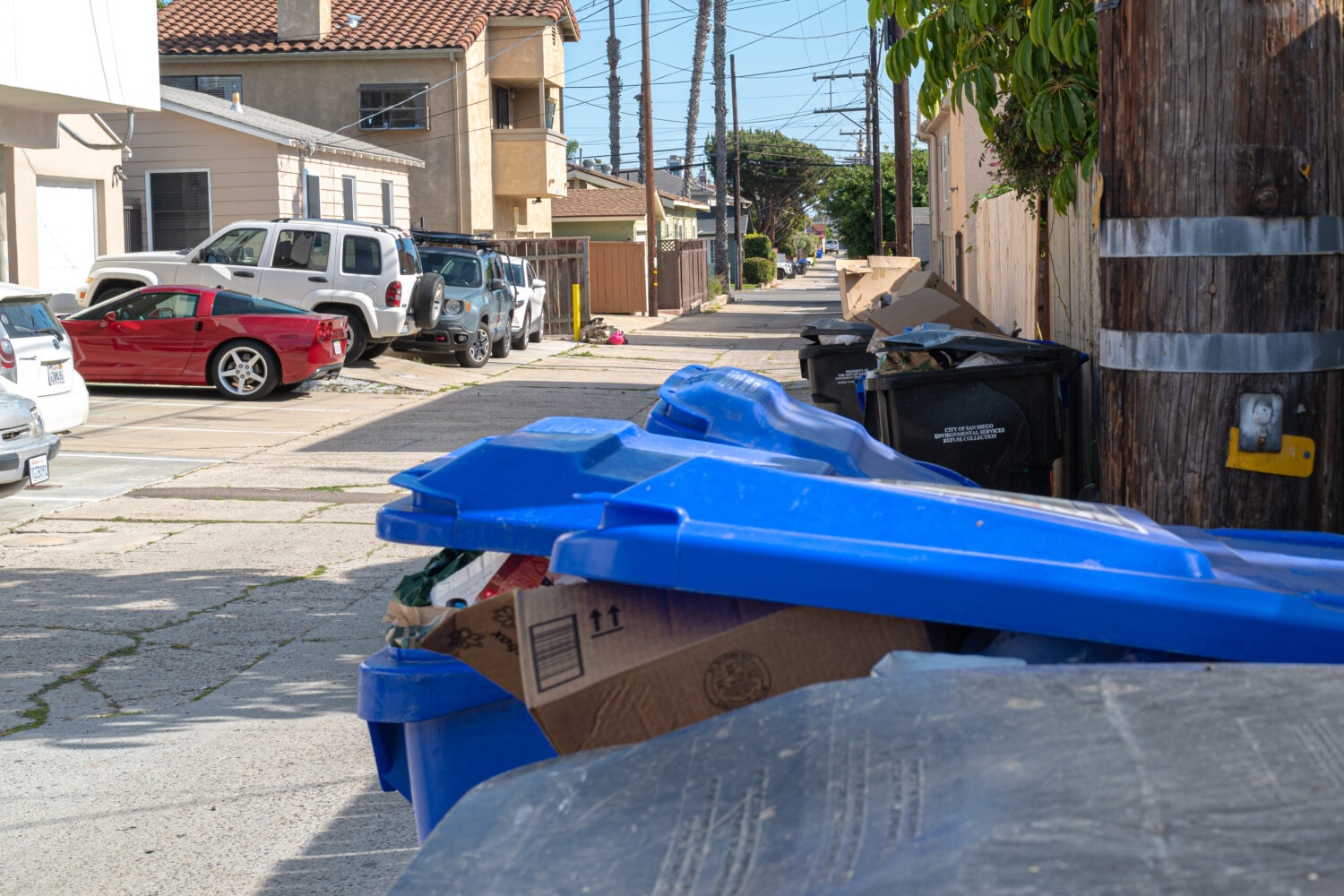 Lots of people are stuck inside, and they're producing more garbage than they normally would do. The lucky ones are working from home. The others are furloughed or fired, and that's the terrible other pandemic: Economic. Thursday isn't just local trash day; the US Department of Labor releases unemployment data—4.4 million new claims for the week ended April 18. That brings the five-week total to 26.4 million.
How's this for context, from Newsweek:
To put that number in perspective, 26.4 million people is larger than the number of people that live in the country's 10 biggest cities combined. According to the latest government Census Bureau estimates from 2018 New York City (8.4 million), Los Angeles (4 million), Chicago (2.7 million), Houston (2.3 million), Phoenix (1.7 million), Philadelphia (1.6 million), San Antonio (1.5 million) San Diego (1.4 million), Dallas (1.3 million), and San Jose, California (1 million), have a combined population of about 25.9 million.
How about this sobering AP headline: "Virus pushes US unemployment toward highest since Depression". Lede: "Unemployment in the US is swelling to levels last seen during the Great Depression of the 1930s, with 1 in 6 American workers thrown out of a job by the coronavirus".
With so many people out of work, and so much garbage piling up, perhaps the Department of Sanitation should go on a hiring spree.