Southern California continues to suffer from the self-inflicted economic devastation imposed by our esteemed governor, Gavin "Gruesome" Newsom. He has imposed a partial, second statewide shutdown in response to increasing confirmed SARS-CoV-2 (severe acute respiratory syndrome Coronavirus 2)—also known as COVID-19—cases. Pandemic deaths aren't rapidly rising, which, in my journaled opinion, is the metric more important to making policy that harms millions of businesses and leads to massive job losses.
What is the harm? Locally, according to San Diego Regional Economic Development Corporation: "Forty-one percent of businesses surveyed saw revenues decline by 81 to 100 percent; 93 percent saw staffing declines of one to 50 employees". Additionally, "minority-owned small businesses have been disproportionately impacted by COVID". Explicitly: "More than 90 percent of minority-owned businesses have seen their revenue decline, with most experiencing steep revenue declines of 81 to 100 percent". EDC released the most recent data—collected May 28 to June 8, when the state started reopening—on July 1, or 13 days before Newsom reimposed new closure measures.
Businesses and organizations of all sizes are being forced to reduce the number of people allowed inside their establishments and to establish social-distancing barriers, such as strategically placed plexiglass, to supposedly minimize spread of the virus. Under the most recent shutdown order, indoor dining is prohibited, forcing restaurants to utilize outdoor space. That may not seem like much of a burden in sunny SoCal, but social-distancing rules reduce available outside dining areas.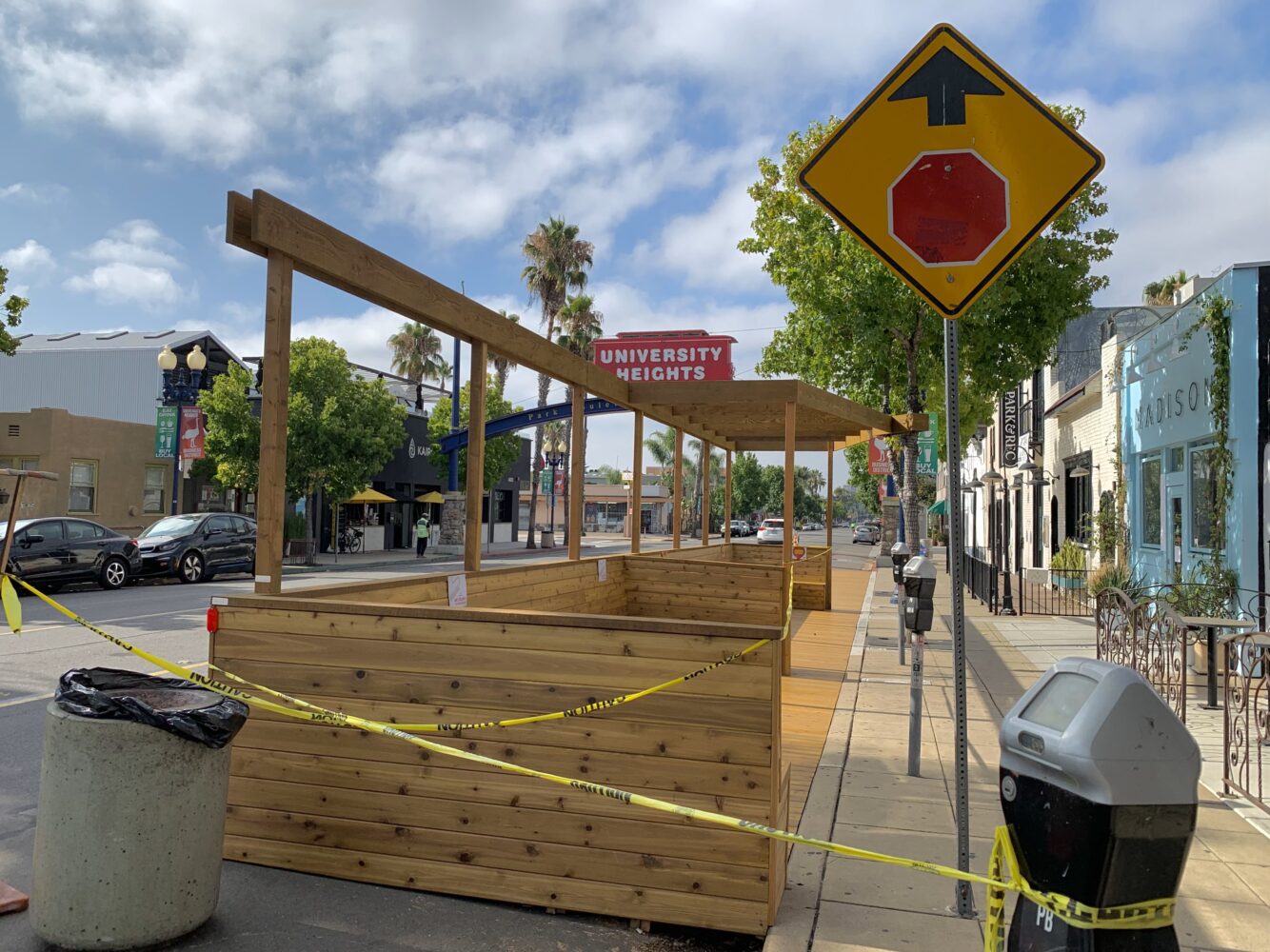 That brings us to the Featured Image and its companion, both captured yesterday along Park Blvd. in the heart of the University Heights business district. In the first, an outdoor eating space that I saw being constructed the previous day is nearly ready for patronage. The second shows how the structure takes up parking spaces that shops otherwise need available for their customers. I chose the thing as a metaphor for the costly, restricting measures small businesses are being forced to adopt to continue operating.
I used iPhone XS for both photos. Vitals for one: f/2.4, ISO 16,  1/1229 sec, 52mm (film equivalent); 9:04 a.m. PDT. And the other: f/1.8, ISO 25, 1/2545 sec, 26mm (film equivalent); 9:09 a.m.