I spotted Santa Claus while walking in Balboa Park this afternoon. He was out for a stroll—to where is anyone's guess. An elf helper tagged along, so surely there was some purpose. After passing him, I stopped. Hesitated. Stepped forward. Then turned around and approached Mr. Kringle, rather than let the moment pass. I asked to shoot a portrait.
As you would expect, Santa responded jovially, accepting the invitation. While couching low with Leica Q, I asked about his presence, joking that it wasn't Christmas in July. He smiled and said something about Christmas being every day for people who keep it in their hearts. Now that is a lovely sentiment. 
But in materialistic United States of America, what does it mean? If this was December, not June, parents and kids would be trailing behind Santa—or waiting in line to sit on his lap and explain why they were deserving boys and girls because they hadn't been too naughty this year. But with no expectation of presents in summer, well, families ignored Santa's charms; perhaps he enjoyed a few delicious moments of anonymity, in plain sight but invisible.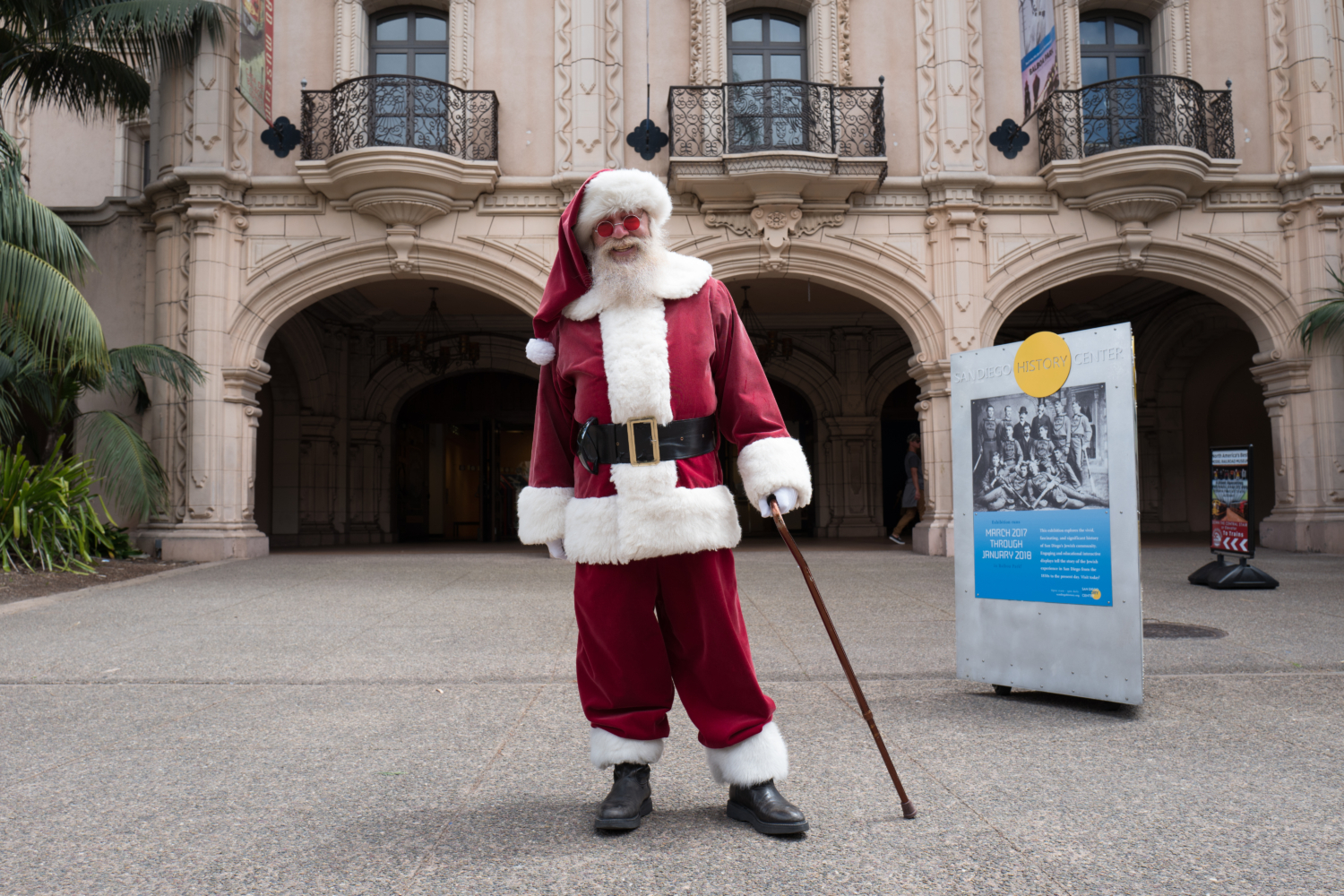 The Featured Image is a crop of the original above—another demonstration of the detail that the Leica Q's f/1.7mm Summilux lens and 24-megapixel full frame sensor capture. Vitals, aperture manually set: f/5.6, ISO 100, 1/160 sec, 28mm; 2:17 p.m. PDT.
Got to say that I love Santa's sunglasses. They're so Sixties and just the perfect accent for the Summer of Love's 50th anniversary. I wasn't old enough to be anything other than a kid in 1967. But I was young enough to still believe in a gift-giving white-bearded man, dressed in a red suit, riding reindeer-drawn sleigh. Ho. Ho. Ho.