I won't explain how, but today I snagged a legit San Diego Comic-Con 2017 badge for tomorrow. Better one than none. From 2009 through 2016, I had passes to attend all four days but failed to get in the buying queue during Early and Open registrations—in March and April, respectively—nor later get consideration as working journalist. I picked up my last-day badge at the Convention Center around 4:30 p.m. PDT, then moseyed around the Gaslamp Quarter, which is livelier with off-site activities and vendors than I recall from other years.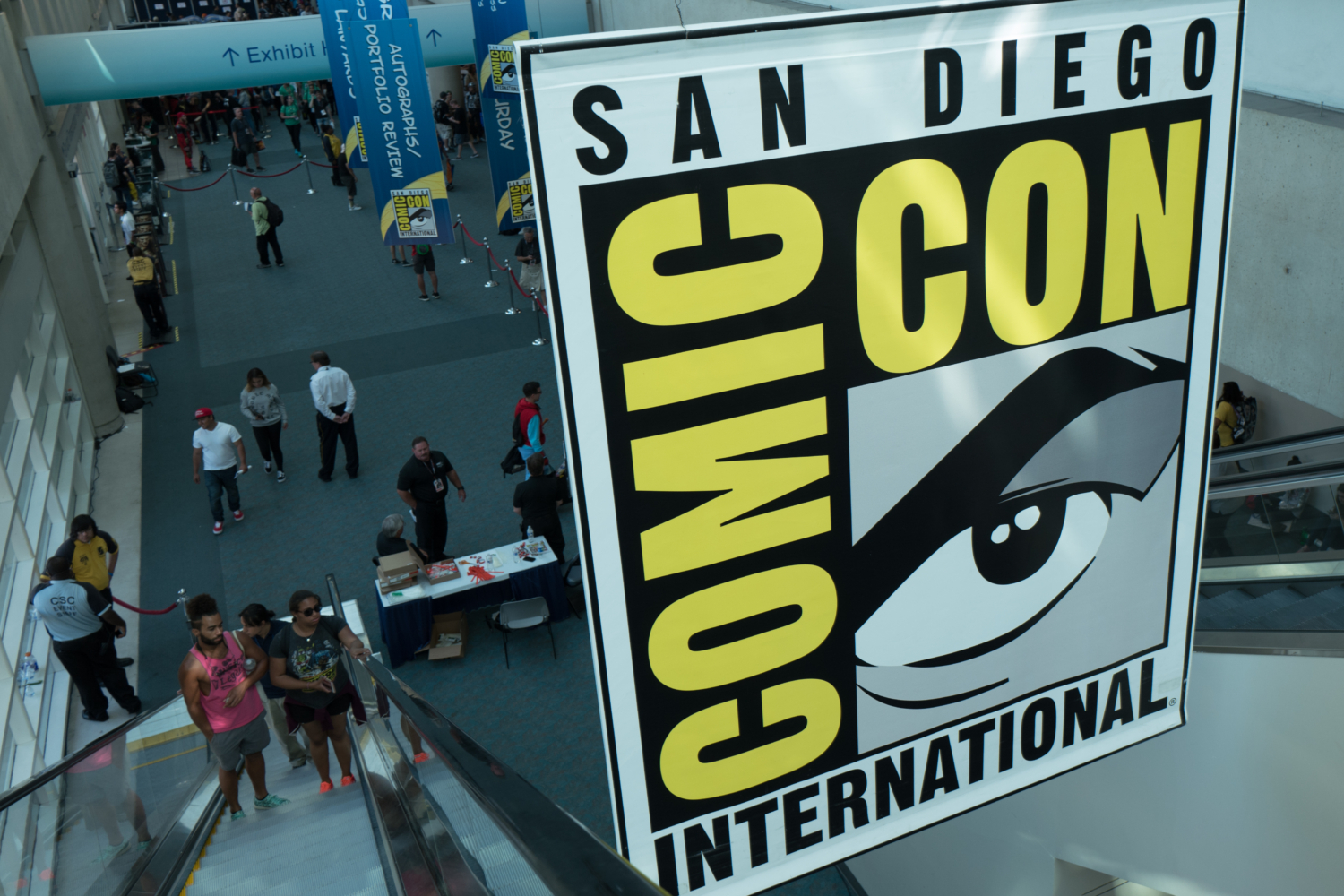 It's customary to feature the SDCC sign, so here you go. Like all other photos shot this afternoon and early evening, I used Leica Q. The crop is f/5.6, ISO 160, 1/60 sec, 28mm. I manually set aperture for all captures.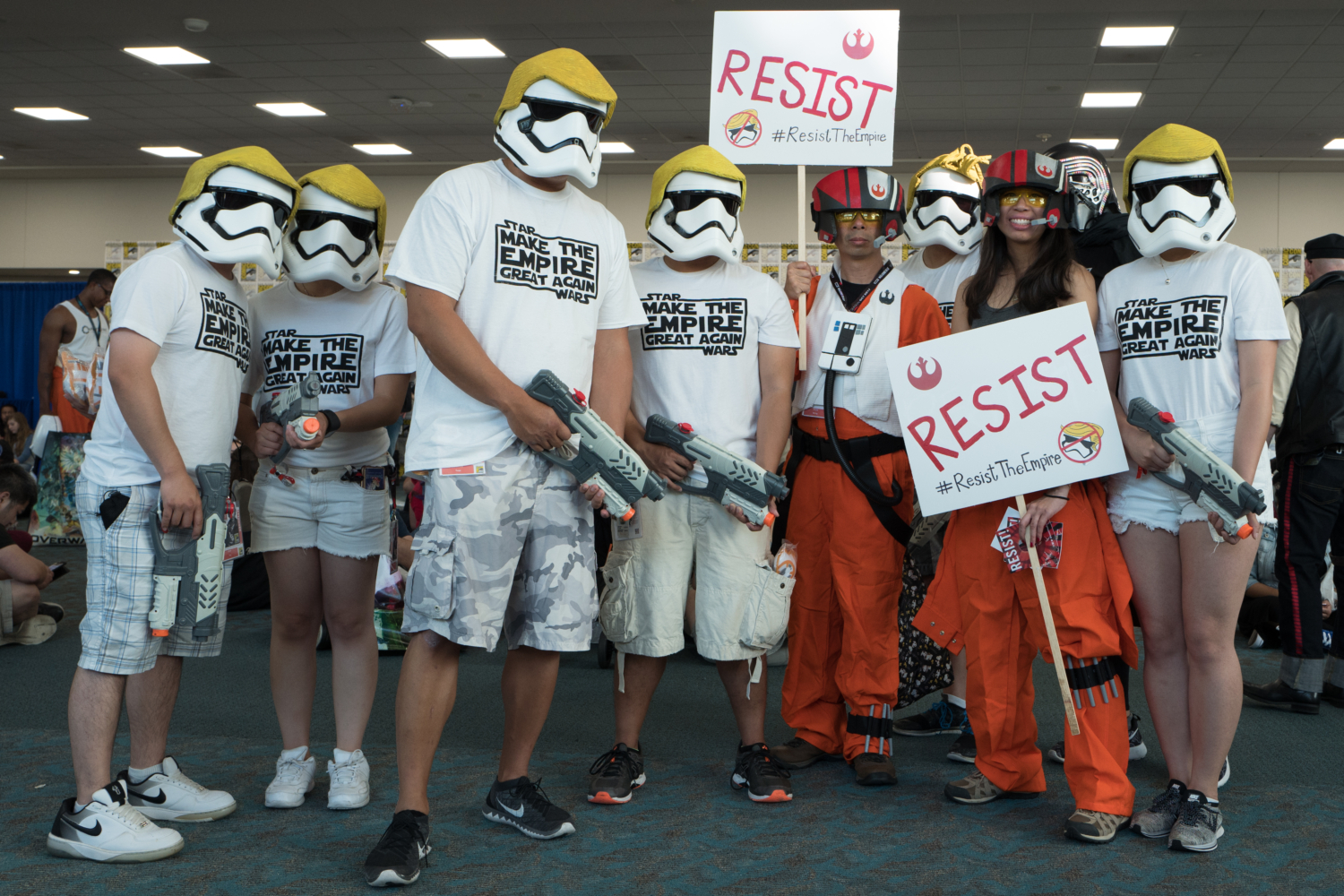 "The Resistance" is the only other moment made inside the Convention Center. The rest will come tomorrow. The crop is f/5.6, ISO 500, 1/60 sec, 28mm.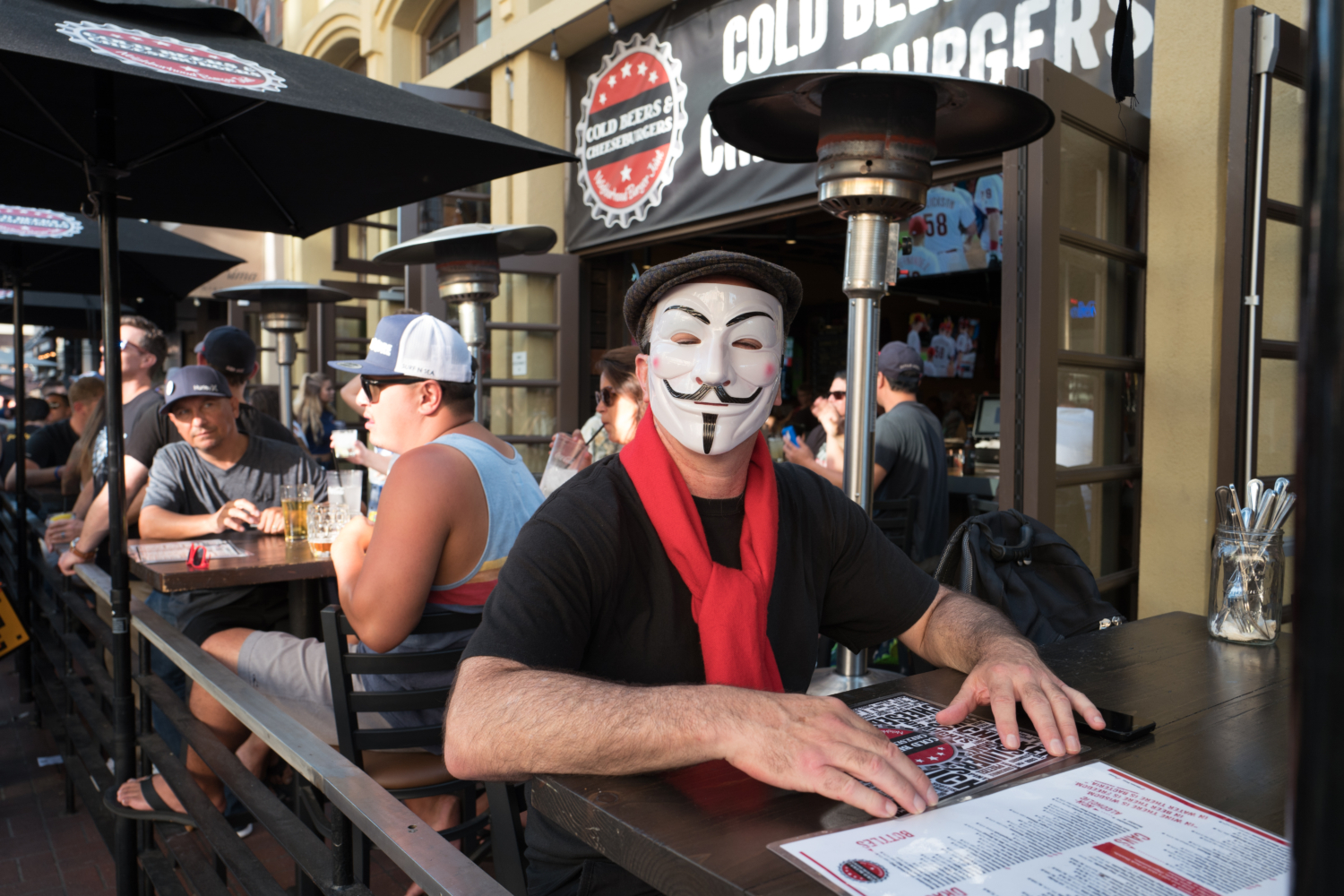 Taking on more of a French Resistance aura is the portrait of a restaurant patron. After I asked to take his photo, the woman sitting across agreed, adding: "We must be doing something right". Got to ask: Do you prefer the original or the close-cropped Featured Image? Vitals: f/5.6, ISO 200, 1/60 sec, 28mm.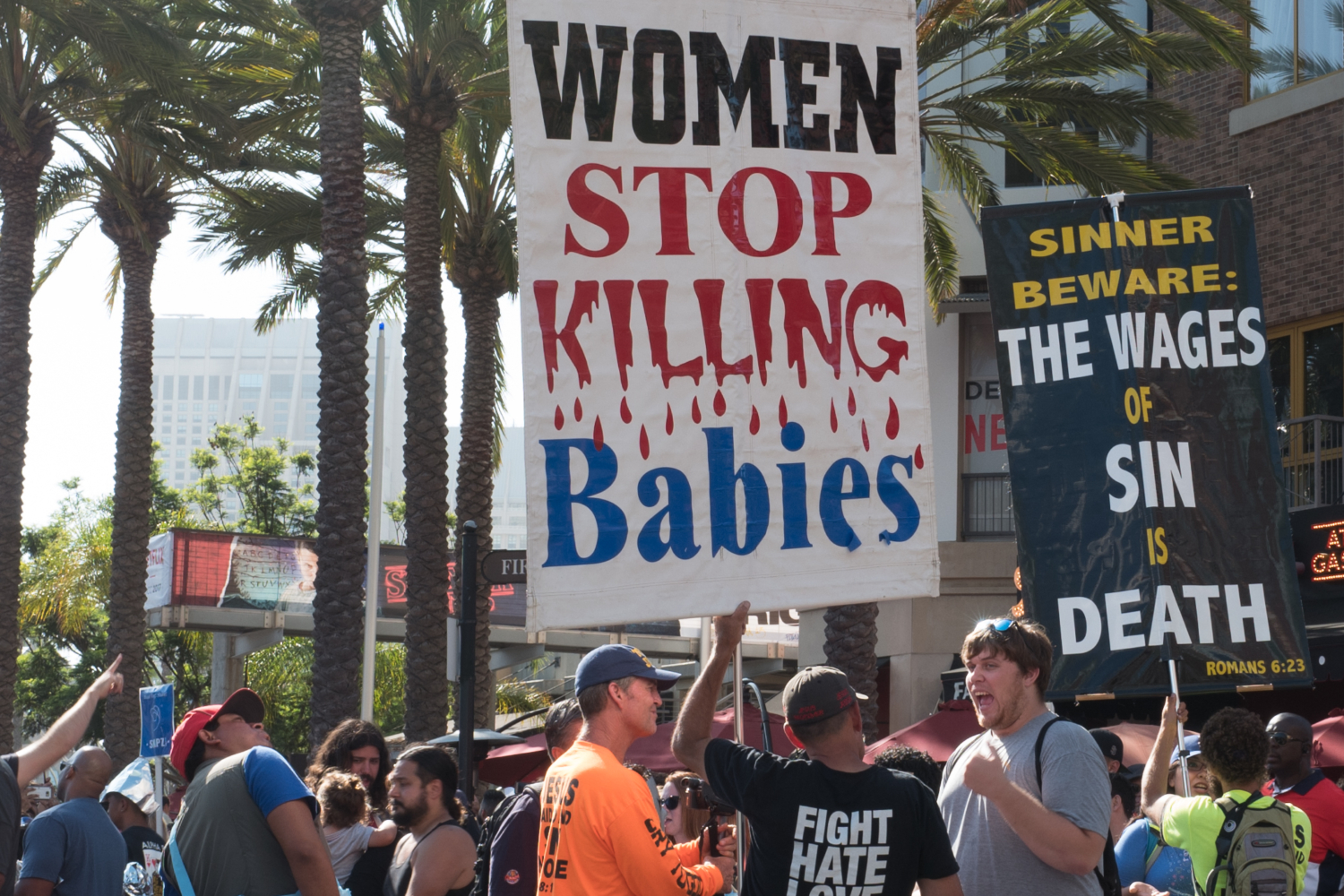 Unexpectedly, the day's shoot carries religious undertones. We start with the young man arguing with anti-abortionists. Vitals: f/11, ISO 100, 1/60 sec, 28mm.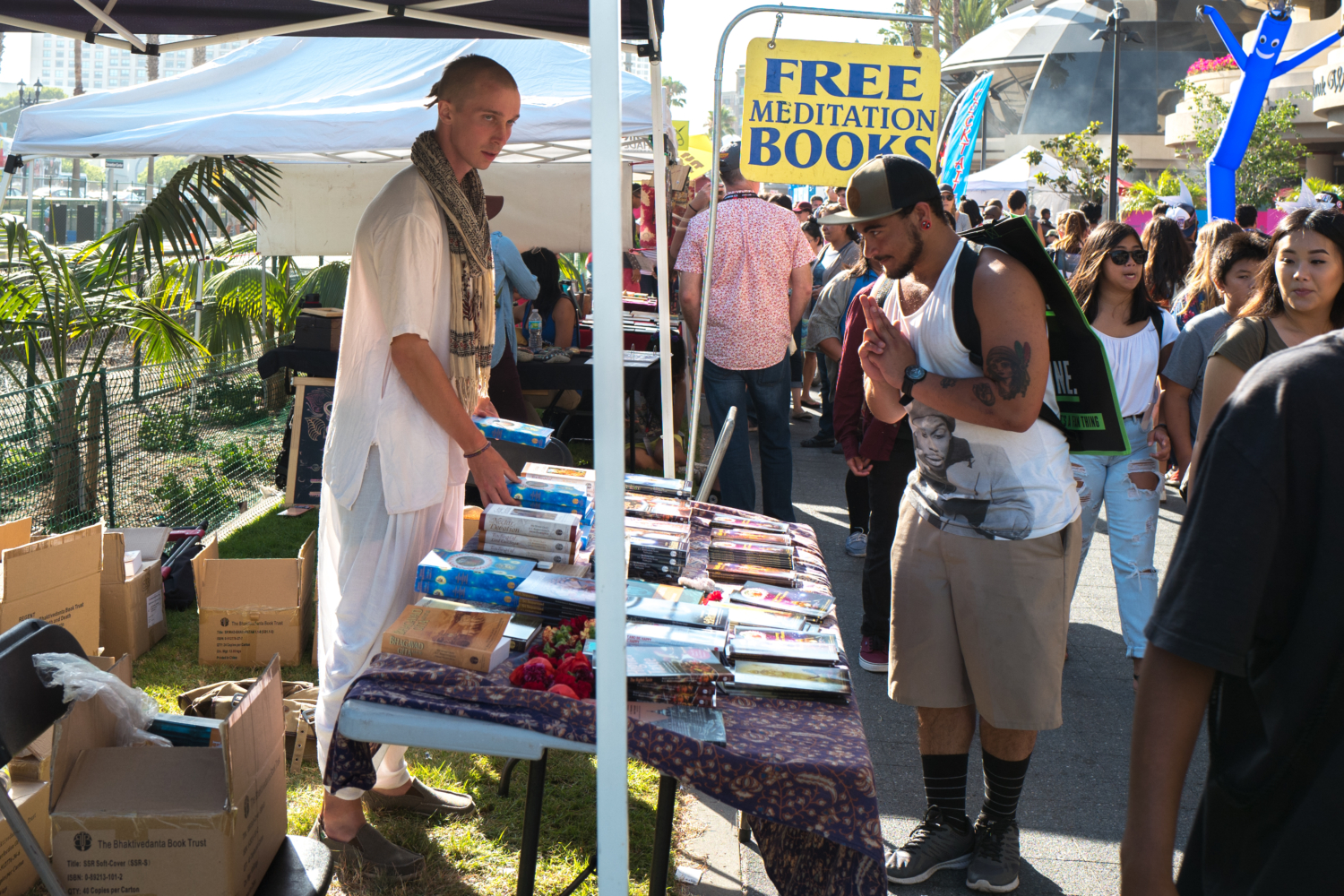 We move on to a Hare Krishna set up by the trolley and handing out small readables while asking chunky donations for larger ones. Look long at the passerby's posture. The somewhat edited crop is f/5.6, ISO 100, 1/250 sec, 28mm.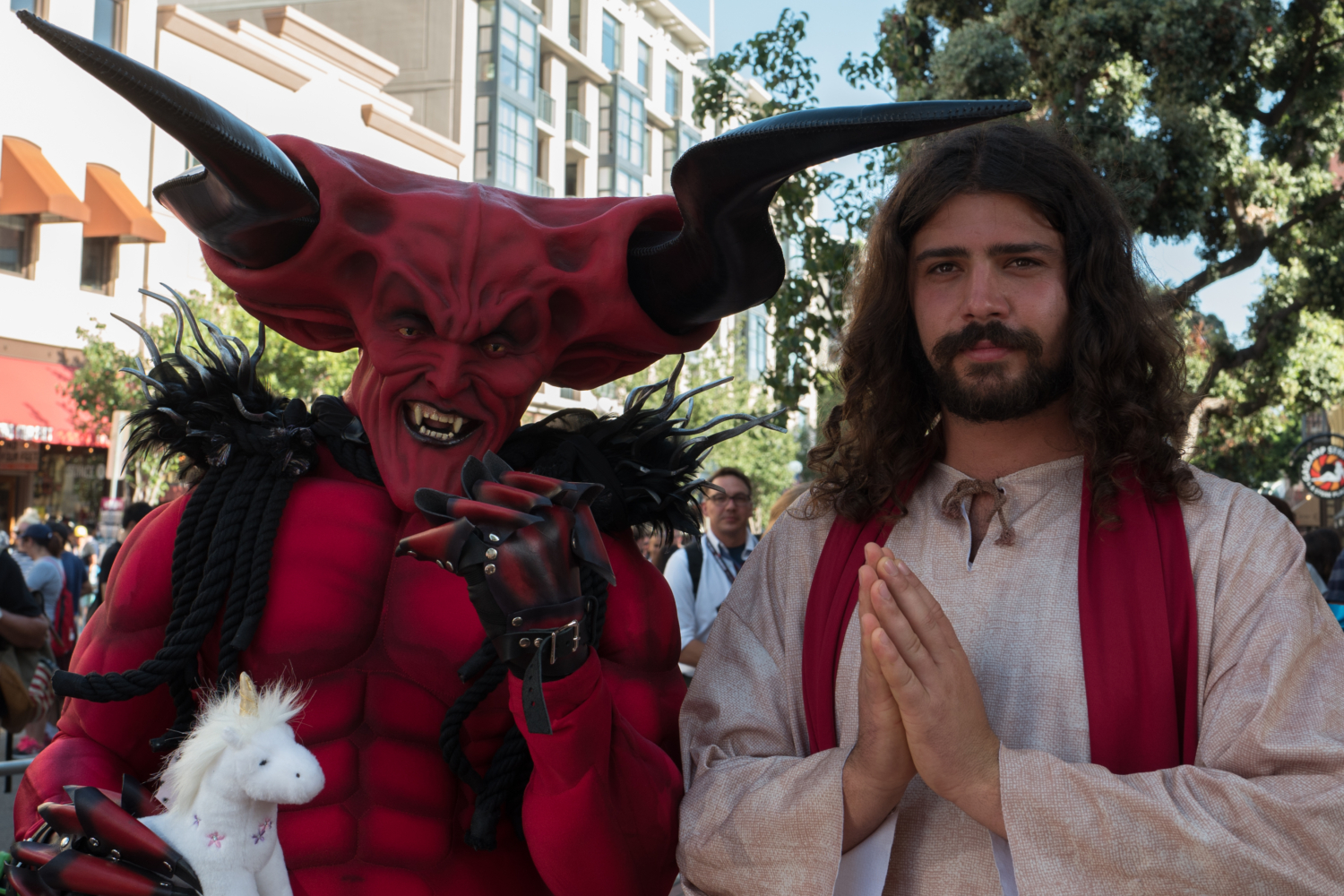 For a time I followed Jesus (no pun intended) before he met up with the Devil. I swear to God! (Oh, that doesn't sound right, does it?)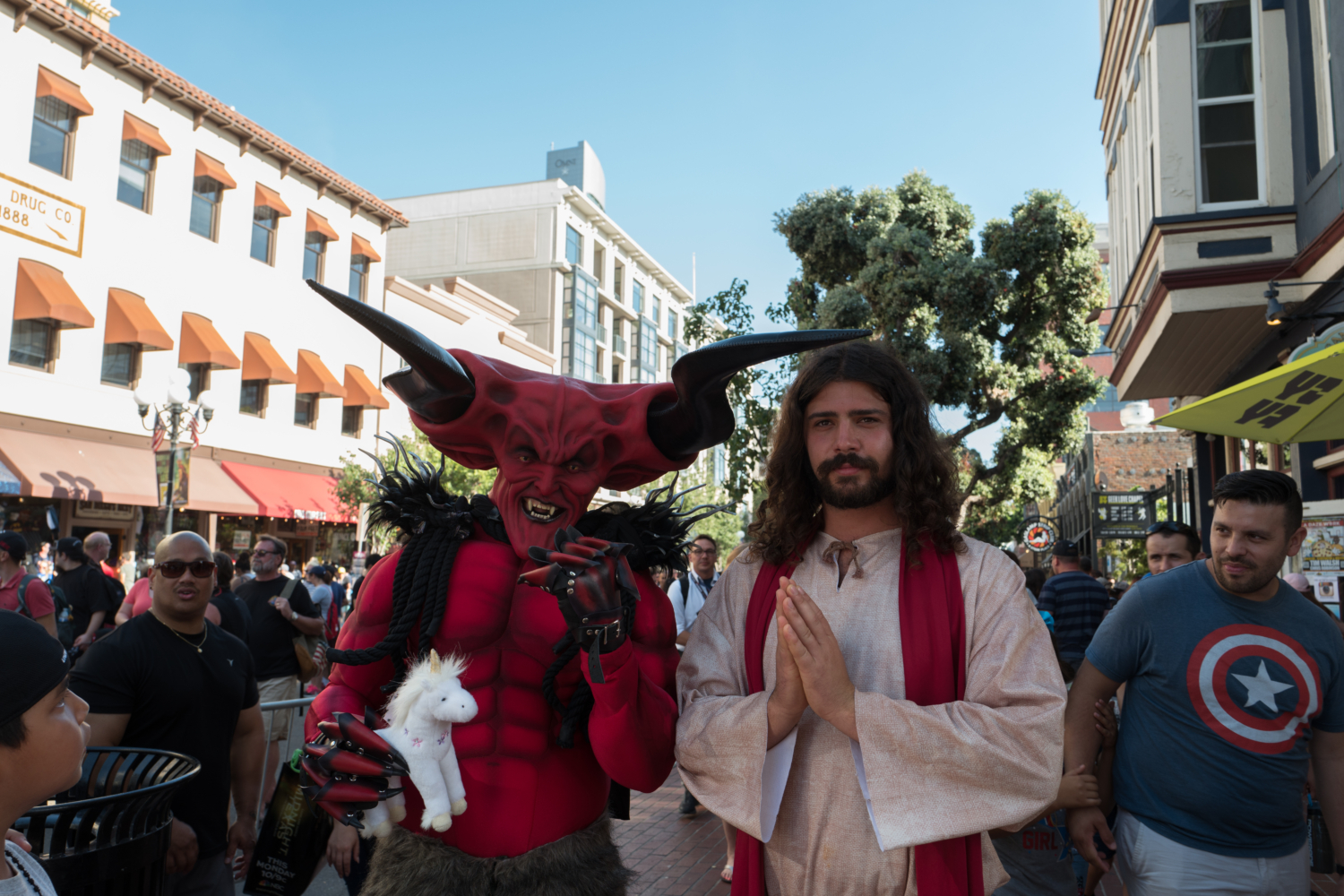 Much as I like the crop, the original is better street photography, with the staring boy and man—at the left and right edges—giving punctuating "What the Hell?" looks. Vitals: f/6.3, ISO 100, 1/80 sec, 28mm.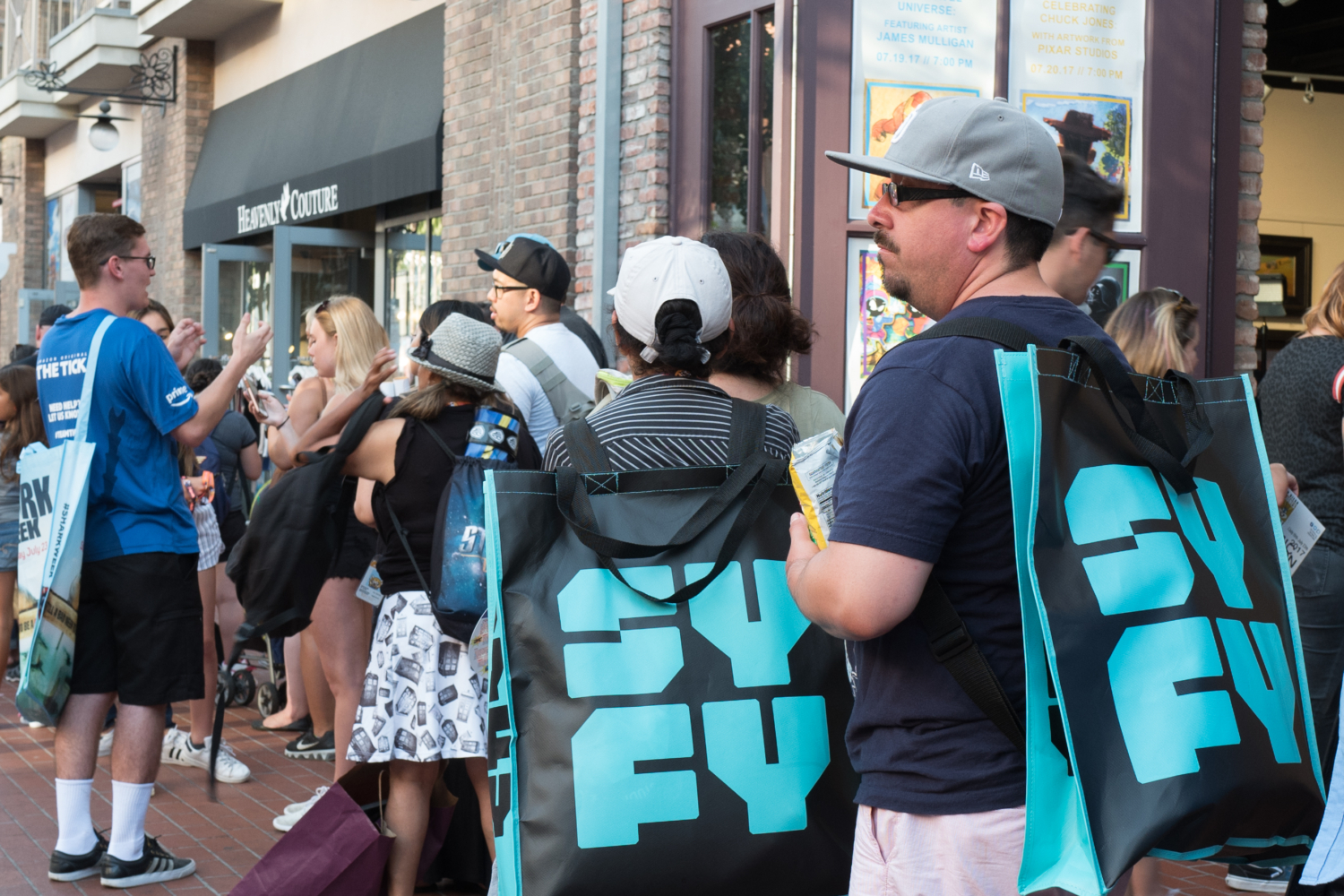 Nearby in the Quarter, SYFY gave out bags like candy. They hung on backs everywhere. Vitals: f/5.6, ISO 320, 1/60 sec, 28mm.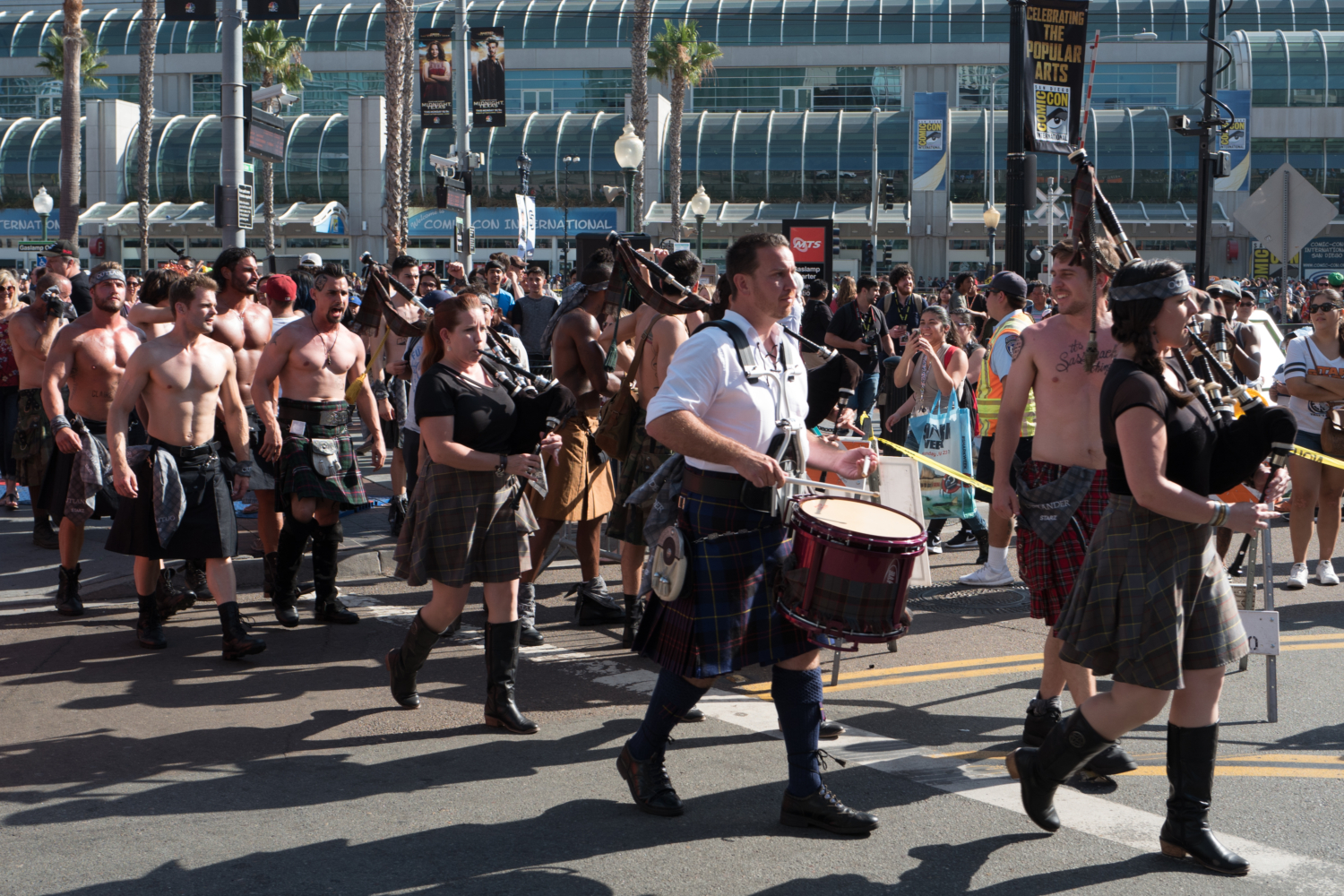 Entertainment took many forms this afternoon, but the bagpiping Scotts brigade delighted with music and muscles. They obviously represent Starz series Outlander, which Season 3 starts on September 10th. Vitals: f/5.6, ISO 100, 1/320 sec, 28mm.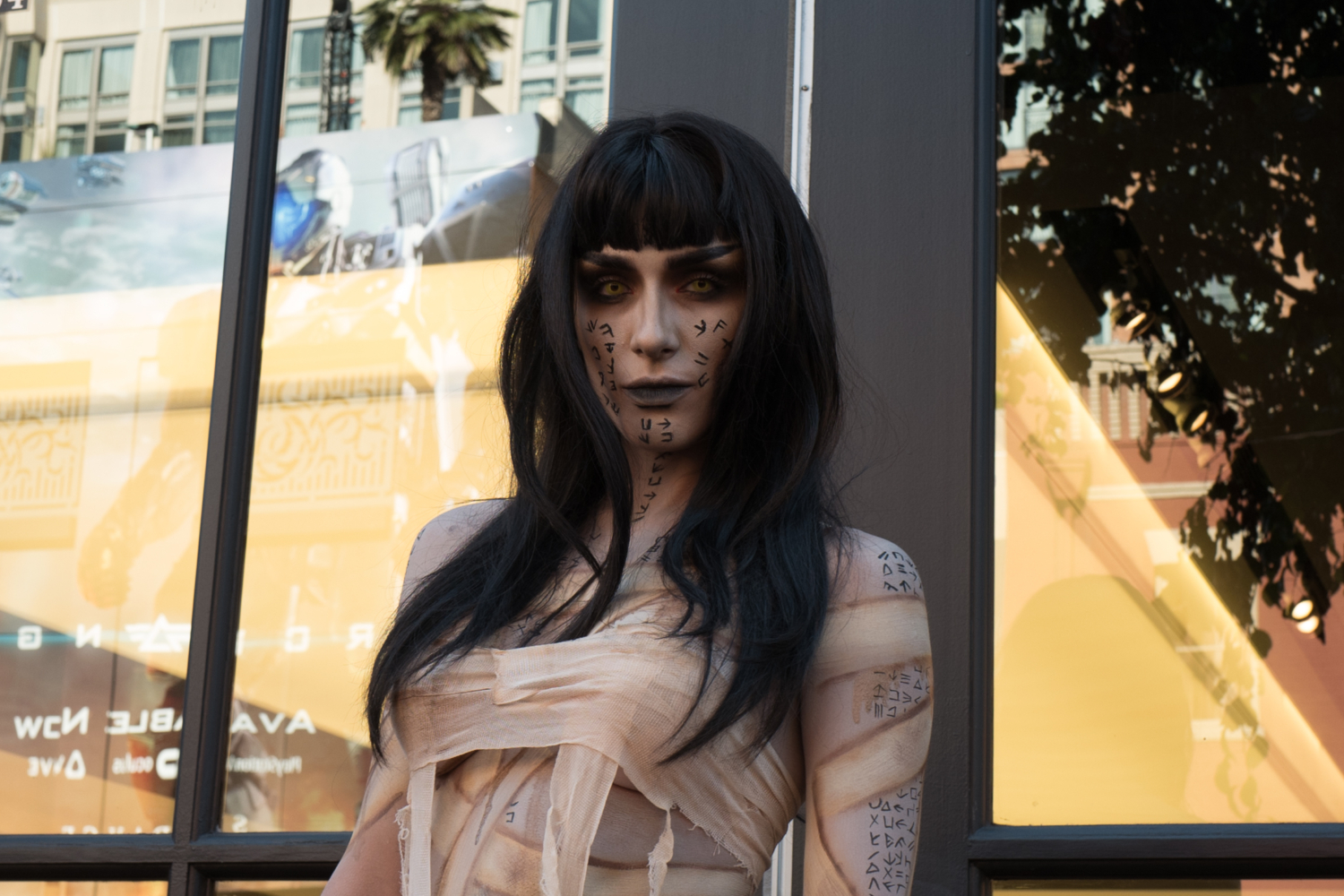 Finally, from the street shooting, we come to a closely-cropped portrait taken outside the MAC cosmetic store; it's my other fav of the day. Vitals: f/5.6, ISO 125, 1/60 sec, 28mm.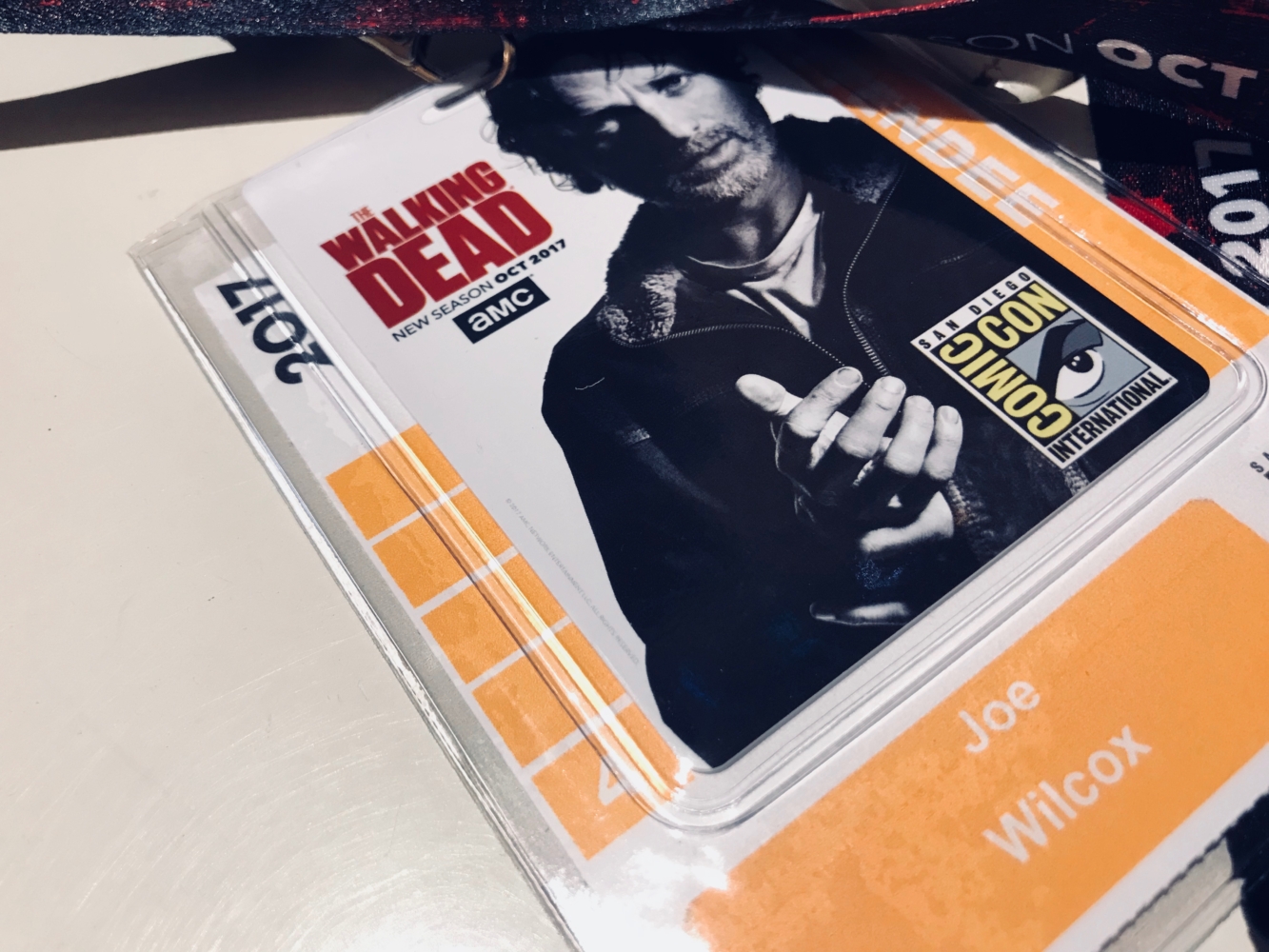 Here's the badge I will wear tomorrow, shot using iPhone 7 Plus. Vitals? Ah, who cares?