Feeling a little glum about mum—she was laid to rest back home in Maine yesterday morning—I took a long, late-afternoon walk through the neighborhood. As I approached Mississippi along Monroe Ave., a cute craftsman with "coming soon" for sale sign piqued my interest. I would later discover that the property listed the same day (Aug. 25, 2017). Striking: The unbelievably low price for University Heights: $525,000.
I have not seen such interest in a home! Jumping ahead in time, briefly, I later took my wife to look at the Monroe house. Cars and SUVs of various types pulled over in and around as we approached; I am amazed there wasn't a vehicular or pedestrian collision. A small mob had formed before the informational brochure holder. One man walked in circles, flip phone to ear, one hand waving, and frantic—no panicked—expression filling his face. Dare I say foaming at the mouth, as he desperately tried to contact the listing agent? If you need a metaphor, think Black Friday outside Wal-Mart. Even this morning, when I shot the Featured Image and its companions, using Leica Q, this little ramshackle rustled as much attention. 
You must understand: The market here rapidly approaches $1 million, for homes of any measurable size. What we call Kuma's House—a 1,600-square-foot derilect foreclosure, near the turn of the decade—sold for the full $800,000 asking price in April 2017. Flippers got $579,000 exactly four years earlier. Ah, yeah.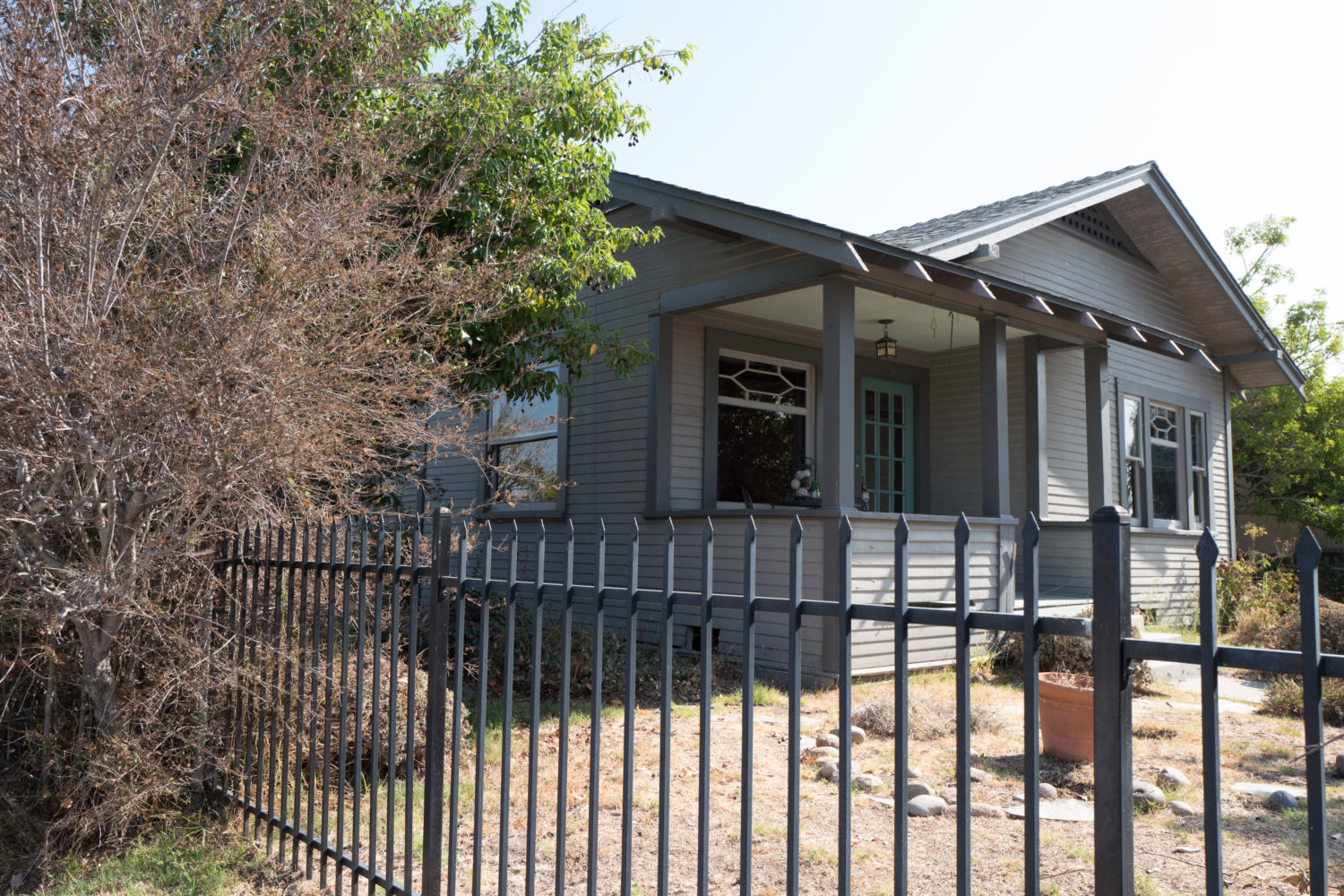 Returning in time to my walk: So standing before the corner lot, which is five times the square-footage of the building (816), I marveled at what might be potentially the right place for Anne and I (oh and cats Cali and Neko). Five days ago, we placed our first bid ever on a house—one that I coincidentally photographed on August 14th as it was being staged. The location is perfect for us, and 900 square feet is just large enough. But the seller took another offer, although we are the backup. I saw building inspectors there yesterday, on behalf of the buyer, presumably. Sigh. To stay in San Diego, as homeowners, in this neighborhood, we need to look elsewhere.
Anne and I don't need lots of space, and we prefer the intimacy of compact living; that makes 900 square feet workable—or 800, if the outdoor area is spacious enough. Anything larger sells for more than $600,000. Yeah, I know. Insane.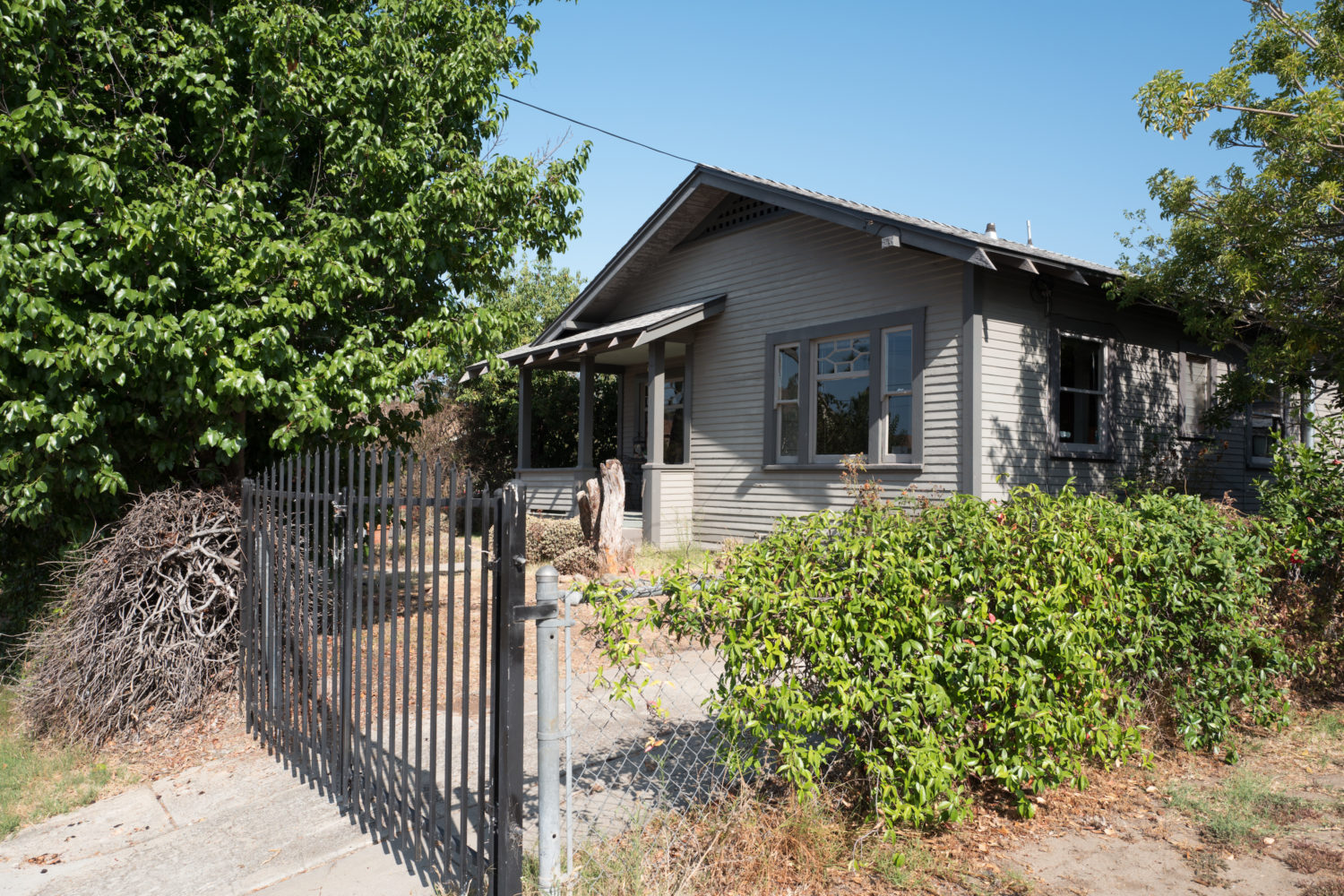 Standing before the Monroe property, I pulled out the information sheet, which describes the house cleverly, calling out the "many authentic period details" and perhaps purposely explaining the low asking price by acknowleding that "this home is in need of some major TLC". I immediately wondered: What could be wrong with this place? Still, size is right, price is (grudgingly) acceptable, and the property's potential could be huge. So I rang the agent, who has a messaging service. She has my name and phone number—and that of a bazillion other people, including the foamer with the flip phone.
Looking at the little collage I put together, from official realtor photos, you can see what "many authentic period details" means. Old-fashion decor doesn't begin to describe this place. But if the photos are indicative, the bones look solid. The place has potential, and, showing the pics to my wife, I am impressed by Annie's quickness to recognize it.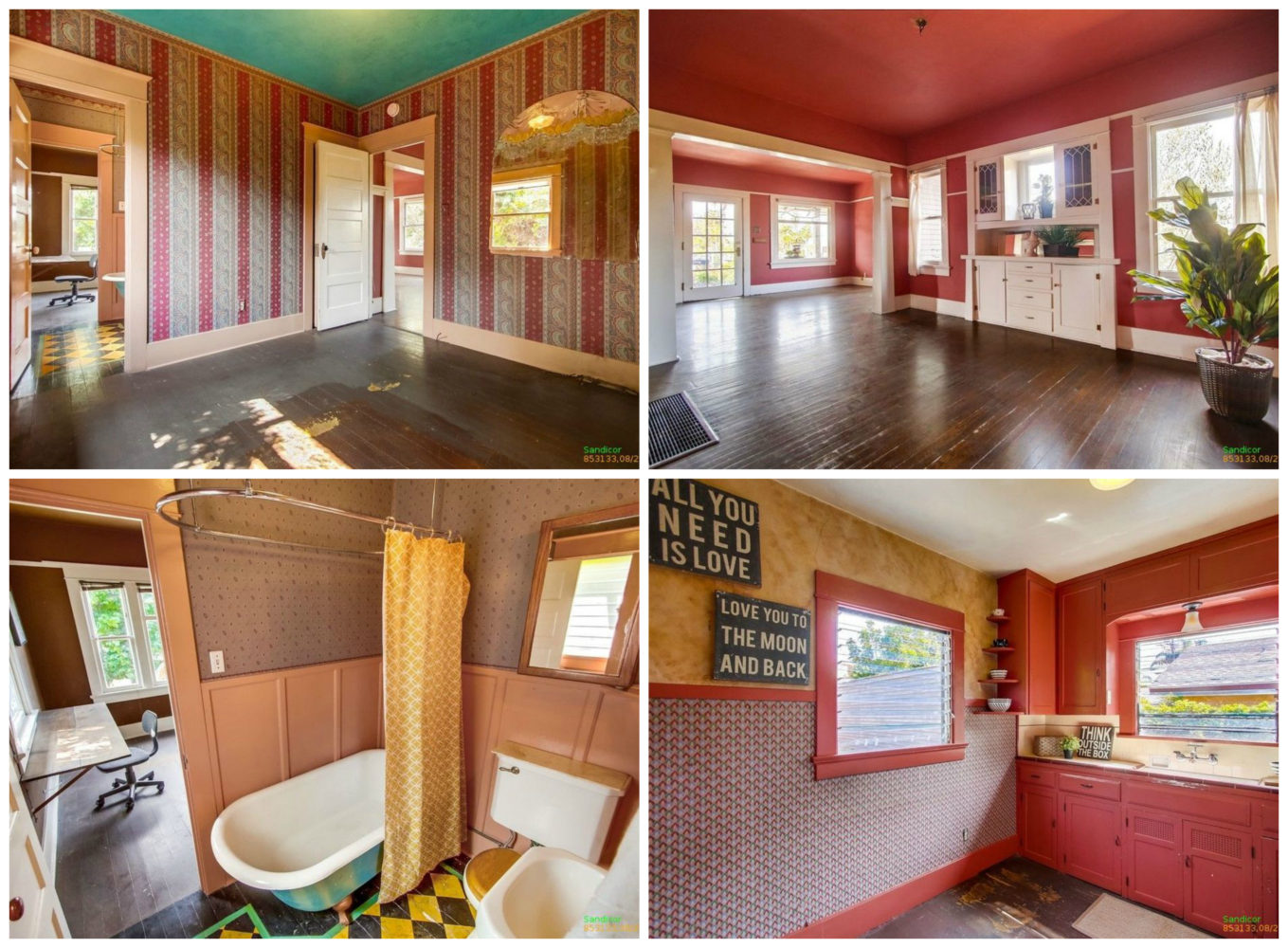 Would we want to live there? I dunno. There are lots of questions to be asked about actual condition. And if the Wal-Mart-like crowds are any indication, buyer aggression could spoil a potentially good deal during a bidding war. The listing agent has my number, and I will watch the property with interest. That all assumes we will stay in San Diego and choose to buy rather than rent. This process will contribute to our decision-making.
Now excuse me, while I walk back to the Monroe house. I saw someone trying to get through the fence into the backyard. What did he find back there? I gots to know!
Update: Ha! After posting, I went outside to the car and surprisingly squinted at an open house sign diagonally across the street. For the property on Monroe. How unexpected! (Earth to agents: Put addresses on your signs, like this smart realtor did.) So-o-o-o, Annie and I walked over.
Here's the background: A married couple lived there for three decades; the husband died some time ago. The wife passed a few years back, leaving the house in a trust. It has been abandoned since, and the once lush, green yard was left wilted and unkempt. The trustee is now selling the property, as is.
The place feels solid. But tremendous amount of work would be necessary to make a home. I think that if someone could grab the place for a half-million and put in $50,000 to renovate, the sweat equity would become real equity in terms of financial and lifestyle investments.
Wait! Someone pinch me and wake me from this dream. A $500,000 fixer-upper?
Update 2: The Monroe house sold for $535,000 on Sept. 11, 2017.
Photo Credits: The interior collage is my compilation from official agent pictures, for editorial purposes. I captured the three exterior shots, taken today at 9:28 a.m. PDT. Vitals, aperture manually set, are f/8, ISO 100 and, respectively, 1/100, 1/200, 1/80 sec.