Some things go so oddly together that you must stop and regard them and wonder. Today, while walking along Shirley Ann Place in San Diego's University Heights neighborhood, a "Recall Newsom" sign surprised me; it's the first one seen anywhere here. My wife fixated on the Easter eggs hanging from a tree in the same yard. She missed the one thing, and I the other. Mmmm, what does that say about selective vision and being drawn to what interests you while having a blindspot for what doesn't?
As strangely as the cheerful eggs and hopeful sign are juxtaposed, something else made the scene feel even more Twilight Zone-like: The house beyond with the American flag flew something different before the Presidential election: Old Glory with spray-painted BLM. Well, I couldn't leave without photos, which were captured using Leica Q2. The Featured Image (warning: 27MB file), which is composed as shot, shows the street. The cropped companion brings together the three elements. Vitals, aperture manually set for both: f/5.6, ISO 100, 1/200 sec, 28mm; 12:25 p.m. PST. The other is f/2.8 and 1/640 sec.
As for the recall campaign, California Governor Gavin Newsom should prepare for a special election in November. As the group explains in a news release from yesterday: "A total of 1,497,709 valid signatures must be collected and verified to trigger the recall election". The organization has "now gathered more than 1,927,000 signatures as of Wednesday evening, March 3, 2021". Deadline is 13 days away. Nearly a half-million signatures would have to be invalidated to stop the recall—and statistically that's unlikely.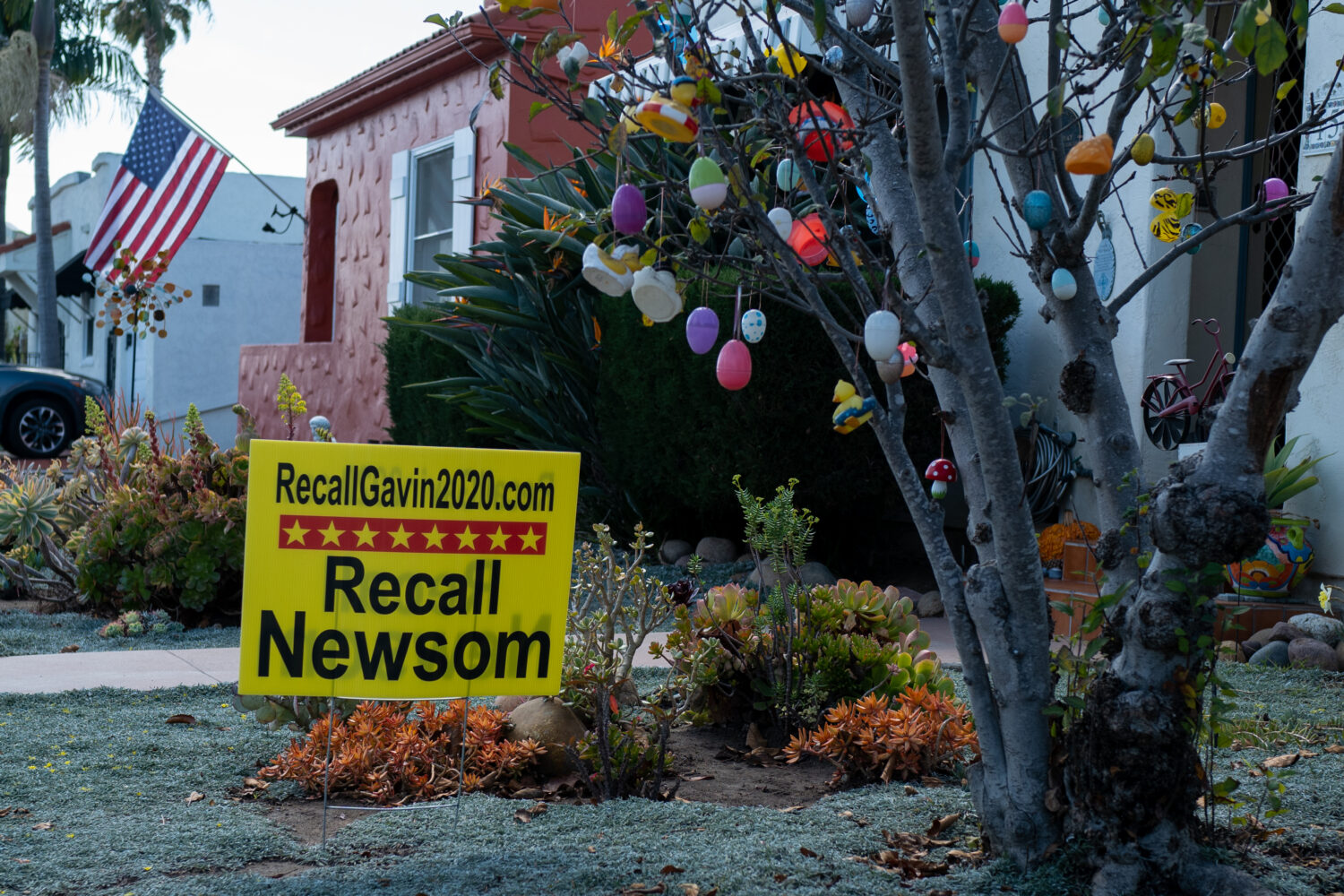 A series of executive orders shutting down the state to combat SARS-CoV-2 (severe acute respiratory syndrome Coronavirus 2)/COVID-19 is Newsom's major problem. Ironically, March 17, the recall signature deadline, is the one-year anniversary of when the first state-wide shelter-in-place order went into affect—supposedly for three weeks. California largely remains locked down nearly 12 months later. Millions of people are fired or furloughed because businesses can't operate; many of the unemployed or underemployed citizens are behind in their rents or mortgages; K-12 public schools are shuttered with no realistic signs of reopening; the hospitality economy is devastated as tourism is curtailed (Disneyland is still closed for normal operations, as example) and conventions (like San Diego Comic-Con) aren't happening; millions of small businesses are insolvent and closed forever—or on the brink of being so; and the list goes on.
Meanwhile the also-sunny state of Florida is open with few restrictions placed on businesses, churches, citizens, schools, or other institutions. What's startling, how alike is COVID-19's impact, despite drastically different public health strategies. According to reliable data collated by John Hopkins University, the case fatality rate in California is 1.48 percent; 1.63 percent in Florida. These numbers alone raise reasonable questions about the effectiveness of lockdowns. Think about the CFRs in context of this: Florida's population is somewhat higher-risk because of the number of people over age 65 (21 percent vs 14 percent for California, according to the U.S. Census Bureau).
More data: Los Angeles has more Novel Coronavirus cases than any other county in the United States; Miami-Dade is fourth. CFR in the former, which imposes a strict stay-at-home policy, is 1.81 percent. Widely-open Miami-Dade is 1.33 percent, which is only slightly higher than San Diego County (1.28 percent).
I could continue—and will on pandemic anniversary day next week. For now, let's just say that California's governor will have to fight to keep his job. My advice to Newsom: Make the mea culpa apology and put out the state-wide "Open for Business" sign. Tomorrow! Because the next day might be too late for too many Californians.