Late afternoon, my wife asked: "What is all that honking?" Annie was right. Car horns could be heard in the distance, occasionally and repeatedly tooting. We turned to one another flummoxed over the sudden roar of cheering that reminded of sporting events. What was going on nearby—and where? I left to find out, following the sounds that piqued our mutual curiosities.
Our University Heights apartment is located about .8-kilometer (one-half mile) walking distance from administrative offices for San Diego Unified School District, where a sizable crowd had gathered with picket signs. As I arrived, a woman's voice bellowed over loudspeakers advocating against vaccine mandates and for parents' rights to choose for their children—not the government nor SDUSD. What I didn't understand: The school board scheduled a 5 p.m. PDT meeting to vote on a proposal requiring staff and some students to be vaccinated. How ironic: They cowered in isolation via Zoom, while parents protested in person.
The Featured Image is the first photo captured, soon after assessing what I had come upon. Rushed, I neglected to change aperture or minimum shutter speed assigned to auto-ISO. The entire set comes from Leica Q2. Warning: File sizes are large. Vitals for the first: f/5.6, ISO 100, 1/200 sec, 28mm; 4:23 p.m.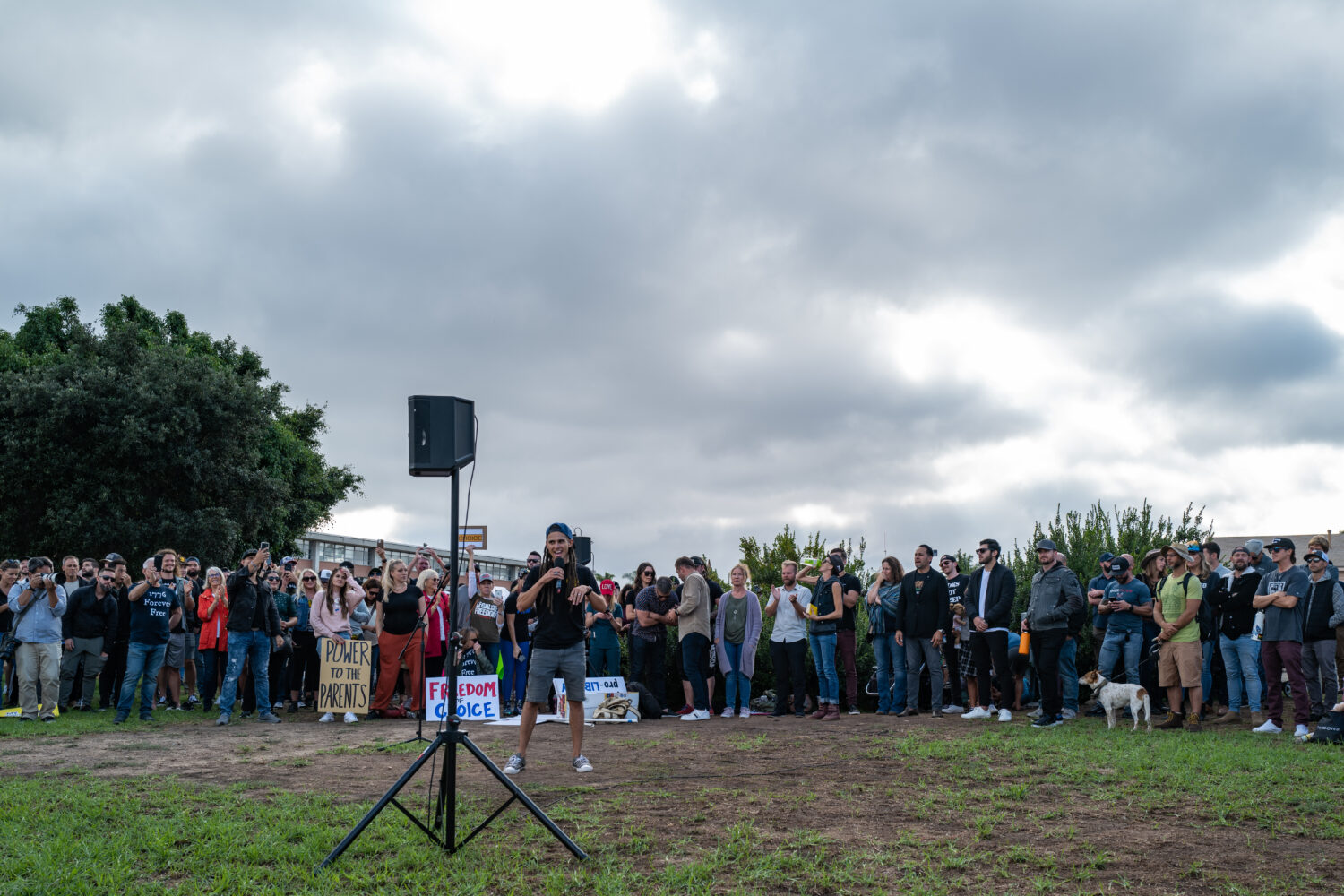 Soon after, I made my way to the inner sanctum of the crowd circling the speaker. She handed the microphone to a young man, and I clicked the shutter for the second photo. He pumped the crowd's enthusiasm, thanked them for being there, and asked anyone interested and willing to turn out for a protest tomorrow in Vista, where yet another school board could require vaccination.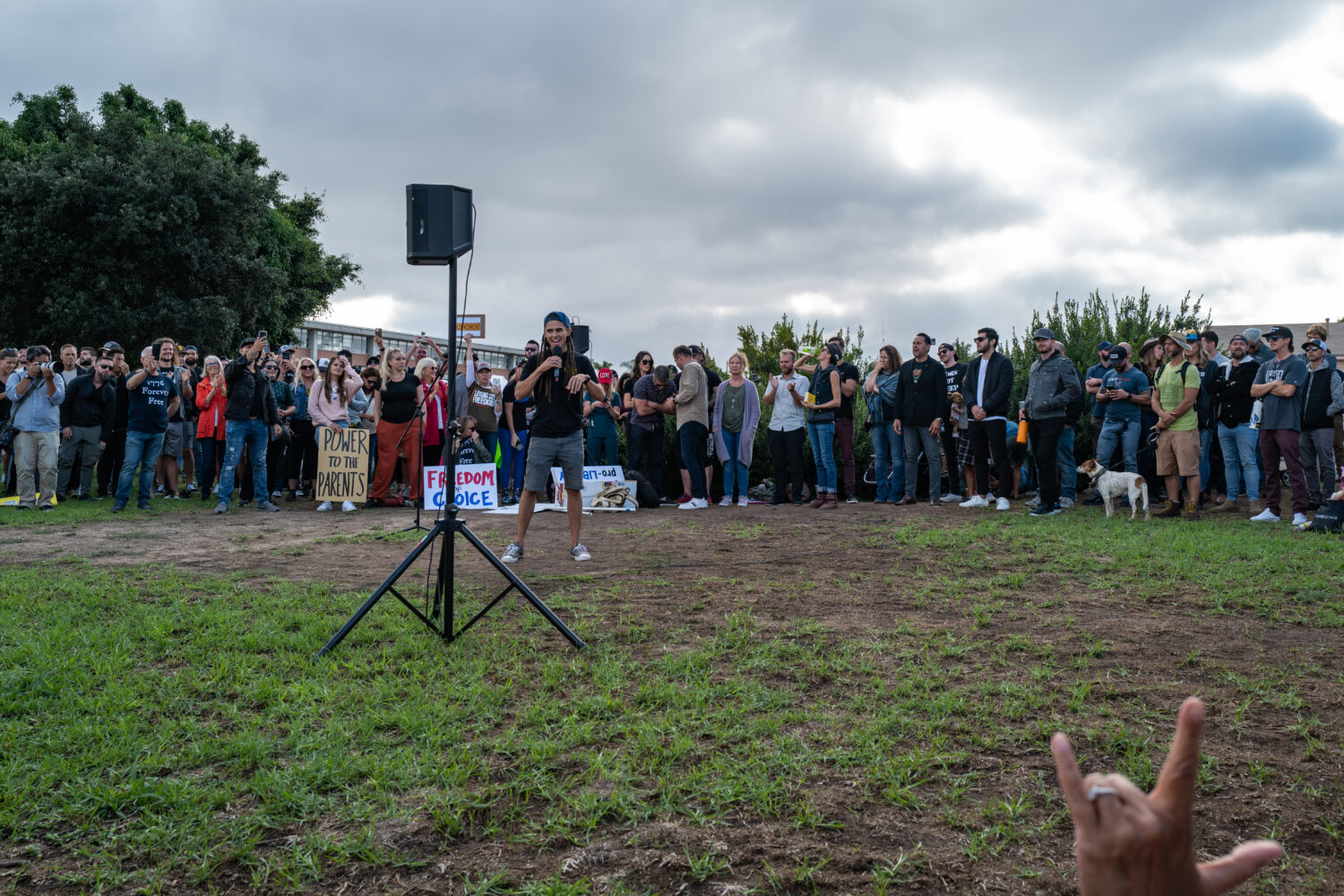 The third pic is my preferred crop of the second, but I share it reluctantly. Somebody photobombed with "Sign of the Horns", which is popular among Heavy Metalist performers and their fans. Circa 1967, Jinx Dawson, lead singer for band Coven, is credited with first using the gesture during live performances. The symbol also is associated with the occult and Satanic rituals. Hence, my reticence.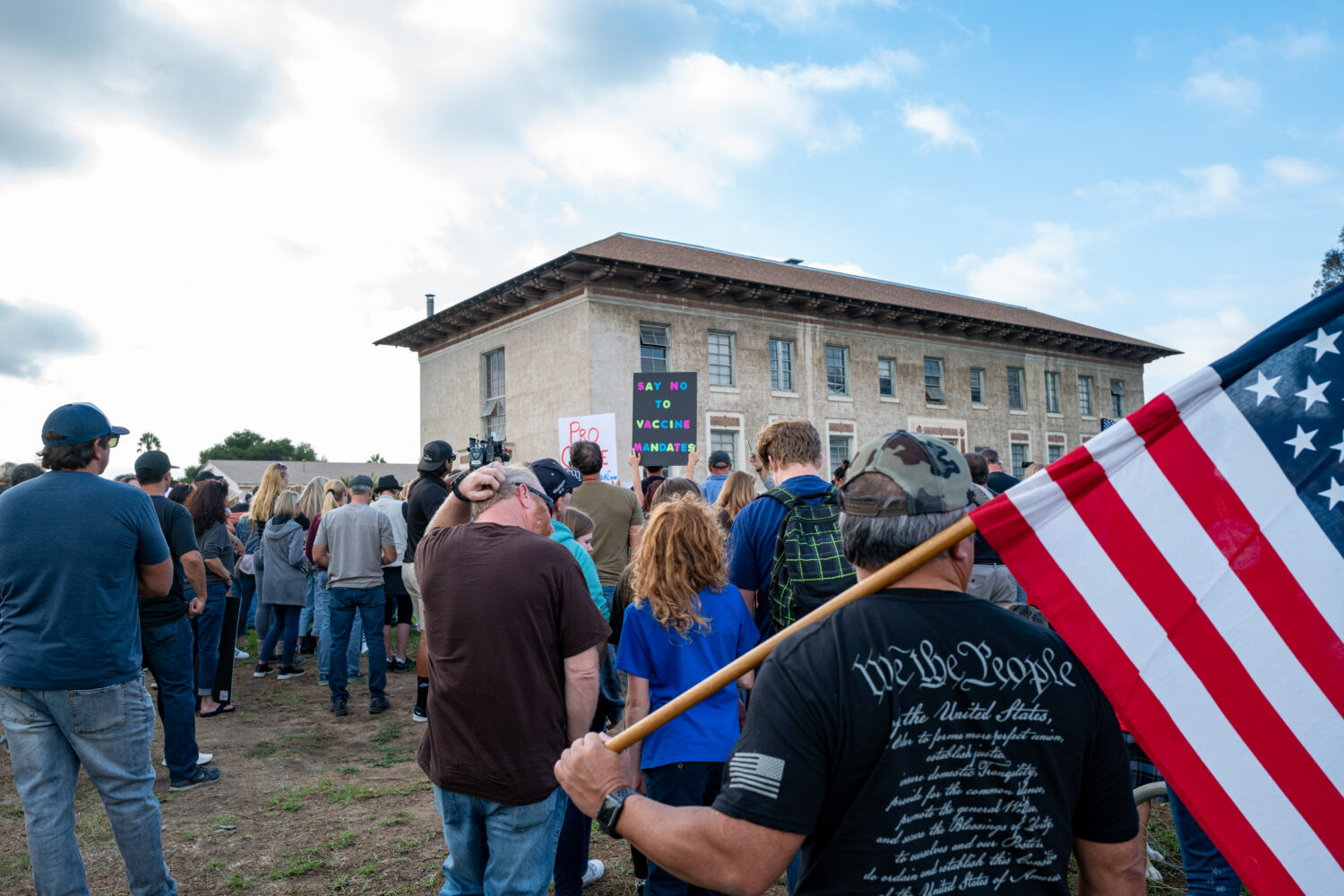 The speaker asked if anyone had read the Constitution this month. I got a look from someone's shirt. So, yes!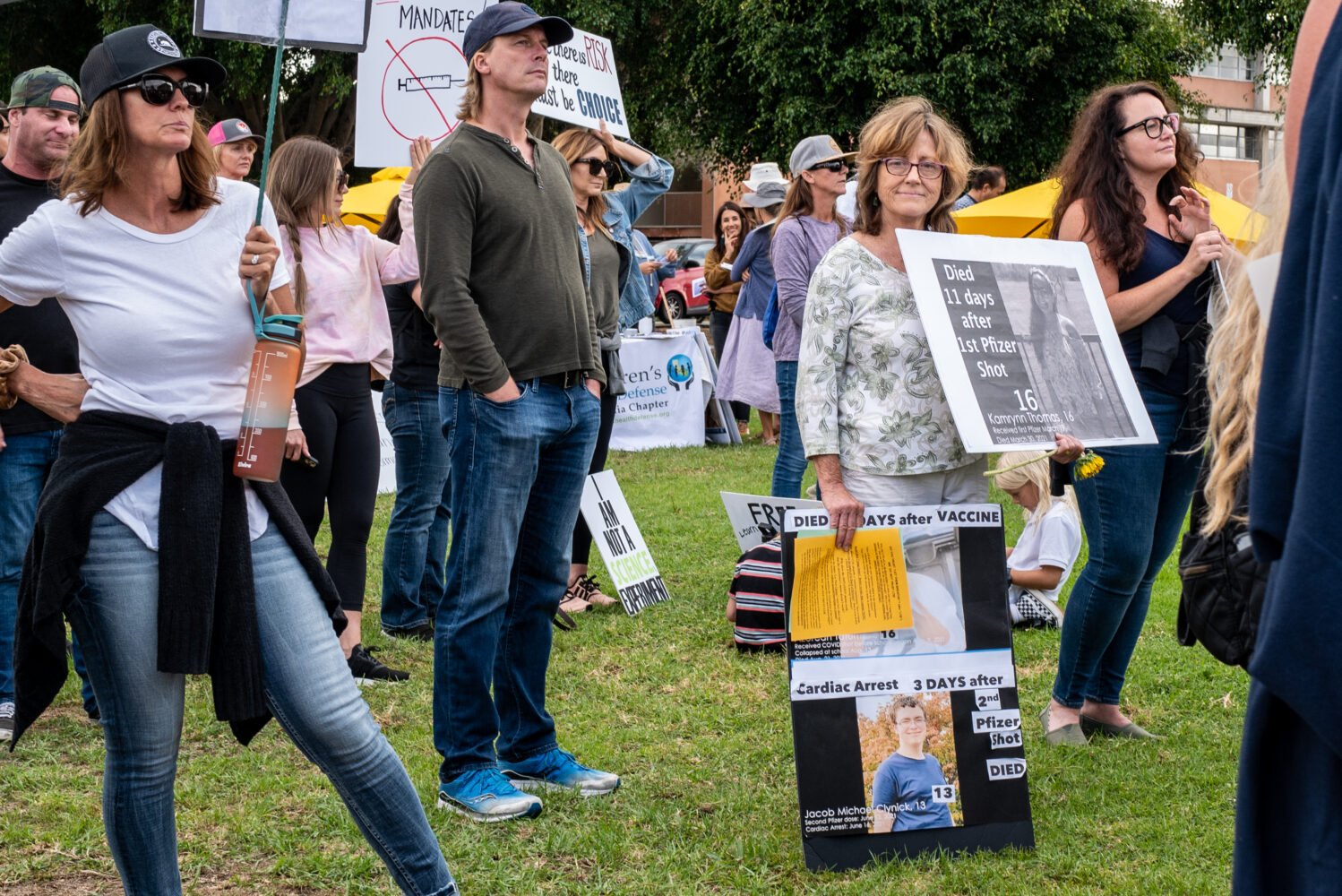 News stories about unvaccinated people dying from SARS-CoV-2 (severe acute respiratory syndrome Coronavirus 2)/COVID-19 are many. Several protestors tried to draw attention to teenagers who suddenly died soon after being jabbed.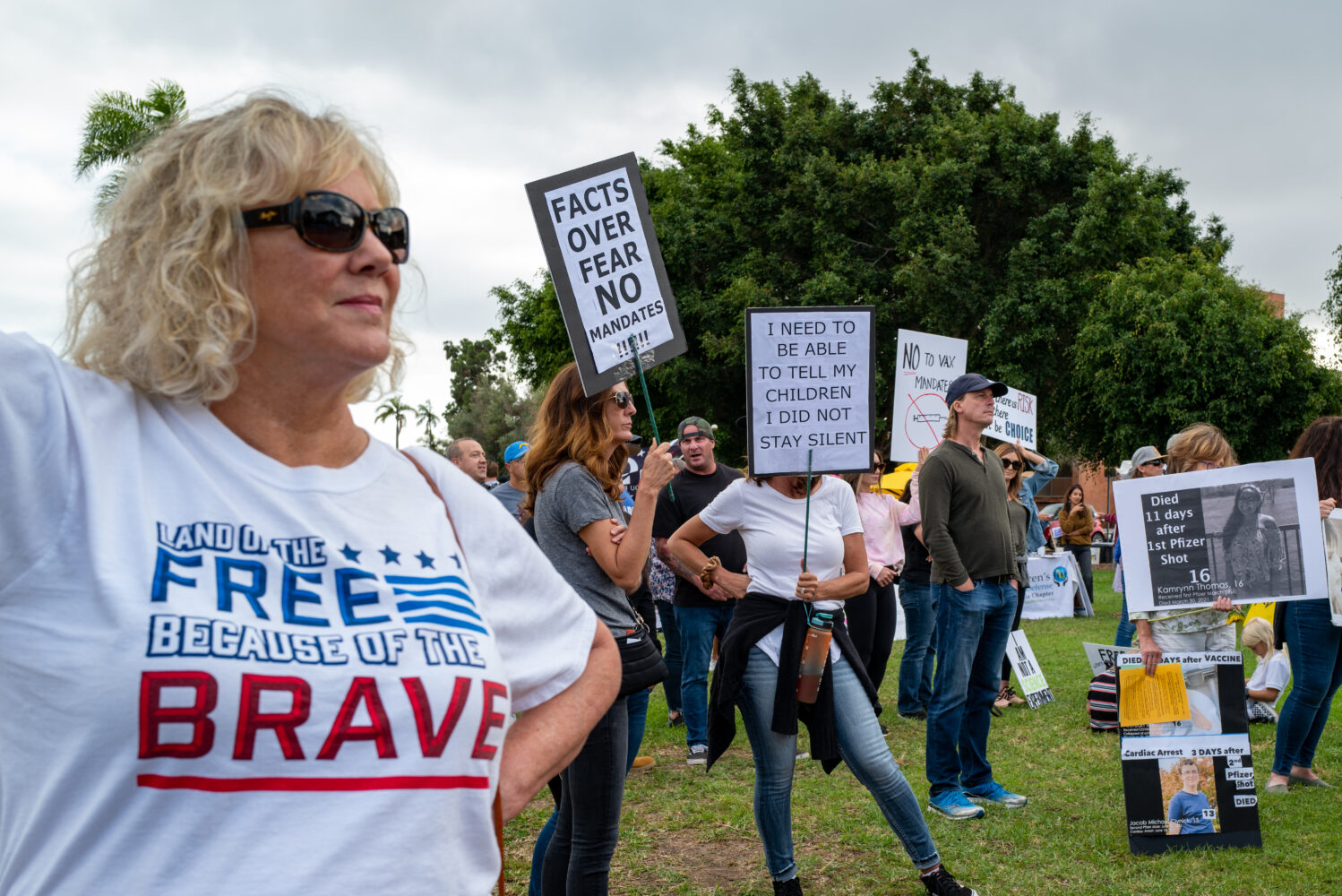 This is the same group of people, but showing more of their signs. They watched from along the circle's outer rim.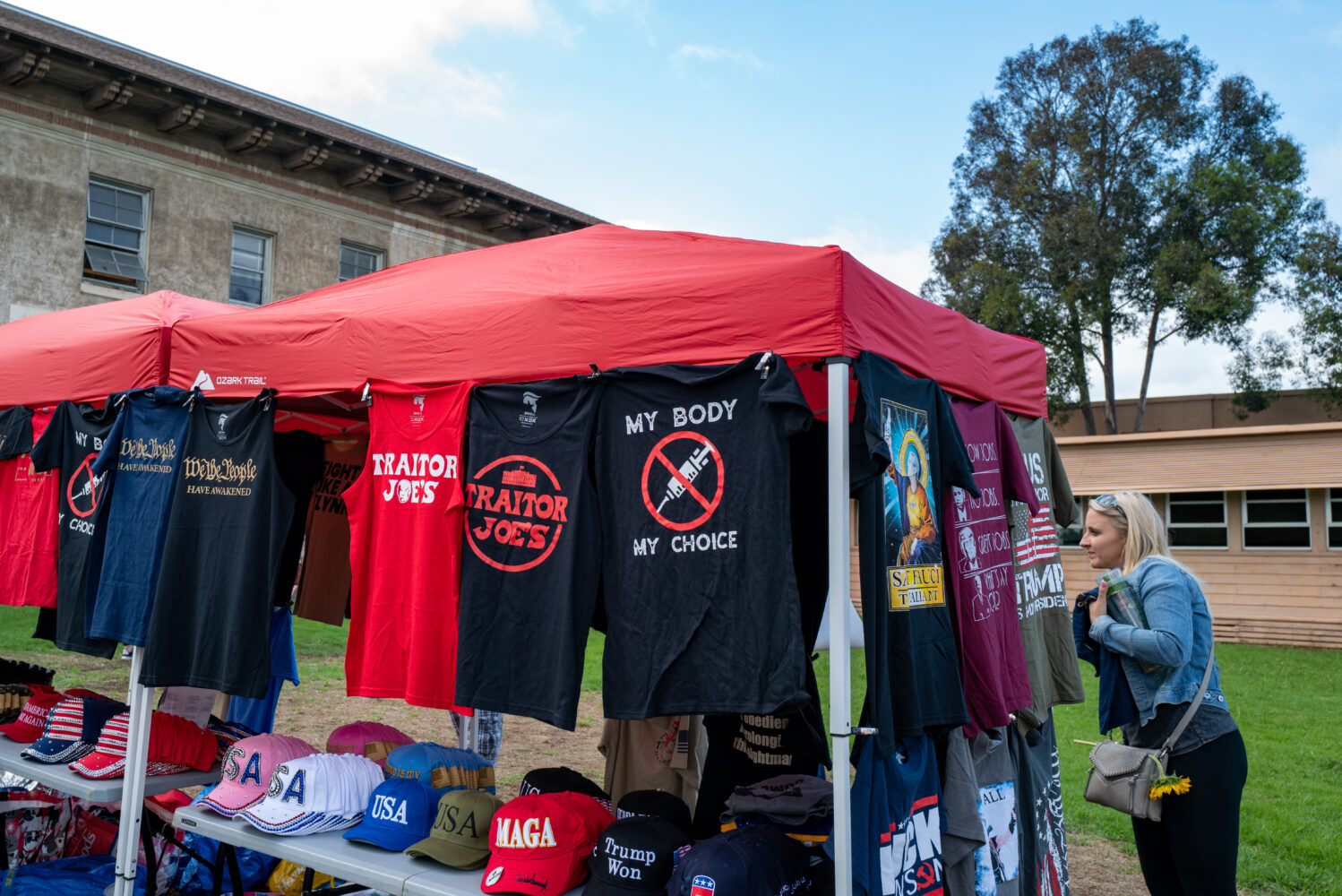 I shouldn't have been surprised to find a booth selling T-Shirts.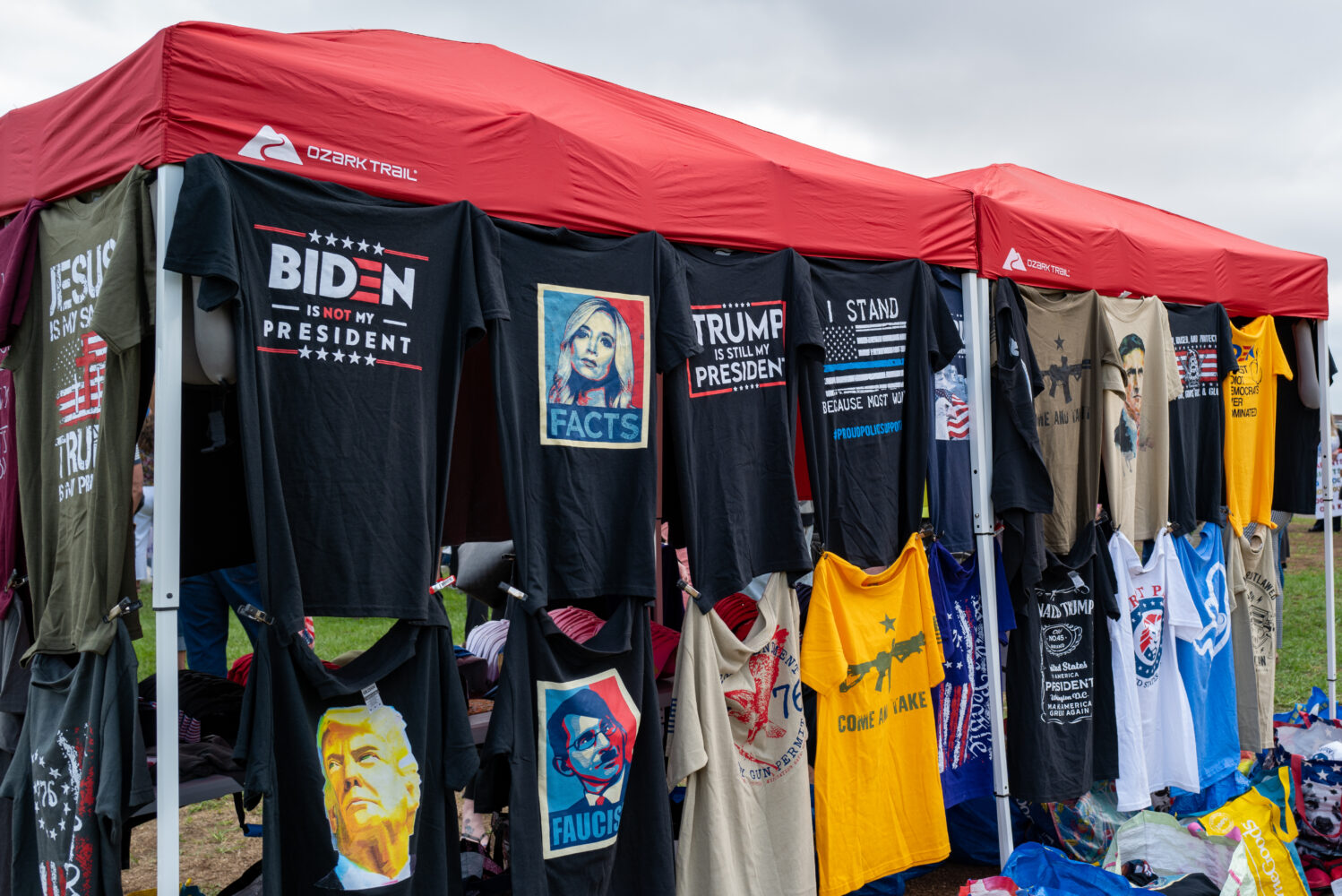 If you ever wondered who won the 2020 Presidential election, these Tees want to answer.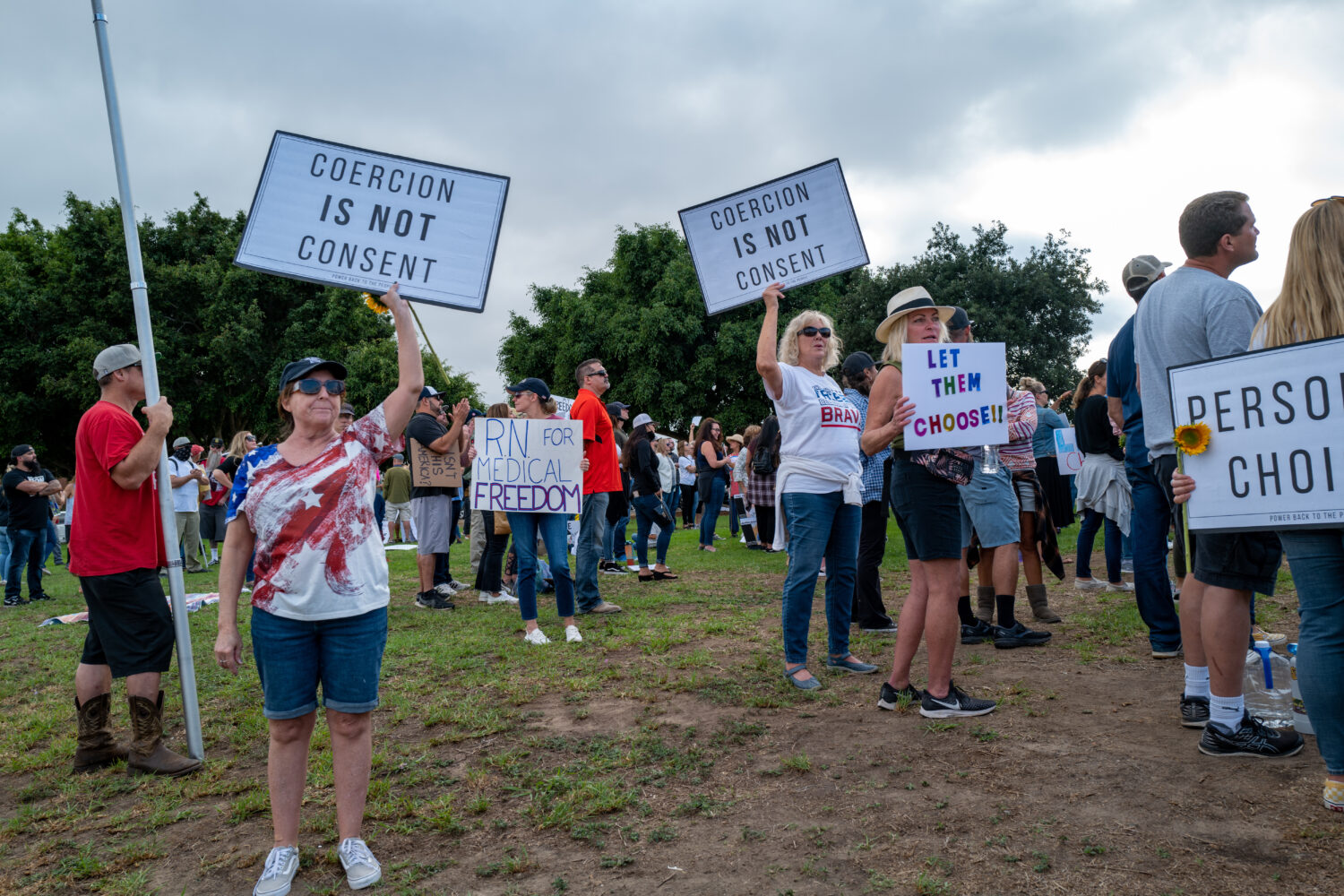 The people carrying placards moved around the crowd. Point of focus is the "RN for Medical Freedom" sign.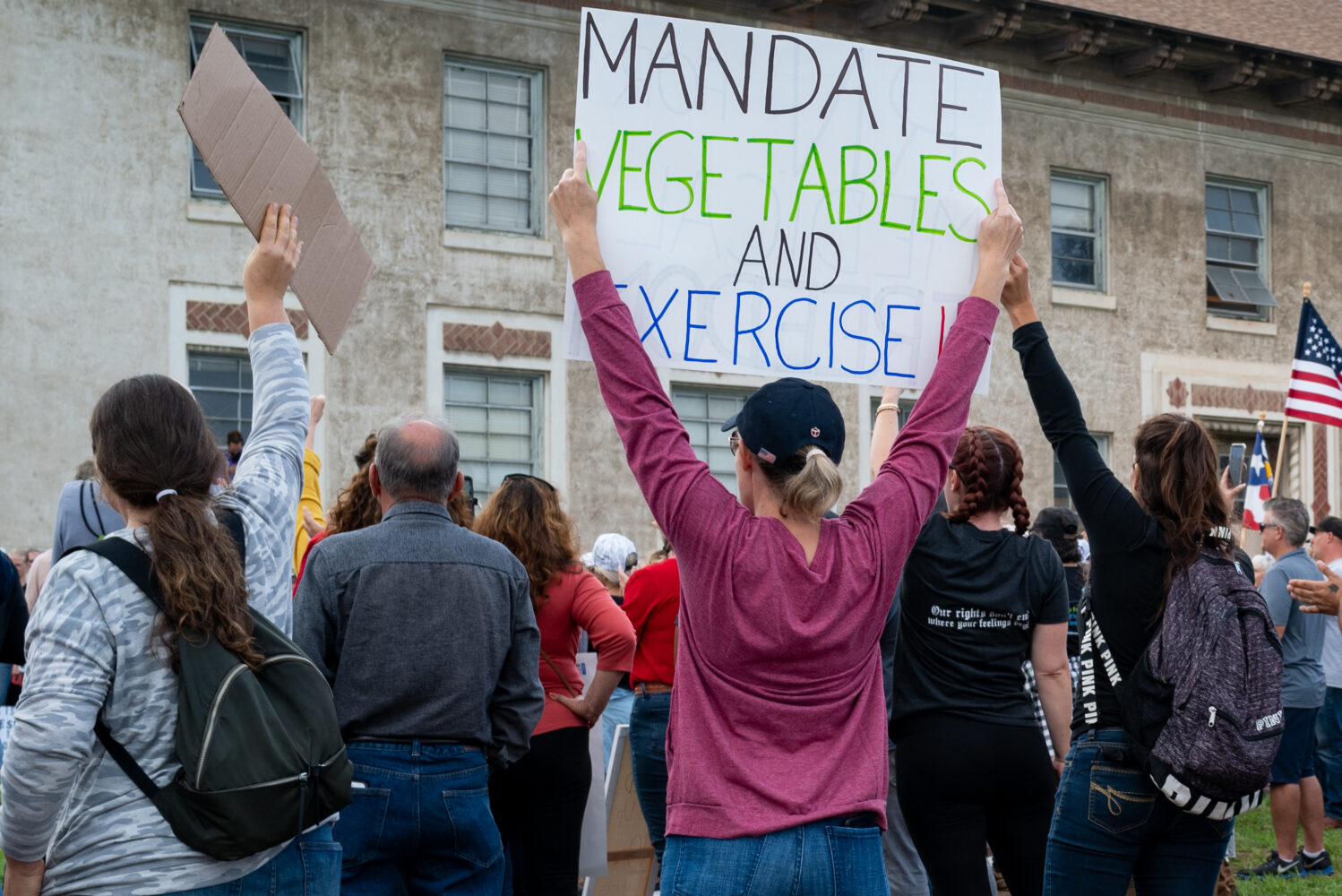 This protester raises an often overlooked remedy: Living healthy to stay healthy. Considering that, according to Centers for Disease Control and Prevention, the majority of COVID-19 deaths are among older people and/or those with multiple comorbidities, and that the majority of the infected are mildly sick to asymptomatic, parents like this one see healthy lifestyle as reasonable rather than vaxxing.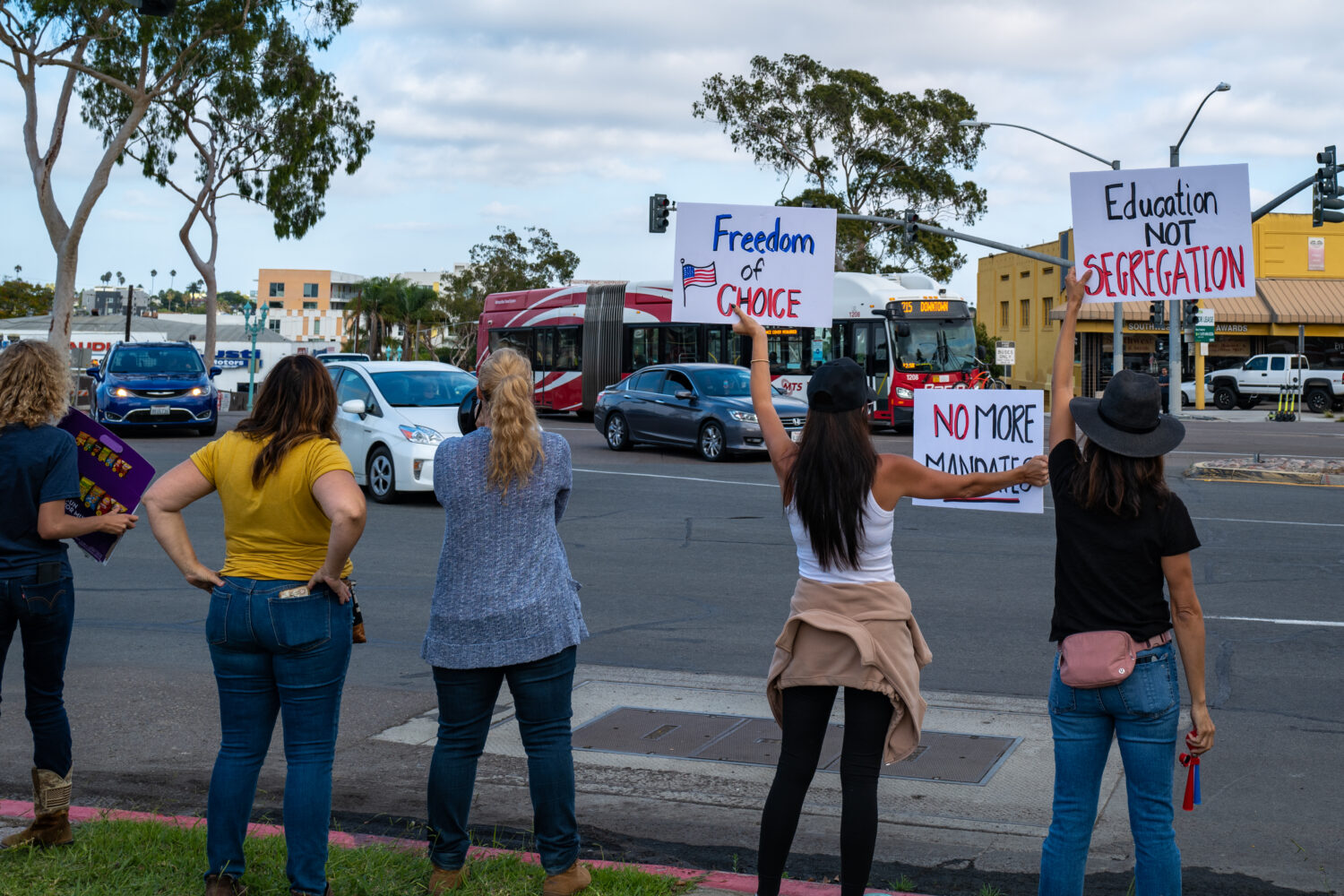 For reasons I don't understand, younger women tended to congregate along the inner circle closer to the speaker or gather around the outer fringes, like these protesters facing El Cajon Blvd. The lady in the middle talks through a bullhorn, and supportive drivers honk back.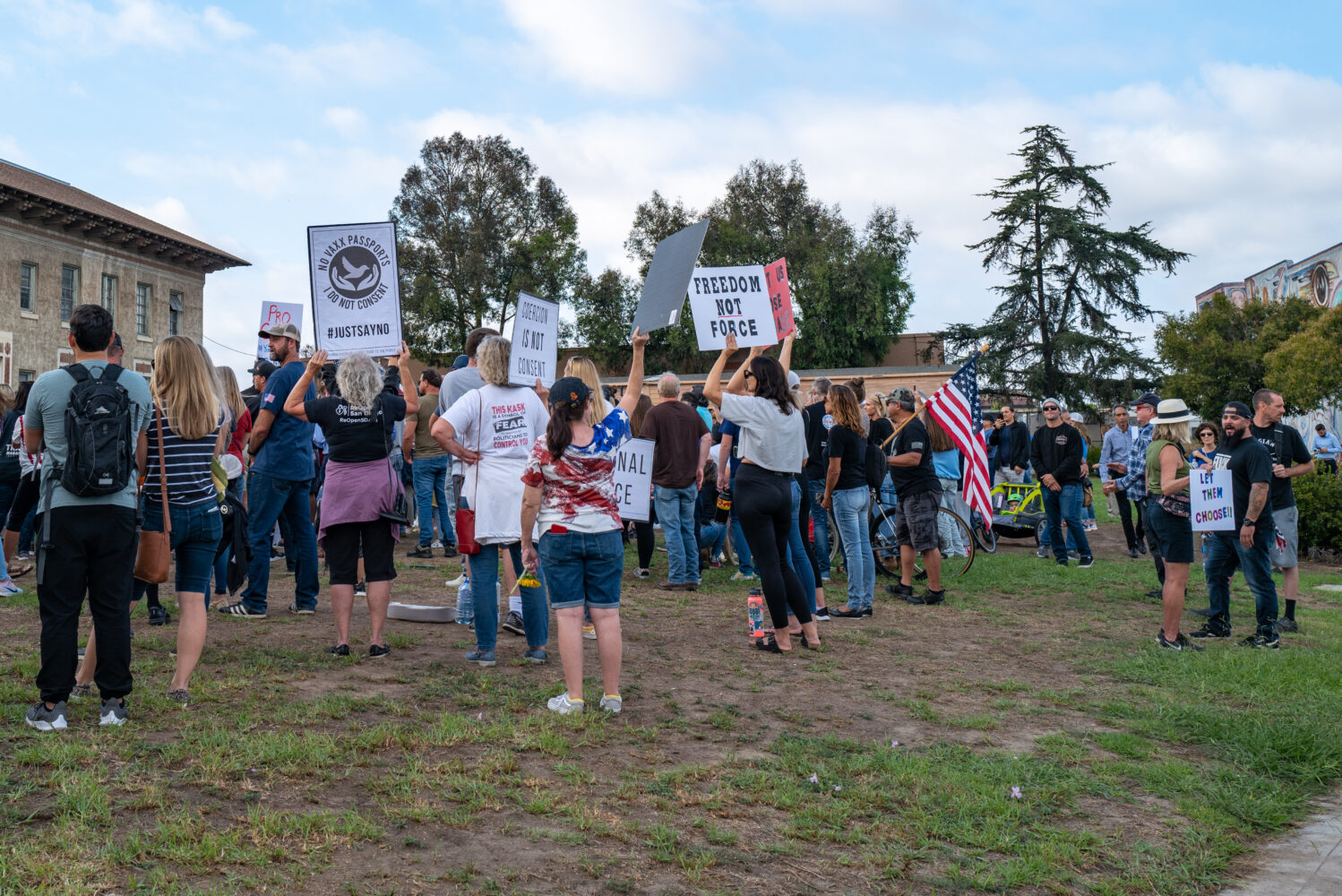 I spoke with parents who not only oppose mandated vaccines but masks, too. A mother of three told me that she wants her kids get sick—to catch everything, when they're young with strong immune systems so that they won't have health problems as adults. She is convinced that COVID-19 poses little risk to children—and she's right. According to the CDC, among the nearly 690,000 deaths attributed to COVID 19, 544 were children ages 0-18. Date range: Jan. 4, 2020 through Sept. 18, 2021.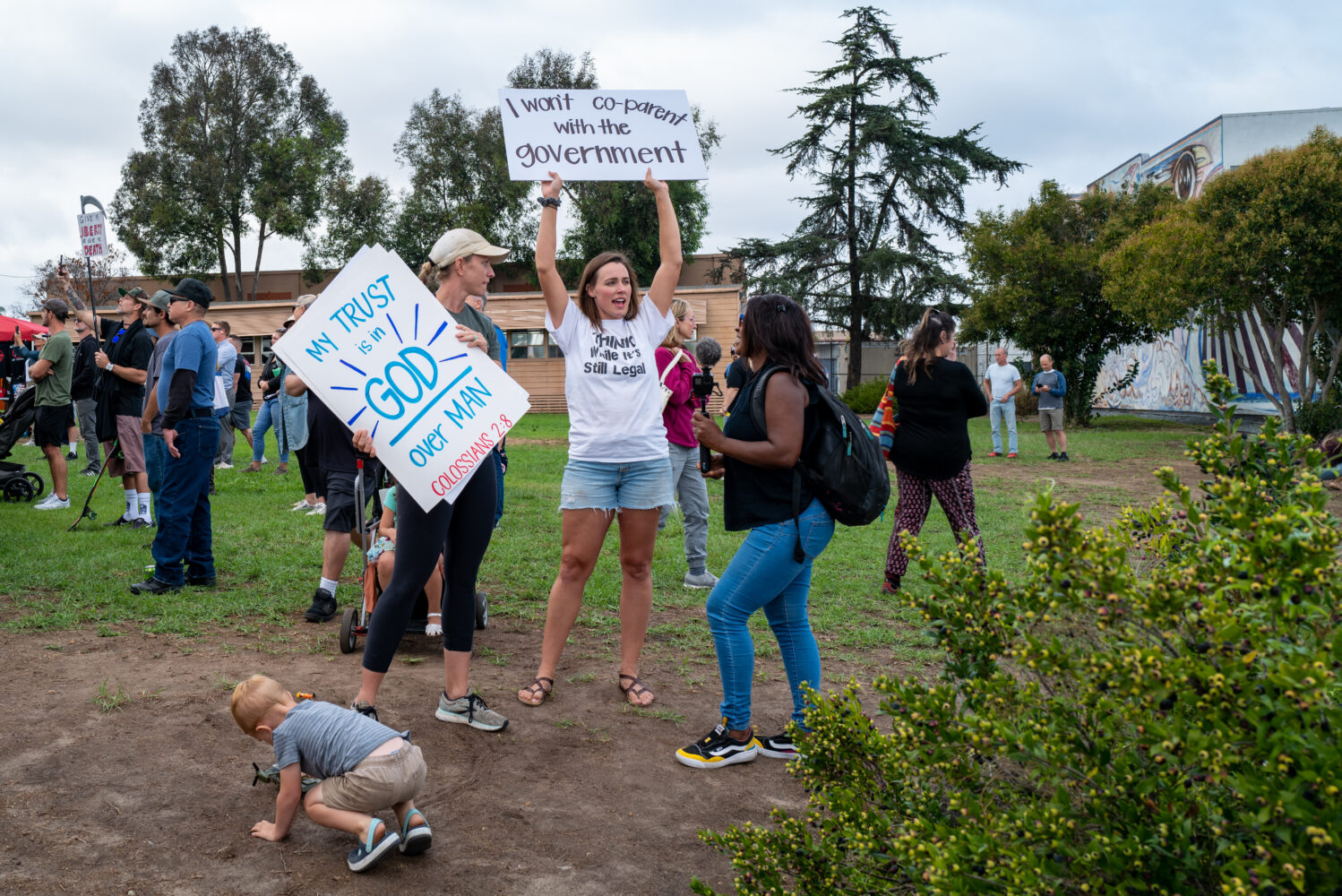 The little tyke playing with his protestor mom is most likely to get mildly ill, if at all, from the Novel Coronavirus. Breaking down those deaths—and, yes, any is one too many: ages 0-4, 170; ages 5-18, 374.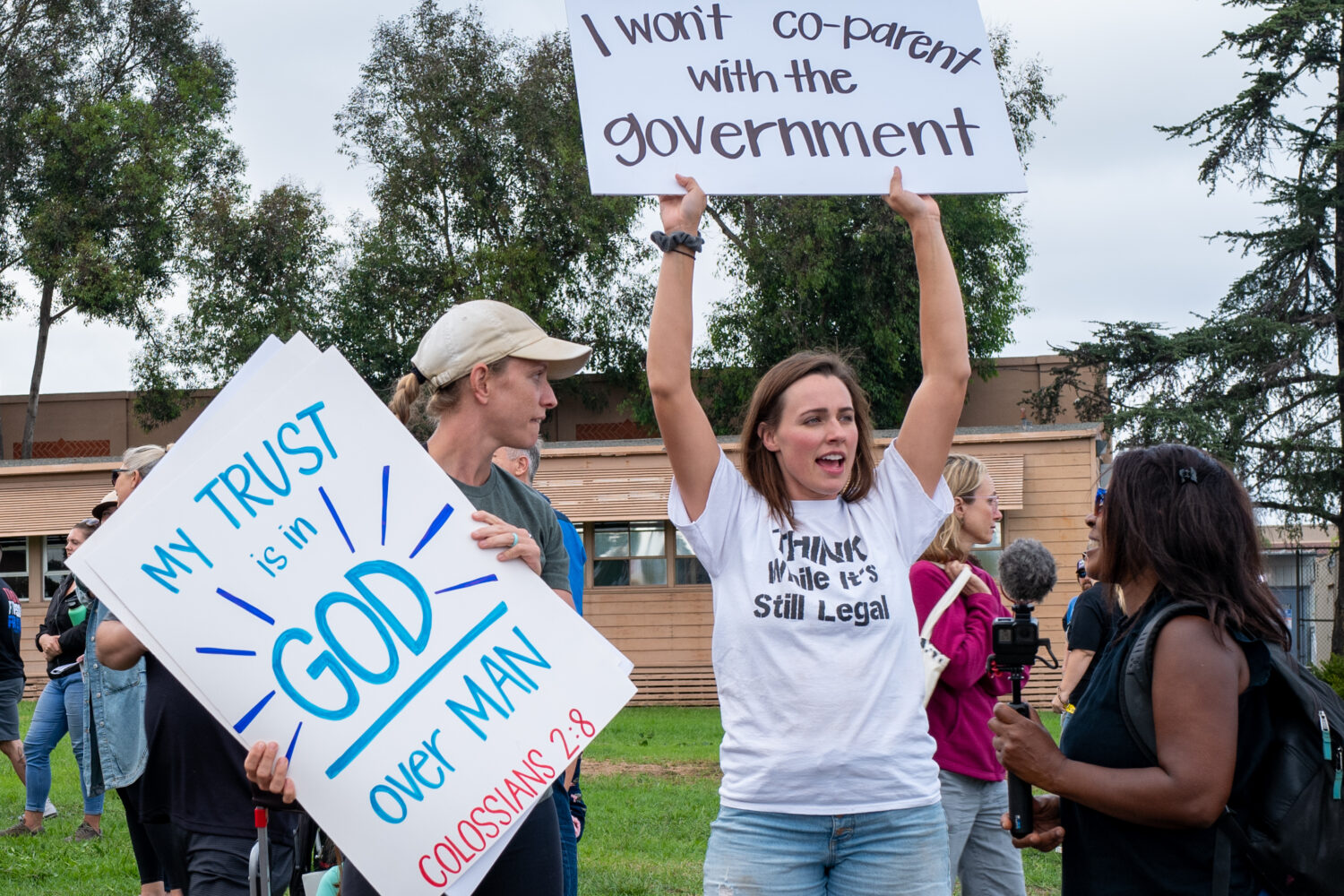 This photo is a crop of the previous one. The mom holding up the sign is being interviewed. Not long later, the school board unanimously voted to impose mandates. As condition of employment, vaccination will be required for teachers and everyone else by December 20; first shot by November 29. Students ages 5 and older will eventually be compelled to be vaxxed to attend class or participate in other activities. Timing will be subject to U.S. Food and Drug Administration guidance. However, teens 16 and up are mandatory now, following the same timetable as their teachers. Bad news for the mom on the left: San Diego Unified will not grant religious exemptions.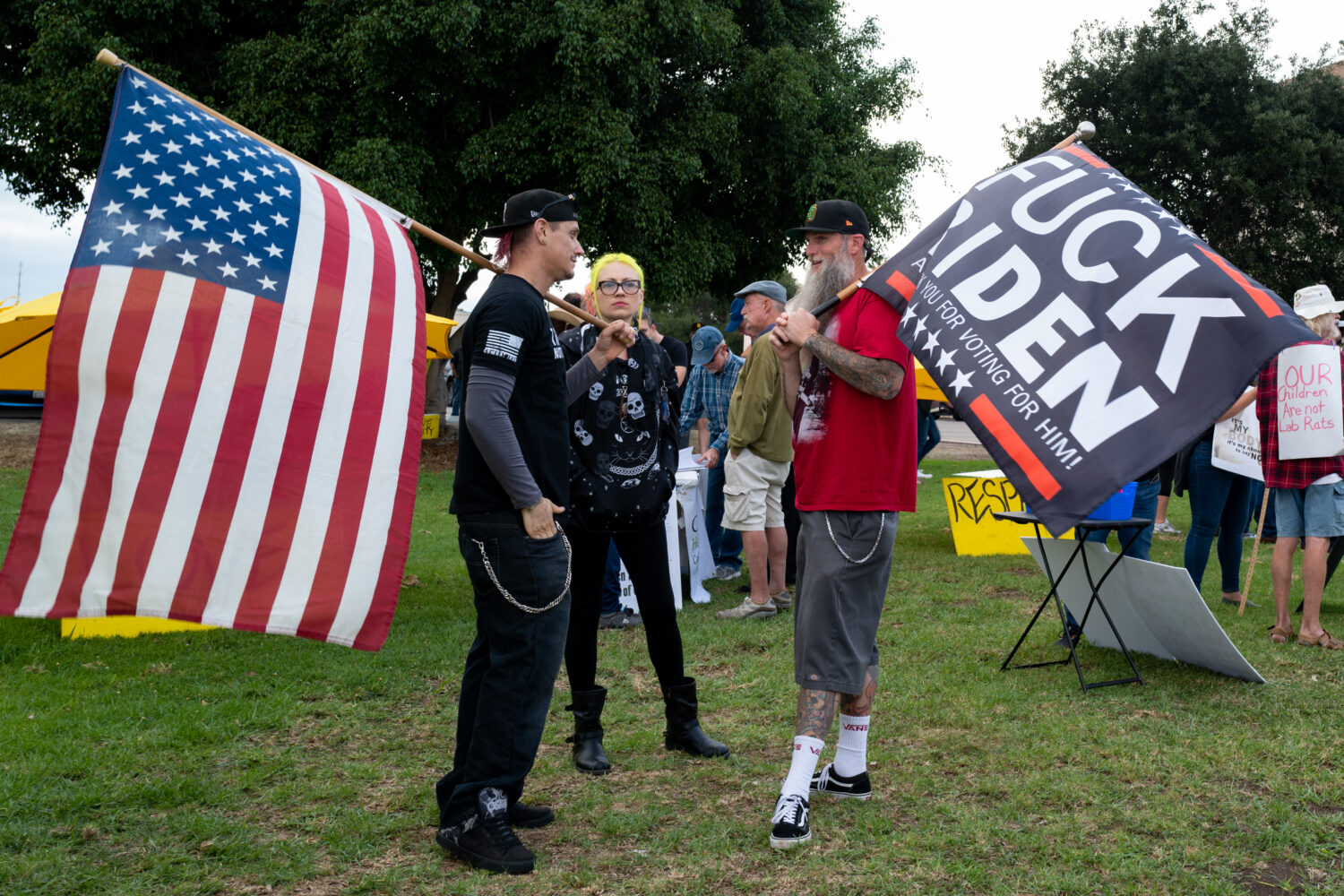 The last photo bookends the series. The two flags oddly juxtapose and make an obvious statement about Joseph Biden and also anyone who voted for him. That said, I didn't see any of the typical Trump paraphernalia worn or waved by anyone. There's a media-led perception that the vaxx-resistant are Trump-loving, right-wingers. What I saw today: Parents who love and will protect their kids and seek to pass along to them the freedoms and rights granted in the country's founding documents.