Yesterday's military-like incursion into my neighborhood ended after about 11 hours, when the last of three suspects surrendered to police. I missed the action, as he was arrested around the same time that I shot my last photo of the day, 7:40 p.m. PST. I was behind the perimeter at Meade and Mississippi, when the standoff ended on the next block, Louisiana, and closer to El Cajon Blvd.
But when walking over to that part of the neighborhood this morning, I hadn't seen a news story, nor could anticipate what to expect. All the cop cars, portable toilets, and other vehicles—including the armored BearCat—were gone. The area was so peaceful and quiet, one wouldn't guess what had happened the previous day.
These cops sure are tidy. Except for a single, stray scrap of yellow tape there was no evidence of their presence. I mean none. No litter. No debris from Flash-Bang grenades. Nothing. The cleanup is really impressive.
What remains are questions. Last week, four people overdosed in the house where the man holed up; two of them died. The incident yesterday started with a 911 call about three armed men bursting inside, presumably to steal drugs or means to obtain some. But that's an assumption; law enforcement has not released further information.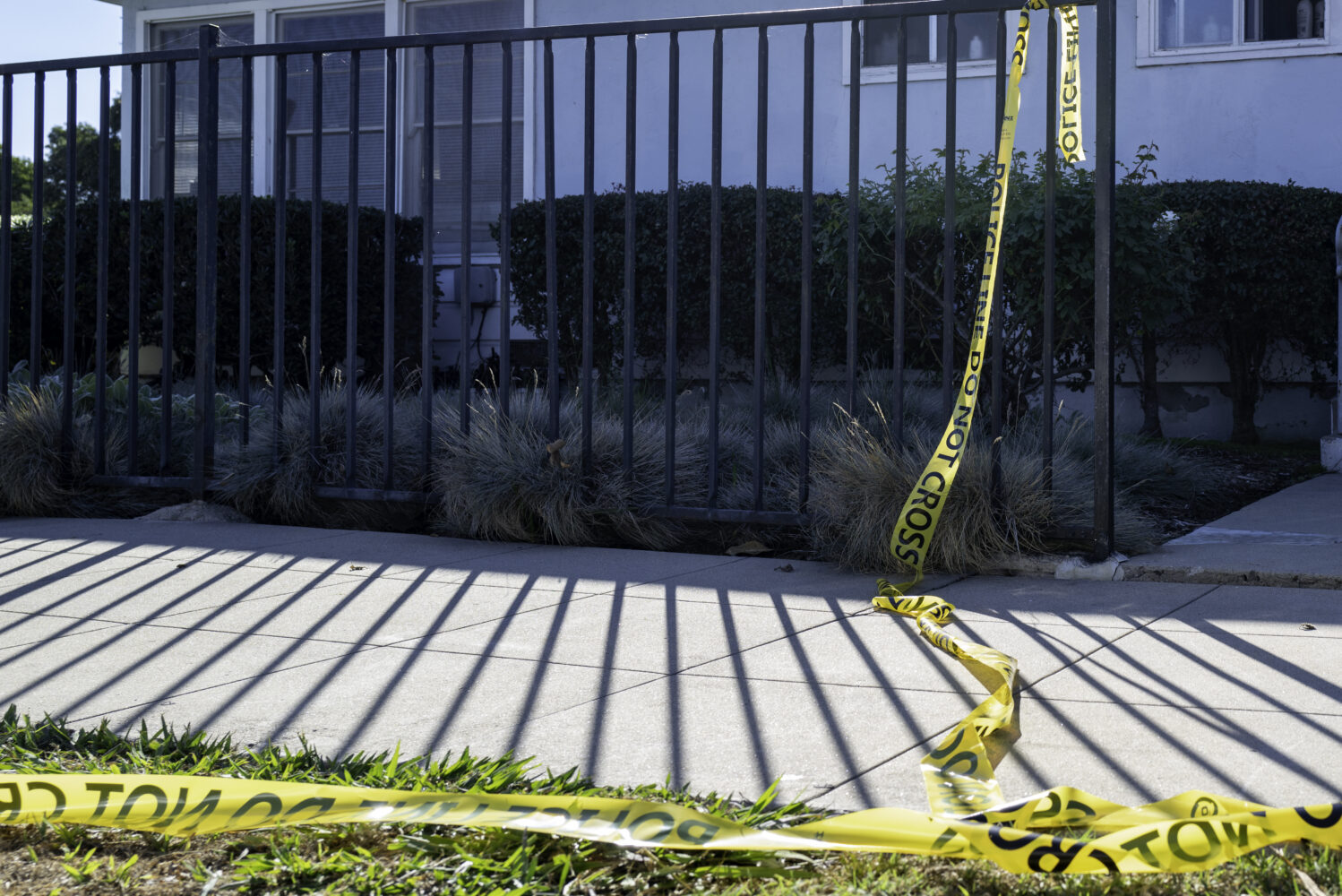 Let's talk photos, and the Featured Image demands explanation. I uncharacteristically made four captures and this was the last. I crouched down and lowered Leica Q2 almost to the sidewalk, but as you can see the intended subject of car and yellow tape is not the focal point. Flip-up back screen sure would be useful (hint, hint).
When we lived back East, I would just lie on the pavement to get a shot like this. But San Diegans are dog crazy, and their mutts pee and poo everywhere. Combined with all the other grit, and rare rainfall, sidewalks are too filthy for me
That said, I strangely like this mishap. Vitals, aperture manually set for both: f/5.6, ISO 100, 1/500 sec, 28mm; 9:27 a.m; composed as taken. For the other, which shows where the tape stretched from the car, vitals are same but 1/250 sec, one-minute earlier.