Today, the Wilcox couple visited San Diego Zoo for the first time in nearly 10 years living in Southern California, after signing up for a year's membership. Annie had been to the animal habitat once before, in 1987, with her dad.
His passing, two months ago, is mixed blessing. We have time to be tourists, and in ways we wouldn't have chanced previously. One, or both, of us stayed close by—particularly during the last 18 months of Bob's life. We relocated from the Washington, DC area in October 2007 to enable him to live independently in his own apartment. Needs grew more demanding during the last two years, as his energy and mobility, but not mental acuity, diminished. 
Our new-found freedom feels weird, because Annie's dad died for us to have it. Strangely, I relate to the zoo beasts in their pens or enclosures. They're prisoners in paradise, which is how I occasionally joked about all our situations—Bob's most of all, as growing old made him increasingly feeble and feel frustrated for it. We're all free now, and I hope that he is most liberated of all, as a lively spirit beyond this plane of existence unshackled from the deprecation of aging.
Perhaps Bob joined Anne and I in spirit, as we walked around the zoo compound with animals mainly from Australia and also Africa—like the giraffes in the Featured Image. Vitals: f/5, ISO 200, 1/160 sec, 23mm; 3:44 p.m. PDT. Image is cropped but not retouched; the JPEG is straight from the camera. This one and the other two photos were taken using Classic Chrome film simulation.
The Fujifilm X100F is a fun-to-shoot compact for street photography, but—on this blazing sunny day—I struggled to get good shots; that's as much me, if not more, the reason. Let's just say the Fuji and I are still getting acquainted and accustomed to the late-afternoon sun's brightness and long-cast shadows.
My problems started with koala bears, clasping to tree branches in shade and me forced to shoot into the low-streaming sunlight. One of the X100F's finer niceties is the ND filter, which activation typically compensates quite well but produced no koala pics that I would share; close, though. Different day, different conditions, and an amateur more adapted to the camera and the koalas might have been keepers.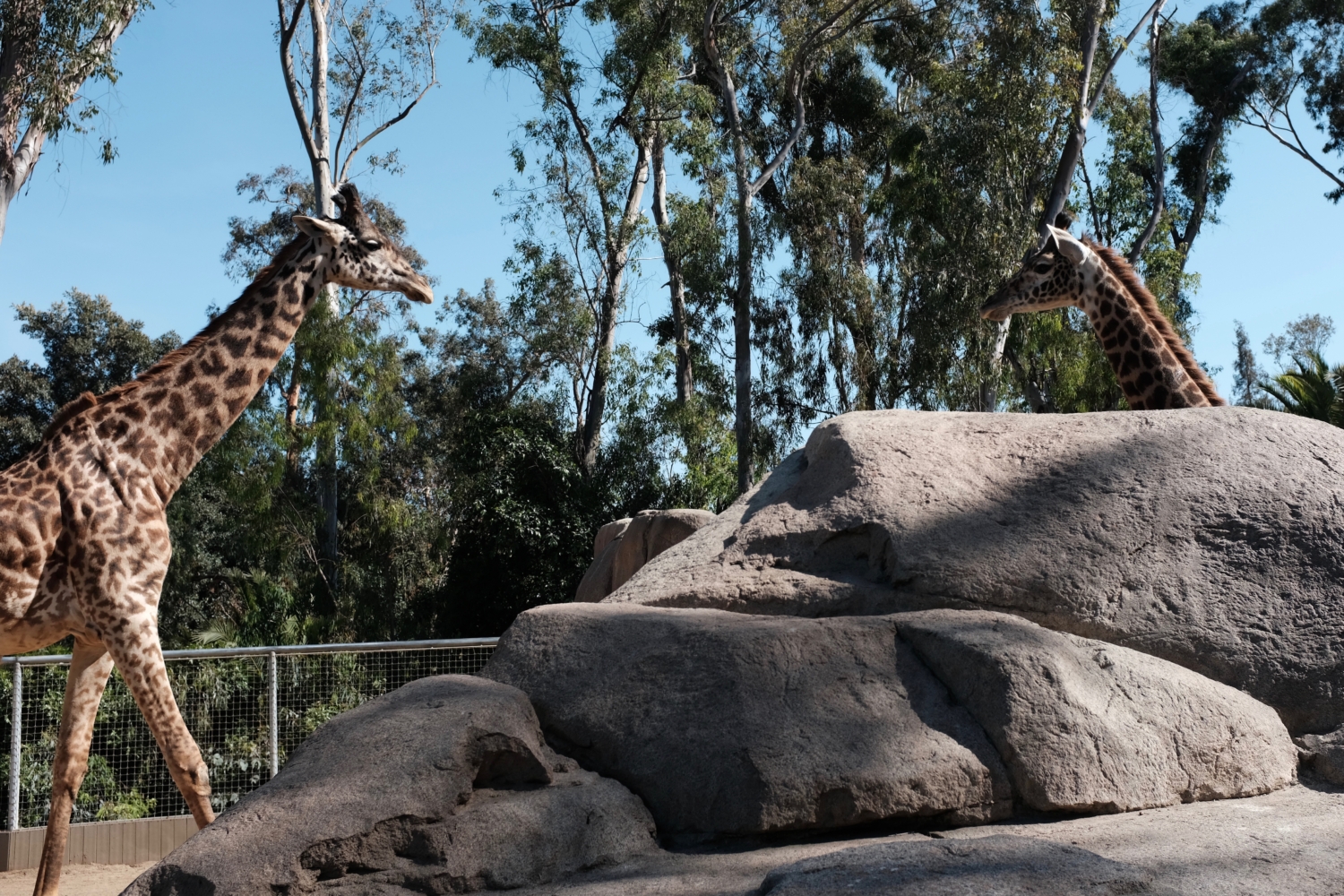 Part of the problem, and I experience it with the Fuji X-T1, too: Brightness (Southern sun) and darkness (my sunglasses) make the electronic viewfinder—which gives fairly accurate, live depiction of the shot—difficult to see. The X100F also packs an optical viewfinder, which I prefer, and see just fine. But the shooter loses the EVF's more useful live preview. That's a trade-off today that goes away tomorrow, so to speak, as my handling the X100F improves.
Something I really like about the OVF: Fuji gives perspective beyond the frame. The giraffes were on the move for food while we watched them. I composed and shot the second photo on the fly (cropping some in post-production, admittedly). Using the EVF, the approaching animal coming from the left would have moved too far before I could shoot. Vitals: f/5.6, ISO 200, 1/450 sec, 23mm; 3:45 p.m. PDT.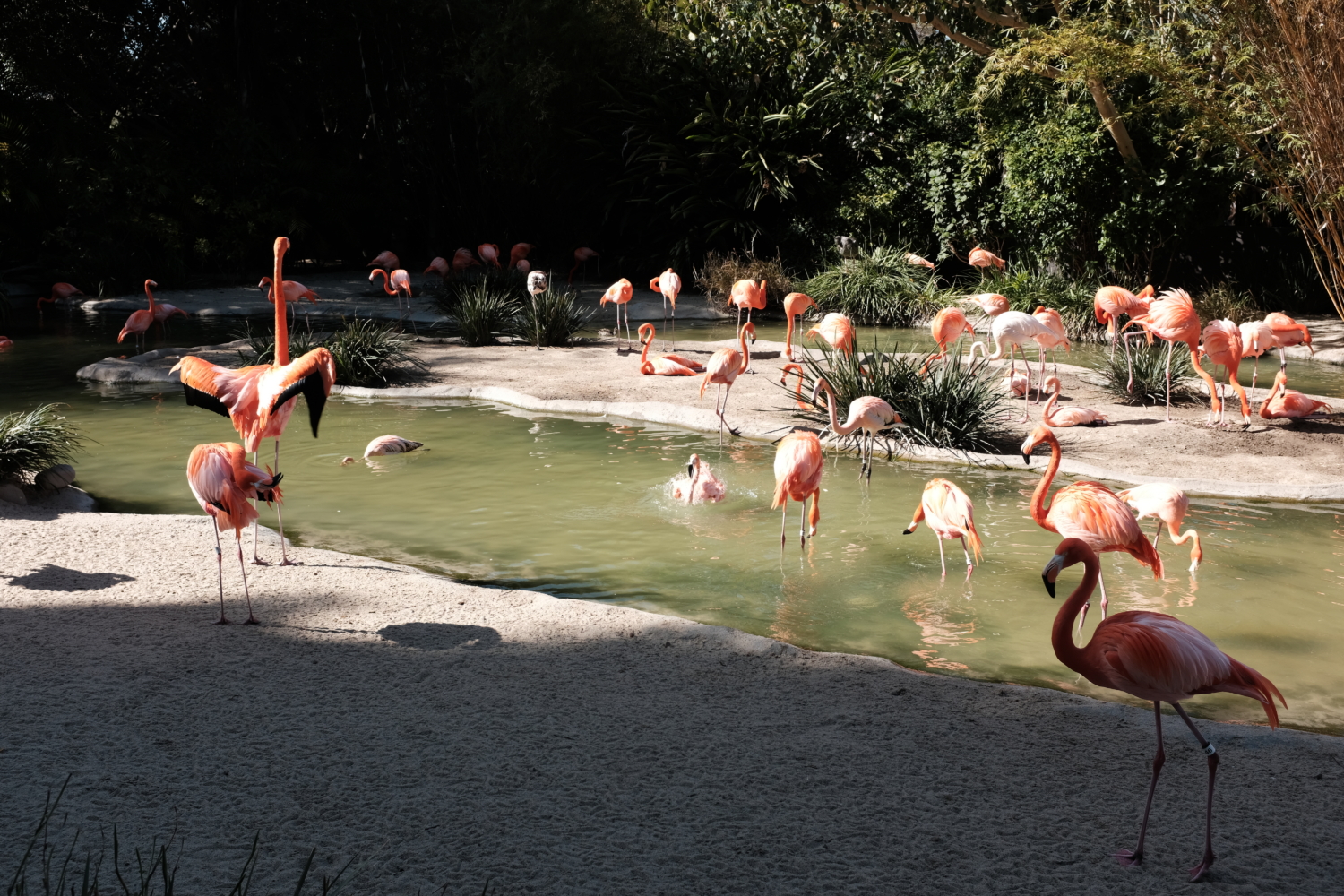 The Flamingo pool isn't exactly my favorite, but there is something about the composition that appeals to me—and likely no one else; that's okay. Vitals: f/5.6, ISO 200, 1/320 sec, 23mm; 4:01 p.m. PDT.
BTW, enclosures for the flamingos and giraffes give great illusion of a petting zoo (you can pay to feed the tall beasts). Intimacy and proximity to the wildlife is intoxicating.