Several re-sightings of felines previously featured in my "Cats of University Heights" series demand updates about the beasts. So, please, pardon yet another furry exposé. The Featured Image is a tiger that I call "Stalker", sighted and profiled in November 2016. I shot this more recent portrait on July 17, 2017, at 7:11 p.m. PDT using Leica Q. The animal is usually on the move, and this is the first instance seeing him quietly sitting in his yard, near Campus and Monroe. He really blends in, eh? Vitals: f/1.7, ISO 100, 1/400 sec, 28mm. After deliberate consideration, I chose to keep brightness and exposure as shot in this crop.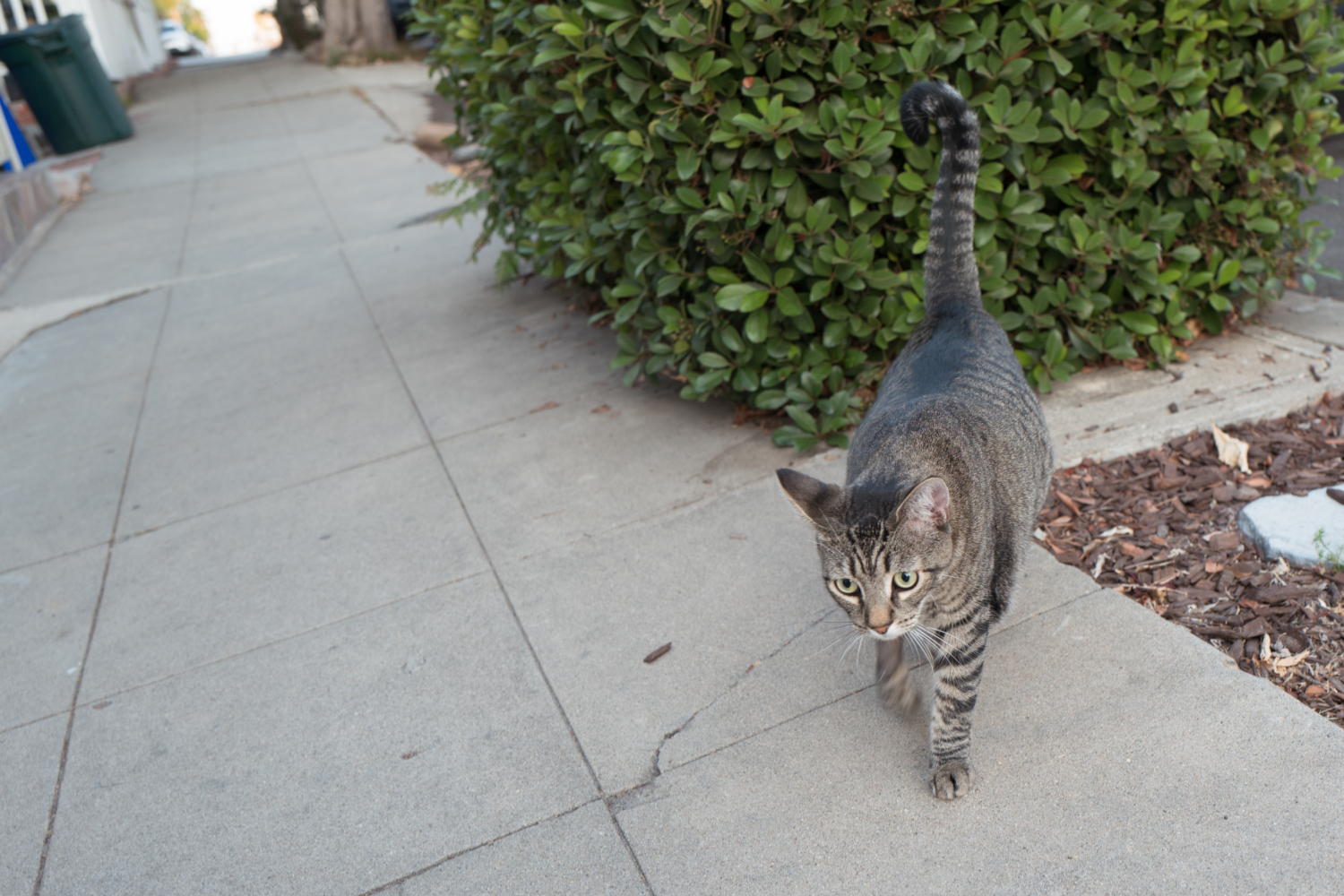 Another tiger is one-half of a sad story—lest I am (hopefully) mistaken. In October 2016, I met a pair of furballs across Maryland Ave. a few doors down Monroe before it becomes Arch. Not long later, I saw a lost cat poster for a feline that could have been one of the two. Apparently, the animal disappeared into the adjacent canyon. Yikes! Seventeen minutes after shooting Stalker on July 17th, I encountered the chunkier of the "Mates" for the first time in 10 months—and I had walked by looking dozens of previous times. Is the other gone? 🙁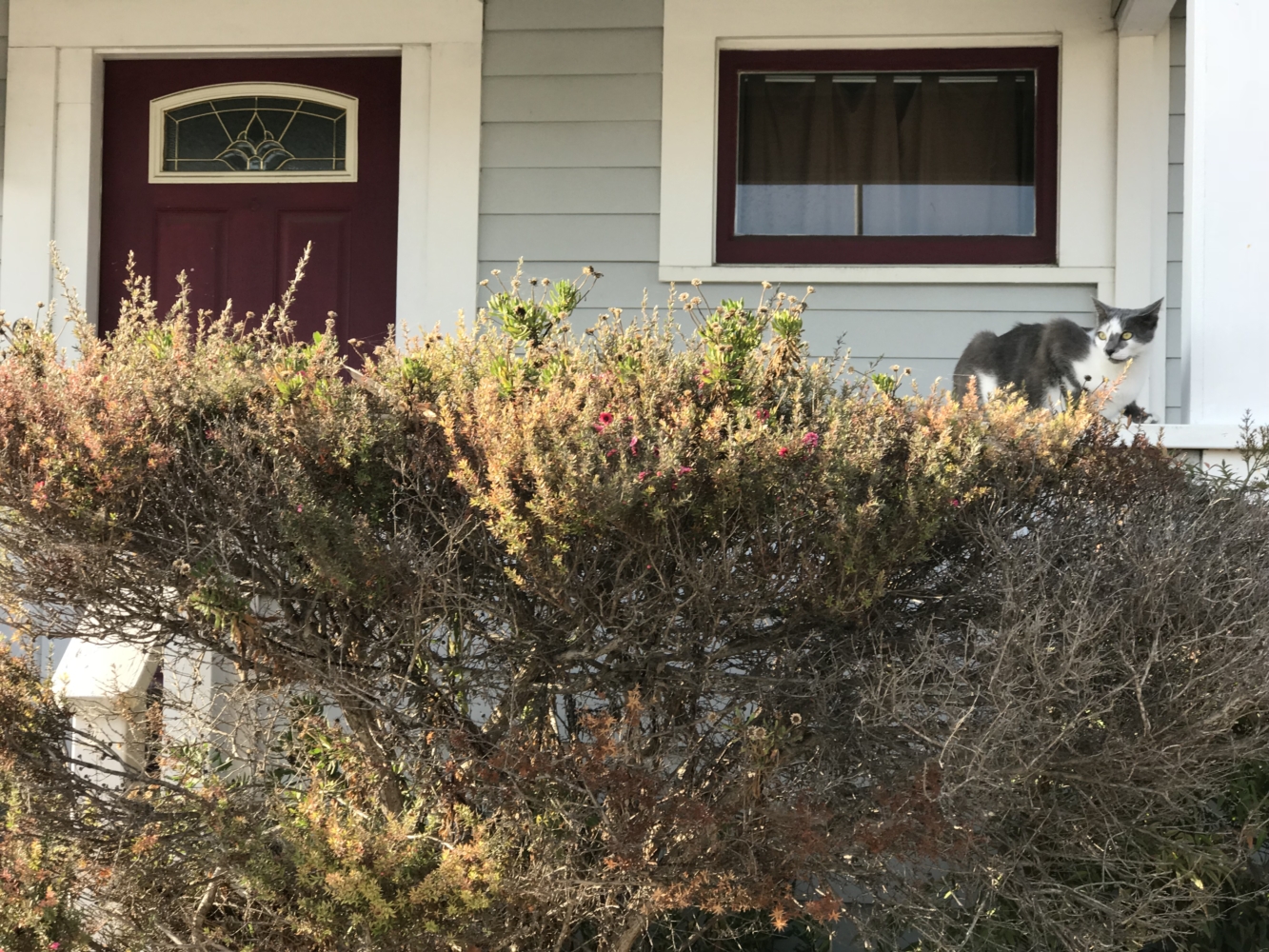 Last night, a kitty nicknamed "Jumper" figuratively crossed my path for the first time since November 2016, on Meade near Campus—and not far from the previous sighting. She had been poking around in the bushes for something, likely a bird, before my passing brought her head up to a pose. This portrait is presented as composed and captured, using the iPhone 7 Plus second camera to optically zoom. Vitals: f/2.8, ISO 20, 1/172 sec, 6.6mm; 6:05 p.m. PDT.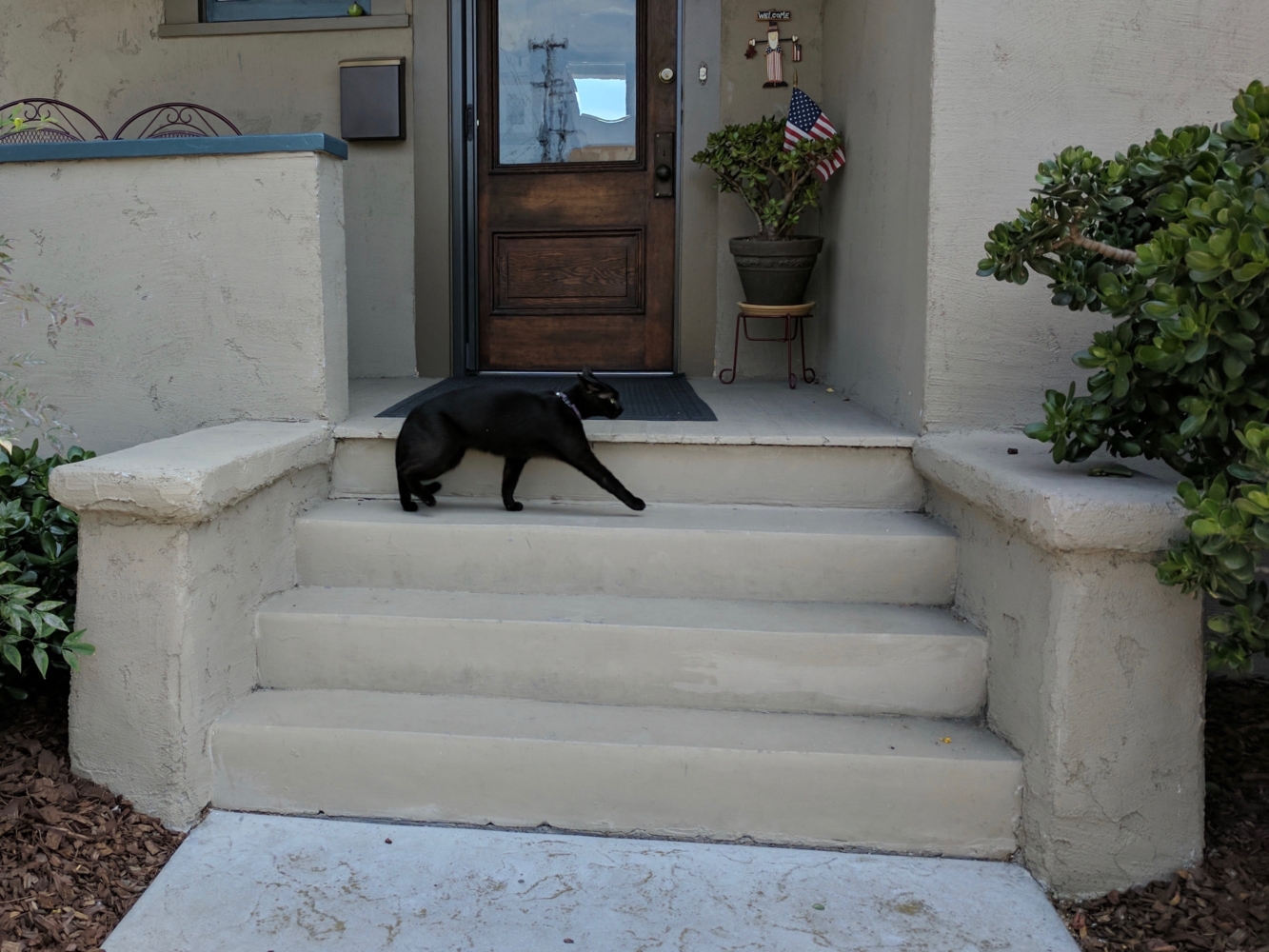 I can't find any good composition for this short-hair seen on July 6, 2017 at 1:41 p.m; house number is cropped out. I was amazed to see the kitty sitting upright on the cement steps for such an unseasonably hot day. Just as I pointed the Google Pixel XL and clicked the shutter, some dude started a car with roaring, backfiring engine that set the animal in motion. But the moment wasn't as spoiled as I expected. This beastie is either Black (nickname) or Farfisa (real name); my bet is the former, even though the other dominates the territory (next to Kuma's house). Vitals: f/2, ISO 50, 1/1453 sec, 4.67mm.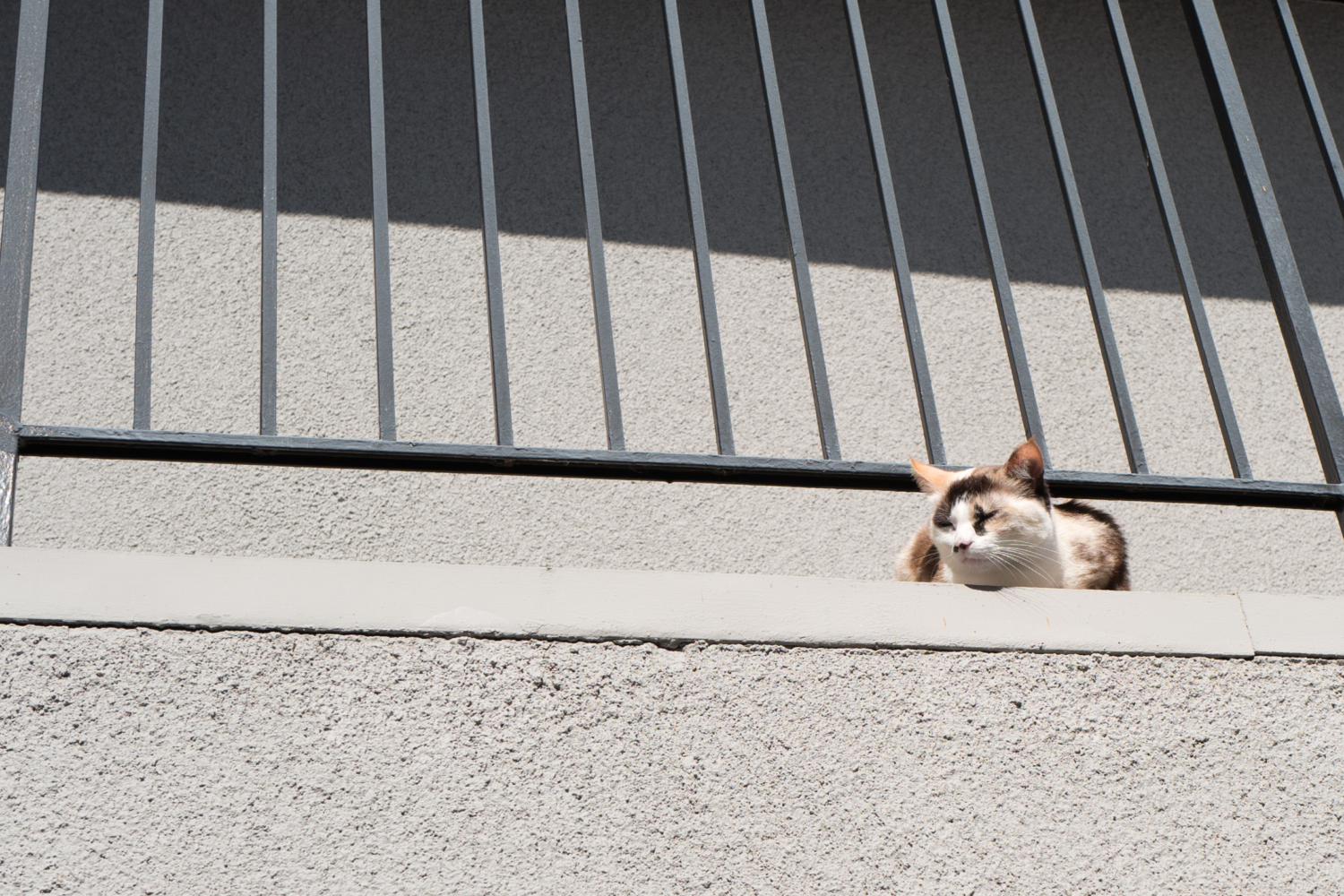 On June 28, 2017, I pursued a Calico into an apartment courtyard off of Cleveland Ave., presuming to have found a new addition to our series. Nope. Opening the photos on my MacBook Pro, I recognized a feline nicknamed "Mellow" from an April 10th encounter. This is another crop from a Leica Q capture. Vitals: f/5.6, ISO 100, 1/640 sec, 28mm; 4:53 p.m. PDT.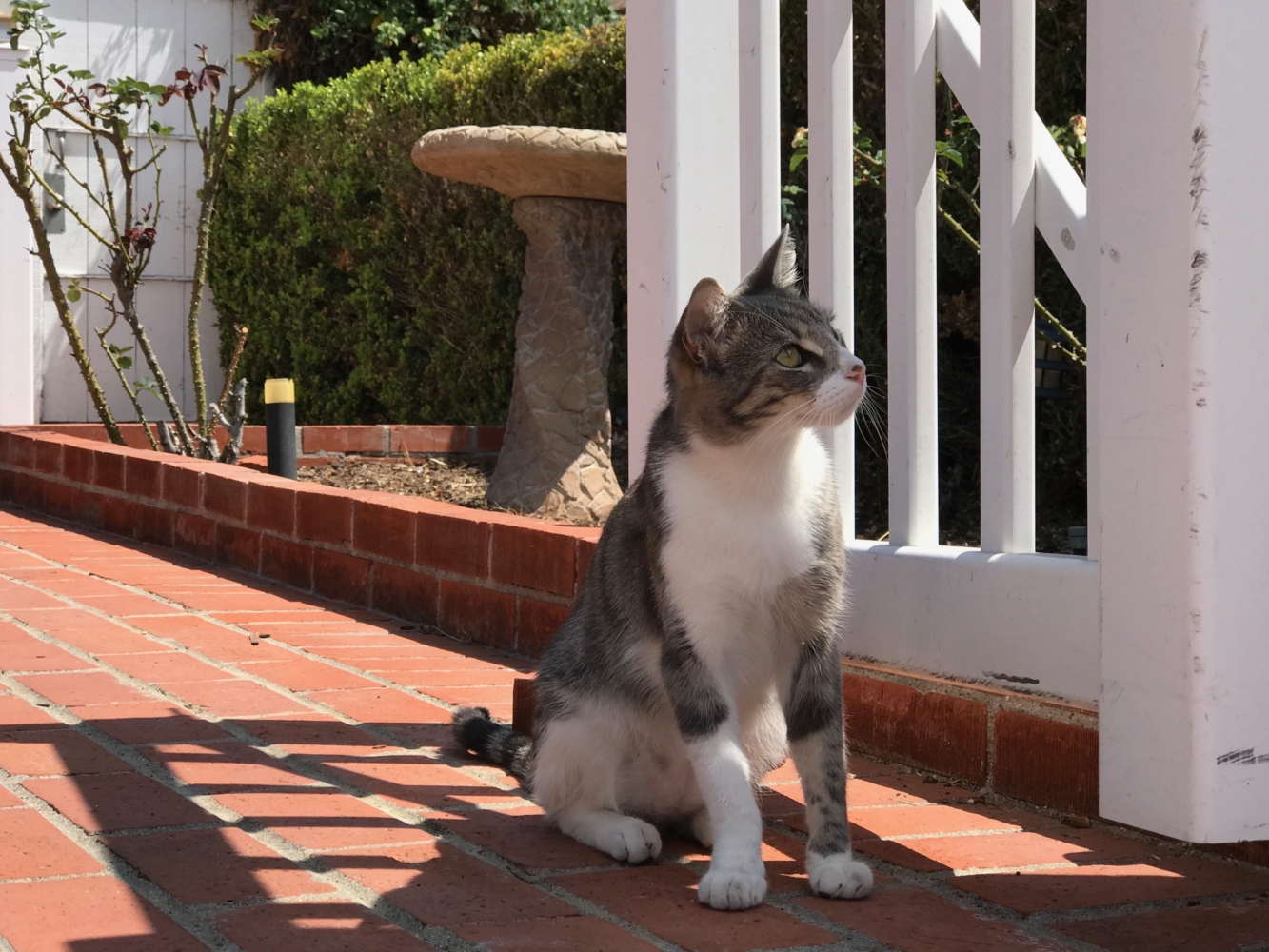 The morning (July 26th) after posting this pictorial, my wife caught sight of a skinny kitty down Lincoln as we approached the Vermont Street Bridge. I hoped for a new puss but instead found one nicknamed (by me, of course) "Dainty", who had crouched under a car on June 5, 2017. This iPhone 7 Plus shot was done completely blind, with the screen obscured by my sunglasses and glaring daylight. Vitals: f/2.8, ISO 20, 1/709 sec, 6.6mm; 11:08 a.m. PDT.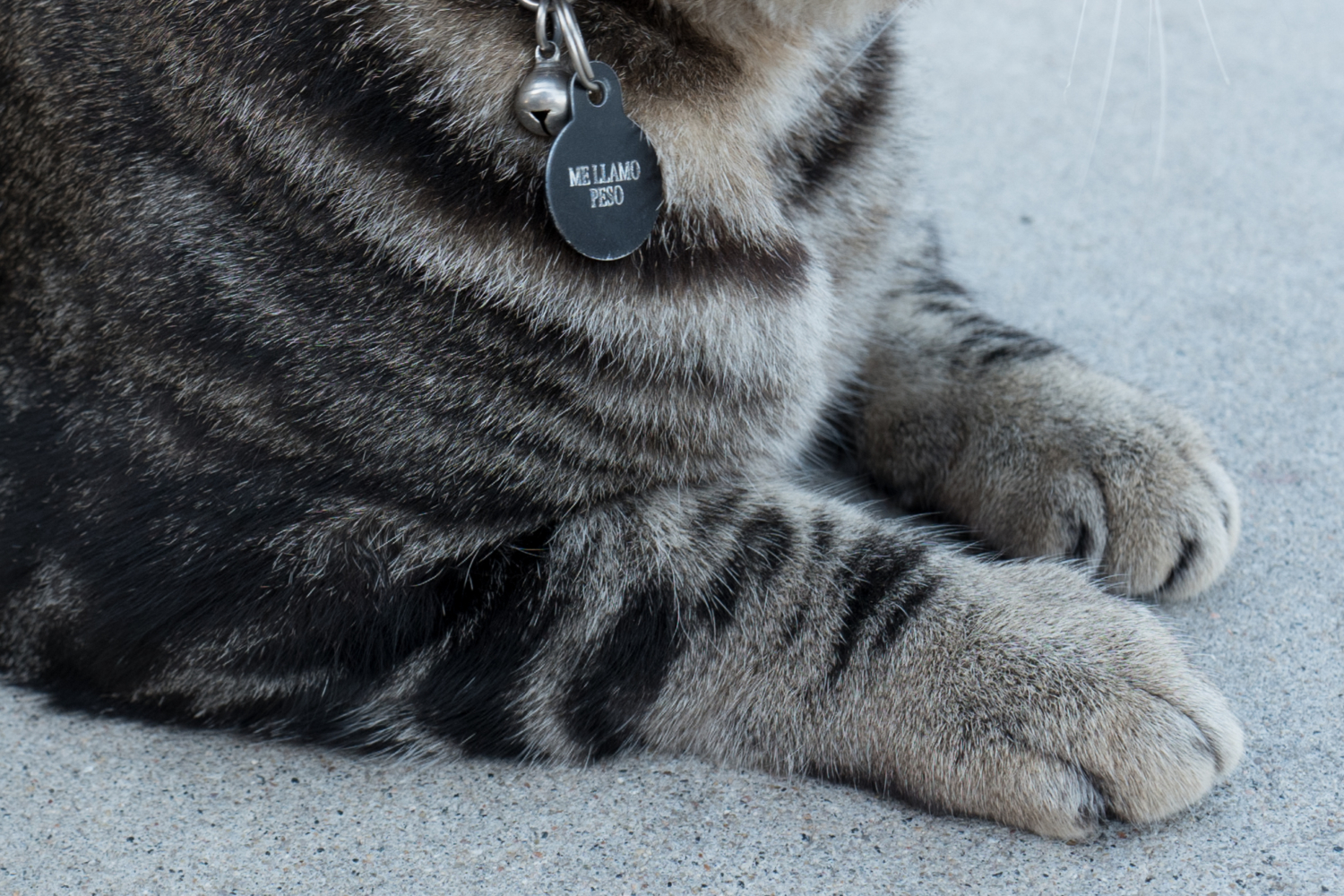 If one update, why not two? Later on July 26th, while walking down Georgia, I saw Peso resting in a yard not far from our May 27, 2017 first meeting. He sprinted onto the sidewalk soon as I called his (real) name. Whoa, did he demand pats on his humungous head. The photo is a close-crop emphasizing his overly-large paws. Peso is a big boy, and I don't mean fat. He is big-boned and muscular. Vitals, shot with Leica Q: f/5.6, ISO 200, 1/60 sec, 28mm; 6:51 p.m. PDT.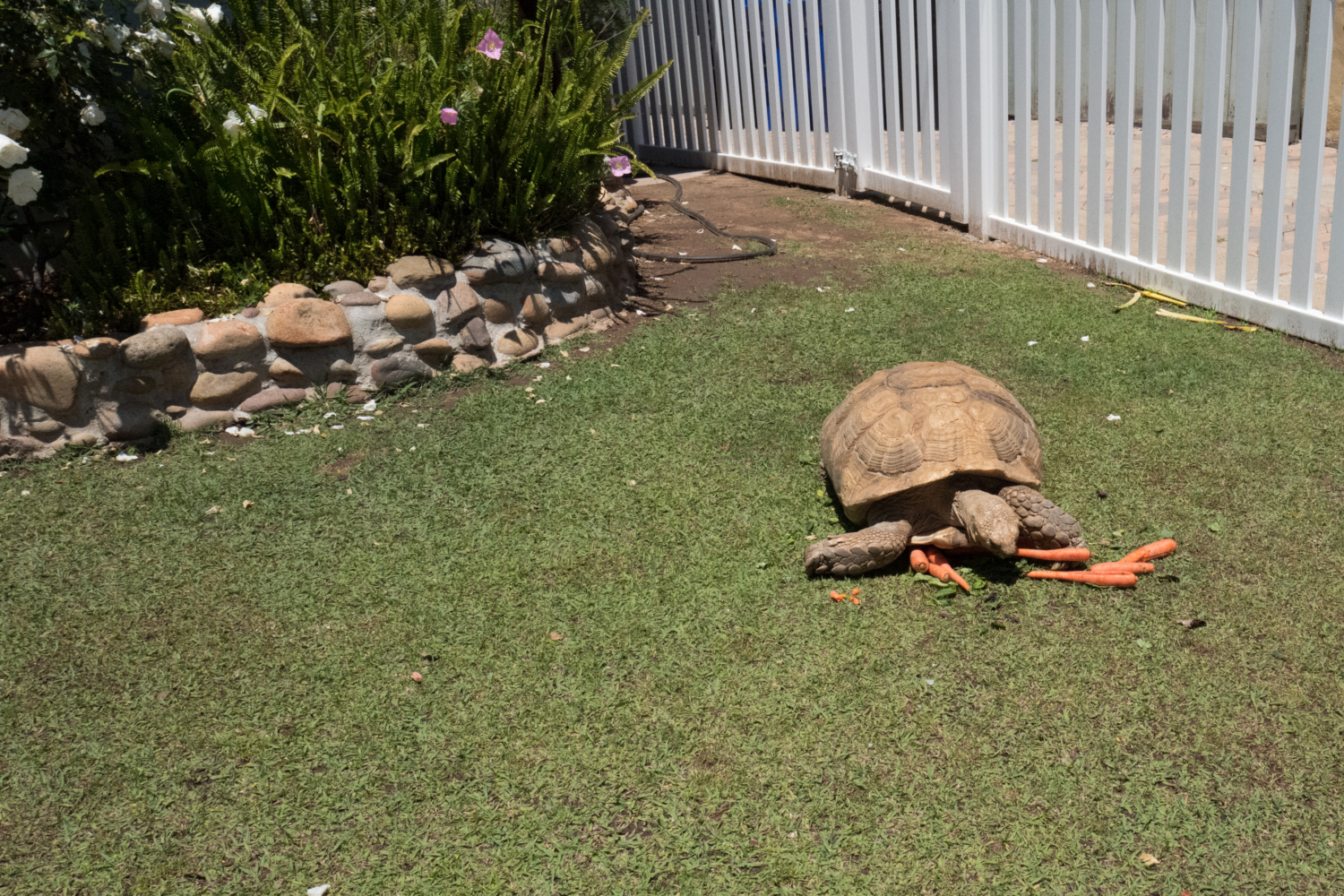 Not all our neighborhood friends are cats. Morla the tortoise is a fixture, even though she seems sadder since being further fenced in. Not long before I shot this portrait using Leica Q on March 8, 2017, her caretakers put up a new fence, which you can see behind her. Previously, she had access to the driveway and stonewall, where she often slept or played during the day. Oh the warmth! Now she is denied. 🙁 Vitals: f/16, ISO 3200, 1/3200 sec, 28mm; 12:28 p.m. PDT.
I had gotten the loaner camera from Nelson Photo Supplies while waiting for mine to come from Germany. The previous user had preset the ISO, which I neglected to check, in case you wondered about the choice for a sunny day.