Sunday night, Oct. 23, 2016, I crossed Monroe at Maryland, where the street makes a horseshoe that comes back to Maryland at Meade. A few houses down, two cats—almost certainly littermates—accosted me for attention. Were these two ever eager, meowing and rubbing on anything close; including me.
The cross-eyed one leaped to the sidewalk, rolling about and demanding pets fervently. The other did likewise, but never leaving the ledge and rubbing the bush repeatedly with her head. I shot more than 20 photos, using the Fujifilm X-T1 with Fujinon XF18-55mmF2.8-4 R LM OIS lens, but selected just two from among the last of them. 
The Featured Image is the slightest bit cropped from the RAW, using Adobe Photoshop Lightroom, and exported to JPEG. Focal point is purposely on the foreground feline Vitals: f/8, ISO 4000, 1/60 sec, 34.3mm. The other is similarly processed but closer-cropped to emphasize the other cat, upon which I focused. Vitals: f/8, ISO 5000, 1/60 sec, 27.7mm. Shooting time is 5:56 and 5:57 p.m. PDT, respectively—less than 10 minutes to sunset, which had already fallen below the neighborhood's visible horizon.
The pair are the thirteenth and fourteenth felines featured in this series. The others: Scruffy, Roly Poly, Woo, Skull, Biscuit, The Colonel, White, Chipper, Frisky, Stretch, Needy, and Farfisa.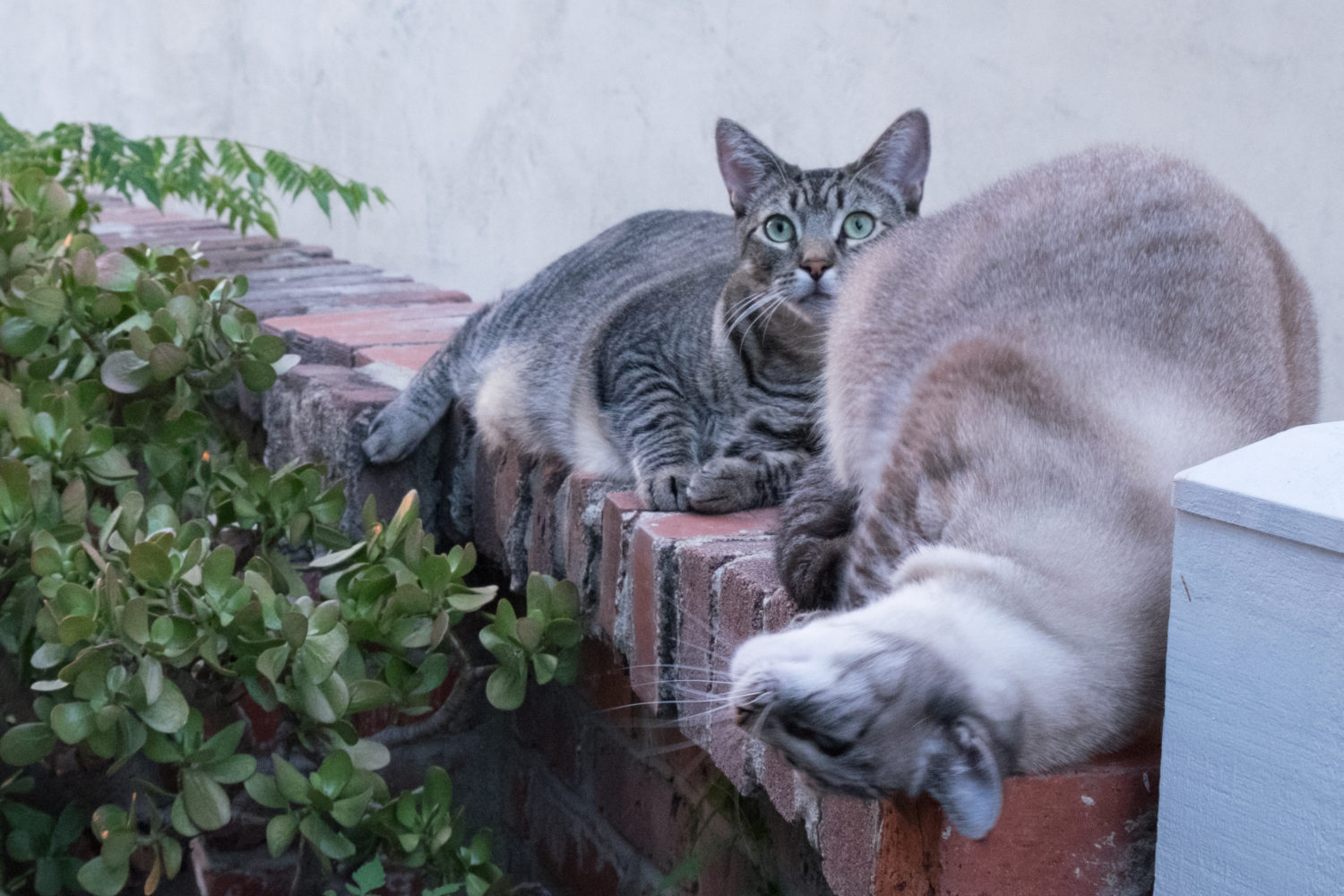 After leaving the littlermates, I continued walking, and a friendly gent sitting on a porch asked what I was shooting. The cats, of course, and he recalled seeing the siamese on his car one morning a few days back. At first he griped about how ferals kill the birds, but then wished having a cat for the rats—three of which he removed from the basement that week. You don't see many basements in San Diego, but strangely they're common enough in houses along this stretch of the Maryland Ave. canyon.
Now here's a story: The gent and his wife moved into the house 7 months ago—a property previously owned 35 years earlier. He had sold to a college professor, who when recently retiring offered to sell it back—and for reasonable price considering what is the going rate for houses set along the canyon. The couple took the offer and some renovation work, too.
Happy Caturday!