While walking home from UltraStar Cinema in Mission Valley, after watching "Ad Astra" on opening day, I crossed over San Diego River along Mission Center Road. Ripples upon the water delighted my eyes, which demanded capturing the moment, and I did using iPhone XS.
The film, starring Brad Pitt and directed by James Gray, is in essence about the consequences of solitary living—astronaut Roy McBride, his hero father Clifford McBride (Tommy Lee Jones), or all the living creatures (including humans) of Planet Earth. Somehow, looking down the river—even with the roar of Friday afternoon rush hour behind me—I experienced a moment of welcome solitude, ennobled by having just seen "Ad Astra". Hence, the Featured Image and its companion.
Hours earlier, Apple started selling the new iPhone 11 series; the Pro and Pro Max models come with three separate but calibrated cameras: f/2.4, 13mm; f/1.8, 26mm; f/2, 52mm. Neither landscape or nature photography is really my thing. But with Apple commercials showing off the so-called "triple-camera system" for such field work, I wondered what the XS could do in my hands, using two lenses. Why? The iPhone 11 Pro is tempting, but hard purchase to justify with my current handset so recently acquired.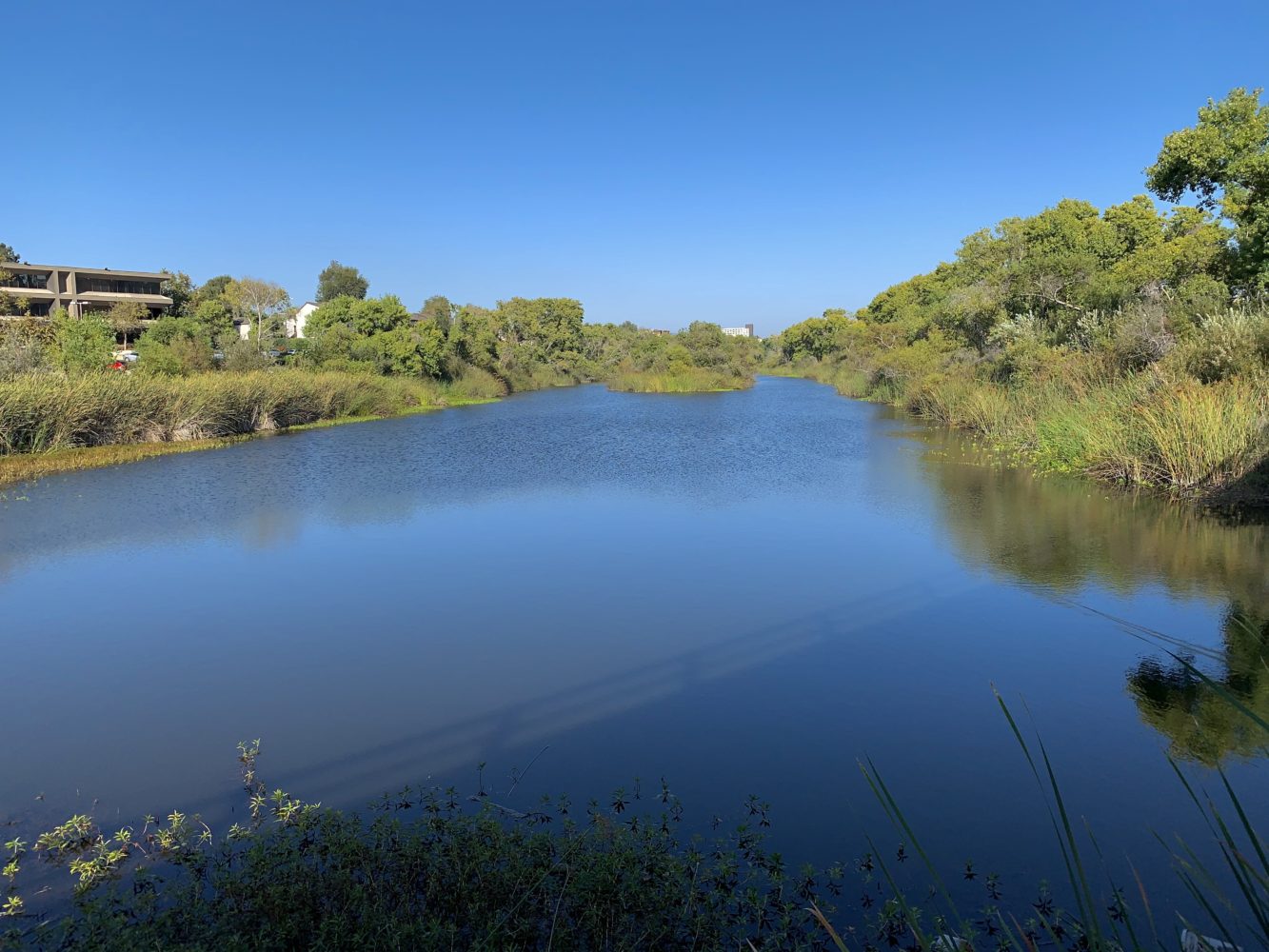 Here onwards, I will state the real, equivalent focal length for iPhone photos rather than the smaller numerical value recorded in the metadata. Vitals, for the first: f/2.4, ISO 16, 1/888 sec, 52mm; 4:07 p.m. PDT. The second: f/1.8, ISO 25, 1/1610 sec, 26mm; 4:07 p.m. Both pics are composed as shot. I drew out the highlights in post-production but made no other edits.
I recently corrected a misconfiguration, where the XS shot HDR composites but didn't necessarily keep the originals. In looking over the river captures, I see that far-distant objects—such as the building against the horizon—aren't as clear in the HDR renders.
Clearer isn't the same as crisp. Detail is awash when pixel-peeping full-size. My Leica Q and Fujifilm GFX 50R deliver detail that no iPhone could conceivably ever match. When checking my news feeds, after returning home from the movie theatre, I learned that today Fuji previewed the X-Pro3, which launches October 23. Now that would be much more sensible purchase than new iPhone and worth selling one or both my other cameras to finance. Much depends on final specs, which surely means APS-C sensor and not full frame (and I'm good with that). But the basic design concepts conceptually check off what I could have asked for, and more! High IQ is a given.