Days ago, the pet grass display disappeared from the local Ralph's supermarket. I couldn't accept that the popular item had been forever removed and so, this morning, I walked from our University Heights apartment to the outer edges of adjacent Hillcrest for another look. The grocer is located in a plaza called The Hub, where also is a condominium complex.
Coming across the Vermont Street Bridge, I observed a woman placing an Open House sign. Real estate is costlier than ever in San Diego, with home values rising 24.7 percent year over year in May, according to S&P CoreLogic Case-Shiller Indices data released on July 27, 2021. Only the Phoenix-metro posted higher gains (25.9 percent). Approaching the realtor, as she adjusted the sign, I asked: "But is it cut-off-arm-and-leg prices". She answered: "It's California"—with a wry grin!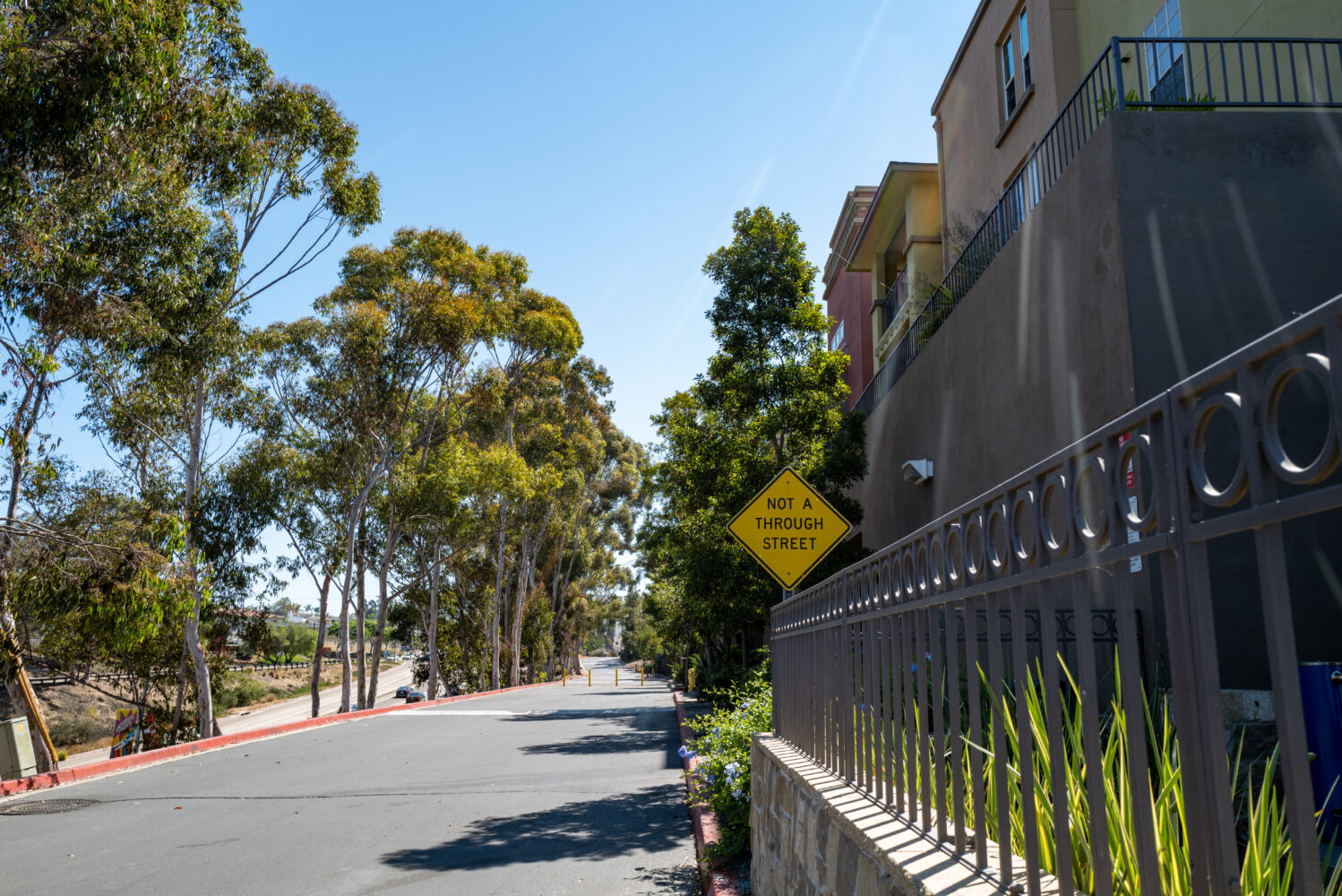 She will show a 958-square-foot unit from Noon until 3 p.m. PDT that lists for $650,000. Ah, yeah. Oh, did I mention there's a $475 HOA fee on top of the estimated $3,000-plus monthly mortgage—unless someone swoops in with all cash.
The Featured Image, captured with Leica Q2, looks up the steps to the condo complex entrance from Vermont Street. The companion shot looks down a service road and gives an idea about the, ah, view from some of the upper floor units. That stretch and areas around the bridge are frequent homeless hangouts. Wave to your neighbors! Vitals for the first, aperture manually set for both: f/11, ISO 160, 1/125 sec, 28mm; 10:27 a.m. The other: f/8, ISO 100, 1/125 sec, 28mm; 10:30 a.m.
Oh, and, yes, the pet grass is back, and I bought some for our two cats.
Update, Aug. 10, 2021: Wow, demand in the local housing market must be slowing. As of two days ago, the condo's status is "pending" sale—but for asking price rather than the more typical tens of thousands more.