In what could be a real-life scene from film Toy Story, Sheriff Woody precariously hangs from the back of a Toyota Tacoma spotted along Mission Avenue in San Diego's University Heights neighborhood. Where is Buzz Lightyear to the rescue? Take a closer look at either the Featured Image or companion and you will see that the cowboy doll is pad-a-locked in.
Both photos come from iPhone 13 Pro, yesterday. Vitals: f/1.5, ISO 50, 1/1698 sec, 26mm; 1:07 p.m. PST. The other: f/2.8, ISO 32, 1/319 sec, 77mm; 1:06 p.m. When I showed my wife the second shot, taken first, she observed that it's not absolutely apparent that Woody hangs off the ground. So I took another.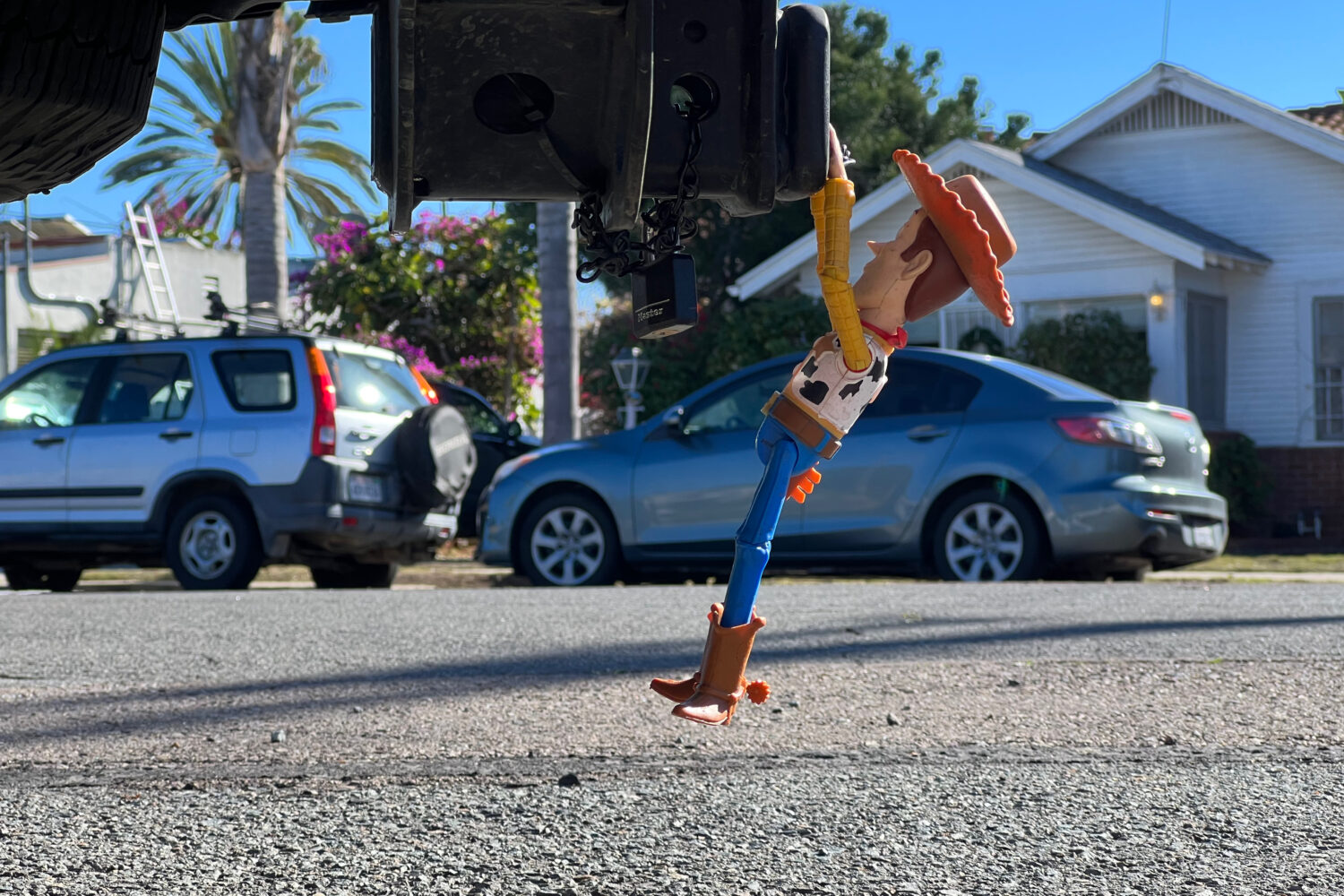 Steve Jobs was CEO of Pixar when the animation studio released Toy Story in 1995. In December 1996, Apple purchased his NeXT for the operating system that evolved into Mac OS X, which released in March 2001. The acquisition brought back Jobs to the personal computing company that he cofounded. In July 1997, he became interim CEO and took the full-fledge title in January 2000. But he remained chief executive of Pixar.
Funny aside: Looking over correspondence from Jobs, when I was a staff writer (e.g. reporter) for CNET News, he emailed me from steve at Pixar dot com (I spell out in case that, years later, the address belongs to someone else). He used the address as late as January 2002, based on his emails sent to me, and presumably longer.
His notes were often short to clarify something about my reporting. For example: "In your price comparison between the new iMac and HP's system, you fail to make it clear that the new iMac includes a 15-inch flat display, but the HP system for this price is likely display-less".
Also, related to this post and photos: Jobs introduced the first iPhone in January 2007, which went on sale about six months later. How much the camera and lenses (three of them) have improved nearly 15 years later.