Oh how he has grown! My wife and I met this fine feline and his owner several years ago, when he was a spry, scurrying, skinny kitten. The setting sun so camouflaged the short-hair that, initially, I missed him while shooting Nimbus in the adjacent alley on Jan. 14, 2017. What luck! Two portraits for the time of one!
The ginger is Watson, but let's nickname him Cherub to match the lawn decor. The Featured Image and its companion are one in the same. The first is close-cropped, and both are straightened and edited; cropping gets me out of the picture—literally! That ain't an apparition reflecting from the window. It's me! The reflection is creepy, considering I shot across the yard from the sidewalk. To confirm: That's not the face of someone sitting inside.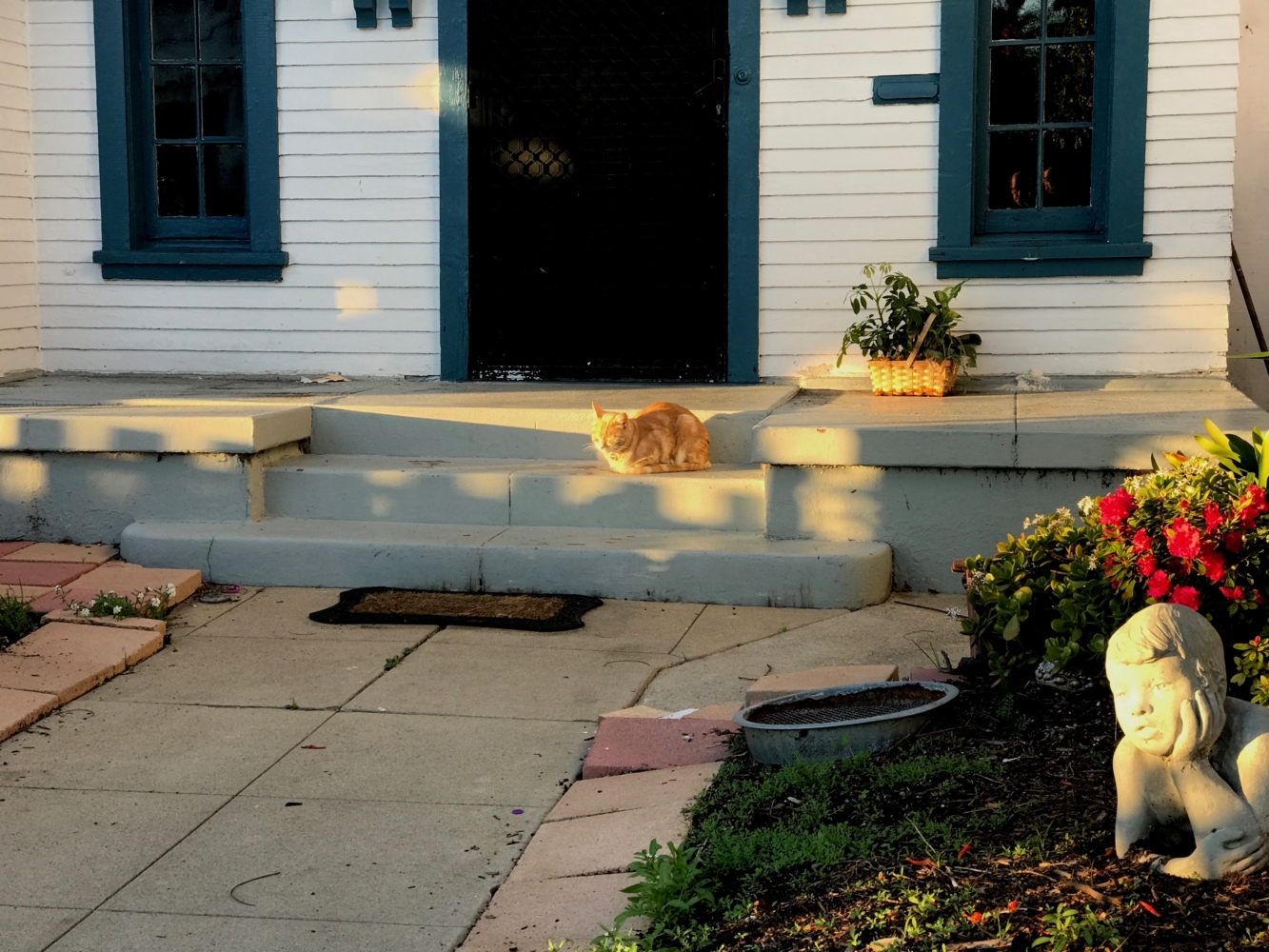 I captured the moment at 4:36 p.m. PST, using iPhone 7 Plus zoom lens. Vitals: f/2.8, ISO 20, 1/120 sec, 6.6.mm.
Also in this series: Scruffy, Roly Poly, Woo, Skull, Biscuit, The Colonel, White, Chipper,  Frisky, Stretch, Needy, Farfisa, Mates, Hunter, Pee-Pee, Blue, Blue Too, Bonded Pair, Patience, Fess, Jumper, Frenemy, Looker, Cozy, Scout, Lurks, Skit, Mini, Betty, Black and White, Stalker, Bell, Chill, Sammy, Scratch, Poser, Star, Grey and White, Watcher, Herman, Comet, Roman, Willow, Chub, and Nimbus.