Grey May descended yesterday, as persistent clouds preceded expected weekend rains. As my wife and I trudged up Maryland Ave., not far beyond Morla the tortoise's house—but across the street—Anne spied in an alley a cat perched by a woman sitting on a ledge talking to another neighbor. The lady explained that the all-outdoor furball responds to name BeBe, or nothing. The animal's mother is a feral grey tiger-stripe that no longer breeds (she was fixed). The daughter had one litter before her operation.
BeBe accepts food and attention from people whom she knows. As I am a stranger, she shot round a car when I approached. But she stayed to the side rather than scurry beneath, allowing me a dozen shots while not moving too close to her. Vantage point is important. I like to get down low, and she let me. The Featured Image is last among the 12, captured using the Fujifilm X-T1 and XF18-55mmF2.8-4 R LM OIS kit lens at 4:56 p.m. PDT, with Classic Chrome simulation set. Vitals: f/4, ISO 200, 1/140 sec, 55mm. The portrait is straightened and cropped but not enhanced. 
The second photo presents more perspective, as shot. Vitals: f/4.5, ISO 200, 1/125 sec, 52.7mm; 4:55 p.m. PDT.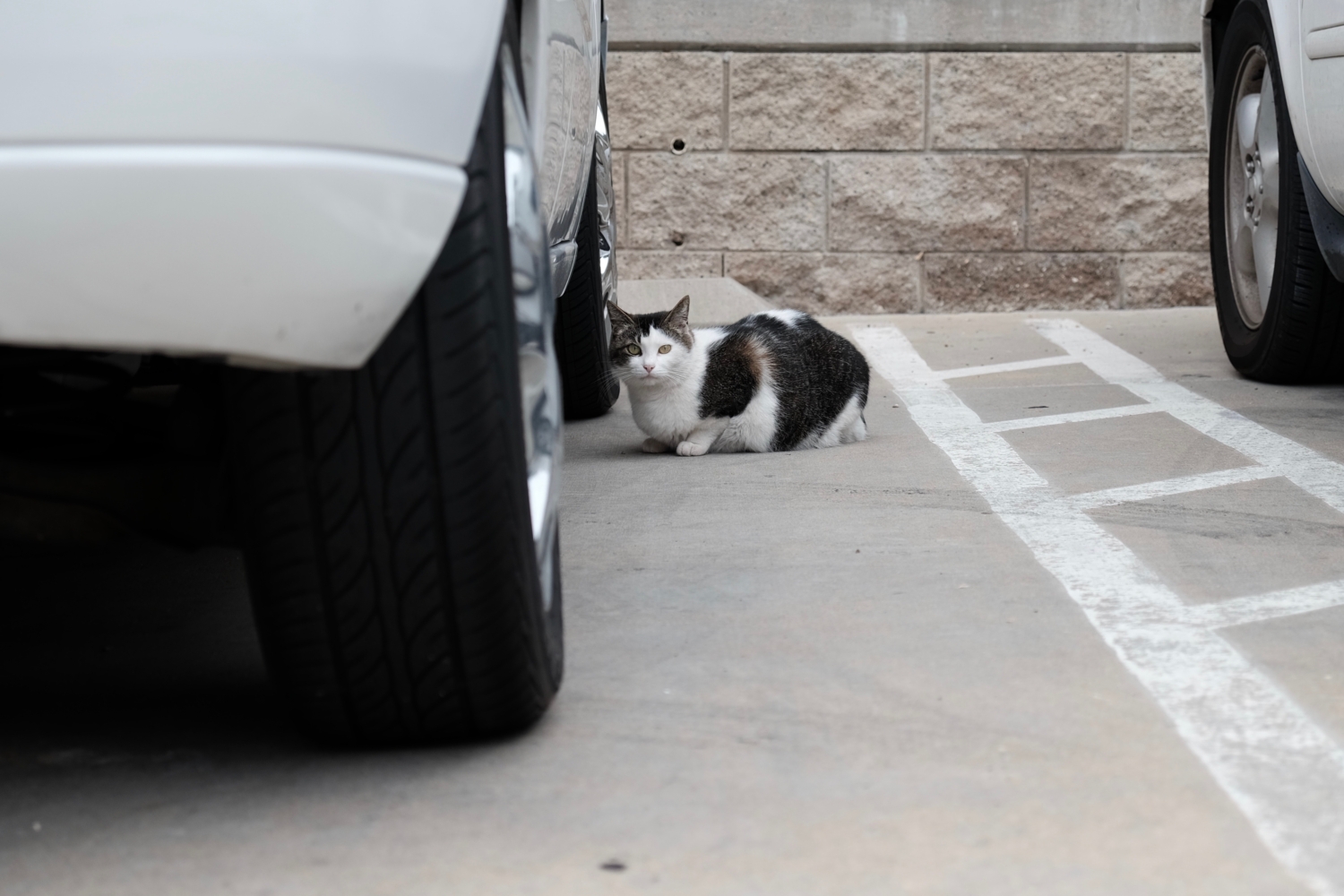 Previously featured feline friends: Scruffy, Roly Poly, Woo, Skull, Biscuit, The Colonel, White, Chipper,  Frisky, Stretch, Needy, Farfisa, Mates, Hunter, Pee-Pee, Blue, Blue Too, Bonded Pair, Patience, Fess, Jumper, Frenemy, Looker, Cozy, Scout, Lurks, Skit, Mini, Betty, Black and White, Stalker, Bell, Chill, Sammy, Scratch, Poser, Star, Grey and White, Watcher, Herman, Comet, Roman, Willow, Chub, Nimbus, Watson, Lilo, Kit, Pepe, Twilight, Sebastian, Spot, Booger, Ash, Veruca, Riley, Mellow, Bonde, Flower, Glass, and Black.