Yesterday, while walking up Mission Ave. towards Park Blvd., I watched a lanky tortoiseshell cross Georgia and gracefully go into an apartment complex parking lot. Her pace was slow and precise, and slim shape and long legs reminded me of a human dancer. Hence, the nickname she receives.
By the time I reached the parking spaces, the shorthair had gone into the building's courtyard. As I knelt down with the Leica Q, she turned to see me and then strolled back. I almost gave this kitty nickname Kneady, or Kneedy. She received pats and attention for more than 10 minutes; when twice I knelt down on a knee, she stepped in close, put her front paws on my thigh, and kneaded. I got the sense she could be a real lap cat. 
But with whom? Her thinness, and lack of collar, suggested street roamer—maybe feral, if not for friendly desperation. As you can see from the Featured Image, debris clung to her head and body, as if she had emerged from beneath a house's porch or one of the nearby canyons. (I later brushed off cobwebs and leaves.)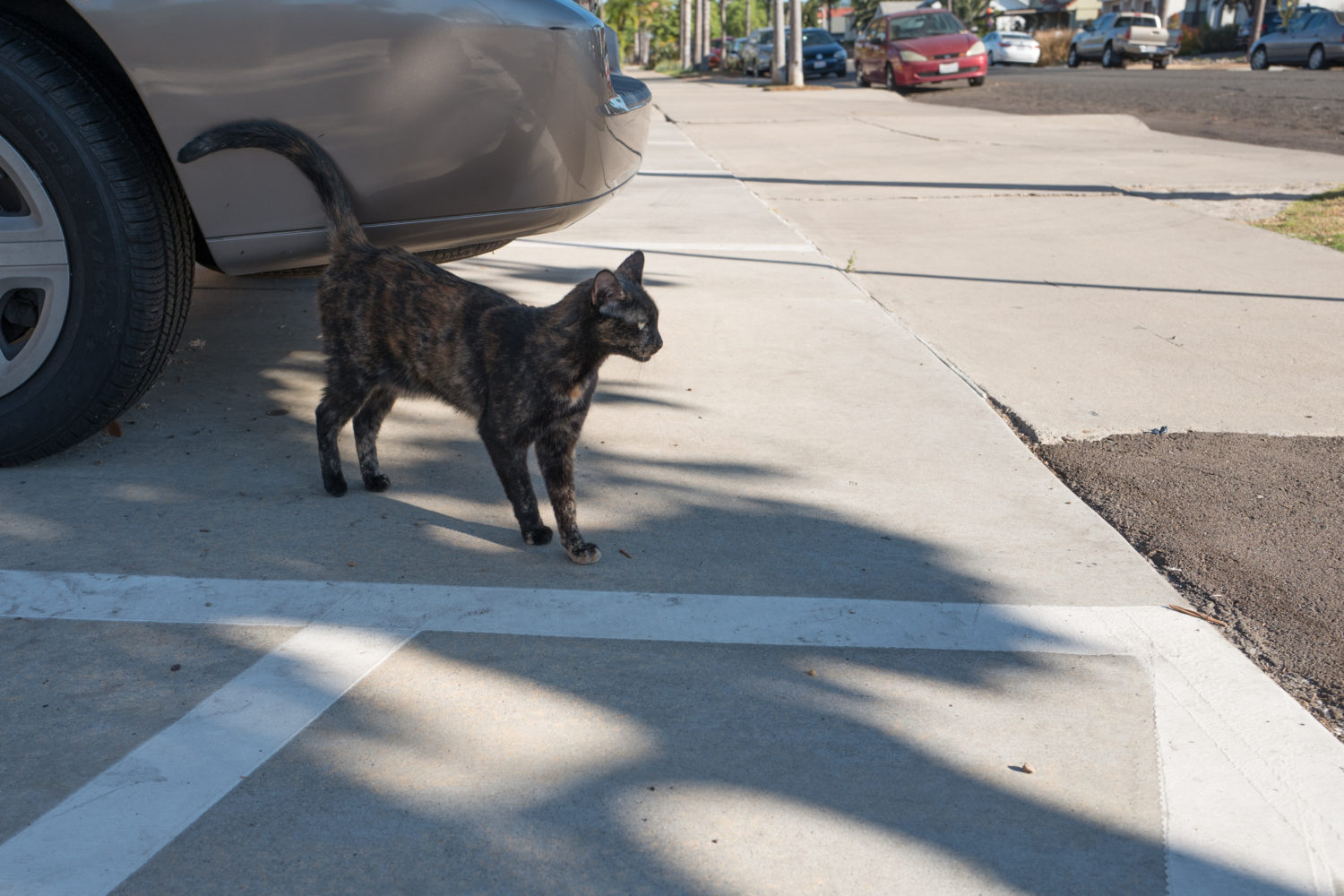 The other photo is second-to-last from a burst of five. One of the full-frame camera's many benefits is the ease with which the shooter can shift from single to continuous mode—from the on/off switch. One notch for single, two for continuous. Leica Q is a marvel for its affable, convenient ergonomic design.
Both captures are crops, from DNG originals using Adobe Photoshop Lightroom. In the first, I tone down the highlights. In the second, shadows are lightened to draw out the cat's colorful coat. Vitals, aperture manually set: f/5.6, ISO 100, 1/ 200 sec and 1/320 sec (respectively), 28mm. Respective timestamps: 8:47 a.m. PDT and 8:51 a.m.
Dancer is only the second tortoiseshell to appear in the series, which in nearly 12 months has featured more than 100 cats. I nicknamed the other Tortie.
You may have missed: Scruffy, Roly Poly, Woo, Skull, Biscuit, The Colonel, White,  Chipper, Frisky, Stretch, Needy, Farfisa, Mates, Hunter, Pee-Pee, Blue, Blue Too, Bonded Pair, Patience, Fess, Jumper, Frenemy, Looker, Cozy, Scout, Lurks, Skit, Mini, Betty, Black and White, Stalker, Bell, Chill, Sammy, Scratch, Poser, Star, Grey and White, Watcher, Herman, Comet, Roman, Willow, Chub, Nimbus, Watson, Lilo, Kit, Pepe, Twilight, Sebastian, Spot, Booger, Ash, Veruca, Riley, Mellow, Bonde, Flower, Glass, Black, BeBe, Fang, Bruce, Siamese, Pounce,  Tortie, Haiku, Fraidy,  Peso, Daniel Tiger, Dusk, Stride, Dainty, Spry,  Tabby, Betty Too, Still, Levi, Shadow,  Sophie, Wink, Ferals, Momma, Charlie, Tux, Cool, Benny, Jellicle, Itchy Valentino, Goldie, Nine, Amanda, Siesta, ChaCho, Charlie, Too, Mika, Crystal, Seeker, and Mittens.