The series exits from hiatus, during which my family changed residences in the neighborhood. It's catchup time! We resume with a Coon-like beauty who reminds me of our long-lost Kuma. But the nose, and his distinctive scar, are missing. I nickname the pretty feline Season, for no particular reason.
We encountered each other, from a distance, on Oct. 11, 2017, as I walked down Mission Ave. The cat traipsed up a hill as I approached but stopped long enough for 10 fast portraits shot with iPhone 7 Plus. The Featured Image is a close-crop, meant to give illusion of being in the wild. Vitals: f/2.8, ISO 20, 1/1030 sec, 6.6mm; 11:34 a.m. PDT.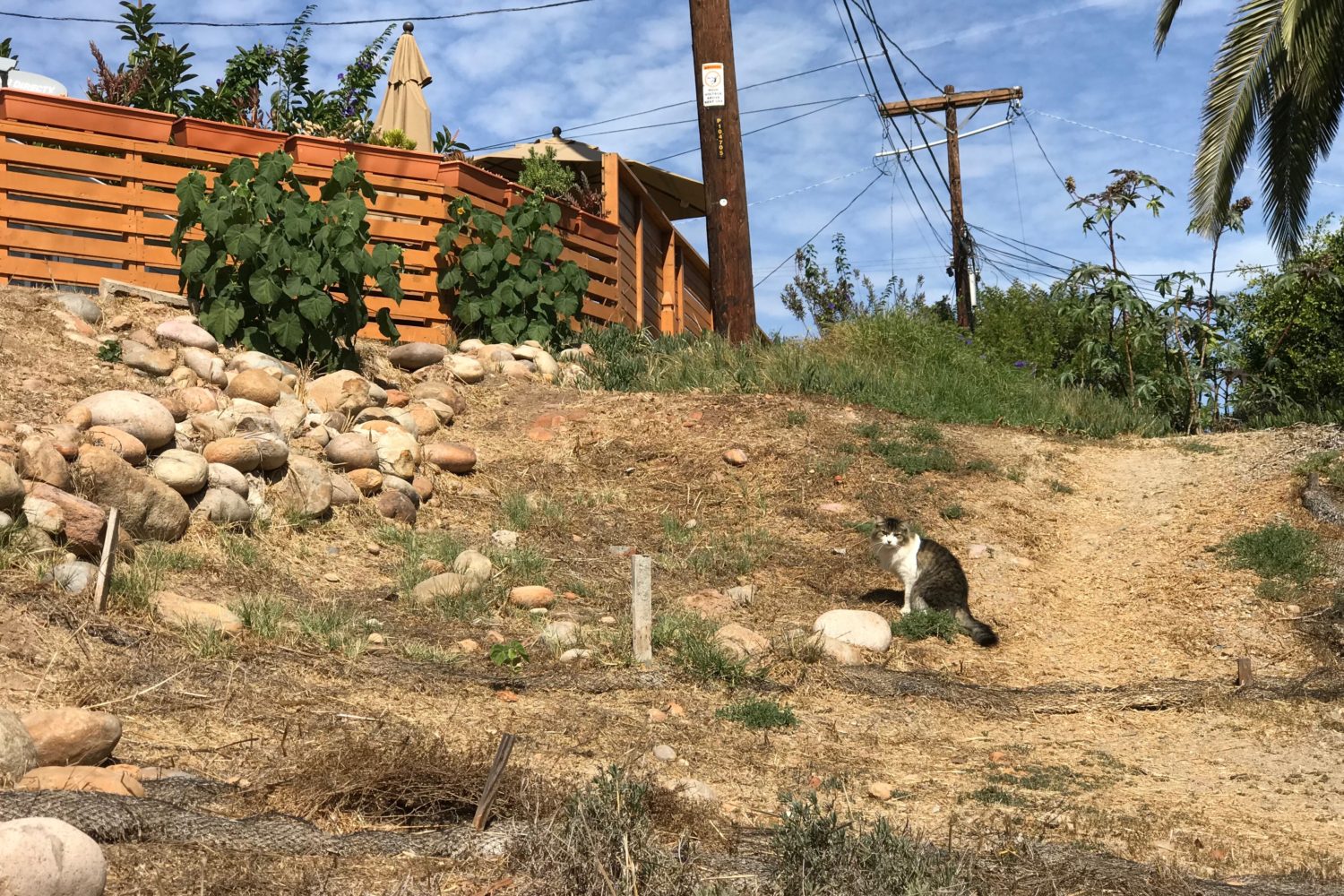 The companion photo reveals the suburban setting—and, with all the multi-unit housing development going on in University Heights, you don't often see such open space stretching from a main street. Vitals are same; shot about 10 seconds later.
On a sad footnote, yesterday I saw on the NextDoor social network that one of the neighborhood's fixture felines, Booger, who was featured in March 2017, is gone. He was companion, in the same yard—a designated "Wildlife Habitat"—as Ash and Sebastian. Someone spotted him off the 163 entrance ramp, where he presumably was struck by a car. 🙁 My wife and I would often see him, and the other two furballs, when walking to the Washington Street bridge.
Previously: Scruffy, Roly Poly, Woo, Skull, Biscuit, The Colonel, White,  Chipper, Frisky, Stretch, Needy, Farfisa, Mates, Hunter, Pee-Pee, Blue, Blue Too, Bonded Pair, Patience, Fess, Jumper, Frenemy, Looker, Cozy, Scout, Lurks, Skit, Mini, Betty, Black and White, Stalker, Bell, Chill, Sammy, Scratch, Poser, Star, Grey and White, Watcher, Herman, Comet, Roman, Willow, Chub, Nimbus, Watson, Lilo, Kit, Pepe, Twilight, Sebastian, Spot, Booger, Ash, Veruca, Riley, Mellow, Bonde, Flower, Glass, Black, BeBe, Fang, Bruce, Siamese, Pounce,  Tortie, Haiku, Fraidy,  Peso, Daniel Tiger, Dusk, Stride, Dainty, Spry,  Tabby, Betty Too, Still, Levi, Shadow,  Sophie, Wink, Ferals, Momma, Charlie, Tux, Cool, Benny, Jellicle, Itchy Valentino, Goldie, Nine, Amanda, Siesta, ChaCho, Charlie, Too, Mika, Crystal, Seeker, Mittens, Dancer, Smokey, Monkey, and Captain Blackbeard.