Happy Caturday! Please welcome the second feline portrait captured using iPhone X. Maven was the first. I chose the Featured Image for composition and artistic value; the furball is actually beyond the field of focus. Vitals: f/2.4, ISO 16, 1/60 sec, .97 ev, 6mm; 10:37 a.m. PST.
Meet Tink, whom I encountered yesterday on Meade between Cleveland and Maryland, outside a house diagonally across from Pee-Pee's place. I wonder if Tink is new to the neighborhood, as the residence is along one of my regular walking routes.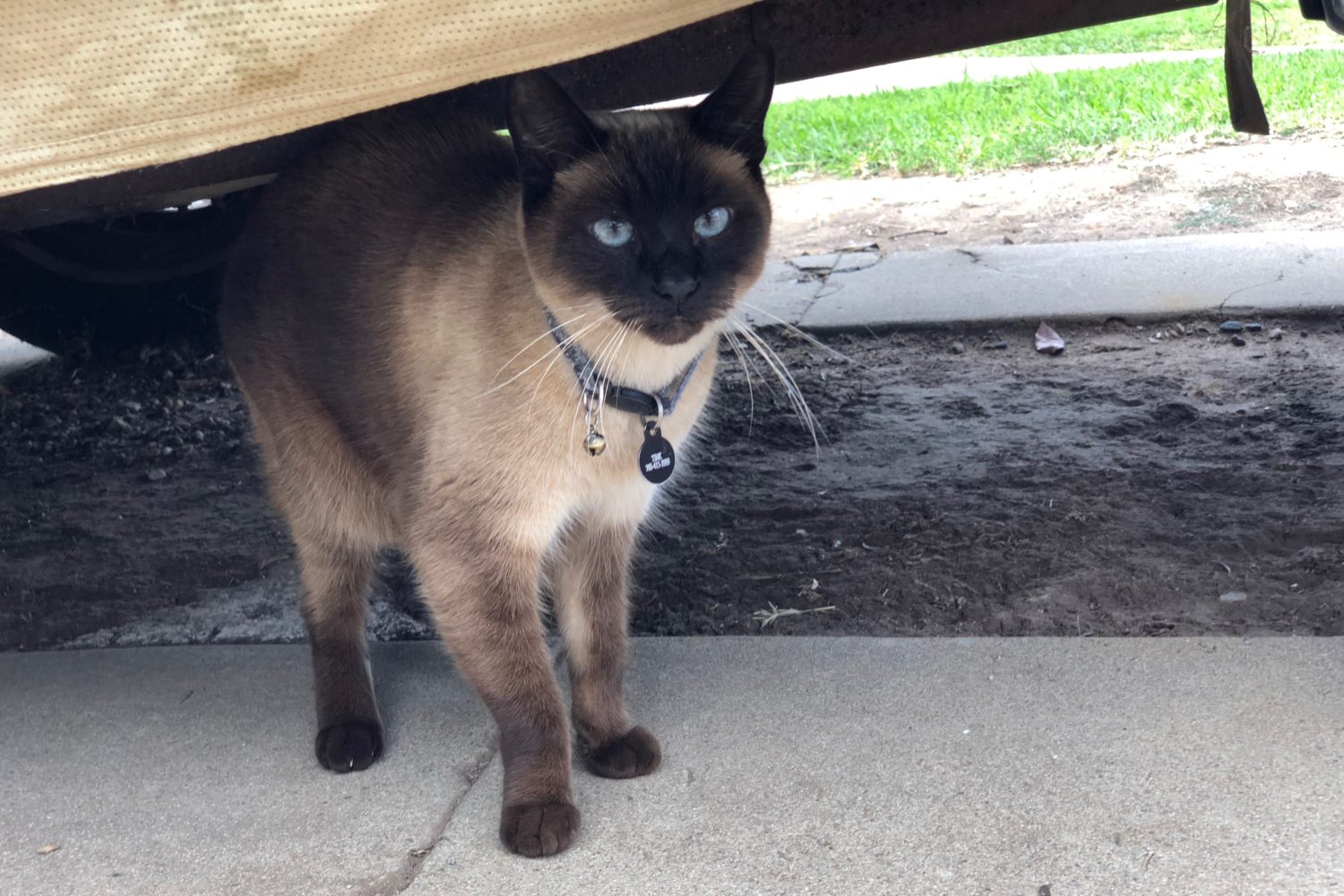 The Siamese beauty meowed and approached several times, but we never closely connected. Every vehicle going by spooked the kitty, which is good! Cleveland is a cut-through street, and Meade goes up to the Birney Elementary school. The four-way stop where they meet is busy, busy. The companion photo captures one of the retreats, beneath a car parked in the driveway. Vitals are same, except ISO 25.
Previously featured felines: Scruffy, Roly Poly, Woo, Skull, Biscuit, The Colonel, White,  Chipper, Frisky, Stretch, Needy, Farfisa, Mates, Hunter, Pee-Pee, Blue, Blue Too, Bonded Pair, Patience, Fess, Jumper, Frenemy, Looker, Cozy, Scout, Lurks, Skit, Mini, Betty, Black and White, Stalker, Bell, Chill, Sammy, Scratch, Poser, Star, Grey and White, Watcher, Herman, Comet, Roman, Willow, Chub, Nimbus, Watson, Lilo, Kit, Pepe, Twilight, Sebastian, Spot, Booger, Ash, Veruca, Riley, Mellow, Bonde, Flower, Glass, Black, BeBe, Fang, Bruce, Siamese, Pounce,  Tortie, Haiku, Fraidy,  Peso, Daniel Tiger, Dusk, Stride, Dainty, Spry,  Tabby, Betty Too, Still, Levi, Shadow,  Sophie, Wink, Ferals, Momma, Charlie, Tux, Cool, Benny, Jellicle, Itchy Valentino, Goldie, Nine, Amanda, Siesta, ChaCho, Charlie, Too, Mika, Crystal, Seeker, Mittens, Dancer, Smokey, Monkey, Captain Blackbeard, Season, and Maven.