Since April 4, 2018, I have sought a close-quarters portrait of a massive light-grey longhair that lives in the yard of a house along Florida Street near Adams Ave. The kitty earns nickname Ghost, by appearing for one meaningful moment—on the 12th, along with Coon—and not since. I delayed profiling both furfalls, and companion Wily, waiting for another opportunity. I haven't seen Ghost since.
I used Leica M10 and Summarit-M 1:2.4/50 lens to shoot the Featured Image. Vitals: f/5.6 or f/8, ISO 100, 1/60 sec, 50mm; 8:13 a.m. PDT.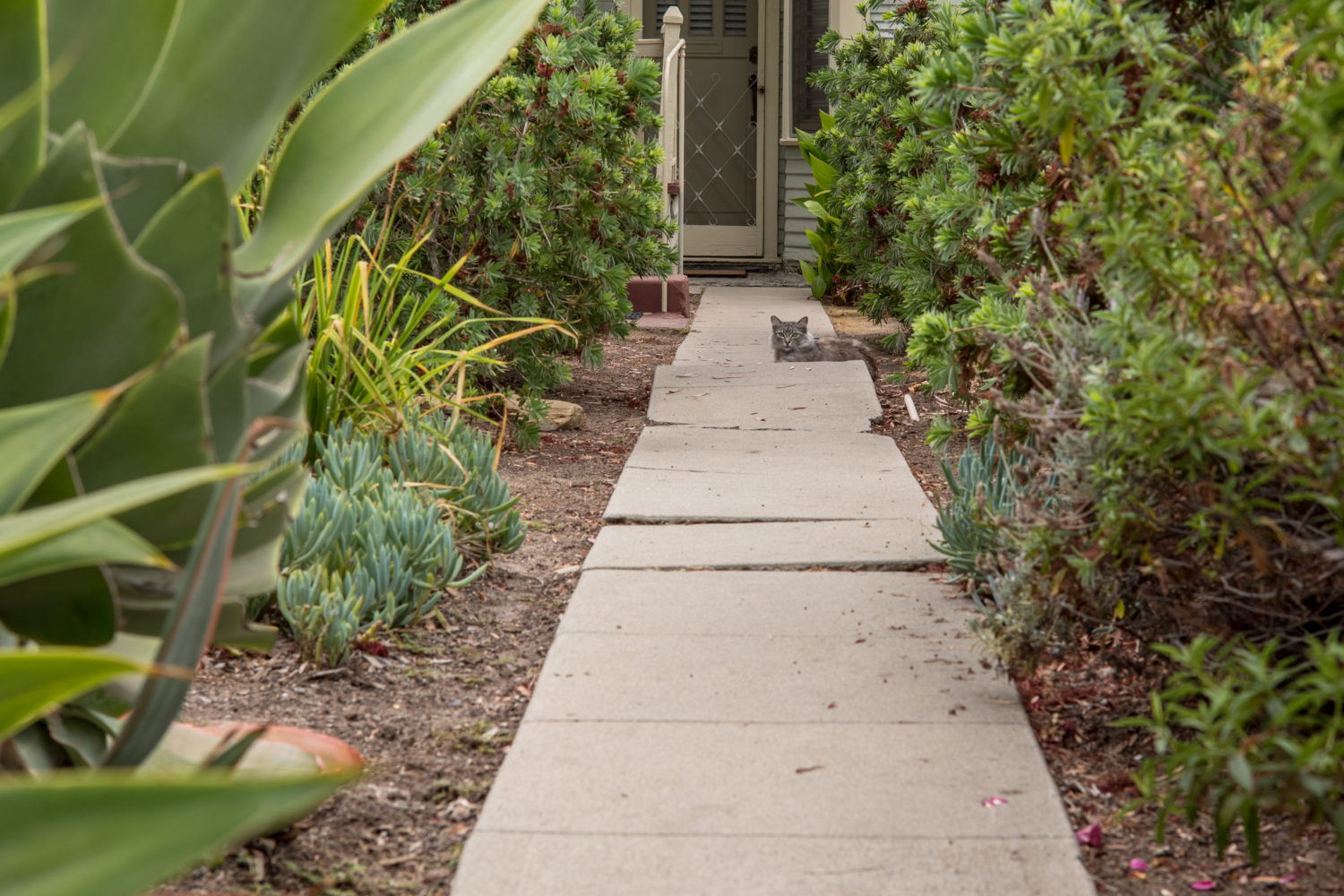 Update, July 9, 2018: I can't be 100-percent certain, but can assert with reasonable confidence, that the added companion photo (above) is Ghost. I saw the kitty in an adjacent front yard along Florida Street. Also captured with the M10, vitals: f/5.6, ISO 200, 1/60 sec, 50mm; 10:39 a.m. PDT. EXIF states for f/4.8, which is estimated by the camera and inaccurate.
Update, Nov. 24, 2020: Today, I met the lady who cares for the kitty—the last living of four feral kittens born to Coon, who is the momma.The woman has fed and cared for the outdoor beasties for about seven years, in the backyard they call home but which is a property belonging to a different neighbor. Last month, the gentleman passed away unexpectedly, putting the property's future into question and quite possibly that of Ghost and Coon. For now, their caretaker is committed to ensuring they are well-fed in the luscious lawn habitat that they share.
Previously featured felines: Scruffy, Roly Poly, Woo, Skull, Biscuit, The Colonel, White,  Chipper, Frisky, Stretch, Needy, Farfisa, Mates, Hunter, Pee-Pee, Blue, Blue Too, Bonded Pair, Patience, Fess, Jumper, Frenemy, Looker, Cozy, Scout, Lurks, Skit, Mini, Betty, Black and White, Stalker, Bell, Chill, Sammy, Scratch, Poser, Star, Grey and White, Watcher, Herman, Comet, Roman, Willow, Chub, Nimbus, Watson, Lilo, Kit, Pepe, Twilight, Sebastian, Spot, Booger, Ash, Veruca, Riley, Mellow, Bonde, Flower, Glass, Black, BeBe, Fang, Bruce, Siamese,  Pounce, Tortie, Haiku, Fraidy, Peso, Daniel Tiger, Dusk, Stride, Dainty,  Spry,Tabby, Betty Too, Still, Levi, Shadow,  Sophie, Wink, Ferals, Momma, Charlie, Tux, Cool, Benny, Jellicle, Itchy Valentino, Goldie, Nine, Amanda, Siesta, ChaCho, Charlie, Too, Mika, Crystal, Seeker, Mittens, Dancer, Smokey, Monkey, Captain Blackbeard, Season, Maven, Tink, Chunk, Curious, Hanoi, Bella, Tarry, Guido, Maxine, Mr. Kitty, Peohe, Panda, Frankie, Sunshine, Twain, Willow, Too, Brawn, Reddy, Burglar, Laramie, Lupe, Bright, Tom, Charm, Buddies, Boss, Ohana, Seer, Fresh, Token, Lola, Carl, Bramble, Finny, Cal, Tipsy, Zander, Mew, Penny, Charlie (the Third), Bob, Apple, Persepolis, Sebastian, Too, Holiday, Snow, Desire, Luci, Torbie, E.T., Bushy, Cali, Precious, Gracie, STAR, Sky, Amble, Aylin, Lucky, Herbie, The Love Bug, Roadie, Harley, Wonder, Dizzy, Moophie, Lucy, Choontzy, Abby, Kitty, Stella, Wily, and Coon.