The Cats of University Heights: LilyTiger
Since seeing Sebastian and Persepolis in March 2018, I have looked for their sister, LilyTiger, who was too rambunctious to photograph back then. She presented herself, quite unexpectedly, on August 10. While walking down Meade Ave., I spotted a kitty reclining on the other side of the street along Mississippi. I had seen Amanda in the exact same spot months earlier and assumed that it must be her. Nope.
LilyTiger moved onto her owners' charming, lush property, as I approached. But she stayed close enough to the front, on the steps, for portraits. I shot the Featured Image and its companion using Leica Q. Vitals: f/1.7, ISO 200, 1/60 sec, 28mm; 7:32 p.m. PDT—four minutes before sunset. I chose the wide aperture for bokeh but narrowed for the other to draw out Sebastian cozied up on the front porch. Vitals for the second: f/5.6, ISO 2000, 1/60 sec, 28mm.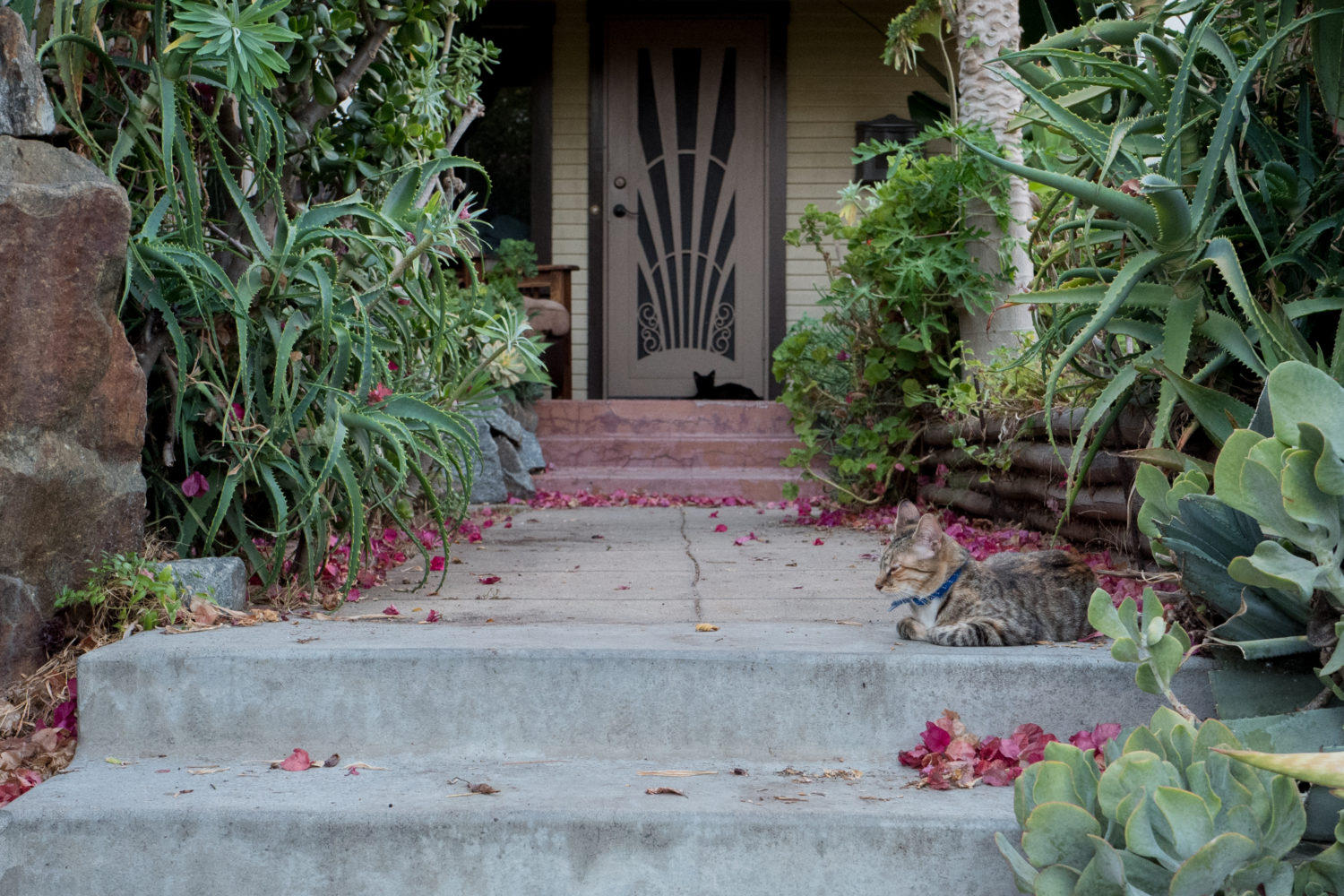 Being now accustomed to Leica M10, I increasingly manual focus the Q—like both of these photos. The first is a little soft, admittedly.
More furballs: Scruffy, Roly Poly, Woo, Skull, Biscuit, The Colonel, White,  Chipper, Frisky, Stretch, Needy, Farfisa, Mates, Hunter, Pee-Pee, Blue, Blue Too, Bonded Pair, Patience, Fess, Jumper, Frenemy, Looker, Cozy, Scout, Lurks, Skit, Mini, Betty, Black and White, Stalker, Bell, Chill, Sammy, Scratch, Poser, Star, Grey and White, Watcher, Herman, Comet, Roman, Willow, Chub, Nimbus, Watson, Lilo, Kit, Pepe, Twilight, Sebastian, Spot, Booger, Ash, Veruca, Riley, Mellow, Bonde, Flower, Glass, Black, BeBe, Fang, Bruce, Siamese,  Pounce, Tortie, Haiku, Fraidy, Peso, Daniel Tiger, Dusk, Stride, Dainty,  Spry, Tabby, Betty Too, Still, Levi, Shadow,  Sophie, Wink, Ferals, Momma, Charlie, Tux, Cool, Benny, Jellicle, Itchy Valentino, Goldie, Anthony, Amanda, Siesta, ChaCho, Charlie, Too, Mika, Crystal, Seeker, Mittens, Dancer, Smokey, Monkey, Captain Blackbeard, Season, Maven, Tink, Chunk, Curious, Hanoi, Bella, Tarry, Guido, Maxine, Mr. Kitty, Peohe, Panda, Frankie, Moose, Twain, Willow, Too, Brawn, Reddy, Burglar, Laramie, Lupe, Bright, Tom, Charm, Buddies, Boss, Ohana, Seer, Fresh, Token, Lola, Carl, Bramble, Finny, Cal, Tipsy, Zander, Mew, Penny, Charlie (the Third), Bob, Apple, Persepolis, Sebastian, Too, Holiday, Snow, Desire, Luci, Torbie, E.T., Bushy, Cali, Precious, Gracie, STAR, Sky, Amble, Aylin, Lucky, Herbie, The Love Bug, Roadie, Harley, Wonder, Dizzy, Moophie, Lucy, Choontzy, Abby, Kitty, Stella, Wily, Coon, Ghost, Donuts, Envy, Vivienne, Stripe, Smokie, Dare, Gipper, Little, Bushy Black, Princess Leia, Darth Mew, Phil, Maui, Patch, Royal, Sleepy, Spice, Dutch, Striker, Maxie, Fluff, Gazers, Georgia Twain, Friends, Cupcake, Caddy, Ginger, Shrub, Brumble, Stoic, Patriot, Backyard, Prim, and Tuna.